Miami's Popcorn Frights Film Festival is an annual destination for horror fans in the Southeast United States. Established in 2015, Popcorn Frights is a one-stop-shop of supernatural scares, eerie atmospheric horror, and blood-soaked cinema sure to put a smile on the face of every film fan. This year's lineup is jam-packed with films including world premieres of indie darlings, the festival circuit's most talked-about features, and advanced screening of 2021's most anticipated releases.
Included in this year's lineup is a 35th-anniversary screening of Friday The 13th Part VI: Jason Lives, a special preview screening of The Night House, The Beta Test, and We Need To Do Something, as well as Kier-La Janisse's expansive folk horror documentary Woodlands Dark and Days Bewitched. There are a whole ton of movies playing at the Popcorn Fright that you don't want to miss, and we've picked out 5 that we think you should put on your watchlist immediately.
The 2021 Popcorn Fright Film Festival runs from August 12 – August 19. The full lineup of films and tickets can be found HERE.
The History of Horror And Metal
Directed by Mike Schiff
Featuring interviews with John Carpenter, Tom Savini, Alice Cooper, Kirk Hammett, Rob Zombie, Kane Hodder, Doug Bradley
"Filled with countless clips and entertaining moments, THE HISTORY OF METAL AND HORROR is a nostalgia trip of some of the most iconic horror films through the perspective of visionary artists in both the metal and horror worlds, including John Carpenter, Tom Savini, Gunnar Hansen, Sid Haig, Kane Hodder, Doug Bradley, and John Russo, as well as musicians such as Kirk Hammett, Rob Zombie, Dave Mustaine, Corey Taylor, Alice Cooper, Jonathan Davis, and many more. In candid conversations, they discuss the relationship that horror and metal have shared over the years, the impact that each have had on each other, and how the two genres have merged over time."
ENJOYING THIS POST?
Nightmare on Film Street is an independent outlet. All of our articles are FREE to read and enjoy, without limits. If you're enjoying this article, consider joining our fiend club for only a couple-a bucks a month!

The Last Matinee
Directed by Maximiliano Contenti
Starring: Ricardo Islas, Luciana Grasso, Franco Duran
"As customers seek refuge in an old cinema a murderer is on the loose in this gore-drenched love letter to Giallo and Grindhouse Cinema that soaks the horror audience in torrents of blood. Set in Montevideo, Uruguay, this ultra-violent Neo-Giallo slasher follows a serial killer who slashes up an audience one by one during the final showing of a horror film in a small downtown cinema. The only person to notice that something strange is going on is the projectioninst's daughter. Now she must face this sadistic and ruthless killer to save lives and avoid a massacre in the matinee."
Read Nightmare on Film Street's Full Review of The Last Matinee HERE
Superhost
"Teddy and Claire are travel vloggers who run a channel called "SUPERHOST" where they travel and share their experiences in and around vacation homes, and until recently, had become successful doing it. With a dwindling subscriber count, they find the perfect opportunity to create content that people want to see when they meet Rebecca, the host of their most recent trip. Slowly they start to realize that something isn't right with Rebecca, and as they investigate it further, they unlock a horrifying truth. She doesn't just want a great review, she wants something far worse."
Keeping Company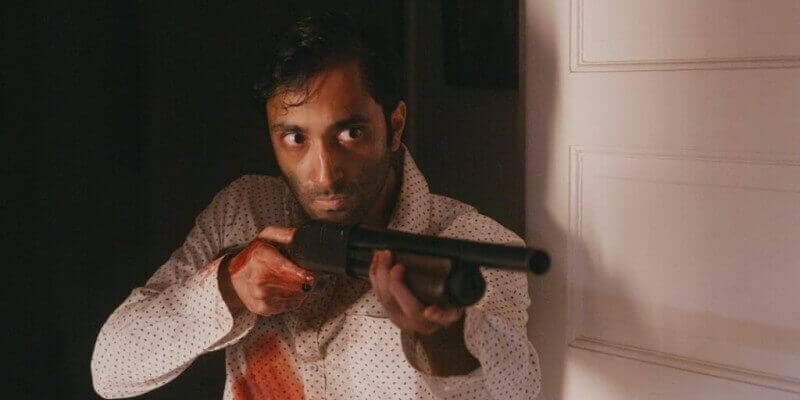 Directed by Josh Wallace
Starring: Jacob Grodnik, Devin Das, Ahmed Bharoocha
"A magnificently meanspirited mash-up of David Mamet and Joe Dante, KEEPING COMPANY is an ultra-cynical pitch-black comedy that balances gory slapstick with savage social satire. Deftly skewering the venality of the Insurance Industry and the hollowness of the American dream of success, this bloody, brutal, breakneck, black-hearted treat follows a fateful chain of events that begins to unravel after two brash insurance salesmen go knocking on the wrong door and find themselves trapped in a stranger's basement, who is actually a cold-blooded serial killer."
Read Nightmare on Film Street's Full Review of Keeping Company HERE
The Ex
Directed by Evgeniy Puzyrevskiy
Starring: Vera Kincheva, Konstantin Beloshapka, Sergey Dvoynikov
"The screws are tightened in this wickedly entertaining, juicy supernatural-thriller about the vengeful spirit of an ex-girlfriend who makes life hell for the man who scorned her. It's been several years since a teenager posted a revealing photo of his girlfriend online to brag to his friends, betraying her trust and her honor. While he has since moved on from the episode, living a happy carefree life with his beautiful fiancée, a string of mysterious events soon not only disturbs his dream life, but turns it into a living nightmare. A potboiler in the finest sense and made with verve, style, and an unsparing amount of flesh-crawling thrills, THE EX is your actual digital nightmare come to life."
Will you be attending the 2021 Popcorn Frights Film Festival? Which Movies are you most excited to see? Let us know over on Twitter, Reddit, Facebook, and in the official Nightmare on Film Street Discord. Not a social media fan? Get more horror delivered straight to your inbox by joining the Neighbourhood Watch Newsletter.