The Tribeca Film Festival may not be the first festival genre fans think of when they think "horror" but year-over-year it has proven itself to be an impressive showcase of the genre's newest offerings. Previous years' selections have included Ant Timpson's Come To Daddy, Justin Benson & Aaron Moorhead's The Endless, and Peter Strickland's In Fabric, (to name a few) and this year is no less a diverse sampling of the most anticipated indie films.
An early victim of Covid-19 Pandemic cancellations, the 2020 Tribeca Film Festival was afforded no time to pivot to a virtual platform. In fact, this year's lineup includes a handful of films that were official 2020 selections. Among them are indie horror gems Honeydew and My Can't Beat Unless You Tell It To, which have come full circle around the festival circuit, landing back at Tribeca where they were both originally expected to world premiere.
The 2021 Tribeca Film Festival runs June 9 – June 20, offering both limited in-person and virtual screenings. The films listed below are 5 movies we think horror fans should add to their watchlist. Included among them are exorcism stories set in the heart of a conservative convent, a werewolf whodunit, and an eating disorder turned nightmarish body horror. And that's just the tip of the iceberg! Beyond these 5 selections is a whole catalog of films perfect for every horror fan. Full details and ticket information can be found HERE.
ENJOYING THIS POST?
Nightmare on Film Street is an independent outlet. All of our articles are FREE to read and enjoy, without limits. If you're enjoying this article, consider joining our fiend club on Patreon for only a couple-a bucks a month!

Agnes
Online World Premiere
Directed by Mickey Reece
Written by John Selvidge, Mickey Reece
Starring Molly Quinn, Jake Horowitz, Sean Gunn, Chris Browning, Ben Hall, Mary Buss, Chris Sullivan
"Inside a quaint convent, young Sister Agnes explodes with an outburst of rage and blasphemy, causing the church to send veteran priest Father Donaghue and a younger priest-on-the-rise, Benjamin, to investigate the incident as a potential demonic possession. The heads of the church have an ulterior motive behind assigning this specific case to Father Donaghue, who's been recently disgraced; Benjamin, meanwhile, feels suspicious of the whole endeavor. While at the convent, the young priest takes a shine to the reserved Sister Mary, Agnes' closest friend who's taken the evil spell especially hard. As the two clergymen get deeper into the situation, all involved have their respective faiths tested, namely Mary." — Details and Tickets HERE
Shapeless
World Premiere
Directed by Samantha Aldana
Written by Kelly Murtagh, Bryce Parsons-Twesten
Starring Kelly Murtagh, Bobby Gilchrist, Jamie Neumann, Marco Dapper, Erika Ashley, Gralen Bryant Banks
"The world's a stage for Ivy—there just aren't many people seated in front of it. Struggling to establish herself as a singer, she collects humble checks while bouncing around various New Orleans lounges and bars and crooning with her silky-smooth voice for minimal amounts of liquor-sipping patrons. But those meager paydays aren't Ivy's toughest battle. That's reserved for when she's home alone, which is when her physical insecurities overwhelm her and she succumbs to a debilitating eating disorder. Keeping her battles a secret has its consequences. Ivy is now transforming into something nightmarish. And it may be too late to reverse course." — Details and Tickets HERE
We Need To Do Something
World Premiere
Directed by Sean King O'Grady
Written by Max Booth III
Starring Sierra McCormick, Vinessa Shaw, Pat Healy, Lisette Alexis, John James Cronin
"For teenager Melissa, family dysfunction is the norm. When a freak tornado traps Melissa inside the family home's bathroom with her parents and younger brother, those rifts are exacerbated. And as their confinement within the increasingly-more-claustrophobic-by-the-hour lavatory stretches to multiple days, the situation grows extremely volatile. But there's more than just hard feelings threatening the family. Something evil is beyond the walls, toying with them. Is this the family's reckoning at the hands of a higher power? Or was it unintentionally triggered by Melissa and her girlfriend, Amy? Whatever the cause is, one thing's for certain: All hell is about to break loose." — Details and Tickets HERE
The Beta Test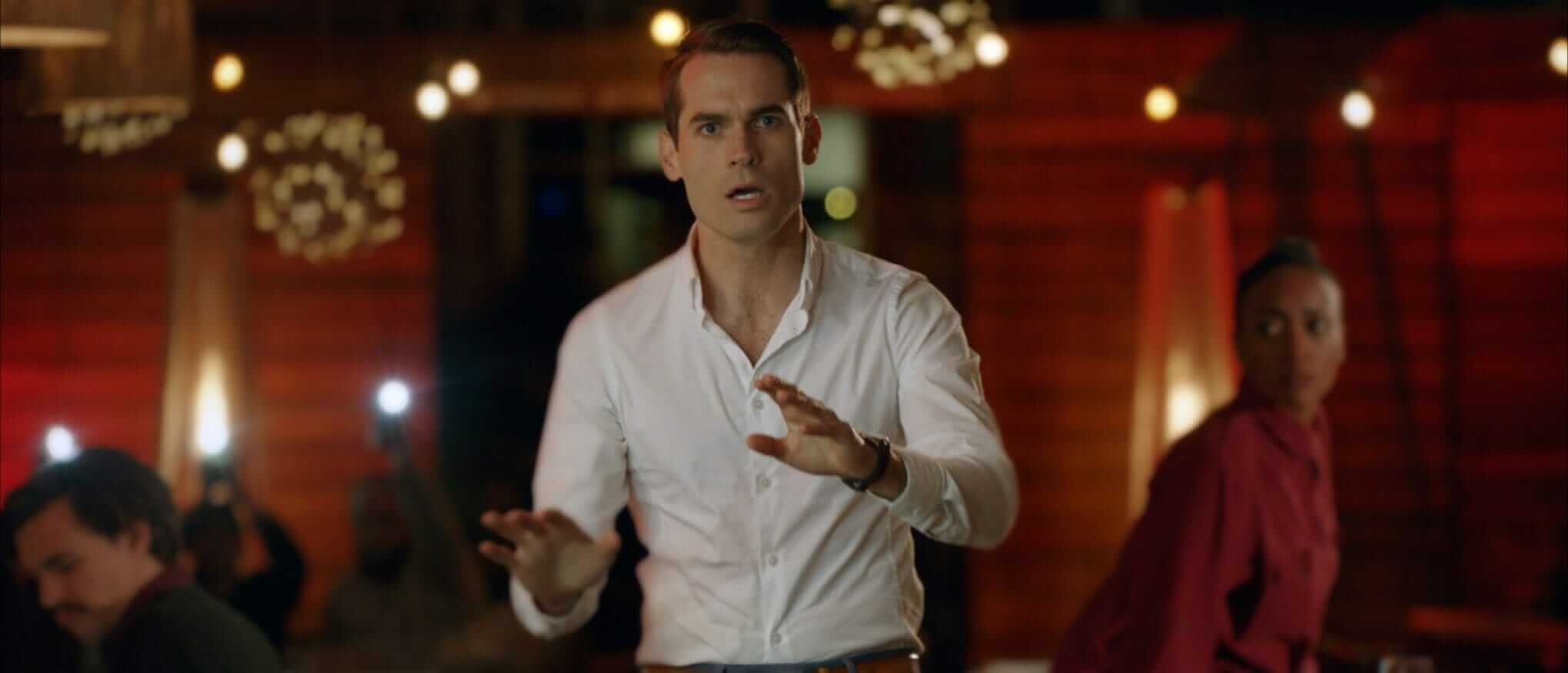 North American Premiere
Written & Directed by Jim Cummings (The Wolf of Snow Hollow), PJ McCabe
Starring Jim Cummings, Virginia Newcomb, PJ McCabe, Jessie Barr, Keith Powell, Kevin Changaris
"The picture of Hollywood success, talent agent Jordan (the film's co-writer, co-director and leading man Jim Cummings) seems to have it all—the snazzy career, the Ken-doll good looks, the lovely woman. When a purple envelope mysteriously appears in his mailbox inviting him to an anonymous tryst, the cracks in his carefully constructed façade of perfection begin to spread. Defenseless to resist, he indulges in a wild night of mind-blowing passion, only to find his life slowly but surely coming undone in the aftermath. Increasingly embroiled in a web of deceit, Jordan falls ever deeper down a rabbit hole of suspicion and conspiracy, desperately trying to keep up appearances all the while." — Details and Tickets HERE
Werewolves Within
World Premiere
Directed by Josh Ruben (Scare Me)
Written by Mishna Wolff
Starring Sam Richardson, Milana Vayntrub, Michaela Watkins, Cheyenne Jackson, Glenn Fleshler, Harvey Guillén
"Forest ranger Finn Wheeler (Veep's Sam Richardson) is jazzed about his latest assignment: temporarily living inside The Beaverfield Inn, a cozy, woods-bound nook run by nice folks and frequented by Beaverfield's colorful array of residents, for the duration of a new pipeline construction project. Little does he realize, his timing couldn't be worse. For one, a major snowstorm is set to rid him and the inn's occupants of communication with the outside world. And two, something is on the loose and brutally murdering Beaverfield's denizens—perhaps something lycanthropic. As the body count rises, it's up to Finn to play the reluctant hero and figure what, or who, is shrinking Beaverfield's population." — Details and Tickets HERE
Are you planning to attend the 2021 Tribeca Film Festival virtually or in person? Which movies are you most looking to seeing? Click HERE to follow our coverage of the festival and share your picks with us over on Twitter, Reddit, Facebook, and in the official Nightmare on Film Street Discord. Not a social media fan? Get more horror delivered straight to your inbox by joining the Neighbourhood Watch Newsletter.