Every year I go into the summer thinking, "Wow, I'm not sure if an of the movies I've seen so far this year are going to make it into my year end Top 10" and then POW! The Overlook Film Festival creeps up on me and sets the course for a year filled with creepy AF, genre-bending, splatteriffic cinema. Last year's festival introduced us to Leigh Whannell's Upgrade, Stephen Susco's Unfriended: Dark Web, and Ari Aster's Hereditary– all of which (and more) appeared on my own and my co-editor Kimberley Elizabeth's Top 10 Films of 2018. In short, I ring in a new year of Horror at The Overlook Film Festival.
This year's festival, hosted once again in the haunting streets of New Orleans, promises another banner year for blood, baddies…and bourbon. Included in the 2019 program include the horror-anthology Nightmare Cinema, Jim Jarmusch's The Dead Don't Die, Alice Waddington's Paradise Hills, and the world premiere of Z, Brandon Christensen's follow-up to Still/Born (2017). As with previous years, Overlook 2019 will also host several immersive experiences across the entire city, live podcast recordings, and a Masterclass presentation from filmmaker Robert Rodriguez (From Dusk Till Dawn, Red 11). The festival runs May 30 – June 2. Passes and badges can be purchased here.
Below are 5 films you absolutely have to check out in and around the parties, immersive games & VR Experiences, and Panel Discussions.
The Lodge
Directors: Severin Fiala, Veronika Franz
Cast: Riley Keough, Richard Armitage, Jaeden Lieberher
United States, 2019
When a stepmom-to-be gets snowed in to a remote cabin alongside her fiancé's two children, she finds herself with the seemingly perfect opportunity to win their affection. But a series of strange occurrances may lead the trio down a different path…
ENJOYING THIS POST?
Nightmare on Film Street is an independent outlet. All of our articles are FREE to read and enjoy, without limits. If you're enjoying this article, consider joining our fiend club for only a couple-a bucks a month!

Daniel Isn't Real
Director: Adam Egypt Mortimer
Cast: Patrick Schwarzenegger, Miles Robbins, Sasha Lane, Hannah Marks, Mary Stuart Masterson
United States, 2019
When a distraught college freshman faces an unimaginable family trauma, he turns to his sadistic imaginary friend from childhood for help, hoping to unleash some long-forgotten strength. What he friends instead will alter his life forever in this mind-altering new film from director Adam Egypt Mortimer.
Come To Daddy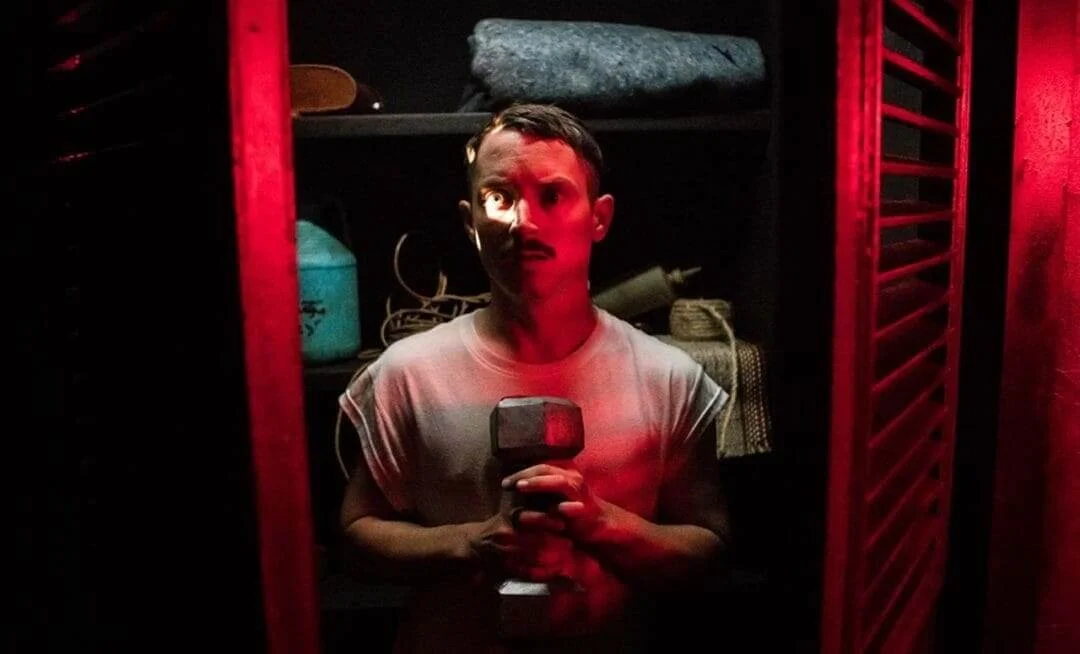 Director: Ant Timpson
Cast: Elijah Wood, Stephen McHattie, Martin Donovan, Michael Smiley, Madeleine Sami, Simon Chin
United States, New Zealand, Canada, Ireland, 2019
Norval, a troubled young man travels to a small seaside town to answer a letter from his long-lost father. When he gets there, the two begin to reconnect, but Norval can't shake the feeling that something is drastically off. Elijah Wood stars in hilarious and terrifying twisty thrill ride, the directorial debut of lauded horror producer Ant Timpson. According to Nightmare on Film Street's Grant DeArmitt said that "Come To Daddy move me, scared me, grossed em out and delighted me more than anything I've watched in theaters this year".  Read his full review HERE.
Girl on The Third Floor
Director: Travis Stevens
Cast: Phil Brooks, Trieste Kelly Dunn, Sarah Brooks, Elissa Dowling, Karen Woditsch, Travis Delgado, Marshall Bean, Anish Jethmalani, Bishop Stevens, Tonya Kay
United States, 2019
WWE legend Phil "CM Punk" Brooks stars Don Koch, an expectant father dead set on renovating his newly purchased Victorian home, a project that could see him not only giving in to old temptations, but uncovering the darkest secrets of the house itself. Nightmare on Film Street's Stephanie Cole called Girl on The Third Floor "A marvelous little ghost story". Read her full review HERE.
Satanic Panic
Director: Chelsea Stardust
Cast: Rebecca Romijn, Jerry O'Connell, Hayley Griffith, Ruby Modine, Arden Kyrin, AJ Bowen
United States, 2019
When a pizza delivery girls' final order of the night turns out to be for a blood-hungry group of Satanists thirsting for a sacrifice, all hell breaks loose…literally. From the Overlook alum writers of WE ARE STILL HERE and PAPERBACKS FROM HELL, and director Chelsea Stardust comes the goriest of comedies.
Will you be attending the 2019 Overlook Film Festival? If you're still on the fence post, BUY TICKETS NOW full details and badges can be purchased here. If you can't make it out, we're bringing the festival to you! Follow Nightmare on Film Street on Twitter, Instagram, and Facebook to see our full coverage!