Every year is an interesting year for horror and 2019 was no different. This year saw the release of some truly surprising films, especially in your neighborhood cinema. Yes, Quentin Tarantino's 3-hour epic Once Upon A Time in Hollywood challenged our idea of conventional studio films and Todd Phillips controversial Joker showed that R rated films are as profitable as they've ever been (being a comic-book adaptation probably didn't hurt). But did you ever expect to see films like Ari Aster's folk-horror Midsommar or Robert Eggers' experimental The Lighthouse on a marquee next to Toy Story or The Addams Family? Not to mention the fact that Bong Joon-ho's Parasite, a Korean thriller about classism, has widely been accepted as the year's best film.
Outside of listing box-office totals, It's impossible to be objective about the year's "best" films, which is good because I'd rather talk about the movies I liked most anyway! Unlike most lists you'll find online, we include every movie we saw in the calendar year, regardless of whether it was in a multiplex, streaming on VOD, or at a film festival. We want to make sure that you not only have movies to watch right now, but also movies to look forward to in the new year. There are a few films on my list that have not yet been released but, to the best of my knowledge, they should all be available within the first quarter of 2020 and they are all well worth the wait.
Before I jump into my picks, I just want to take a minute to thank every film festival we were lucky enough to cover this year, every PR rep that helped us sneak into sold-out screenings and coordinate interviews, as well as every writer, director, producer, actor, actresses, and executive that took the time to talk with us about not only their own projects but the ever-evolving state of Horror. This year at Nightmare on Film Street we were fortunate enough to attend The Overlook Film Festival, Fantasia Film Festival, Fantastic Fest, Salem Horror Film Festival, The Sleepy Hollow Film Festival, & TIFF Midnight Madness. Our Contributing team also has the opportunity to cover Sundance, Brooklyn Horror Film Festival, Ithaca Fantastik, Boston Underground, Cinepocalypse, and the North Bend Film Festival.
While the descriptions for each of these films are only limited to a few short sentences, I could go on for hours about each of these films. And if more of my rambling, unfiltered love for horror is what you're looking for, keep an eye out for an upcoming bonus episode of the Nightmare on Film Street Podcast available on Apple Podcasts, Google Play, & Spotify. Lastly, some of the films you find below may not be considered straight-up "horror", but they are all films that will only be seen by fans of the strange and unusual. And I myself, am strange and unusual.
But that enough of that, let's get into it! Below are my Top 10 Horror Films of 2019.
10. Greener Grass
Every year needs a bizarro comedy that makes you fear for your life. Not because it hits so close to home or exposes truths about ourselves we'd rather not acknowledge, but because one day there will be a movie so funny that I die laughing. While Nightmare on Film Street is very focused on Horror, Jocelyn DeBoer & Dawn Luebbe's Greener Grass defies classification and is likely listed as my cause of death in an alternate universe. This pastel-perfect suburban nightmare scooped out my brains with fine china, filled my head with silly string, and sent me out into the world, forever changed.
9. Blood on Her Name
Before Horror became such a widespread and celebrated genre,  we had Suspense. Before jump scares got our blood following and hearts racing, genre film was built on tension and anxiety. Matthew Pope's Blood on Her Name follows a single mother, trying desperately to cover up a murder. It's a tension-fueled Southern-Gothic crime story that buries a dagger deep into your chest, twists, and breaks off the blade. For fans of classic (tragic) film noir, with no pre-diagnosed heart conditions.
Read our full review of Mathew Pope's Blood on Her Name HERE.
8. Daniel Isn't Real 
Daniel Isn't Real was the very first movie that made it's way onto this list, back in June at the Overlook Film Festival in spirit-filled New Orleans. The Overlook Film Festival program is always filled with films that get under your skin but Adam Egypt Mortimer's Daniel Isn't Real snuck it's way into my psyche like a secret agent, come to sabotage the inner working of my mind, pulling out wires and reprogramming my thoughts. From Spectrevision, the producers of last year's cult hit Mandy, Daniel Isn't Real follows a young man who's imaginary friend has returned to help him make friends, get the girl, and murder everyone beneath him…
ENJOYING THIS POST?
Nightmare on Film Street is an independent outlet. All of our articles are FREE to read and enjoy, without limits. If you're enjoying this article, consider joining our fiend club on Patreon for only a couple-a bucks a month!

Read Nightmare on Film Street's full review of Adam Egypt Mortimer's Daniel Isn't Real HERE.
7. Color Out of Space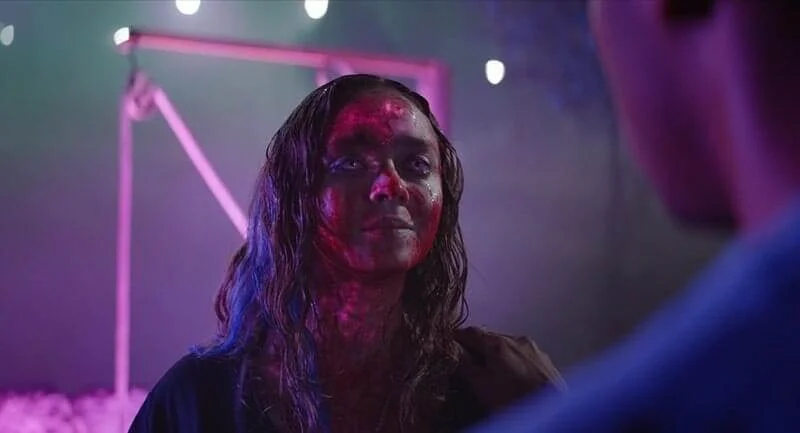 Speaking of Spectrevison, 2019 also ended the 25 year-long hiatus of writer/director Richard Stanely who loudly, and boldly proclaimed his return with the mind-scrambling Color Out of Space. Adapted from the H.P Lovecraft story of the same name, Color Out of Space deals with the after-effects of an alien object crash landing on the peaceful farmland of The Garners. This movie features squirmy, slimy alien monsters, a beautifully hypnotic color palette, respectful use of occult magic, your yearly dose of Rage-Cage, and a showstopping eerie performance from *drumroll* Tommy Chong.
Read Nightmare on Film Street's full review of Richard Stanley's Color Out of Space HERE.
6. In Fabric
Did I fully understand this movie? Absolutely not. Did it make me feel uncomfortable to watch an elderly man who might be an interdimensional being masturbate while watching his employees change the clothes of a mannequin? You Better believe it did…but I loved every eerie, unsettling moment of this hauntingly beautiful art-house horror. In Fabric solidifies Peter Strickland as the mad scientist we always knew he was, placed here on this earth to melt movie-going minds with his unique brand of surreal waking nightmares and inescapable fever-dreamscapes.
Read Nightmare on Film Street's full review of Peter Strickland's In Fabric HERE.
5. VFW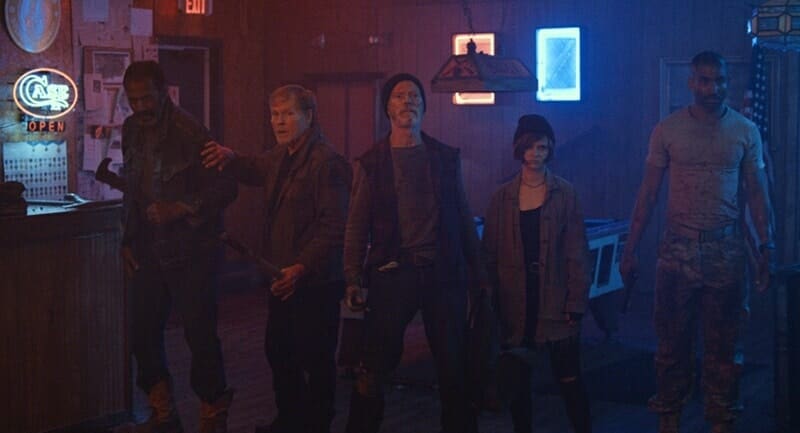 Ball-bustin' badasses from the old guard, kicking the ever-living shit out of the leather-studded new kids on the block? Yes please! Joe Begos' VFW features a shit-kickin' ensemble cast of genre favorites, including Fred Williamson (From Dusk Till Dawn) William Sadler (Tales From The Crypt: Demon Night), and Stephen Lang (Don't Breathe), in a hyper-violent siege movie with some of the most satisfying kills of the year.
Read Nightmare on Film Street's full review of Joe Begos' VFW HERE.
4. The Platform
2019 had its fair share of films examining classism and economic hierarchy (see: Parasite), and Galder Gaztelu-Urrutia's The Platform is nothing short of a masterpiece. It's a lean, fat-free, A+ cut of socio-political commentary, served with a side order of dystopia for desert. The Platform is one of the most thought-provoking narrative films I've seen in recent years and one that is likely to stay with me for years to come. For lack of a better metaphor, it's a full course meal of a film.
Read Nightmare on Film Street's full review of Galder Gaztelu-Urrutia's The Platform HERE.
3. Come To Daddy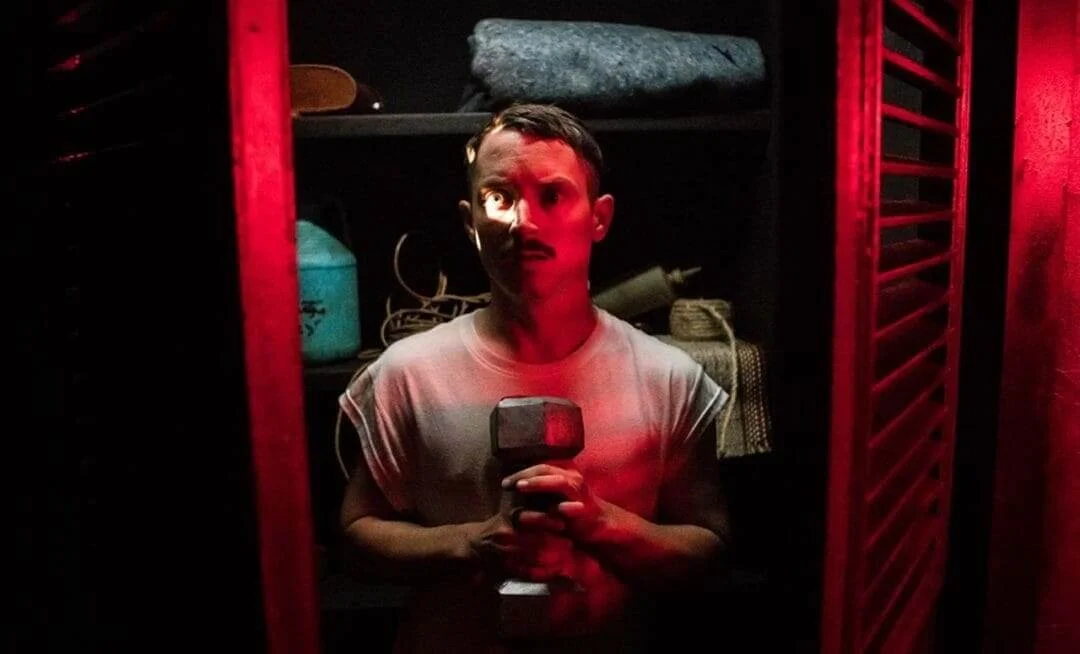 The less you know about Come To Daddy before you see it, the better. That's true about every movie, sure, but Come To Daddy is that rare breed of film that takes you to the absolute strangest places you never see coming. On the surface, it's the story of a young man (Elijah Wood) trying to reconnect with his estranged father. In its own way, it is a very touching, deeply personal film from long-time producer/ first-time director Ant Timpson but it's also a batshit crazy fight for survival from the crazed minds that brought you The Greasy Strangler.
Read Nightmare on Film Street's full review of Come To Daddy HERE.
2. The Mortuary Collection
Ryan Spindell's The Mortuary Collection might be my new favorite Horror Anthology. Like all of your own personal favourite anthologies, The Mortuary Collection features a brilliant wrap-around story, a cohesive style that carries through each tale, as well as a fun & freaky tone perfect for keeping you in the Halloween spirit all year long. If you knew 5 minutes into Michael Dougherty's Trick 'r Treat that you were seeing something special, or if you always wished cartoon Macaulay Culkin could have stayed in Pagemaster's Horror section forever, The Mortuary Collection is the movie for you.
Read Nightmare on Film Street's full review of Ryan Spindell's The Mortuary Collection HERE.
1. The Vast of Night
Every so often, a movie comes along that reminds what cinema is capable of. In Andrew Patteron's The Vast of Night we follow a fast-talking radio dj and an inquisitive, fierce switchboard operator investigating a series of strange transmissions coming from an unknown source. The film plays like an episode of The Twilight Zone, while also pulling from the strengths of classic radio programs to create a hybrid that reminds you of the power of storytelling. The Vast of Night also embraces the moviegoing experience like no other film I've seen this year, plunging you into a hypnotic darkness that gives your imagination a starring role in this brilliantly constructed, sci-fi spun tale, of lights in the night sky.
Read Nightmare on Film Street's full review of Andrew Patteron's The Vast of Night HERE.
Honorable Mentions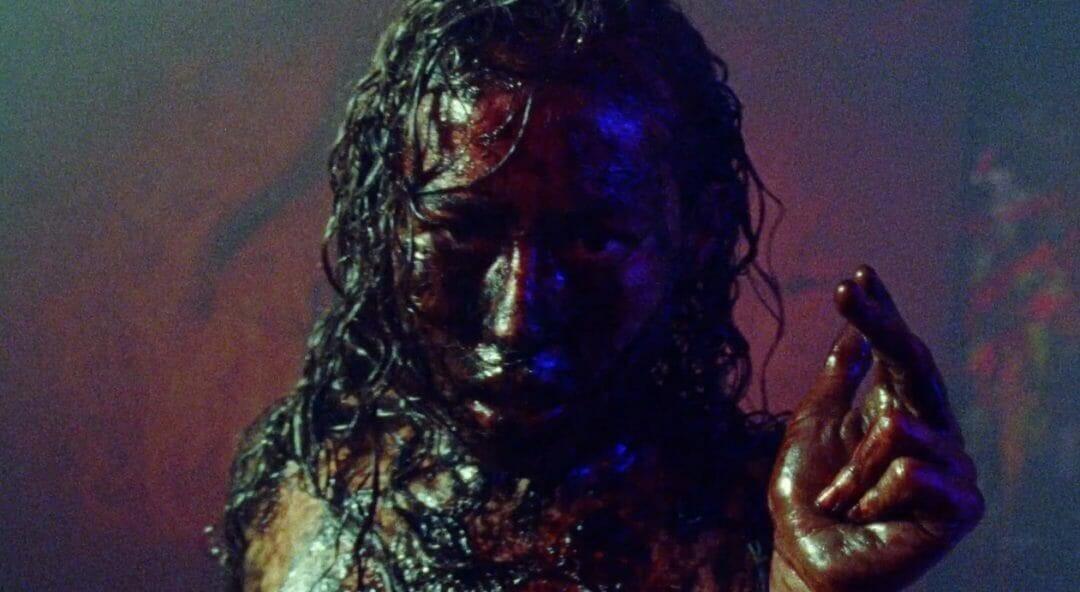 I'm sure there were some big surprises on this list, mainly in the films not included. And, of course, in a year with hundreds of amazing movies to see, there will never be enough room to highlight every one that you loved. And with that in mind, I'd just like to mention a few other movies that I absolutely loved this year, including: Joe Begos' Bliss – a movie that should be on my list, but one that I only watched the day before compiling this and I have absolutely no idea where to place it. Keola Racela's Porno – hands down one of the funniest horror-comedies of the year (with a *WILD* practical effect that will have you screaming out loud). Mike Ahern & Enda Loughman's delightful ghost-busting Extra Ordinary (featured prominently in Kimberley Elizabeth own Top 10 of 2019), as well as Rose Glass' Saint Maud, self-described by the directed as Taxi Driver "if Travis Bickle was an English Catholic woman living in a small seaside town".
That's it! That's my 2019 in a nutshell. Thank you so much for being a part of the Nightmare on Film Street community in 2019. Kim and I appreciate every listen, review, pledge, download, tweet, follow, and share. We're so grateful to be a part of this community, and we wouldn't be able to create podcasts, reviews, and articles, without our amazing Contributor team, our Patrons, and you – the FIENDS!