It's Bloodstreams time again, when we take a look at what's hitting streaming services this month and make a few recommendations from Netflix, Hulu and Shudder! Here at Nightmare on Film Street, April is Cops and Killers Month. With that in mind, I'm going to pin these release dates on my calendar and connect them all with red yarn and I urge you to do the same. Together, we can crack the case of What To Watch During Quarantine.
And if you're in need of more binge-worthy content, you can find all of our Bloodstreams recommendations HERE.
Killer Klowns from Outer Space (1988)
This beloved 1980s cult film delivers on its premise: there are killer clowns (klowns), and they come from outer space. They may look like an already-kinda-scary ordinary clown, but these dudes are bloodthirsty aliens. If this horror-comedy sounds like a perfect April Fool's Day viewing, you're in luck. You can send in the klowns on Netflix beginning April 1st.
The Killing of a Sacred Deer (2017)
Basically the exact opposite of Killer Klowns from Outer Space, this film is an unsettling, uneasy horror drama. It tells the story of a surgeon who has it all together, until the arrival of a teenage boy starts to disrupt his idyllic life. The Killing of a Sacred Deer was a big hit with people who are way smarter than me, so I can't wait to see it on Netflix April 5th.
The Vatican Tapes (2015)
Let's just say hypothetically, you're a demon. You're possessing someone, having a grand time causing havoc, and then you find out you're going to be doing spiritual battle against exorcists straight from the Vatican. That's basically the major leagues of exorcism! To see how this unravels, check out The Vatican Tapes. It descends upon Netflix on April 20th.
Into the Dark: Pooka Lives (2020)
There's not a ton of information about the latest installment of Hulu's Blumhouse-produced horror anthology series, and that makes me even more excited about it. Usually, Into the Dark has a holiday theme, but the theme of this one is "Pooka Day" (not currently celebrated in the USA, not sure about anywhere else) and brings back the fan-favorite creature from a Christmas episode. In April. If this is confusing you, you're in the same boat as me: the SS Stoked For Pooka Lives. We set sail on Hulu April 3rd!
Parasite (2019)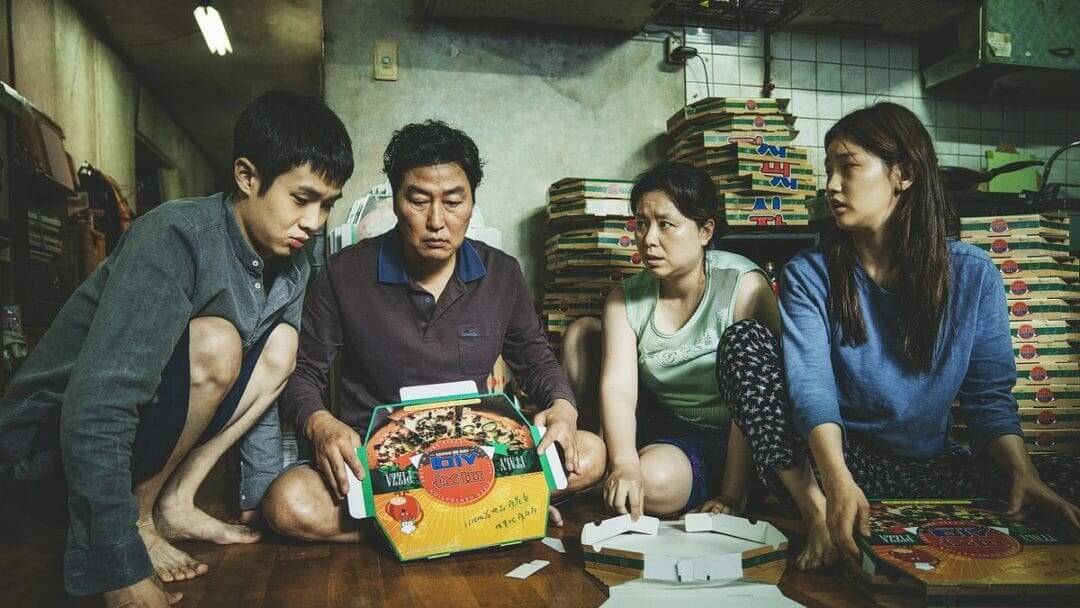 This dark comedy-drama won basically every award in the last award season. If that sounds like an exaggeration, you definitely weren't on Twitter for like… two months. It's a story of class division, inequality, and the debate over whether or not American audiences can watch a movie while reading subtitles the entire time. As a barely-literate American, I'm going to chime in with "I'll give it a shot" and get out my cheaters when it hits Hulu on April 8th.
What We Do In The Shadows Season 2 (2020)
The hotly-anticipated latest season of the hilarious tv show based on the hilarious movie will hit the small screen this month. If you've ever wondered what everyday life could be like for vampire roommates and you haven't already seen What We Do In The Shadows, you've got some homework to get caught up on. You can sink your teeth into the newest episode on Hulu April 16th.
Cursed Films (2020)
This Shudder original miniseries tells the horror stories behind the scenes of some of the most infamous productions in Hollywood history. There's nothing scarier than reality, and each episode (releasing Thursdays in April) details the terrifying true stories surrounding genre favorites. The first episode covers The Exorcist, and you can catch it exclusively on Shudder on April 2nd.
0.0 MHz (2020)
This Shudder exclusive South Korean horror film follows a ghost-hunting team as they explore an abandoned house in the middle of nowhere. I don't know anything about K-Pop, but Eun-ji Jung of Apink is one of the stars. Not sure what that means, but "Amateur Ghost Hunter" fills in like four of the gaps on my résumé so I'll be streaming this one on April 23rd.
The Last Drive-In With Joe Bob Briggs Season 2 (2020)
He's back! Fans of horror host/film historian Joe Bob Briggs will get to tune in for late-night double features every Friday night again. No more waiting for special events! The series returns to Shudder on April 24th.
Wolf Creek Season 2 (2020)
Celebrate Cops and Killers Month with someone who's done more than their fair share of killing. The tv spinoff of the iconic Outback horror series met with acclaim back in 2017. If you've been wanting to see the second season but aren't Australian, just hold out a little longer. The whole season will be available to stream on April 30th.
If you've been wanting to try Shudder but haven't subscribed yet, now's a great time. If you use the code SHUTIN you can get a full month of free, which is a very rad thing for Shudder to do in these times. Round of applause for Shudder.
What are you going to stream and scream at this month? Let us know over on Twitter, Instagram, Reddit, and the Horror Fiends of Nightmare on Film Street Facebook page. For more reviews, recommendations, and strategies to keep the couch from permanently molding into the shape of your butt, stay tuned to Nightmare on Film Street.