What's up, fiends? It's (almost) August, and baby, it's hot outside. So hot, in fact, that we're sweating out the heat with Hotter Than Hell month here at Nightmare on Film Street! One of the best ways to beat the heat is to stay inside and watch horror movies, so let's take a look at some of the coolest titles hitting your favorite streaming services this month!
The Addams Family (1991)
Are they creepy and kooky? You bet! Mysterious and spooky? Well, I won't spoil it for you. This update to America's creepiest family brought Gomez, Morticia, and the rest of the family into the 90s. To prove it, MC Hammer is all over the soundtrack. Catch up with the kids next door on Netflix August 1st.
Biohackers (2020)
This German series follows a medical student as she uncovers the mystery of her brother's death. Meanwhile, she gets into the underground genetic modification scene, which sounds so rad that I don't know if it's a real thing or not. A lot of this went right over my head, but it sounds cool. Hack the mainframe firewall (I think?) exclusively on Netflix August 20th.
Lucifer Season 5 (2020)
It's Hotter Than Hell month here at Nightmare on Film Street, so you know we had to include Tom Ellis. Wait, I mean we had to include Lucifer, starring Tom Ellis as Lucifer. This supernatural drama started on Fox, but now lives on at the streaming giant. If you wanna check in on the latest exploits of this devilishly handsome fella, you'll have to tune in to Netflix on August 21st.
ENJOYING THIS POST?
Nightmare on Film Street is an independent outlet. All of our articles are FREE to read and enjoy, without limits. If you're enjoying this article, consider joining our fiend club on Patreon for only a couple-a bucks a month!

Child's Play (1988)
Chucky, the most iconic killer to come in under 4'6″, made his debut in this sleepover favorite. I know adults that to this day swear up and down that this is the scariest movie they've ever seen. Never turn your back on a doll! Watch all the batteries-not-included action on Hulu on August 1st.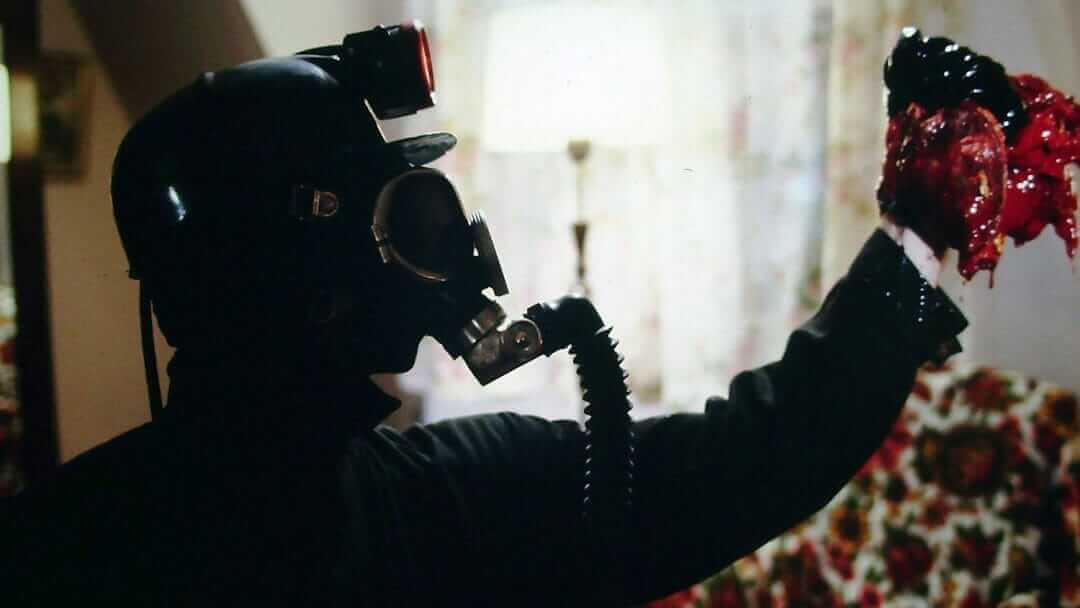 My Bloody Valentine (1981)
This Canadian slasher classic revolves around a small town planning their first Valentine's dance in years. I sure hope someone in a miner costume doesn't kill a bunch of people! The killer design, the kills, the set pieces… this movie rules. Celebrate Valentine's Day in August on Hulu August 1st.
Hellraiser (1987)
It's a good thing I've never solved a Rubik's Cube, because when you do you're approached by a bunch of Cenobites. If you're unfamiliar with this series, the first installment is a must-see. The costumes are sick and the effects are truly wild. There's a scene in this movie that made my jaw drop (literally!) the first time I saw it. Leave your preconceived notions at the door! See what sights these goths with the cool jackets can show you when it arrives on Hulu August 1st.
Host (2020)
Look, I own a calendar. It has cartoon cats on it. I know that July 30th isn't technically August. However, the difference in release dates for this shot-on-Zoom found footage horror movie and some of the other titles on this list is only a few hours, so I'm putting it here. Check out this inventive title anytime in August because it lands exclusively on Shudder July 30th.
La Llorona (2020)
This paranormal political thriller follows the family of a retired military general. Tensions flare in the lead-up to his trial for committing genocide. This Guatemalan film, unrelated to last year's The Curse of La Llorona, was a hit at festivals. You can stream it only on Shudder on August 6th.
Random Acts of Violence (2020)
Under the best circumstances, Comic-Con can be overwhelming. There are a ton of people in a small space, you have to wait in lines all day, and everything's more expensive than you want it to be. Under the worst circumstances, people are getting butchered and the killer might be inspired by your work! This is the situation that Todd finds himself in for Random Acts of Violence, directed by noted comedy actor Jay Baruchel. It lands exclusively on Shudder on August 20th.
The Shed (2019)
A vampire living in your backyard is the kind of thing that sounds awesome until you have to deal with it. Stan is seventeen, trying to protect his friend from bullies, and now he has to deal with this whole vampire situation too! His friend has some plans for the vampire, but Stan had better keep a close eye on him. This horror drama was an official selection at the Brooklyn Horror Film Festival and the Sitges International Film Festival. Check it out on Shudder on August 27th.
What are you stoked to stream this month? Let us know over on Twitter, Instagram, Reddit, and the Horror Fiends of Nightmare on Film Street Facebook page! For more reviews, recommendations, and ways to beat the heat, stay tuned to Nightmare on Film Street.