Happy October, fiends! We've made it to the only important part of the year, and frankly it couldn't get here fast enough. But now the tenth month's upon us, everyone's Twitter name is something scary, and even your worst friends can't give you grief for constantly bingeing horror movies. Let's take a look at what's hitting your favorite streaming services this month!
As a Halloween bonus, treat yourself to thirteen horror picks instead of the usual ten! Don't say I never did anything for you.
Vampires Vs. The Bronx (2020)
I can appreciate when a movie's title tells you all you need to know. Oh, there are snakes on this plane? Sold. Likewise, Vampires Vs. The Bronx is about bloodsucking undead in New York. If you weren't already sold, Method Man's in this one. That guy's great in everything! Protect ya neck (from vampires!) when this Netflix exclusive debuts on Netflix October 2nd.
Hubie Halloween (2020)
Adam Sandler stars as Hubie, a total loser who's obsessed with Halloween. When no one believes that something spooky is going on, it looks like Hubie's gonna have to save the holiday by himself. This movie looks aggressively dumb and super Halloweeny. I, too, am aggressively dumb and super Halloweeny. I can't wait to check this out when it comes exclusively to Netflix on October 7th.
The Haunting of Bly Manor (2020)
Mike Flanagan knows how to stay busy. This follow-up to the prolific director's The Haunting of Hill House is based on a horror novella you might have read in high school, The Turn of the Screw. Hopefully, this adaptation will fare better than The Turning, which has an 11% rating on Rotten Tomatoes. I guess we'll all find out when the Netflix original drops on October 9th!
Unsolved Mysteries Volume 2 (2020)
Netflix's reinvention of the classic true-crime documentary series was a huge hit over the summer, and it's remained one of the top-streamed series on the service since its release. Six more episodes are being added to the current season this month, because seasons mean nothing when you release everything all at once. We're calling this Volume 2 instead of Season 2 for an unsolved, mysterious reason. Crack the case on these new episodes when they arrive October 19th.
Nobody Sleeps in the Woods Tonight (2020)
This Polish horror film follows a group of kids unplugging from their devices at camp. I've seen enough horror movies to know that camp is where teenagers go to get murdered but are the rules of horror movies the same across the Atlantic ocean? I mean, probably! You can stream the first Polish slasher flick exclusively on Netflix beginning October 28th.
Monsterland Season 1 (2020)
This brand new Hulu-exclusive horror anthology series tells tales of monsters, mayhem, and murder! The series is based on Nathan Ballingrud's short story collection, North American Lake Monsters, and each episode is named for a different American city. You can binge all eight episodes of the first season when it debuts on Hulu October 2nd.
Books of Blood (2020)
Clive Barker is an undisputed master of horror, and the Books of Blood short story anthologies are iconic. This Hulu original film takes the Books setup and adds new stories inspired by Barker's work. Will this film feature Rawhead Rex? File that under "Unlikely But Not Impossible!" Find out when Books of Blood hits Hulu on October 7th.
Bad Hair (2020)
When a young woman in the late 80s wants to become a music channel VJ, she's told she doesn't have the right look. She gets a weave, but her hair day's about to get a lot worse: this hair has a mind of its own. This horror comedy comes from writer/director Justin Simien (Dear White People, also Dear White People). Catch it when it lands exclusively on Hulu October 23rd.
Ghoul Log 3 (2020)
Shudder's playing coy with the details, but this followup to the virtual jack o'lantern was directed by "a fan-favorite filmmaker who knows a thing or two about the holiday." Frankly, the suspense is killing me. No matter who it is (John Carpenter?), the ambient video is the perfect backdrop for the entire month. Tune in with me to solve the mystery ASAP on October 1st. (Editor's Note: *SPOILER ALERT* It's Trick 'r Treat director Michael Dougherty 🎃)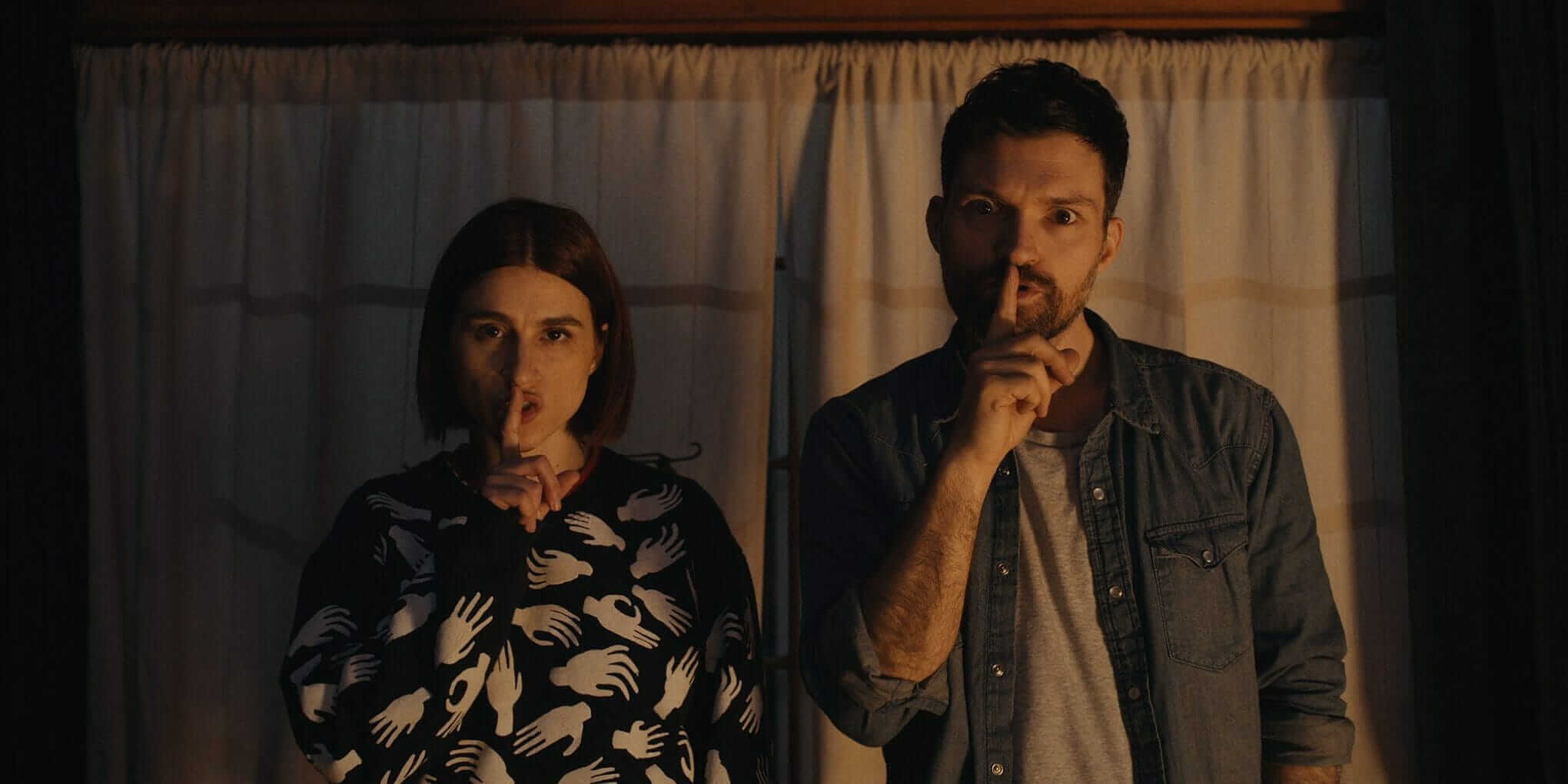 Scare Me (2020)
One of the best ways to pass the time when your power goes out is to tell scary stories. That's exactly what Fred and Fanny are doing when their stories start to come to life! This horror-comedy was a Sundance Official Selection, but now everyone can see it. It comes exclusively to Shudder on October 1st.
The Mortuary Collection (2019)
Who doesn't love an anthology film? This Fantastic Fest 2019 and Fantasia 2020 pick stars Clancy Brown (Starship Troopers) as a mortician. He's telling the strangest and scariest stories he's come across in his morbid line of work, but he might not like the way his story ends. Read Kim's review here! You can only stream this short story collection on Shudder starting October 15th.
Joe Bob's Halloween Hideaway (2020)
If you're a Last Drive-In fan, then there's no way you can miss this new special! As per usual, details are being kept scarce for now, but rest assured that there'll be a double feature perfect for the Halloween season. Look, if you like The Last Drive-In, you don't need me to explain it. All you need to know is you can catch it live on Shudder on October 23rd.
The Creepshow Halloween Special (2020)
We call a lot of things Halloween Specials, but this one is truly special. This installment of Creepshow should help hold you over until next season's debut next year. The Creepshow Halloween Special is an animated episode of the show, with the voice talents of Kiefer Sutherland (Lost Boys) and Joey King (The Conjuring) bringing to life stories by Stephen King and Joe Hill. This can't-miss special comes exclusively to Shudder on October 26th.
What are you stoked to stream all October long? Let us know over on Twitter, Instagram, Reddit, and the Horror Fiends of Nightmare on Film Street Facebook page! For more reviews, recommendations, and things that go bump in the night, stay tuned to Nightmare on Film Street.
Enjoying This Post?
Nightmare on Film Street is an independent outlet. All of our articles are FREE to read and enjoy, without limits. If you're enjoying this article, consider Buying us a coffee!