Hope everyone's ready to have an AWFUL month, APRIL FOOL'S!It's gonna be a great month instead! Here at Nightmare we're celebrating April as Reaper Madness Month, and it's a Death Trip baybeeee. Everything's either grim reapers or drugs.
For now, let's take a look at what's coming to your favorite streaming services so you can turn on, tune in, and drop dead. Side Note: Shudder is doing some really cool stuff this month to celebrate Halfway to Halloween! Basically, it's like Christmas in July except in April, and with exclusive content dropping every week!
Prank Encounters Season 2 (2021)
There were a lot of misconceptions about this show when it was first announced, so let me clear some things up for anyone skeptical about it. The victims of this prank show think they're being hired for a one-night gig, not a career, and they get paid for their involvement. With that outta the way, can you think of a better day than April Fool's to drop a new season of the hidden camera show where the kid from Stranger Things tries to scare the crap out of two strangers? Some of these episodes are even funny! Laugh or scream along with the people onscreen when this comes exclusively to Netflix April 1st.
The Serpent (2021)
Based on a true story, this Netflix show follows the mysterious and malevolent Charles Sobhraj. Dealing in murder and theft, his mastery of disguise kept him just out of reach in the swingin' 70s. Catch up with this true-crime miniseries only on Netflix April 2nd.
Things Heard and Seen (2021)
Amanda Seyfried (Jennifer's Body) and James Norton (2017's Flatliners) star in this Netflix original dramatic thriller. Seyfried plays an artist moving from bustling Manhattan to less-bustling Hudson Valley, but her new home has a dark past. Could her marriage be… even darker? Discover this mystery exclusively on Netflix April 30th.
Sasquatch (2021)
"True crime Sasquatch documentary" is a string of words that don't usually go together, but hopefully that will change soon. Sasquatch follows investigative reporter David Holthouse as he works to solve a cold case triple homicide. The twist? The prime suspect is a danger Bigfoot. Check out this miniseries exclusively on Hulu April 20th and read Grant DeArmitt's full review HERE.
The Handmaid's Tale Season 4 (2021)
Remember in the past few years whenever something bizarre would happen in American politics and people would be like "it's just like The Handmaid's Tale!" and everyone who hadn't seen it would have no idea what that meant? Get ready for another season of that! I'm in the "no idea" category, but from what I've heard this show is great dystopian sci-fi. Watch this Hulu exclusive when it releases April 28th.
Ads are Scary
Nightmare on Film Street is independently owned and operated. We rely on your donations to cover our operating expenses and to compensate our team of Contributors from across the Globe!
If you enjoy Nightmare on Film Street, consider Buying us a coffee!
Creepshow Season 2 (2021)
The Shudder-exclusive horror anthology show returns in April! Much like the Creepshow films, the show takes short stories from undisputed horror master Stephen King and puts them on your screen. This is a great way to talk about literature without having to take time out of your TV schedule, a win-win! Check it out every Thursday only on Shudder starting April 1st.
Train to Busan Presents: Peninsula (2020)
The long-anticipated follow-up to 2016's zombie-movie-for-people-who-are-burnt-out-on-zombie-movies Train to Busan, Peninsula follows Jung-Seok, a post-apocalyptic soldier. His mission goes awry when he unexpectedly finds some survivors in the wastes. What will happen, and what will it say about the human condition? Find out by streaming it exclusively on Shudder on April 1st.
The Power (2021)
Nurse-in-training Val is alone in a hospital during a power outage. At least, she hopes she's alone. This period piece, set in mid 70s London, has already scared me on premise alone. I don't wanna be in a hospital with the lights on. Catch it only on Shudder April 8th.
The Banishing (2020)
This movie is based on the true story of the most haunted house in England. I've never been to England, but I imagine the whole country is just wicked haunted. In this film, directed by Chris Smith (Creep), a reverend has to seek the help of black magic to protect his daughter. Check it out only on Shudder April 15th.
The Last Drive-In With Joe Bob Briggs (2021)
By this point, you know the drill. Exploitation enthusiast Joe Bob Briggs hosts a double feature every Friday, and gives a rundown of how many heads explode in the films. That makes this educational, and I'll be happy to sign a letter saying so if you need a film course credit! Crack open a cold one and join in on the fun every Friday starting April 16th.
Boys from County Hell (2020)
Set in a small Irish town, Boys from County Hell follows the young and mischievous Eugene. He loves to prank tourists seeking the resting place of Irish vampire Abhartach, said to be the inspiration for Dracula. Is it all just fun and games, or is there more truth to the tales than Eugene believes? Stream this festival favorite only on Shudder April 22nd.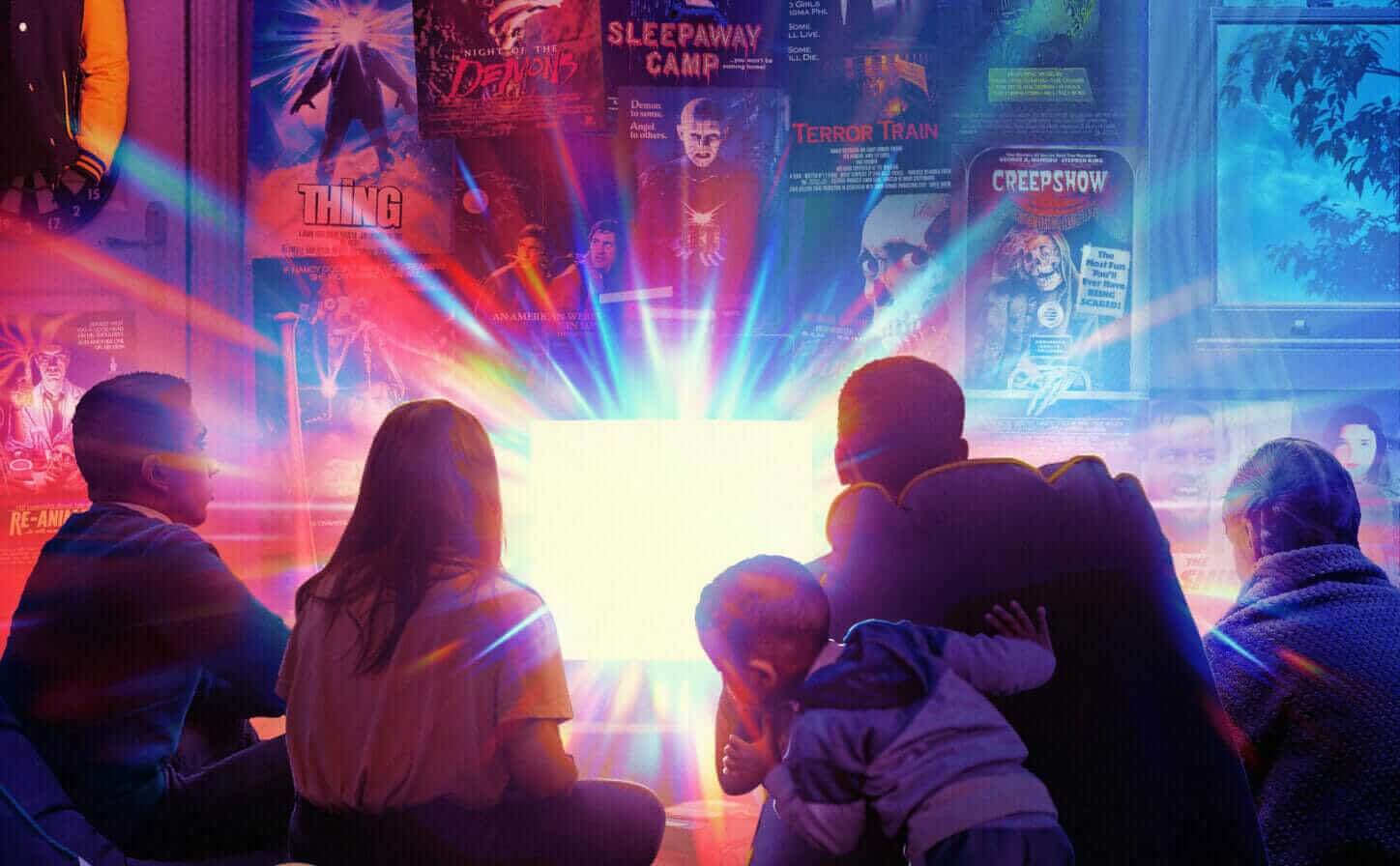 In Search of Darkness Part II (2020)
The sequel to the critically acclaimed 2019 documentary, In Search of Darkness Part II brings more interviews and behind the scenes looks at 80s horror film. Fill a five gallon bucket with popcorn and settle in for this four hour history lesson. Keep an eye out for familiar faces like Robert Englund, Linnea Quigley, and Tom Savini! Watch this documentary exclusively on Shudder on April 26th and be sure to check out Jessica Rose's full review HERE.
Enjoying This Post?
Nightmare on Film Street is an independent outlet. All of our articles are FREE to read and enjoy, without limits. If you're enjoying this article, consider Buying us a coffee!
Deadhouse Dark (2021)
An anthology film with interconnected stories? A mysterious box from the dark web revealing awful truths? A message about modern society?! I don't really care about the last one but I'm sold on the first two! Check out this Shudder-exclusive anthology on April 29th.
What are you stoked to stream this month? Let us know over on Twitter, Instagram, Reddit, and the Horror Fiends of Nightmare on Film Street Facebook page! For more reviews, recommendations, and subculture references that are sixty years out of date because that's how hip I am, stay tuned to Nightmare on Film Street.