Happy Holidays, Horror Heads! It's December, which means a couple things. First of all, we made it through November, so everyone pat yourself on the back. Second, depending on where you live, it's way too cold to go out and do stuff, so it's the perfect time to stream some horror movies!
This time around (and going forward), instead of listing off every movie that's hitting each respective service this month, I'll provide recommendations on what looks really good. You might be thinking, "hey, how are you gonna recommend something you've never seen? A lot of this stuff isn't even out yet," to which I would say you're just gonna have to trust me.
Netflix
The Confession Killer (2019)
This true-crime documentary miniseries focuses on Henry Lee Lucas, a serial killer who confessed to 600 murders. However, forensic science says that's not the case. So what gives, and what happened to all the cases that were closed based on false confessions? This'll be a great series to watch before your company holiday party so that you have some fresh serial killer trivia. It hits Netflix December 6th.
It Comes At Night (2017)
The world's ending outside, but a family has taken shelter in a boarded-up house in the woods. When another family appears and needs help, things get real paranoid. This one's got moral dilemmas, which I'm given to understand are the kinds of things that people like in their movies. Watch it on Netflix December 9th.
The Witcher (2019)
Henry Cavill stars as Geralt, the silver-maned monster hunter protagonist of the Witcher video game series. I've never played these games because Bowser isn't in any of them, but every Dungeons & Dragons group has one dude who's super into them. Plus, there are monsters, and we all love monsters. This dark fantasy series lands on Netflix December 20th.
ENJOYING THIS POST?
Nightmare on Film Street is an independent outlet. All of our articles are FREE to read and enjoy, without limits. If you're enjoying this article, consider joining our fiend club for only a couple-a bucks a month!

Sweetheart (2019)
J.D. Dillard's festival favorite invades your home this year just in time for holiday horror binge-a-thon. I mean, Christmas isn't over until you've forced your relatives to watch a soothing, family-friendly (depending on your family) Creature Feature. Read Nightmare on Film Street full review of Sweetheart (2019) HERE, and witness the year's best creature reveal on Netflix December 25th.
Hulu
Into The Dark: A Nasty Piece of Work (2019)
After getting stiffed on both a Christmas bonus and a promotion, a company man is invited to his boss's mansion for dinner. There's more than just roast on the menu, though, when the boss reveals a dangerous competition. The winner gets promoted. The loser is… not so fortunate. This installment of the Blumhouse holiday anthology series hits Hulu December 6th.
Into the Dark: Midnight Kiss (2019)
A group of friends celebrate New Year's Eve with a game called Midnight Kiss, hoping to ring in the new year with someone special. They're probably also hoping to not get murdered, but bad news: a killer wants to play too. You can catch this one on Hulu on December 27th.
Shudder
The Lost Boys (1987)
Ok, this is basically the best movie ever. If you haven't seen it, watch it on Shudder on December 1st.
Deadly Games (1989)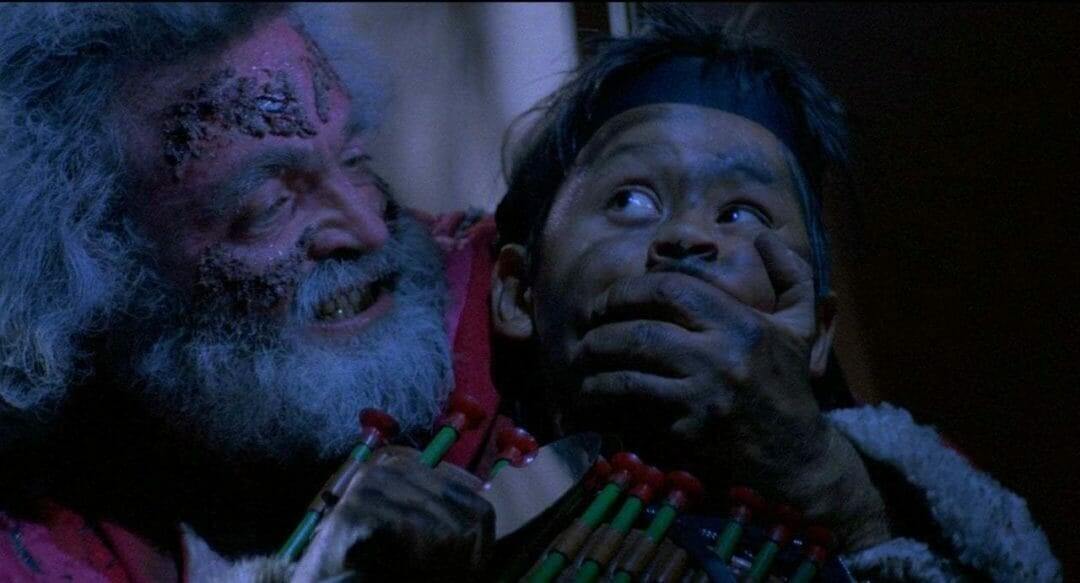 This French thriller follows a young boy and his grandfather as they fend off a psychopathic Santa Claus. It's equal parts Home Alone and First Blood and the All Through the House segment from Tales from the Crypt, and I am so, so stoked to check it out. Its U.S. streaming premiere is on Shudder December 2nd.
The Head Hunter (2018)
A kickass warrior with a collection of monster heads seeks revenge on the beast that killed his daughter in this medieval horror drama. With a 100% Fresh rating on Rotten Tomatoes, this is one to keep an eye on. It hits Shudder December 5th.
Joe Bob's Red Christmas (2019)
If you're a fan of Joe Bob Briggs, then you'll wanna catch this special holiday edition of The Last Drive-In. The triple feature begins at 9 o'clock ET Friday, December 13th.
What are you stoked to stream this month? Let us know over on Twitter, Instagram, Reddit, and the Horror Fiends of Nightmare on Film Street Facebook page. For more reviews, recommendations, and last-minute gift ideas, stay tuned to Nightmare on Film Street.