It's September! Which means it's officially THE HALLOWEEN SEASON!!! This is sure to be a weird one, because everything about this year has been strange, but we'll make it work. In addition, we're celebrating September as A Haunting on Film Street Month here at Nightmare on Film Street! We'll see some friendly, and more not-so-friendly, ghosts and ghouls. For now, though, let's take a look at what streaming releases will be haunting your TV this month!
I'm Thinking of Ending Things (2020)
Written and directed by Charlie Kaufman, this Netflix-exclusive horror drama tells the story of a young woman trapped with her boyfriend's family. Some of you were already sold six words into this. For everyone else, Toni Collette plays the boyfriend's mom. Watch the young woman in question begin to question everything in this adaptation of Iain Reid's 2016 bestseller. Any questions? You can only catch it on Netflix starting September 4th.
The Babysitter: Killer Queen (2020)
This sequel to the 2017 Netflix original The Babysitter picks up main character Cole's story once again. McG returns to the director's chair, and much of the cast of the original comes back for a second run as well. Will this sequel be better than the original? The only way to find out is to catch it on Netflix on September 10th.
The Devil All The Time (2020)
Robert Pattinson, Tom Holland, and Bill Skarsgård star in this dramatic thriller about a cast of bizarre characters and the intertwining lives they lead. This movie has it all: blood sacrifices, serial killers, a spider-eating preacher, and necromancy. Just in case you skimmed that last sentence, I said "a spider-eating preacher." This one sounds super strange, and I'm very stoked for it. It releases exclusively on Netflix on September 16th.
(Hey! Do you like cult films? The Arrow Home Video channel is adding El Topo and The Holy Mountain this month, perfect for someone who thinks they've seen it all!)
Ads are Scary
Nightmare on Film Street is independently owned and operated. We rely on your donations to cover our operating expenses and to compensate our team of 30+ Contributors.
If you enjoy Nightmare on Film Street, consider Buying us a coffee!
An American Haunting (2006)
With September's theme being A Haunting on Film Street, there's never been a better time to revisit this movie. This adaptation of the Bell Witch story takes place in both the 19th and 21st centuries, and features such beloved actors as Donald Sutherland and Sissy Spacek, but was met with pretty negative reviews at release. But, I grew up in rural Tennessee hearing about the Bell Witch, and it's Haunting month, so it makes the list. Is this one that can stay in the forgotten recesses of our collective minds? Decide for yourself when it haunts Hulu on September 1st.
Practical Magic (1998)
Sandra Bullock and Nicole Kidman star as the weird sisters in this small-town witch story. Practical Magic is a rare movie that's generally family-friendly without being a "kid's movie." Will Sandra Bullock and Nicole Kidman beat the odds (and a curse?!) and find love? Find out when Practical Magic hexes Hulu on September 1st. P.S. The director of this movie is Griffin Dunne, the decomposing friend in An American Werewolf in London!
Evil Dead II (1987)
A Haunting on Film Street, you say? Well then, I better rewatch my favorite "haunted cabin" movie, and one of the best horror movies ever made, Evil Dead II!! Admittedly, I'm always looking for an excuse to watch this one. If you've never seen Bruce Campbell fight off the forces of evil in a splatstick horror comedy, you simply must give this movie  shot. And if you haven't seen the first one, don't worry- everything's covered in Evil Dead II. It lands on Hulu September 1st. Groovy.
Color Out of Space (2019)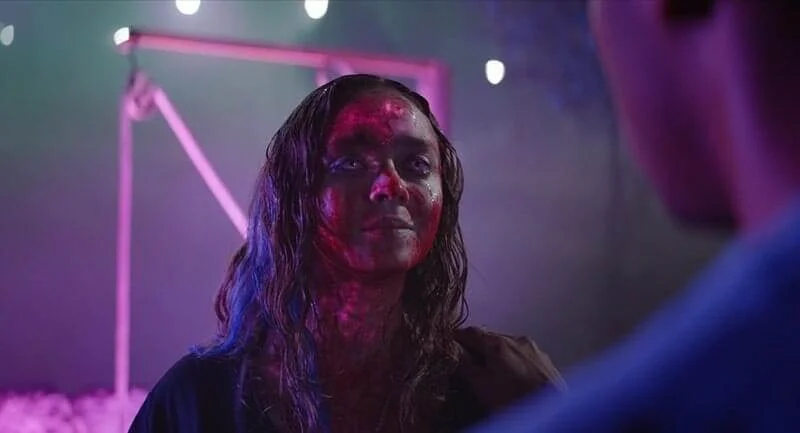 Based on an H.P. Lovecraft short story, Color Out of Space is a cosmic horror tale set in a small New England town. You might have guessed that based on the phrase "H.P. Lovecraft short story." The film adaptation stars Nicolas Cage and Joely Richardson as a couple who move their family to a farm. After a meteor lands on their lawn, things start getting strange and unexplainable. Voted Best Horror Film at 2019's Fantastic Fest, this one is a perfect fit for all the weird fiction lovers out there. It arrives exclusively on Shudder September 1st.
Holliston (2012)
Adam Green and Joe Lynch star as Adam and Joe in this hilarious horror sitcom. By day, they work at a local access TV station with Dee Snider from Twisted Sister. By night, they're trying to get funding for their horror movie, and hijinks absolutely ensue. The late, great Oderus Urungus (GWAR) makes guest appearances as the monster that lives in Adam's closet. Plus, there's a cat! You can finally stream this series again when it lands on Shudder on September 14th.
Spiral (2020)
Malik and Aaron move to a small town to raise their daughter. While on the surface everything looks great, there are mysteries in this town. I won't say "never trust your neighbor," but maybe these guys shouldn't. Uncover the mystery for yourself when Spiral lands exclusively on Shudder September 17th.
Enjoying This Post?
Nightmare on Film Street is an independent outlet. All of our articles are FREE to read and enjoy, without limits. If you're enjoying this article, consider Buying us a coffee!
Verotika (2019)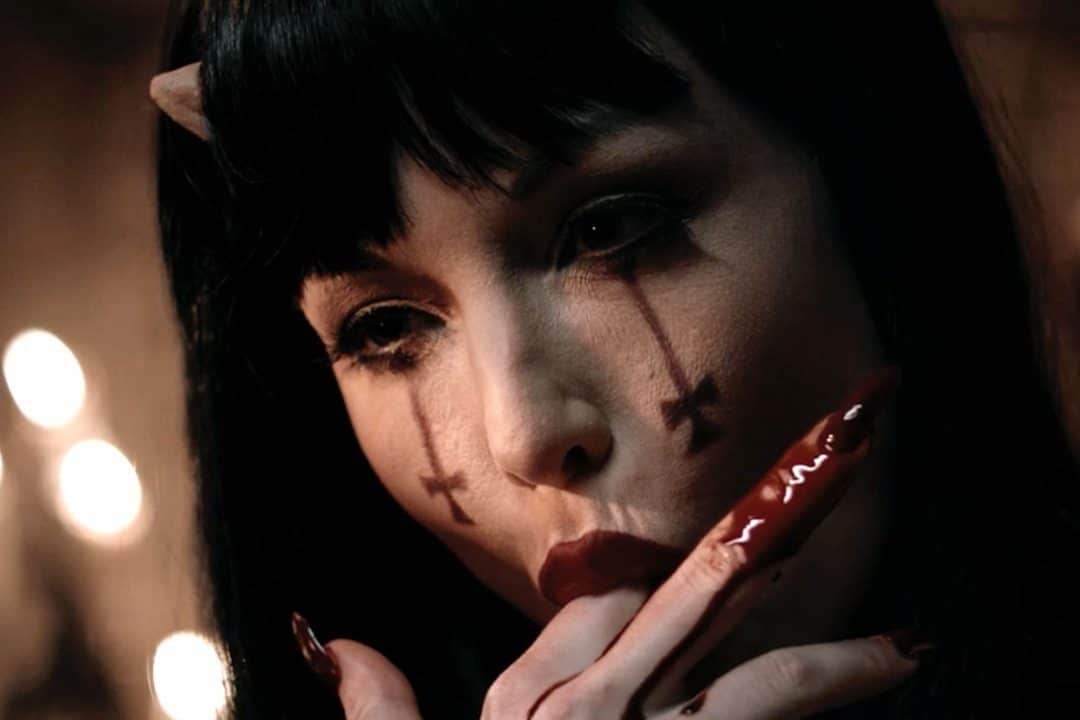 Glenn Danzig is a legend. There's no arguing that. Without the Misfits, all the bands I like would be maybe 60% as good as they are now. That being said, Danzig's directorial debut is baffling. It's an erotic horror anthology with three segments, but the first one is the most important one, and I'm having so much trouble not spoiling it that I have to end this here. Verotika has to be seen to be believed, and you can only stream it on Shudder starting September 24th.
PS – Shudder has some big plans for the next two months: they're rolling out 61 Days of Halloween! Keep your eyes peeled for all sorts of spooky treats (and maybe even a few tricks!) until November 1st, the worst day of the year.
What are you stoked to stream this month? Are you going to watch Verotika a whole bunch of times? Let us know over on Twitter, Instagram, Reddit, and the Horror Fiends of Nightmare on Film Street Facebook page! For more reviews, recommendations, and haunted happenings, stay tuned to Nightmare on Film Street.