Ah, to be on vacation right now. I don't know about all of you, but I for one am growing weary of the walls of my parents' house. This restlessness combined with Fall rapidly approaching has lead to me fantasizing about all manner of spooky themed getaways. In this list you will find the top ten haunted properties from film and television that I wish I could rent on Airbnb, as well as the vacation activity I would be most excited to do there.
10. The Overlook Hotel – The Shining
Stay with me on this one. Right away we have a property that isn't a "house" per se, but come on, could any place be more haunted? The Overlook is the fictional hotel where Jack Torrance (Jack Nicholson) loses his entire mind in the horror classic, The Shining (1980). A very real-life dream of mine is to book a night's stay in a room at the Stanley Hotel in Colorado, where Stephen King got his inspiration for the novel, but I want more! I want the entire fake hotel of The Overlook all to myself! I want to meander through the hedge maze and belly up to the bar in The Gold Room where a ghost will pour me Jack Daniel's. A girl can dream.
Vacation activity I most want to do there: Order massive amounts of room service and then remember I'm the only one in the hotel and go down to the kitchen and get it myself.
9. The Maitland House – Beetlejuice
In Tim Burton's Beetlejuice (1988), Barbara (Geena Davis) and Adam Maitland (Alec Baldwin) haunt their home after dying in a car accident. To be very clear, I want to rent a stay in this home after the Deetz family moves in and Delia (Catherine O'Hara) tricks the place out. Give me ghosts and incomprehensible architecture please. We've got animal pelt backed chairs, we've got sculptures, we've got wavy furniture. I could spend an entire weekend just touching every piece of decor in this haunted house.
Vacation activity I most want to do there: Sit on the absolutely bonkers deck and have a cocktail.
8. Neibolt House – It (2017)
In the most recent adaptation of the Stephen King epic, It (2017) the house on Neibolt Street sits atop the well that serves as Pennywise's (Bill Skarsgard) passageway to and from the sewers. The house is pretty…run down, but you can tell it has good bones. That's not even mentioning the cute little sunflowers planted out front! Admittedly, I may look into having some light renovations done before planning my stay, purely for safety's sake, not for aesthetics.
Vacation activity I most want to do there: Visit historic Derry, Maine.
ENJOYING THIS POST?
Nightmare on Film Street is an independent outlet. All of our articles are FREE to read and enjoy, without limits. If you're enjoying this article, consider joining our fiend club on Patreon for only a couple-a bucks a month!

7. Edna's House – Relic
An elderly woman's secluded home may not seem like a prime vacation spot to some, but I just say you're not using your imagination enough. In the movie Relic (2020) a grandmother (Robyn Nevin), mother (Emily Mortimer), and daughter (Bella Heathcote) stay in the grandmother's house together after she goes missing for a period of time, seemingly due to her degenerative memory. During this time, the women are undoubtedly haunted, although the haunting extends beyond standard ghosts and spirits. That aside, Edna's house is giant and she has a great bathtub so I think I'd have a good time there.
Vacation activity I most want to do there: Explore the woods just beyond the house (and maybe that creepy closet maze)
6. The Fairchild Estate – The Turning
One of the handful of movies that was actually released in theaters this year was The Turning (2020) which tells the story of a young woman, Kate (Mackenzie Davis) who is tormented by the two children (Brooklynn Prince and Finn Wolfhard) she is hired to be governess of. Or maybe it's the ghosts. We're not getting into the plot intricacies of The Turning here because all I care about is that house. It feels silly to call it a house because I would call that a castle. It is enormous with sprawling grounds and gorgeous architecture and I would happily go bankrupt to rent this place on Airbnb.
Vacation activity I most want to do there: Horseback riding.
5. The SS Antonia Graza – Ghost Ship
Again, not a house necessarily, but this ship is super haunted. In Ghost Ship (2002) 40 years after a freak "accident" kills nearly everybody aboard the SS Antonia Graza, a salvage crew discovers the abandoned ship and are subsequently terrorized. Pre-pandemic, I always wanted to go on a cruise. Thinking about it now, it sounds like a lot of people stuck on the water with nowhere to go, but I'll try anything once.
Vacation activity I most want to do there: Grab the wheel and pretend I'm driving the boat.
4. Murder House – American Horror Story
I'm coming to realize that the most important factor in my wanting to rent a haunted house is how big it is. That being said, Murder House is big! We see this mansion in the first season of American Horror Story (2011) when the Harmon family moves from their home in Boston for a fresh start. That really backfires because the house is full of ghosts of murderers and murder victims alike who are tied to the house in one way or another. The hugeness of the house aside, it is also in a prime location in Los Angeles making it a great vacation spot.
Vacation activity I most want to do there: Sit in one of those curved bay windows and read a book.
3. The Lodge – The Lodge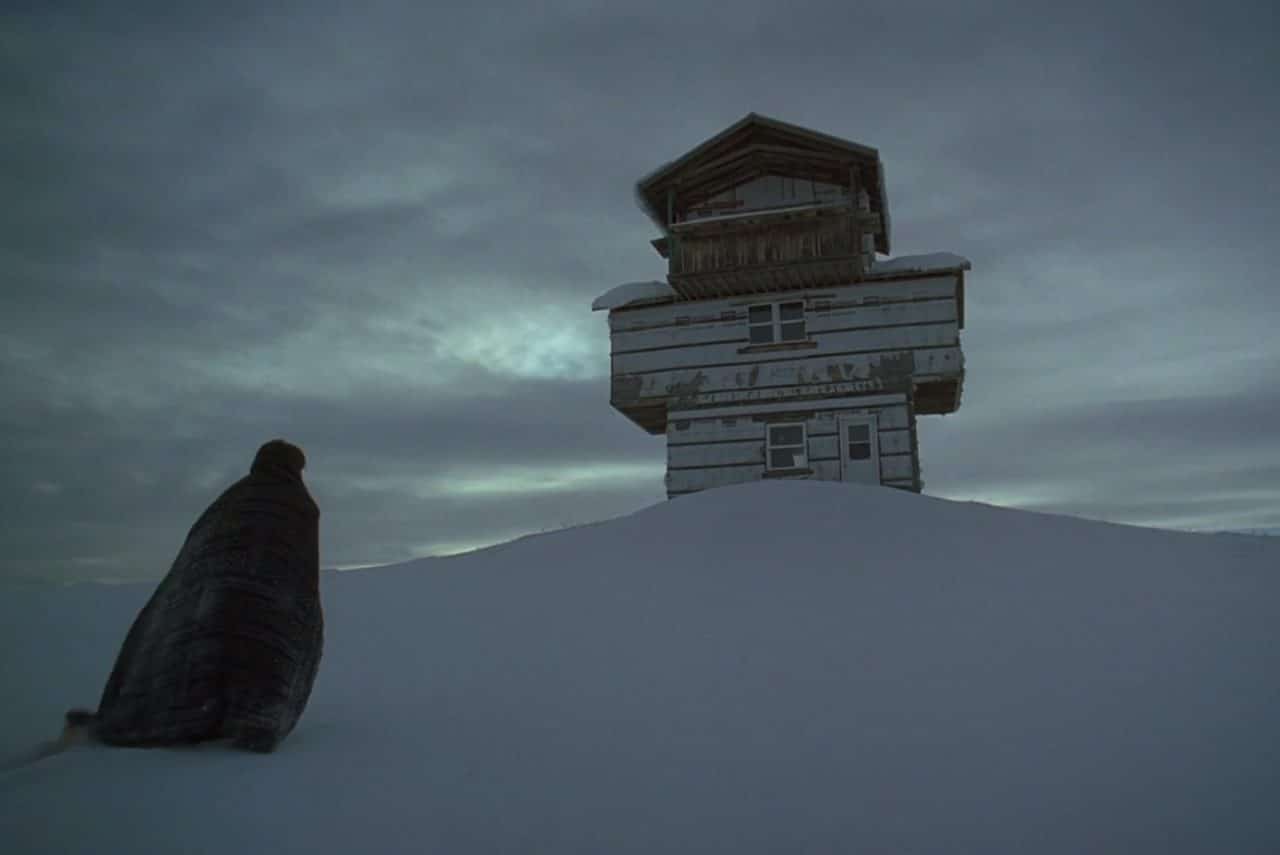 While the titular lodge in The Lodge (2019) may not be a haunted house at the outset, it's 100% haunted by the time the movie is over. A young woman, Grace (Riley Keough) sets out the spend the lead up to Christmas alone in a cabin with her fiance's kids (Jaeden Martell and Lia McHugh). After her fiance (Richard Armitage) leaves the kids alone with her, unexplainable things start to happen. The cabin is super secluded, surrounded by a lot of land which lends it to all kinds of fun Winter activities .
Vacation activity I most want to do there: Make a snowman!
2. Hill House – The Haunting of Hill House
In Mike Flanagan's The Haunting of Hill House (2018) the Crain family takes care of the tough job of renovating this run down mansion. The renovation is done with the intention of the family selling it to make their own dream house, but all things considered, I think putting it up on Airbnb is a good alternative. As you may have guessed, Hill House is incredibly haunted. It's also enormous and beautiful, it even has a spiral staircase and a full library. What more could you need!
Vacation activity I most want to do there: Croquet. It just seems like a place that would have a croquet set.
1. Kristi's House – Paranormal Activity 2
The number one spot was a real toss up between this house and the house from the first Paranormal Activity (2009), but the Paranormal Activity 2 (2010) house won out because this house has a pool. When there isn't a demon accosting babysitters or ripping open every cabinet in the kitchen, you can really appreciate how nice it would be to live in this house. I'm most excited about the kitchen island which is a dream for any future home of mine. Like many other entries on this list, it is also huge and I can feel myself getting an ulcer thinking about how much it must cost.
Vacation activity I most want to do there: Take pictures of the house's exterior that I can put them on dating profiles and pretend I live there.
Did I miss your favorite beautiful, yet so very haunted house/hotel/boat? Let us know what your favorite haunted properties are over on Twitter, in the Nightmare on Film Street Subreddit. and on Facebook in the Horror Movie Fiend Club!