The Fantasia International Film Festival dropped the complete lineup for its 23rd edition. I was already excited when they announced their first wave, but now I'm absolutely giddy about seeing this year's films. So let's unpack what's in store…
Some big news in J-horror. The festival will open with the North American premiere of Sadako, the newest sequel to the Ringu franchise (the original Japanese films that inspired The Ring) by director Hideo Nakata. It has a similar premise, but has been reworked for the modern era, with the cursed video going viral on Youtube, instead of a videotape. J-horror fans will also be lining up for the world premiere of Stare by Hirotaka Adachi, a ghost story with a high body count.
There will be an advanced screening of Ready Or Not, a survival thriller that puts Samara Weaving (The Babysitter, Mayhem) in a deadly game of hide and seek. The film is directed by Matt Bettinelli-Olpin and Tyler Gillett, who directed Devil's Due together, and both collaborated in segments of horror anthologies like V / H / S and Southbound.
After receiving glowing reviews at this year's Cannes, science fiction thriller Vivarium will be making its North American premiere at Fantasia. The film stars Jesse Eisenberg and Imogen Poots, and is directed by Lorcan Finnegan.
Adapted from the Indonesian survival horror video game (available on Steam) and making its North American premiere, DreadOut follows a group of teens, trapped in an abandoned building, with nothing but their cellphones to ward off the evil spirits that haunt it.
Making their world premieres are Blood On Her Name, a gothic neo-noir starring Bethany Anne Lind (Ozark), and 1BR, which deals with the terrors of apartment living in Los Angeles. From Canada, there's Homewrecker, and from the Philippines, Mystery of the Night.
Fantasia has introduced a new film section called Retro, dedicated to screening restorations of genre films from previous decades, as well as 35mm and 16mm rarities. Among the titles are Dracula Vs. Frankenstein (1971), Satan's Slave (1982), and the Living Dead At Manchester Morgue (1974).
Many distinguished guests have been invited to this year's Fantasia. Joe Bob Briggs, host of Shudder's the Last Drive-In, will be doing live presentation titled How Rednecks Saved Hollywood. Horror journalists Kier-La Janisse and Michael Gingold will be hosting Horror Express, a bus tour around Montreal's horror film locations. Fantasia will be presenting director Ted Kotcheff with its inaugural Canadian Trailblazer award, and will be screening restorations of the Apprenticeship of Duddy Kravitz and First Blood, the first movie of the Rambo franchise.
There are so many more features that will screen at Fantasia. You can read about them below. The festival will take place in Montreal, Canada, and will run from July 11th to August 1st, 2019. Tickets will be available online and at the Concordia box office on July 6th. For more info, go to their website.
ALIEN CRYSTAL PALACE. France – Directed by Arielle Dombasle.
A crazy scientist is on a quest to create a new, immaculate, androgynous being. Parisian nightlife icon Arielle Dombasle has made a psychotronic big-screen erotic fantasy, a kitsch and camp kaleidoscope, generous, absurd, and genuinely endearing. Co-starring Jean-Pierre Léaud and Asia Argento. North American Premiere.
THE ART OF SELF-DEFENSE. USA – Directed by Riley Stearns
After being mugged, meek accountant Casey (Jesse Eisenberg) joins a karate school — and his life takes a strange and dark turn. FAULTS director Riley Stearns' sophomore feature is a twisted tale of the dangers of toxic masculinity. Co-starring Imogen Poots. Official Selection: SXSW 2019. Quebec Premiere.
BLISS. USA – Directed by Joe Begos
A drug-fueled night out in LA transforms a young artist into something otherworldly, but is it due to the vampiric ménage à trois she took part in or the cocaine-like "bliss" she's been snorting? ALMOST HUMAN/THE MIND'S EYE director Joe Begos deliver a stunning heavy metal head-trip that's equal parts blissful euphoria and horrifying bloodbath. Official Selection: Tribeca Film Festival 2019, Overlook Film Festival 2019, Cinepocalypse 2019. Canadian Premiere.
ENJOYING THIS POST?
Nightmare on Film Street is an independent outlet. All of our articles are FREE to read and enjoy, without limits. If you're enjoying this article, consider joining our fiend club on Patreon for only a couple-a bucks a month!

CULTURE SHOCK. USA – Directed by Gigi Saul Guerrero
Blumhouse's Into the Dark delivers its most impressive film to date, with Gigi Saul Guerrero's scathing takedown of The United States' treatment of Mexican dreamers, where "The Land of the Free" is far from the truth. Featuring Martha Higareda, Shawn Ashmore, and a spine-tingling performance from Fantasia fave Barbara Crampton. Official Selection: Cinepocalypse 2019, Etheria Film Night 2019. International Premiere.
DANCE WITH ME. Japan – Directed by Shinobu Yaguchi
Have you ever imagined a musical number spontaneously occurring in real life? Ambitious financier Shizuka has accidentally been hypnotized. Now, a ringing phone or radio jingle will set her off on a Gene Kelly-like rampage… A sassy send-up of musical comedies from Shinobu Yaguchi (SWING GIRLS, ROBO-G) with genuinely catchy, impressive song-and-dance numbers! Official Selection: Shanghai International Film Festival 2019, NY Japan Cuts 2019. Quebec Premiere.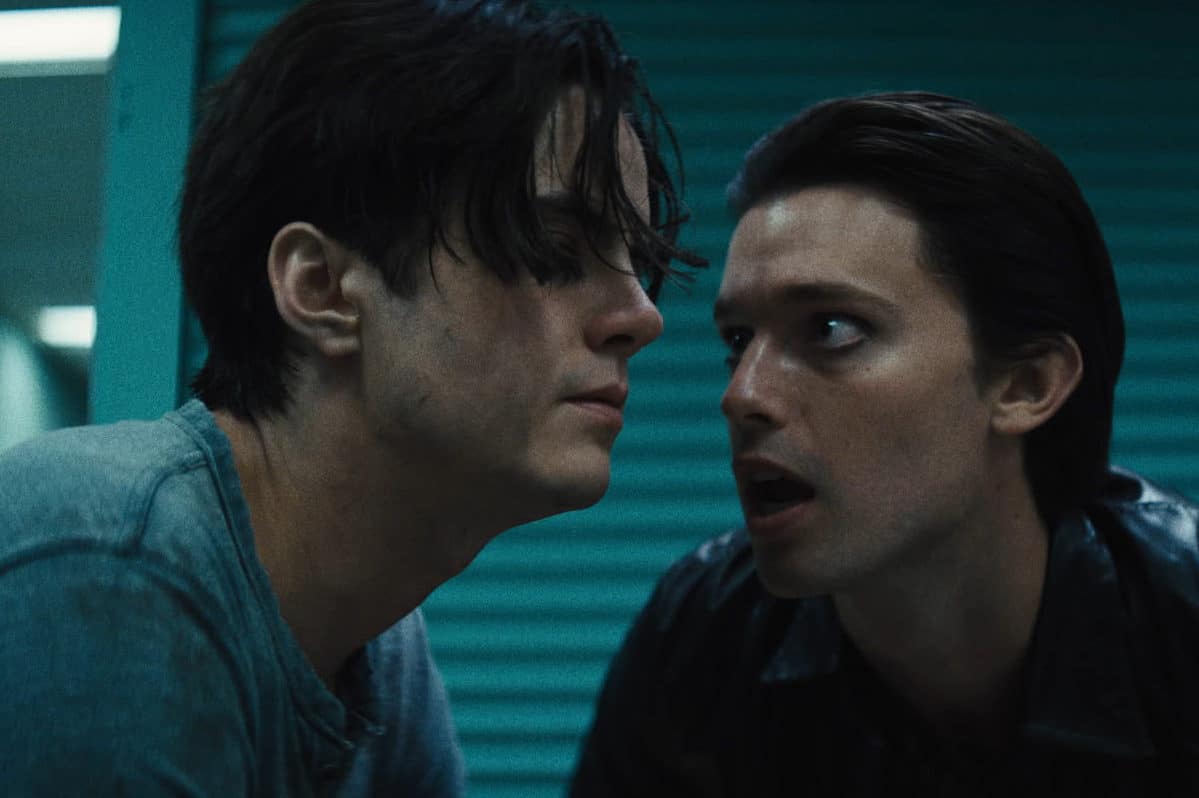 DANIEL ISN'T REAL. USA – Directed Adam Egypt Mortimer
A childhood friend reappearing after a decade seems like it should be cause for celebration… but what happens if it's a troublemaking – and possibly deadly – imaginary friend? This is the conundrum in Adam Egypt Mortimer's clever, violent thriller, whose title isn't as cut and dry as one might first think. Official Selection: South by Southwest 2019, Sydney International Film Festival 2019, Overlook Film Festival 2019. Canadian Premiere.
DARE TO STOP US. Japan – Directed by Kazuya Shiraishi
The surprising and utterly unexpected biopic of a legend of Japanese countercultural cinema: Koji Wakamatsu! A film that takes the pulse of a transgressive cinematographic heritage in which sex, violence and revolutionary thought rubbed shoulders on screen. Canadian Premiere.
DAY AND NIGHT. Japan – Directed by Michihito Fujii
When Koji, son of a whistleblower driven to suicide, steps outside the law in his quest for justice, the thin line that separates good from evil begins to fray. A suspenseful drama about the tragic fate reserved to whistleblowers that offers a necessary reflection on justice. Official Selection: Japan Filmfest Hamburg 2019. Canadian Premiere.
THE DUDE IN ME. South Korea – Directed by Kang Hyo-jin
After an overweight teenager literally falls on him, a gangster realizes to his great dismay that they have swapped bodies. Packed with outlandish twists and turns, this fantasy comedy skilfully juggles gags, action, and emotion! Official Selection: Hawaii International Film Festival 2019. Canadian Premiere.
FREAKS. Canada – Directed by Zach Lipovsky and Adam B. Stein
Bruce Dern, Emile Hirsch, and Amanda Crew headline this mind-bending mystery box of a thriller about a young girl (newcomer Lexy Kolker) whose father has convinced her that leaving their suburban home will spell her doom… and when she finally does step outside, she discovers a world unlike anything she – or this film's viewers – would ever believe. Official Selection: Toronto International Film Festival 2018. WINNER: Prix Public, Best Feature, Les Utopiales 2018,  Audience Award, Best Film, What the Fest…?! 2019. Quebec Premiere.
GINTAMA 2: RULES ARE MADE TO BE BROKEN. Japan – Directed by Yuichi Fukuda
The silver-haired samurai Gintoki and his odd-job agency associates are back for this second manga adaptation, with no less loopy lunacy, swashbuckling swordfights, gratuitous anime references, and costume design to die for. Official Selection: Brussels International Fantastic Film Festival 2019. North American Premiere.
HARD-CORE. Japan – Directed by Nobuhiro Yamashita
Ukon and Ushiyama discover a discarded robot, unaware of the extent of its potential, in this bizarre science-fiction comedy drama. If you are looking for unusual cinema that makes you laugh without knowing why, you've just found it. Never before has the concept of WTF seemed so natural. Official Selection: Golden Horse Fantastic Film Festival 2019, Udine Far East Film Festival 2019. Canadian Premiere.
HARPOON. Canada – Directed by Rob Grant
When a troubled trio of young friends find themselves marooned on a yacht in the middle of the ocean, suspicions and anger bubble to the surface as their faith in each other sinks like a shipwreck. Writer/director Rob Grant returns to Fantasia with thrilling, seafaring suspense film that takes absolutely no prisoners. Starring TURBO KID's Munro Chambers. Official Selection: Rotterdam International Film Festival 2019, Chattanooga Film Festival 2019, Calgary Underground Film Festival 2019, Fantaspoa 2019, BIFAN 2019. Quebec Premiere.
HIS BAD BLOOD. Japan – Directed by Koichiro Oyama
A despicable con artist left the tightly knitted village the day his wife gave birth. 30 years later, his traumatized son is chased because of him. They both end up sheltering in a church, knowing nothing about each other. HIS BAD BLOOD is proof that independent Japanese cinema remains creatively fertile. WINNER: Audience Award, Yubari Fantastic Film Festival 2019. International Premiere.
IT COMES. Japan – Directed by Tetsuya Nakashima
Convinced that a supernatural force is threatening his family, Hideki reaches out to a writer specializing in the occult, and his clairvoyant girlfriend to rid himself of the entity. To tell you anything more about this completely bonkers horror tale would ruin the many surprises waiting within. Official Selection: Hawaii International Film Festival 2019, Bucheon International Fantastic Film Festival 2019. Canadian Premiere.
JUDY AND PUNCH. Australia – Directed by Mirrah Foulkes
Village puppeteers Judy (Mia Wasikowska) and Punch (Damon Herriman) are at the eye of this whirlwind of black comedy, filled with slapstick violence and, amid the theatricality of the marionette show, gripping drama. An old morality play with a modern twist. Official Selection: Sundance 2019. Canadian Premiere.
THE LODGE. UK/USA – Directed by Veronika Franz and Severin Fiala
Hailed at Sundance as "the next great horror film," this nerve-shredding story of inexplicable, terrifying things happening to a snowed-in family stars Riley Keough, Richard Armitage, and Alicia Silverstone. This is a film whose horrors are both intellectual and deeply visceral, with imagery that will have your heart in your throat. From the makers of GOODNIGHT MOMMY. Official Selection: Sundance 2019, Karlovy Vary 2019, Overlook Film Festival 2019. Canadian Premiere.
MIRACLE OF THE SARGASSO SEA. Greece/Germany/Netherlands/Switzerland – Directed by Syllas Tzoumerkas
After a shocking death rocks a sun-bleached village, two women's destinies interlock and their grip on reality start to slip. This work of New Weird Greek Wave cinema, starring Angeliki Papoulia (DOGTOOTH, ALPS), blends the blood-spattered real world and the troubling nightmares of legend. Official Selection: Berlin International Film Festival 2019. Canadian Premiere.
MISS AND MRS. COPS. South Korea – Directed by Jung Da-won
There are a lot of badass lady cops in Seoul, and they're all ready to prove their worth and kick some scumbag ass! Remember the buddy cop movie? Writer-director Jung Da-won has magically resurrected it in fantastic fashion. Quebec Premiere.
MISSBEHAVIOR. Hong Kong – Directed by Pang Ho-Cheung
A terrible mistake reunites a gang of estranged drama queens in search of human breast milk throughout Hong Kong! An utterly ridiculous, hilarious, and politically incorrect comedy caper from Pang Ho-Cheung (VULGARIA, DREAM HOME). Official Selection: Osaka Asian Film Festival 2019. Quebec Premiere.
THE ODD FAMILY: ZOMBIE ON SALE. South Korea – Directed by Lee Min-jae
The eccentric Park family captures Zzongbie, a harmless living corpse who also happens to be a walking dose of Viagra. This South Korean Zom-com has a ball reanimating the done-to-death conventions of the zombie flick. Official Selection: Udine Far East Film Festival 2019, New York Asian Film Festival 2019. Canadian Premiere.
PARADISE HILLS. Spain – Directed by Alice Waddington
Amid rapturous production design, Emma Roberts, Awkwafina, Eiza González, and Danielle Macdonald gather under the cold eye of headmistress Milla Jovovich in this genre-bending allegory about femininity and social norms. With shades of PICNIC AT HANGING ROCK and THE HANDMAID'S TALE, this soft and beguiling nightmare is about the cost of living the life you choose, rather than the life that is expected. Official Selection: Sundance 2019. Canadian Premiere.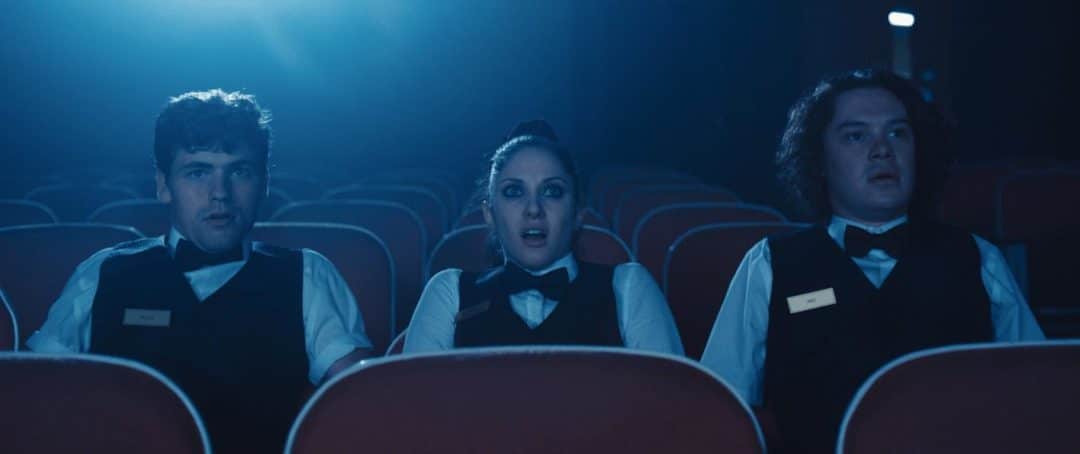 PORNO. USA – Directed by Keola Racela
Trapped in a cinema late at night, five sex-starved religious teens are easy prey for a succubus with lust and murder in mind, but these Bible-thumpers won't give up without a fight… even when this '90s-set retro riot has their balls literally to the wall. Official Selection: South by Southwest 2019, Overlook Film Festival 2019. Canadian Premiere.
THE PURITY OF VENGEANCE. Denmark – Directed by Christoffer Boe
Packed with crime, sex, and revenge – as well as being the highest-grossing film in Danish cinema history – this uber-blockbuster based on the book by Jussi Adler-Olsen finds two detectives trying to unravel a violent, decades-old murder mystery as they struggle with their own fraught relationship. From the director of BEAST and OFFSCREEN. Official Selection: Sitges 2018, Transylvania International Film Festival 2019, Palm Springs International Film Festival 2019. Canadian Premiere.
SWALLOW. USA – Directed by Carlo Mirabella-Davis
Meek housewife Hunter (an utterly terrific Haley Bennett) struggles to find purpose and meaning – until she begins swallowing a variety of household objects. A film that will pique anxieties and turn stomachs, this is a surprisingly tender look at the echoes of abuse. See this one at all costs or miss one of the most potent works of the year. Official Selection: Tribeca Film Festival 2019, Neuchâtel International Film Festival 2019. Canadian Premiere.
TOKYO GHOUL 'S'. Japan – Directed by Kazuhiko Hiramaki
Another round of blood and black leather on the midnight streets of Tokyo's Ward 20! Moody intrigue and twisted terror take hold again in the second live-action adaptation of the immensely popular urban-horror manga. Official Selection: Los Angeles Anime Expo 2019. Canadian Premiere.
WHY DON'T YOU JUST DIE!. Russia – Directed by Kirill Sokolov
All holy household hell breaks loose in a single, ever-more-battle-scarred Moscow apartment. Kirill Sokolov's attention-grabbing debut feature is a sure-footed synthesis of suspense, dark comedy, and deranged, detail-oriented ultraviolence. Sokolov is ruthlessly deliberate in his decisions, be it the pressure-cooker dialogue, the cunning camera work, or the piquant colour scheme. Official Selection: Tallinn Black Nights 2018, What the Fest…?! 2019, Cinepocalypse 2019. Canadian Premiere.
THE WRATH. South Korea – Directed by Yoo Young-seon
A powerful family's lineage is threatened by the spirit of a wailing woman haunting their lands. This straight-up horror film set in medieval Korea recalls the glory days of VHS, dishing out enough jump scares to rouse the dead. Canadian Premiere.