It's Christmas! Time for mistletoe, wine and Mariah Carey. But it's also midwinter – the nights are drawing in and it's cold outside: the perfect time for a ghost story by a roaring fire. So pull up an armchair, and settle in for 10 of the best films featuring spooky ghost stories…
10. The Woman in Black (2012)
Terrifying West End audiences since the late 1980s, the story of The Woman in Black is packed to the rafters with ghostly happenings. In the 2012 film version, Daniel Radcliffe plays Arthur Kipps, a lawyer sent to Crythin Gifford a village with a history of tragedy and a host of secrets, to prepare the sale of Eel Marsh House. After encountering numerous hauntings at the house, and being told by locals of the tragic events that have taken place at the house, Arthur believes that he has uncovered all the house's secrets. He seeks to lay the vengeful spirits to rest, but finds that some ghosts are not easily pacified. This adaptation may not be as beloved as the famously scary stage play, but it's definitely still an effective and well-told haunting tale.
9. House on Haunted Hill (1959)
The characters in House on Haunted Hill all have fair warning that they may have some ghostly encounters – they've been promised $10,000 by the wealthy Frederick Loren (Vincent Price) if they can last the night in the titular haunted mansion. While some of the guests are spooked by Loren's tales, others remain steadfast in their belief that a more earthly malevolence is at work, as several of them are attacked during the night. While the question of whether ghosts are real or not stays unresolved, one thing is certain – never trust an eccentric millionaire, and always stay well away from pits of acid.
8. Ghost Story (1981)
Ghost Story centres around four friends who form the Chowder Society, a group dedicated to the sharing of terrifying tales. After one of their number, Edward, dies, his son Don takes his place in the Society. This sets in motion a chain of events involving a very real ghost story, and the revelation of a long-hidden crime. Featuring icy New England scenery, vengeful ghosts and mystery galore, this is perfect for your winter watchlist.
7. The Canterville Ghost (1996)
Who better to tell a ghost story than the ghost themselves? In The Canterville Ghost, an adaptation of Oscar Wilde's classic story, the spectral Sir Simon de Canterville (Patrick Stewart) finds his efforts to haunt his ancestral home thwarted by pragmatic Americans. When the Otis family move into Canterville Hall, they remain entirely unfazed by the old apparition, even efficiently getting rid of ghostly bloodstains with the help of a decent stain remover. Their teenaged daughter, Ginny (Scream's Neve Campbell) takes pity on Sir Simon, and by lending him a sympathetic ear discovers the way to bring peace to Canterville and allow Sir Simon to finally be at rest. While the film has something of a TV movie feel, Campbell and Stewart are both excellent, and there is real poignancy to the scene in which Sir Simon recounts his tragic history to Ginny.
6. Ghost Stories (2017)
Ghost Stories starts off like many anthology horrors, featuring a wraparound story where one character tells another some eerie tales. Professional skeptic Philip Goodman visits wash-up paranormal investigator Charles Cameron, who asks him to look into three supernatural occurrences. The ghost stories start of straightforwardly, with the tale of a nightwatchman who sees a ghost at the old asylum where he works, but the stories soon become darker and more psychological. Nothing is as it seems in this twisty tale: the mind sees only what is wants to see, but the truth may be far scarier.
5. The Signalman (BBC Ghost Stories for Christmas, 1976)
Charles Dickens' A Christmas Carol might be the better-known festive tale, but the adaptation of his story The Signalman, produced as part of the BBC's Ghost Stories for Christmas series, has also become a winter favorite. A traveller encounters a railway signalman, who has become worried by the repeated appearance of a figure warning him of danger – but torn between sounding what might be a false alarm, and wanting to prevent possible disaster, the signalman finds himself in an impossible bind. As the title character struggles against the tragedy he feels is looming, The Signalman touches on themes of fate, predestination, and individual agency. The fireside scenes where the traveller and signalman discuss the nature of work and duty carry real emotional weight, and it's a thoughtful and melancholy film that deserves its place as a slightly different type of Christmas classic.
4. Crimson Peak (2015)
The holiday season is partly about excess and indulgence, and you can't get much more excessive than Guillermo Del Toro's sumptuous gothic thriller Crimson Peak. Heiress Edith Cushing marries mining entrepreneur Thomas Sharpe and moves with him to his impressive but dilapidated English family home, but soon starts to feel  that sinister forces are working against her. Ghostly warnings, murder, revenge and dubious family dynamics all play a part in this lush and atmospheric fantasy horror.
Although you couldn't technically call it a Christmas film, with its lavish winter wear, family troubles and plenty of snow, it's got a definite festive feel.
3. The Haunting (1963)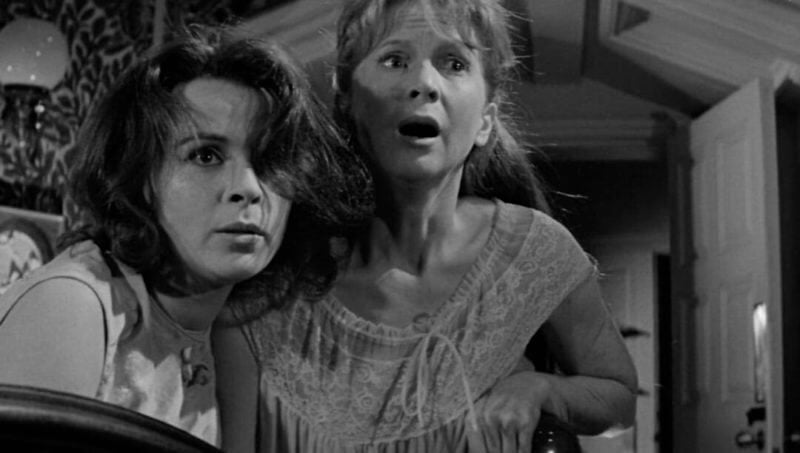 For classic haunted house tales, it's hard to beat The Haunting. Dr John Markway decides to conduct a paranormal investigation at the ominous Hill House, inviting individuals he feels will be receptive to the house's uniquely terrifying properties, including Eleanor Vance and the psychic Theodora. Dr Markway relates to them the circumstances of the many deaths in the house, which he believes has resulted in the paranormal happenings. The house does not disappoint in this regard, offering up strange noises, visions and even a form of mind control. A tragic ghost story with an ominous tone, this is one to put on if you're feeling an overload of cheeriness from usual festive fare.
2. Scare Me (2020)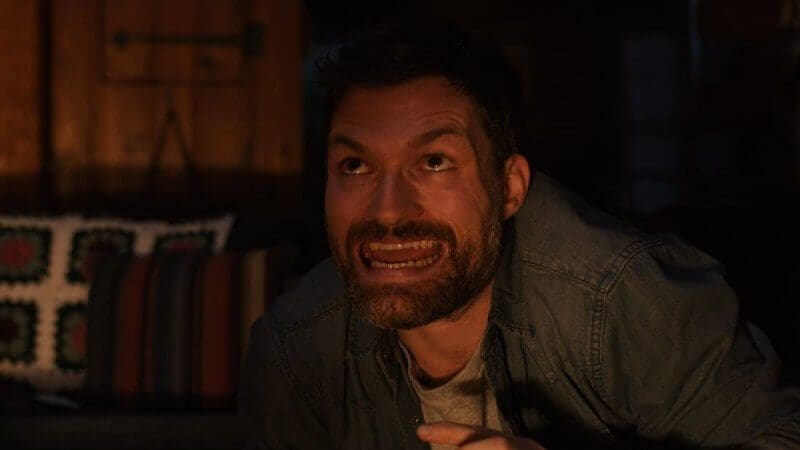 What better situation for telling spooky stories than a remote cabin during a power outage? In Scare Me, two horror writers, Fred (Ruben) and Fanny (Aya Cash), each on their own writing retreats, find themselves stuck inside with only their own imaginations as entertainment. They take turns trying to scare each other with lurid tales, although professional jealousy turns out to be perhaps the scariest thing of all. Scare Me expertly balances comedy and horror, and though the action never leaves the confines of the cabin, the individual tales are creatively brought to life.
1. The Others (2001)
Set in a mist-shrouded mansion on the isle of Jersey, The Others is the story of Grace and her two children, Anne and Nicholas, who live a permanently candlelit existence, necessitated by the children's extreme sensitivity to strong light. Strange things start to happen in the house, and the family become convinced they are being haunted; Anne at one point telling the others about the ghosts she has seen – another family that claim the house belongs to them. An elegant slow burn of a film, The Othersis a wintry ghost story perfect to watch when the nights are drawing in. Light the lamps, draw the curtains and settle in for the spookiness.
We've got the most ghosts here at NOFS, so make sure you're following us on Twitter, Reddit, or in the Horror Movie Fiend Club on Facebook! And for all the best horror discussion you can find online, stay tuned to Nightmare on Film Street.