Happy New Year Fiends! January is ringing in not just a New Year, but a new decade, and with it, some fantastic new Home Release Horror!
Let's take a look at what's on its way, shall we?
10) Body Parts – January 28th, 2020
This medical-miracle-gone-wrong film starring Jeff Fahey and Brad Dourif gets the Blu-Ray treatment this January! Special Edition includes the following features:
NEW Audio Commentary With Director Eric Red
NEW I Dare You To Read The Script – An Interview With Director Eric Red
NEW Something Unstoppable – An Interview With Actor Paul Ben-Victor
NEW Molded For Cinema – An Interview With Actor Peter Murnik
NEW That One Hurt – An Interview With Editor Anthony Redman
Deleted Gore Footage With Optional Commentary With Director Eric Red
Theatrical Trailer
TV Spots
Still Gallery
Head on over to Shout! Factory to pick this one up!
9) Zombieland: Double Tap – January 21st, 2020
The Harrelson-led horror comedy hits home video for the first time in Blu-Ray and in glorious 4K and comes packed with extras:
ENJOYING THIS POST?
Nightmare on Film Street is an independent outlet. All of our articles are FREE to read and enjoy, without limits. If you're enjoying this article, consider joining our fiend club on Patreon for only a couple-a bucks a month!

Bloopers and Outtakes
Alternate and Extended Scenes
Making-Of Featurettes
Location coverage
Film Commentary
And more!
Don't miss out on this one, pre-order at Amazon!
8) The Lighthouse – January 7th, 2020
From the mind of Robert Eggers, director of the indie masterpiece The Witch, comes his latest; The Lighthouse. Arguably one of the top horror films of 2019 debuts on home video this January and needs to be added to your horror collection immediately! Re-live the insanity and delve deeper with:
"The Lighthouse: A Dark and Stormy Tale" Featurette
Audio commentary with Co-writer and Director Robert Eggars
Deleted Scenes
Again, head over to Amazon to grab your copy!
7) Let's Scare Jessica to Death – January 28th, 2020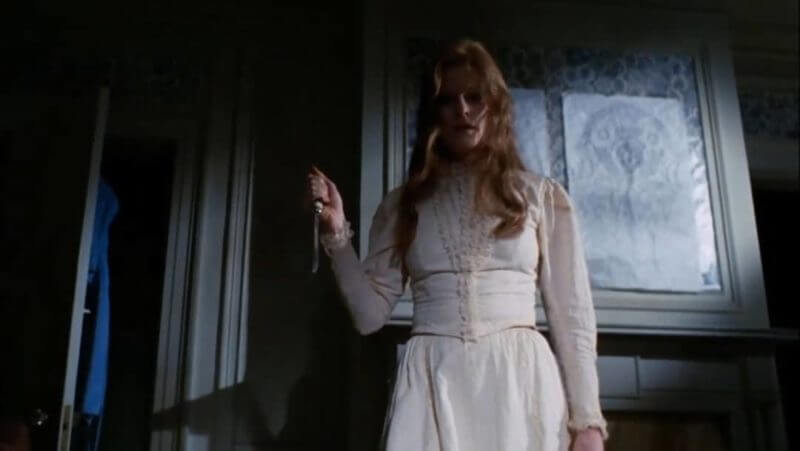 This 70's classic is being reissued from Shout! Factory and is another film worthy of being added to your collection. It boasts the following features, some of which are brand spankin' new:
Audio Commentary With Director John Hancock And Producer Bill Badalato
Art Saved My Life – An Interview With Composer Orville Stoeber
Scare Tactics: Reflections On A Seventies Horror Classic –
An Interview With Author/Film Historian Kim Newman
She Walks These Hills – The Film's Locations Then And Now
Theatrical Trailer
TV Spot
Radio Spot
Still Gallery
6) Slumber Party Massacre – January 28th 2020
An all new 4K scan is the main event when it comes to this release, straight from the original negatives! Other extras include:
"Sleepless Nights: The Making Of The Slumber Party Massacre"
Audio Commentary With Director Amy Holden Jones, Actors Michael Villella And Debra De Liso
Interview With Actor Rigg Kennedy
Theatrical Trailers (U.S. And U.K.)
Theatrical Trailers For Slumber Party Massacre II and III
Alternate Title Sequence
Still Gallery
But in addition to this, if you snag your copy from Shout! Factory you'll also get the Limited Edition Steelbook, an 8″ Russ Thorn action figure from NECA and an exclusive lithograph!
5) Edge of the Axe – January 28th, 2020
Edge of the Axe Special Edition comes Region Free from Arrow Films and the first pressing will also come with a collector's booklet featuring new writing by Amanda Reyes. Other extras include:
Brand new 2K restoration from the original camera negative
English and Spanish language versions of the feature
Original uncompressed mono audio
Optional English subtitles for the deaf and hard of hearing for the English soundtrack
Newly translated English subtitles for the Spanish soundtrack
Brand new audio commentary with actor Barton Faulks
Brand new audio commentary with The Hysteria Continues
Newly-filmed interview with actor Barton Faulks
The Pain in Spain – a newly-filmed interview with special effects and make-up artist Colin Arthur
Image Gallery
Reversible sleeve featuring original and newly-commissioned artwork by Justin Osbourn.
4) The Phantom Creeps – January 28th, 2020
A rare piece of horror cinema, this 1939 serial featuring the great Bela Lugosi is newly restored in 2K and in Blu-Ray. Other than containing all 12 original episodes, not much is out there in terms of special features. But don't let that stop you, this one is too unique to pass up! Available at Amazon.
3) Trespassers – January 7th, 2020
This Shout! Factory original starring Fairuza Balk is, as the Austin Chronicle puts it "A brutally sleazy home invasion thriller … simple, sadistic, and definitely not for the squeamish". To be honest I hadn't heard about this one before now, but will be checking out for sure and you should as well!
2) The Mummy's Shroud – January 14th, 2020
It's Hammer Horror at its very best delivered to you via Shout! Factory. This release includes:
Audio Commentary By Author/Film Historian Bruce G. Hallenbeck
The Beat Goes On: The Making Of The Mummy's Shroud
Remembering David Buck
World Of Hammer – Mummies, Werewolves, And The Living Dead
Theatrical Trailer
Still Gallery
1) The House that Dripped Blood – January 6th, 2020
If you missed out on the Limited Edition Blu-Ray fear not, a Standard Edition Blu-Ray is coming from Second Sight. This is a Region B release, comes with reversible sleeve artwork by Graham Humphreys and comes equipped with the following special features:
Audio Commentary with Director Peter Duffell and Author Jonathan Rigby
Audio Commentary with Film Historian and Author Troy Howarth
Interview with Second Assistant Director Mike Higgins
A Rated Horror Film – Vintage featurette featuring interviews with Director Peter Duffell and Actors Geoffrey Bayldon, Ingrid Pitt and Chloe Franks
Theatrical Trailers
Amicus Radio Spots
Stills Gallery
Humphreys and original artwork
Optional English Subtitles for the hard of hearing
Featuring Christopher Lee, Peter Cushing and Ingrid Pitt!
Will you be picking up anything that's on this list? What about what's not on it? Let us know in the comments, on Twitter or better yet, on our Horror Movie Fiend Club on Facebook!