While you can't go wrong with more playful fare like Knives Out (2019) and Clue (1985), whodunnits can be just as fun when they are a little on the darker side. The movies on this list are not necessarily horrors (although some of them definitely are), but these murder mysteries incorporate enough familiar elements to keep horror fans engaged and guessing.
Scream (1996)
"A year after Sidney's mom is murdered, more murders start to occur. She begins to suspect if these murders are related and tries to find the killer as everyone seems to be a suspect."
What's In It For Horror Fans: Well, it goes without saying that most people think of Scream first and foremost as a horror film (and they should!), but it's also definitely a whodunnit mystery.  The entire series serves up murder mystery elements, but in the first entry, our suspicions shift along with Sidney (Neve Campbell)'s as she tries to uncover the masked killer who keep attacking her and her friends. The film forces us to keep guessing every time a suspect ends up stabbed or otherwise dead.
Diabolique (1955)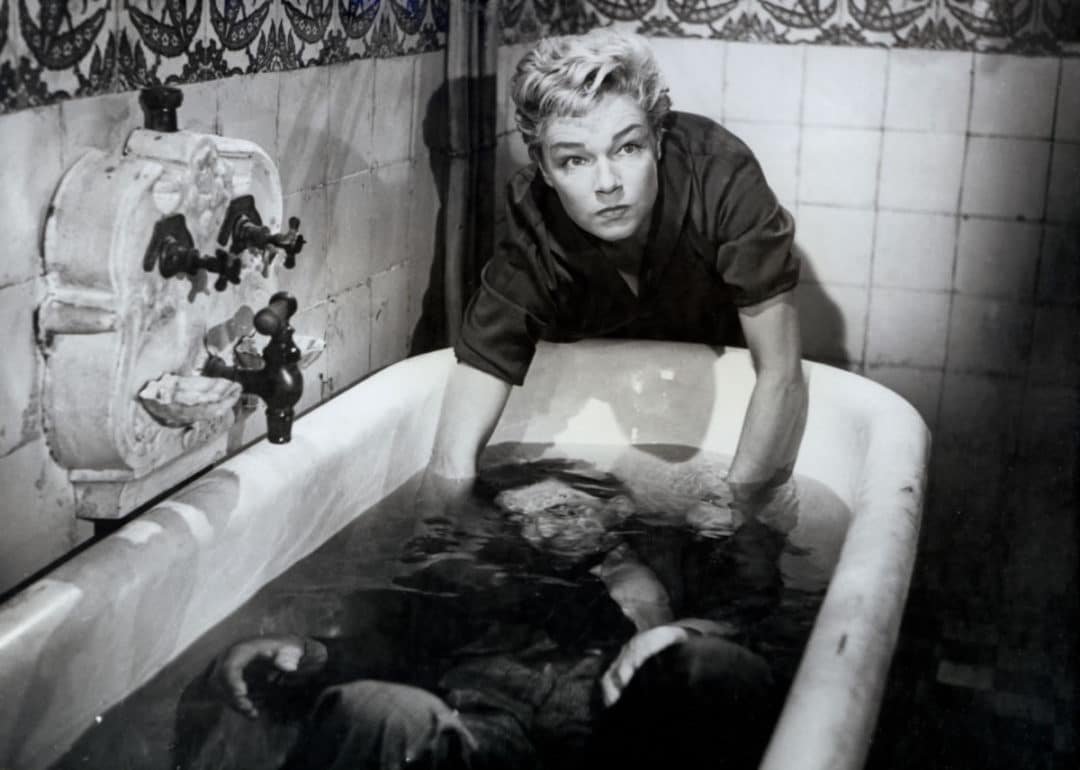 "Michel Delasalle is murdered by his wife and mistress. His body is dumped in a neglected swimming pool, but the corpse is nowhere to be found when the pool is drained. Is Michel really dead?"
Why Horror Fans Will Love It: Diabolique is not a whodunnit in the traditional sense because who know who the murderers are from the beginning. The mystery lies in unraveling what happened to the body and figuring out who else knows the truth. Diabolique is calculating in its deception and macabre enough for horror fans.
The Usual Suspects (1995)
"Five criminals meet during a routine police line-up. Upon their release, they plan to pull off a dangerous heist involving precious emeralds worth three million dollars."
Why Horror Fans Will Love It: It doesn't matter if you were spoiled for the big twist; it's worth watching this one at least once to experience the feat of manipulation for yourself. Enjoy it, and then be a little sad afterward because this movie is regrettably what gave Kevin Spacey's career to the world.
Ads are Scary
Nightmare on Film Street is independently owned and operated. We rely on your donations to cover our operating expenses and to compensate our team of 30+ Contributors.
If you enjoy Nightmare on Film Street, consider Buying us a coffee!
The Bird With the Crystal Plumage (1970)
"An American expatriate in Rome witnesses an attempted murder. He learns later that it's connected to an ongoing murder spree in the city, and decides to do his own investigation, despite being personally targeted by the killer."
What's In It For Horror Fans: Dario Argento's impressive directorial debut is a tightly wound whodunnit with all of the giallo fixings you'd expect. The Bird With The Crystal Plumage is flashy and the clues don't always quite add up, but it's still fun to try to solve the mystery before the characters on-screen do.
The Gift (2000)
"Annabelle Wilson, a woman with psychic abilities, tries to find Jessica King, a young socialite who has mysteriously disappeared. While the search continues, she starts to suspect the townspeople."
What's In It For Horror Fans: The Gift is a by-the-books 00s whodunnit with a supernatural bent. The strange star-studded cast includes Cate Blanchett as a psychic murder case meddler, Keanu Reeves as an abusive asshole, and J.K. Simmons as a small-town local sheriff and it's worth watching if only to see so many big names cast against type.
Laura (1944)
"A police detective falls in love with the woman whose murder he is investigating."
What's In It For Horror Fans: This list wouldn't be complete without a proper silver screen-era noir mystery. Film-noir is possibly the most important genre for defining the style of detective murder mysteries. Laura is a stunning entry into the genre and the mystery elements hold up against the test of time. [Editor's Note: Laura also features a delightful performance from a young Vincent Price!]
Murder! (1930)
"A juror in a murder trial, after voting to convict, has second thoughts and begins to investigate on his own before the execution."
What's In It For Horror Fans: Murder! was Alfred Hitchcock's third all-talkie feature and one of his only whodunnits. Hitchcock apparently disdained whodunnits, which is probably why his most well-known works feel like they're built with aggressively deconstructed whodunnit elements with all of the suspense and none of the murder mystery. While I wouldn't count Murder! among his best works, it's essential viewing for Hitchcock fans interested in seeing his distinct style emerging already in his early work.
Mystic River (2003)
"After the death of Jimmy's daughter, Katie, Sean, a police officer, investigates her murder which leads him to a crime that took place twenty-five years ago."
What's In It For Horror Fans: This neo-noir mystery is a dark and unforgiving slow-burn. The layers that peel back in this narrative as Detective Sean Devine tries to untangle the events around his childhood friend's daughter's murder are awful and haunting.
Enjoying This Post?
Nightmare on Film Street is an independent outlet. All of our articles are FREE to read and enjoy, without limits. If you're enjoying this article, consider Buying us a coffee!
Identity (2003)
"Ten strangers arrive at an isolated hotel, become temporarily cut off from the rest of the world, and are mysteriously killed off one by one."
What's In It For Horror Fans: Any story inspired by Agatha Christie's 1939 whodunnit classic And Then There Were None will immediately feel familiar, but James Mangold and Michael Cooney take the familiar premise and transform it into a twisty, non-linear slasher. Any one of the guests trapped at the hotel during a freak rainstorm could be a suspect, and for most of the movie it's unclear if we're dealing with a human killer, a supernatural force, or something else entirely.
And Then There Were None (2015)
"Ten strangers are invited to an island by a mysterious host, and start to get killed one by one. Could one of them be the killer?"
What's In It For Horror Fans: If you prefer your Agatha Christie to be a little bit truer to the source, check out the three-part miniseries that Variety reviewer Maureen Ryan described as " a murderous fever dream".
Do you think horror fans and whodunnits go together like blood and gore? What's your favourite murder mystery? Let the NOFS community know over on Twitter, Instagram, Reddit, and the Horror Fiends of Nightmare on Film Street Facebook page.