It's the first Saturday of the month, which means it's time for Saturday Morning Scares!!! In keeping with this month's A Haunting on Film Streettheme, today's show is one that I loved as a kid, Extreme Ghostbusters.
After the runaway success of 1984's Ghostbusters, basically the bet movie ever made, a Saturday morning cartoon version of the franchise took the characters on further adventures. This show was called The Real Ghostbusters, and it ran for several years. Following its 1991 finale, the series lay dormant. When a revival was proposed, the showrunners knew they wanted something new and radical to put a twist on the formula. Since this was the 90s, they needed it to be EXTREME.
Disclaimer: I'm not a doctor, and nothing I say should be considered medical advice. However, if you experience any photosensitivity you should probably skip this one. There are a ton of flashing lights in Extreme Ghostbusters.
Cast of Scare-Acters
You might be thinking, "I already know the Ghostbusters. I don't need a crash course on the stars of this cartoon." Well, you're right and you're wrong. There are a couple of returning favorites in Extreme Ghostbusters, but plenty of fresh faces as well.
Egon- One of the original Ghostbusters, Egon is now teaching paranormal research to college kids. He's a lot less active these days, but that won't stop him from strapping on a proton pack when needed.
Garrett– Usually the first to charge into battle, Garrett is a paraplegic athlete and adrenaline junkie. He also writes crappy horror fiction and butts heads with Eduardo. Extreme Ghostbusters went on to win an award from the Los Angeles Commission on Disabilities for its portrayal of a disabled protagonist.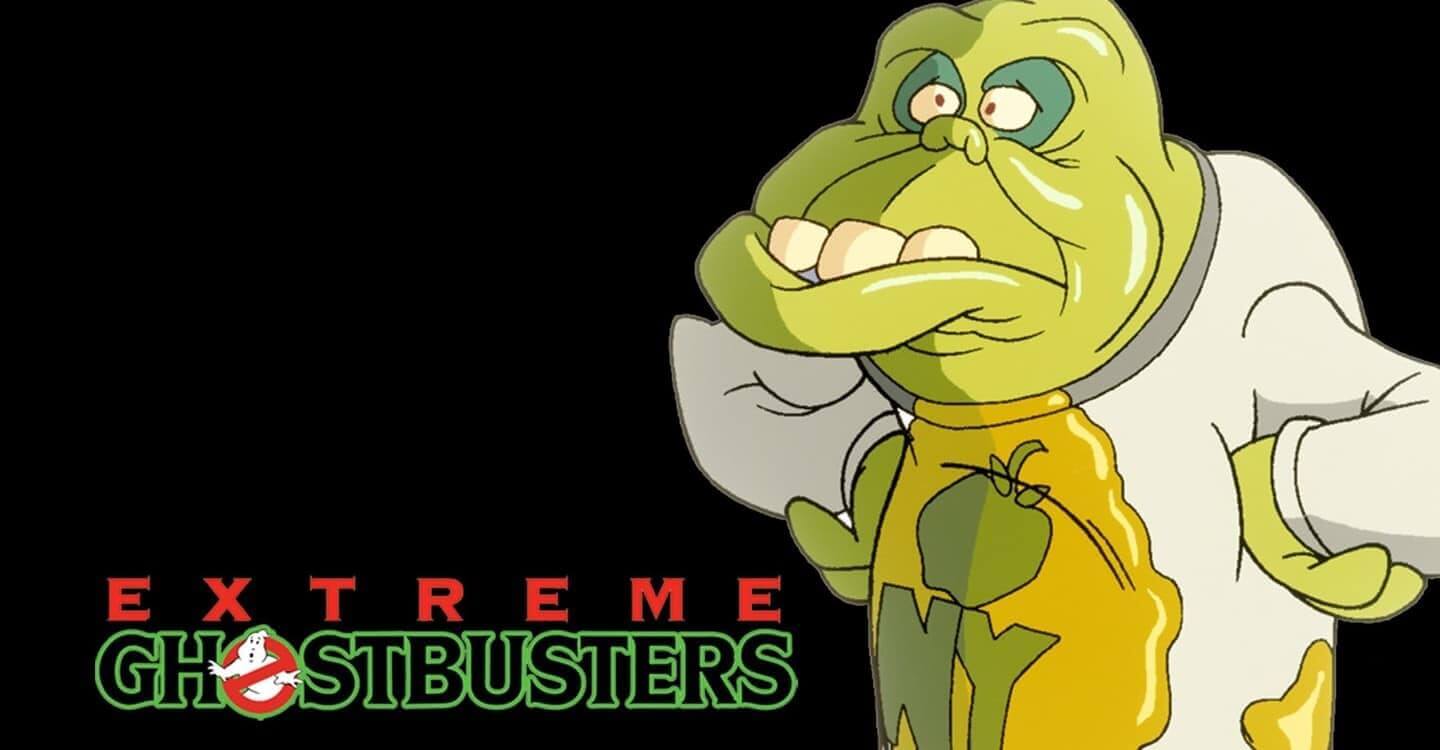 Roland– The Donatello of the group, Roland is a huge nerd that works on all of the Ghostbusters' equipment. He's wanted to be a Ghostbuster since he saw the Ecto-1 at a car show, which is a neat way to add new characters to the fold without just giving them ghostly encounters in their pasts.
Ads are Scary
Nightmare on Film Street is independently owned and operated. We rely on your donations to cover our operating expenses and to compensate our team of Contributors from across the Globe!
If you enjoy Nightmare on Film Street, consider Buying us a coffee!
Kylie- Occult expert Kylie is a diehard Egon fan. She's read his book, Spengler's Spirit Guide, a ton of times, and she's the gang's resident goth. Kylie is extremely rad.
Eduardo– Dumb, lazy, and easily frightened, Eduardo isn't what you'd expect from a Ghostbuster. He is the best wisecracker on the team, though, so they keep him around. His spiky bedhead, goatee, and hard-clash fashion sense also cement him as the most EXTREME Extreme Ghostbuster. This guy's got TWO earrings!
Slimer– The green spud returns for this series, essentially acting like the team's dog. He eats everything, makes a huge mess, and causes no end of aggravation for Eduardo.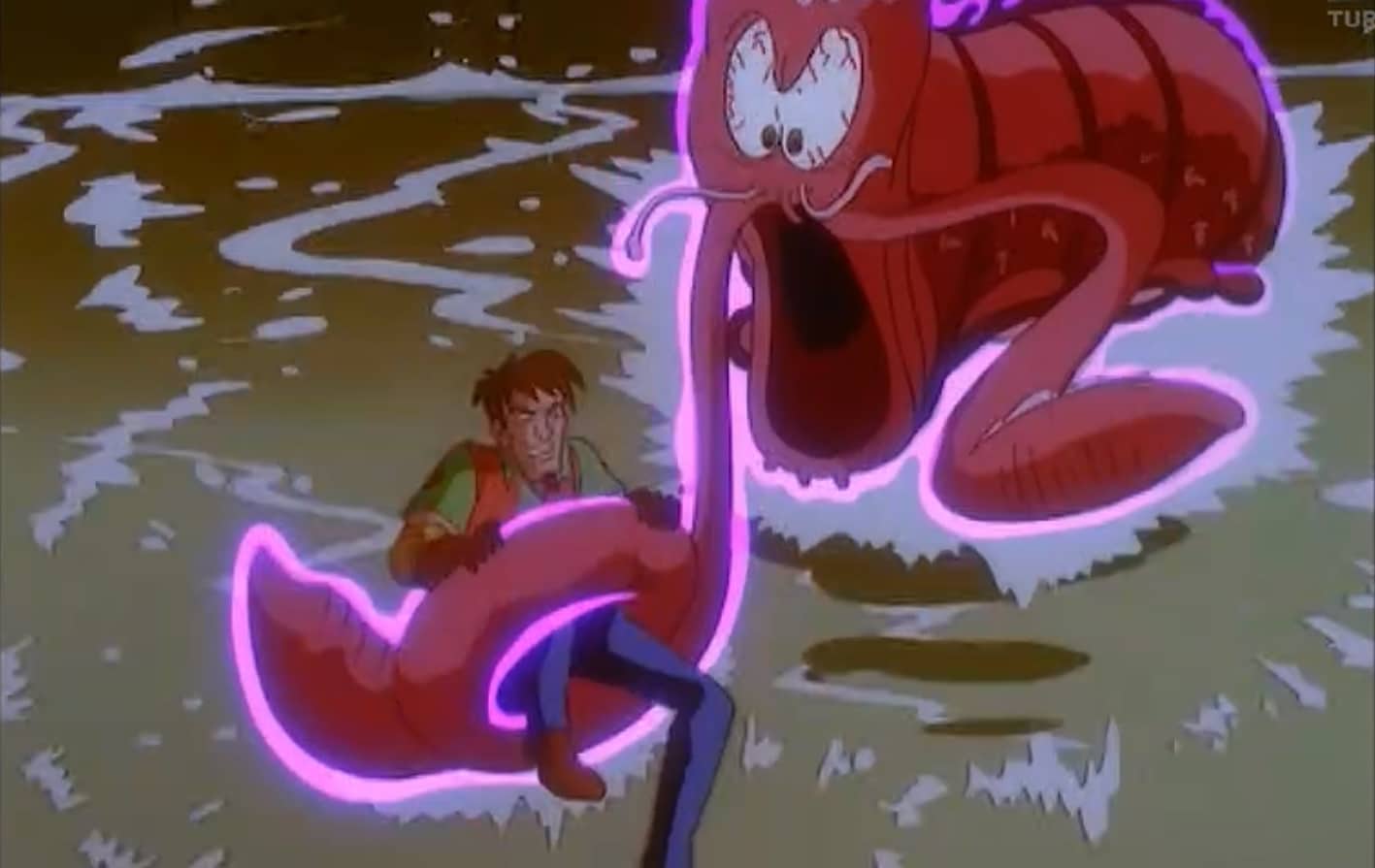 Best Episodes
Deadliners– A popular horror fiction writer's work is coming to life! Come for the Goosebumps, stay for the… cenobites? Some of these monsters look familiar, but since there will probably never be a Hellraiser Saturday morning cartoon, this'll have to scratch that itch.
Home Is Where The Horror Is– The team goes to investigate a haunted house. That might sound like a slow Tuesday for the Ghostbusters, but this time the whole house is a ghost!
Slimer's Sacrifice– Everyone's giving Slimer a hard time, so to prove himself he makes a risky move and gets trapped in the ghost containment unit. This episode features extended sequences in the ghost world, showing how the other half lives. Or, you know, whatever.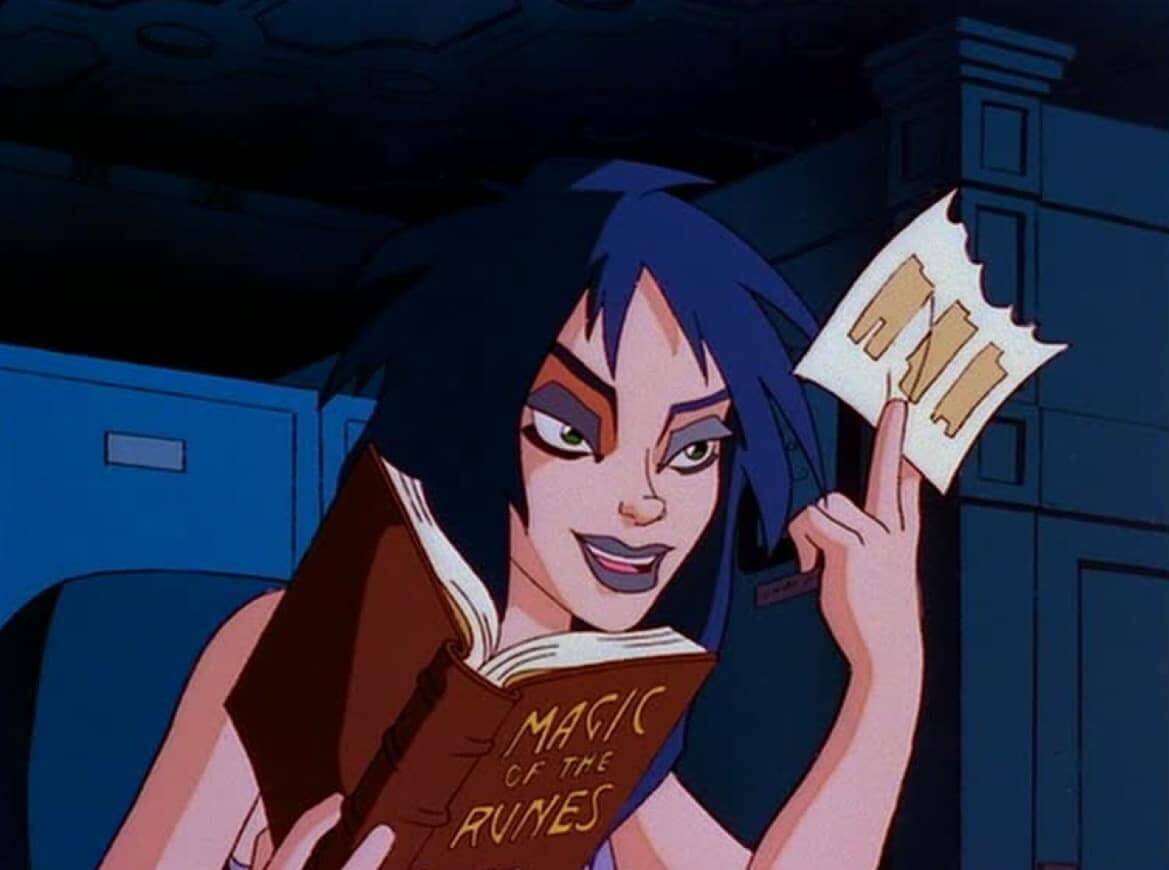 Til Death Do We Start– Some rich idiot calls the Ghostbusters because he's being haunted by a ghost bride. The important thing is that this ghost bride has no skin, which is pretty hardcore for a TV-Y7 rating. Also, she straight up punches Slimer, which is pretty funny.
Witchy Woman– A small coven of teen witches need to add a fourth member to increase their power. If obvious-choice Kylie won't join the clique, maybe Eduardo will? It's like The Craft if Manon showed up every couple minutes and looked like the guy from My Big Fat Greek Wedding (2002).
Back In The Saddle– A two-parter crossover event! The other three original Ghostbusters (Ray, Winston, and Peter) surprise Egon on his birthday. While they're hanging around, they bust some ghosts for old times' sake. It's a good thing they're still handy with a proton pack, because there's a new threat to New York that neither Ghostbusters team would be able to conquer alone! While this didn't air last, it was the Extreme Ghostbusters finale.
Enjoying This Post?
Nightmare on Film Street is an independent outlet. All of our articles are FREE to read and enjoy, without limits. If you're enjoying this article, consider Buying us a coffee!
Theme Song: Does it SLAP or is it CRAP?
You know the Ghostbusters theme song, one of the most beloved pieces of music in human history? Imagine if you found a 50-year-old man with a two-inch ponytail and asked him to record a "grunge" version of it. On its own, this song would be corny but forgettable. As a cover of a song that I like? I will seek out and destroy everyone involved in this. Theme song rating: CRAP.
Crunch Time
For this month's Nightmare on Film Street-exclusive cereal pairing, there's something strange in the neighborhood. Make blueberry muffins, but replace the fruit with Booberry cereal pieces and marshmallows! Will that even work? I don't know, but it sounds like it should! I'm neither of Nightmare's resident kitchen experts, I'm not even allowed to use the oven. If you do make the Booberry muffins, and wanna take things over the top, wash those bad mama-jamas down with Mountain Dew to make it EXTREME!!!
Fun and Games
Despite its single-season run, Extreme Ghostbusters spawned a pretty robust toy line. In addition to action figures and an Ecto-1, there was a kid-sized proton pack and ghost trap. Additionally, three video games based on the series were released. Two were Game Boy games with platforming and driving gameplay, and the third was a rail shooter for the original PlayStation. Ironically, all of these games came out years after the series ended.
Channell Surfing
All forty episodes of Extreme Ghostbusters are available to stream on Hulu. Let's start the binge on 3… 3!!!
Does busting make you feel good? Let us know over on Twitter, Instagram, Reddit, and the Horror Fiends of Nightmare on Film Street Facebook page. For more reviews, recommendations, and short-lived trendy adaptations of beloved classics, stay tuned to Nightmare on Film Street.