Over the course of eight seasons, FX's horror anthology American Horror Story has explored a variety of ghastly and grisly sub-genres, and when the series returns this month it will spotlight the Slasher genre. That particular sub-genre will get some grand treatment too because the new season is set in the 1980s a.k.a. The Golden Age of Slasher Films. Trailers and television spots for AHS: 1984 have featured such classic Slasher tropes as mysterious killers, hard-partying teens, and (of course) summer camps. There's sure to be more nods and homages as the season progresses.
American Horror Story: 1984 premieres Wednesday, September 18, and to help you prep, we've compiled a list of 10 classic slashers from the '80s that are sure to have influenced and inspired the development of the upcoming season. We're bound to have missed some favorites because of the sheer amount of Slasher films made in the '80s, but this list is full of the gory kills, gratuitous nudity, and exploitative mayhem that make this sub-genre so much fun.
10. The House on Sorority Row (1983)
Pranks gone horribly wrong, and pacts to cover them up are a staple of slasher films. This movie, where several sorority sisters are stalked and murdered by a mysterious and vengeful killer, is a perfect example of that classic formula and an absolute must-see for fans looking to explore out past standard-slasher fare.
9. Friday the 13th Part IV: The Final Chapter (1984)
The Friday the 13th series is one of the definitive Slasher franchises because of its legendary killer, Jason Voorhees, and this film chronicles one of his best and more creative rampages. Friday the 13th Part IV: The Final Chapter is also particularly noteworthy because it's the debut of Tommy Jarvis, a vital figure in franchise lore played here by a young Corey Feldman. It also features some fun victims like Crispin Glover's Jimmy Mortimer. If you ask fans which film in the series is their favorite they'll usually say this one or another that appears later in this list
8. My Bloody Valentine (1981)
The murderous, masked miner of My Bloody Valentine may not have as many films as Jason Voorhees, but he works just as hard. This movie is full of brutal and bloody kills, and in a 2006 Entertainment Weekly interview writer/director Quentin Tarantino said it was his favorite slasher.
7. Prom Night (1980)
Jaime Lee Curtis is of course most famous for her role in the Halloween franchise (and would have absolutely been , but over the course of her career, she's battled a number of different Slashers. In this film, the classic Slasher formula of wrongful death and cover up leads to her confronting a ski masked clad killer at the titular dance.
6) Sleepaway Camp (1983)
This crude, quirky, cult film is bound to have been on the radar of the AHS:1984 writing staff for a number of reasons; it's camp setting, creative kills, and an infamous twist ending. I won't spoil the ending for those who haven't seen it, but I will say that this film might not be for everyone.
5. The Burning (1981)
This movie may not be as well known as some of the others on the list, but it's a great example of all the classic elements of a slasher film done right; pranks gone wrong, promiscuous teens, murderous maniacs, and summer camps. There's a number of creepy and well done kill too; some of them are even done in a bright sun drenched day. Plus, the gore from those kills is provided by legendary horror make up mastermind Tom Savini. And yes, that is Jason Alexander who would later go on to do Seinfeld as one of the campers.
4. A Nightmare on Elm Street Part III: Dream Warriors (1987)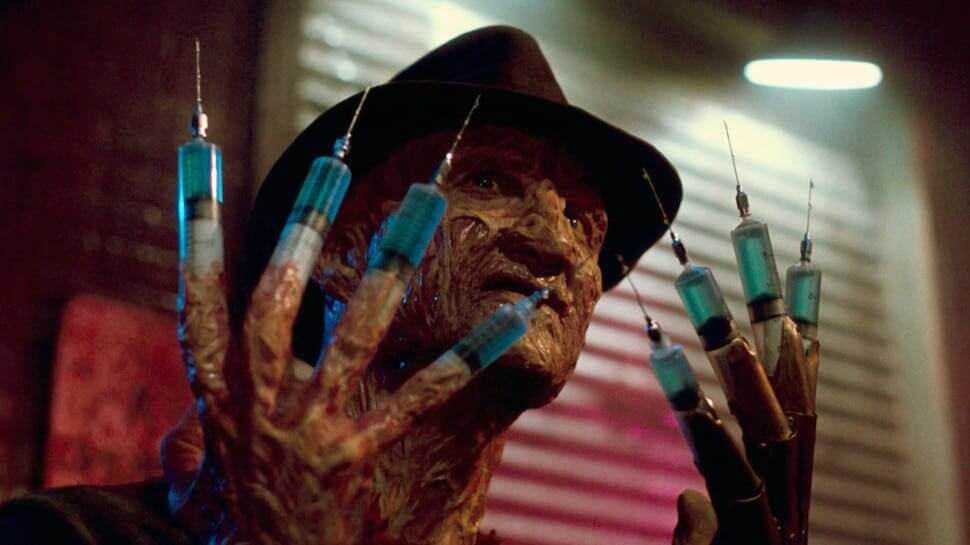 This film is perhaps the most beloved sequel in the Nightmare on Elm Street franchise. It features a great cast of characters, the return of one of horror's best final girls, and is really the bridge point where Freddy Krueger transforms from mysterious killer to the loquacious, twisted dad joke spouting, maniac we all know and love.
3. Friday the 13th (1980)
These days, this movie is perhaps more famous as a trivia question about who the killer isn't, but it deserves more than that. If Slasher movies are punk rock, John Carpenter's Halloween is The Ramones because it came first and helped define the genre, and the original Friday the 13th is The Clash. The film came later, picked up those conventions, and helped expand what they could be. So if you've never seen it or haven't seen it in awhile the first Friday is definitely worth watching for all those classic kills, the great mood and tone, and Betsy Palmer's iconic performance as Pamela Voorhees.
2. A Nightmare on Elm Street (1984)
I like Dream Warriors more, personally, but I placed this film higher because of how influential it is. It not only introduces one of horror's greatest villains but one of its greatest final girls in Nancy Thompson (Heather Langenkamp). It also gave us a very different form of Slasher than what fans were used to seeing. Plus, it was one of the first notable Slasher movies with supernatural elements. In other films, the killers are usually normal humans. So they're sort of rock 'n roll versions of Alfred Hitchcock's Psycho. In the original Nightmare on Elm Street though, Wes Craven and company showed that by adding fantastic elements to the killer the Slasher genre could be even more frightening and fun.
1. Friday the 13th Part VI: Jason Lives (1986)
You remember how I said earlier that many fans of the Friday the 13th series were divided over which one was their favorite and many would say Part IV? Well, this is the other fan-favorite film. Jason Lives is where the franchise abandons all pretense of being grounded in reality and just has fun with the things that make '80 slashers so great. That's because in the opening of the film they decide that Jason is now an unstoppable, undead, killing machine leaning into the absurd nature of everything. The end result is a very fun, funny, and self-aware film that every Slasher fan is sure to love.
Did you find your favorite Slasher film on this list? What will you be watching to prepare for the upcoming American Horror Story: 1984? Let us know on Twitter, in the official Nightmare on Film Street Subreddit, and on Facebook in the Horror Movie Fiend Club!