THE RITUAL is a not-so-subtle horror/thriller that effectively develops tension and atmosphere as four friends become lost and hunted in the Swedish Highlands. 
Horror films have had us venture into the woods before.  The Blair Witch Project (1999) catapulted us into a world of crackling branches and disoriented filmmakers. Countless youths have been dispatched in creepy, forested cabin settings; Sam Raimi's hilarious Evil Dead (1981), Eli Roth's breakout film Cabin Fever (2002), and Joss Whedon's meta-horror Cabin in the Woods (2012). Horror is a genre that is notoriously unkind to its protagonists. What better way then to isolate and disorient them?
In addition to being an eerie setting, the woods also present very real danger without even a single monster needed. Forests can be unsettling, menacing, and a pretty large threat in their own right. There are countless ways a jaunt in the woods could end up bad for a novice. There are predators. The terrain is uneven and injuries are possible (and common). One could lose their bearings and end up hopelessly lost. And that's only the start of it. The woods can be a scary, scary place to find oneself lost.
THE RITUAL knows this. The film hides the extra stuff – the ooey gooey horror stuff, in the folds of it.
ENJOYING THIS POST?
Nightmare on Film Street is an independent outlet. All of our articles are FREE to read and enjoy, without limits. If you're enjoying this article, consider joining our fiend club on Patreon for only a couple-a bucks a month!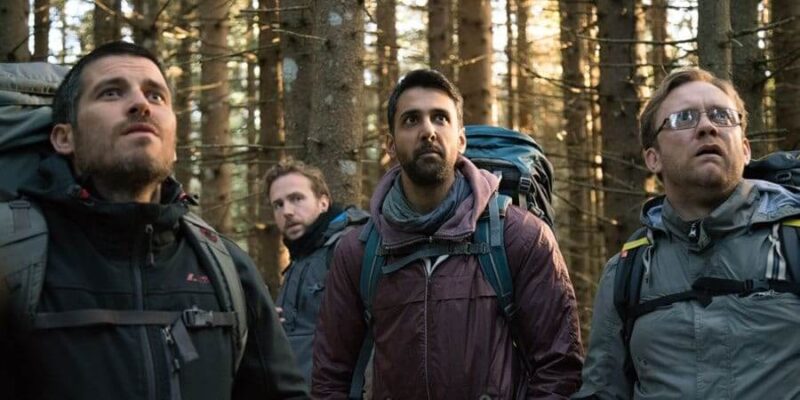 After the passing of an old college buddy, four friends take a hiking trip in his honor through Northern Sweden's Highlands. Originally, the troupe plan to loop around a large forest, following a well-travelled mountain path. But after an injury slows them down, they opt to cut through the woods. This uncharted terrain should lead them to town before nightfall, but of course, this soon proves to be a not-so-great decision. Nightfall comes with no forest perimeter in sight. And, with severe thunderstorm overhead, the group are forced to spend the night in an abandoned cabin. That's when shit gets weird.
THE RITUAL is director David Bruckner's first feature film, though Horror fans will be familiar with his segments Amateur Night in V/H/S (2012) (which spawned the less-than-stellar spin-off SiREN in 2016), and The Accident in Southbound (2015). Despite The Ritual being quite far from found-footage in its cinematography, we can see Bruckner's experience with erratic, first-person horror woven into the scares of this film. It effectively uses that up-close and personal style to tease us with far-off noises and monsters we can't quite see. All the while still retaining the depth and vastness of the forest that you tend to lose in films like The Blair Witch Project.
An adaptation of Adam Nevill's novel of the same name, The Ritual does not re-invent the wheel. Instead, it uses the now pretty typical trope of 'getting lost in the woods' as a venue to tell a more psychological story. With traditional Horror elements, we are allowed to slowly unravel a story of regret, and being haunted by grief. Bruckner Uses dreamlike visuals to send us toward a spiraling descent into understanding the lasting damage of a split-second mistake. All while staying true to its Horror roots; telling the audience a scary story about a monster lurking in the woods.
On top of the threat of a looming predator seemingly hunting our heroes, we also have an added mystery of something paranormal afoot. After seeking refuge in the dilapidated cabin, the hikers discover a strange, pagan deity in one of the upstairs rooms. That night, each of the 4 weary travellers experience a jarring nightmare. One wets himself in terror. Another awakes to find himself upstairs, stark naked and praying to the strange sculpture. Our main protagonist, Luke (Rafe Spall), lucidly hallucinates the memory of the sudden and brutal passing of their friend.  This harrowing experience haunts him throughout the misadventure, blurring the lines of what is real and present. Something is amiss in these woods, and the mystery only deepens in the thick of the trees.
Not since 2005's The Descent have we seen a film successfully pair the very real and scary elements of being lost in the wilderness with the threat of something paranormal. THE RITUAL develops a sense of dread and consistently ups the ante, dragging us through the woods towards a climax that is both unexpected and riveting.
3.5/4 eberts
The Ritual is directed by David Bruckner, written by Joe Barton, and based upon the novel by Adam Nevill, Rafe Spall, Arsher Ali, Robert James-Collier, and Sam Troughton star.
The Film had it's World Premiere at TIFF's Midnight Madness, on Friday September 8th, with additional screenings throughout the week.  TIFF continues until September 17th.