Welcome to August, Horror Fiends! It's gonna be a hot one so I've compiled a list of some of the best physical releases this month, that way you can stay in the crypt and keep cool with some amazing horror.
Hope you got some room on your shelves!
Gamera: The Complete Collection – August 17th, 2020
One of the friendliest kaiju's around, Gamera's entire filmography gets boxed up in a beautiful offering from Arrow Video this month. It is Region B as usual but if you're able to….ya gotta get it. It's 1,174 minutes of pure joy in the form of everyone's favorite radioactive turtle-thingy! All twelve films plus a ton of extras:
Limited collectors' edition packaging, housed in a large-format rigid box, fully illustrated by Matt Frank
Casebound, fully-illustrated disc book containing eight Blu-ray discs
High Definition (1080p) versions of all twelve films, with lossless original Japanese audio and a complete collection of English dub tracks, including classic American International dubs on the Showa-era films remastered from original MGM elements
Hardback 130-page comic book including a full-colour reprint of the four-issue Gamera comic series originally released by Dark Horse Comics in 1996, and the first-ever English-language printing of the prequel comic The Last Hope by Matt Frank and Joshua Bugosh
Perfect-bound 80-page book including a new retrospective on the series by Patrick Macias, an archive interview with Noriaki Yuasa by David Milner, kaiju X-ray illustrations by Jolyon Yates, Fangoria set reports on the Heisei trilogy by Norman England, and a viewers' guide to the English-dubbed versions of the films
Double-sided four-panel poster of "Gamera's Map of Japan" in both Japanese and English
Collectors' artcards for each film, featuring new artwork by Matt Frank
PLUS each film comes with its own horde of extras!
Snag this baddie right here at Arrow!
The Last House on the Left – August 17th, 2020
Director Wes Craven's first film from back in 1972 get's a high-def upgrade on its unrated version. When it comes to horror films, this one still remains shocking and relevant even after all these years. Another Arrow release, this one comes packed with the following:
High Definition Blu-ray (1080p) presentation of the Unrated Version
Original Uncompressed Mono Audio
Optional English subtitles for the deaf and hard of hearing
Isolated score remastered from the original 17.5" magnetic tracks
Audio commentary with Bill Ackerman and Amanda Reyes
Archival audio commentary with writer/director Wes Craven and producer Sean S. Cunningham
Archival audio commentary with stars David Hess, Marc Sheffler and Fred Lincoln
Archival introduction to the film by Wes Craven
Still Standing: The Legacy of The Last House on the Left – archival interview with Wes Craven
Celluloid Crime of the Century – archival documentary featuring interviews with Wes Craven, Sean S. Cunningham, actors David Hess, Fred Lincoln, Jeramie Rain, Marc Sheffler and Martin Kove
Scoring Last House – archival interview with actor/composer David Hess
It's Only a Movie: The Making of The Last House on the Left – archival featurette
Forbidden Footage – the cast and crew discuss the film's most controversial sequences
Junior's Story – interview with actor Marc Sheffler
Blood and Guts – interview with makeup artist Anne Paul
The Road Leads to Terror – featurette revisiting the film's original shooting locations
Deleted Scene: "Mari Dying at the Lake"
Extended Outtakes and Dailies, transferred in HD
Trailers, TV Spot & Radio Spots
Image Galleries
Reversible sleeve featuring original and newly commissioned artwork by Paul Shippers
Region B so you've been warned. Head over to Arrow Films to pre-order today!
Tales From The Darkside: The Movie Collector's Edition – August 25th, 2020
This classic anthology is one of the hallmarks of horror in the early 90's and comes out on Blu-Ray this month in a shiny Collector's Edition with some sweet extras:
Audio Commentary With Co-Producer David R. Kappes
Tales Behind The Darkside: The Making Of Four Ghoulish Fables – A Six-Chapter, Feature-Length Documentary Featuring Director John Harrison, Producer Mitchell Galin, Director Of Photography Robert Draper, Production Designer Ruth Ammon, Special Make-Up & Creature Effects Artists Robert Kurtzman, Greg Nicotero, And Howard Berger, Creature Performer Michael Deak, Actors James Remar And Rae Dawn Chong And Editor Harry B. Miller
Audio Commentary With Director John Harrison And Co-Screenwriter George A. Romero
Theatrical Trailer
TV Spots
Radio Spots
Stills Gallery
Behind-The-Scenes Gallery
Behind-The-Scenes Footage Compilation
Shout! Factory is releasing it on the 25th and you can pick it up right here!
Universal Horror Collection: Volume 6 – August 25th, 2020
The sixth installment in the Universal Horror Collection from Shout! Factory, this volume features The Black Castle, Cult of the Cobra, Thing that Couldn't Die and The Shadow of the Cat. Lot of bonuses in this one, some of which include:
2K Scans From A Fine Grain Film Element
Universal Horror Strikes Back! – A Look At Universal Horror In The 40s
Still Gallery
TV Spots For The Double Feature Of REVENGE OF THE CREATURE/CULT OF THE COBRA
In The Shadow Of Shelley – An Interview With Barbara Shelley
TV Spot For The Double Feature Of THE CURSE OF THE WEREWOLF/THE SHADOW OF THE CAT
Head over to Shout! Factory right here
Frankenstein and The Monster From Hell – August 18th, 2020
Here's one to add to your Hammer Horror library! The final installment in their Frankenstein series features the one and only Peter Cushing (Star Wars) and David Prowse (also Star Wars). Comes equipped with the following:
Audio Commentary With Film Historian/Author Steve Haberman And Film Historian/Filmmaker Constantine Nasr
The Men Who Made Hammer: Roy Skeggs
Audio Commentary With Actress Madeline Smith, Actor David Prowse, And Film Historian Jonathan Sothcott
Theatrical Trailer
Radio Spots
This release can be found over at Shout! Factory right here!
The House by the Cemetery 4K Ultra HD – August 25th, 2020
The one and only Lucio Fulci delivered in 1981's The House by the Cemetery and the film gets a 4K restoration from the folks over at Blue Underground. The story centers around a family that moves from New York City to a New England home once inhabited by a mad doctor who has left some of his "experiments" in the basement. Terror ensues. This one is packed to the gills too:
Ultra HD Blu-ray (2160p) Widescreen 2.40:1 Feature Presentation and Bonus Extras Blu-ray
Audio: English: Dolby Atmos; English: 5.1 DTS-HD; English: 1.0 DTS-HD; Italian: 1.0 DTS-HD
Subtitles: English SDH, French, Spanish, English for Italian Audio
Audio Commentary with Troy Howarth, Author of Splintered Visions: Lucio Fulci and His Films
Deleted Scene
Theatrical Trailers
TV Spot
Poster & Still Galleries
Meet the Boyles Interviews with Stars Catriona MacColl and Paolo Malco
Children of the Night Interviews with Stars Giovanni Frezza and Silvia Collatina
Tales of Laura Gittleson Interview with Star Dagmar Lassander
My Time With Terror Interview with Star Carlo De Mejo
A Haunted House Story Interviews with Co-Writers DardanoSacchetti and Elisa Briganti
To Build a Better Death Trap Interviews with Cinematographer Sergio Salvati, Special Make-Up Effects Artist Maurizio Trani, Special Effects Artist Gino De Rossi, and Actor Giovanni De Nava
House Quake Interview with Co-Writer Giorgio Mariuzzo
Catriona MacColl Q&A
Calling Dr. Freudstein Interview with Stephen Thrower, Author of Beyond Terror: The Films of Lucio Fulci
BONUS! Embossed Slipcover (First Pressing Only)
Available in several places but cut out the middle-man and head straight over to Blue Underground for this one.
Cursed Films – August 18th, 2020
This amazing Shudder original series is a documentary centering around real-life terror on the sets of some of the genres most famous, and infamous, films. With an episode on Poltergeist (1982), The Omen (1976), The Exorcist (1973), The Crow (1994) and Twilight Zone: The Movie (1983), the stories from the sets of these films are truly chilling. One might think these films really were….cursed.
Just audio commentary on all 5 episodes. Amazon is the place to grab this one!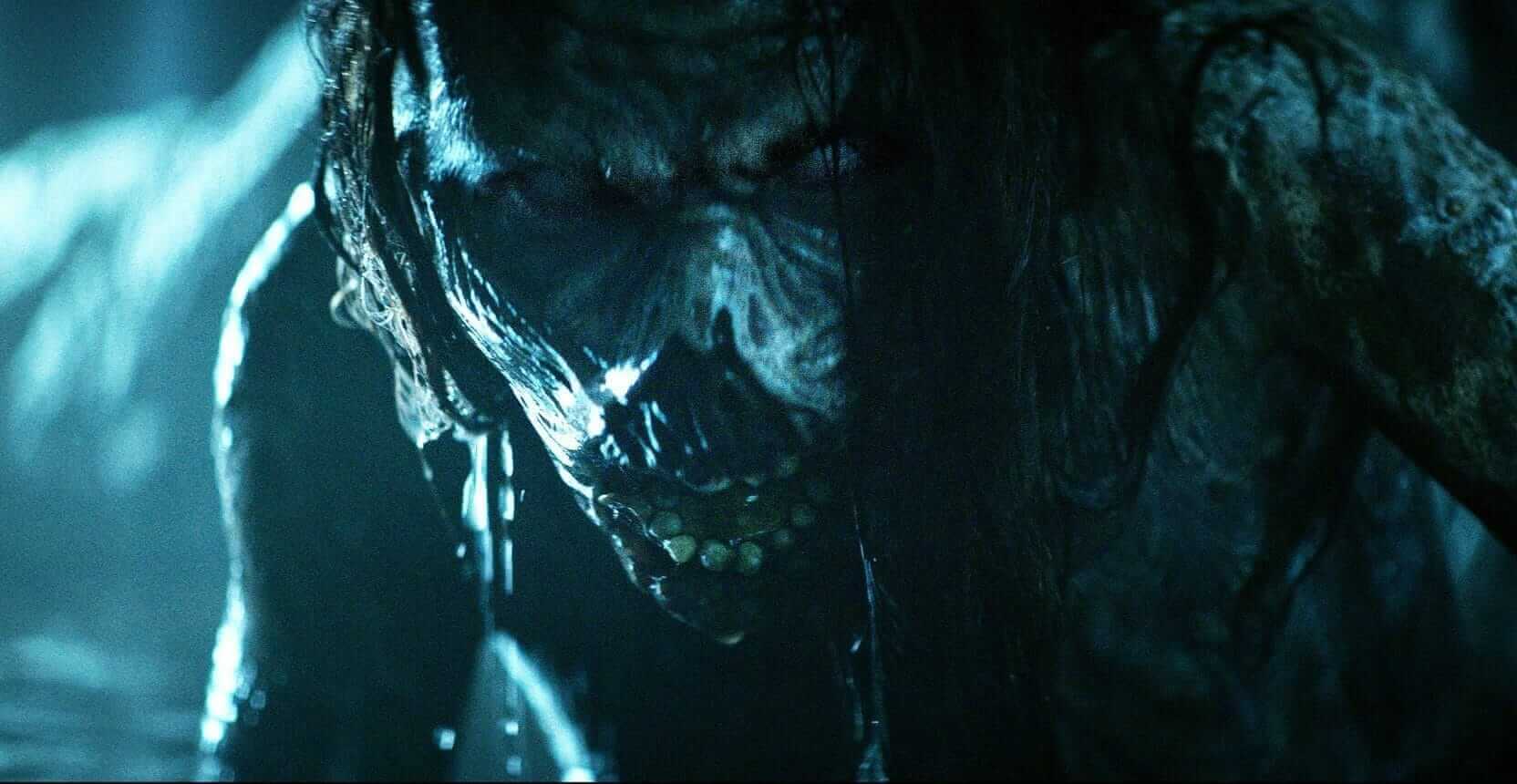 The Wretched – August 11th, 2020
One of the latest from IFC Midnight, The Wretched is a terrifying story of witches and woods and frankly that's about all you need. While the film struggled at the Box Office due to the current pandemic it is worth picking up to add to the collection now that it is on DVD. Special features are pretty light and look to only include commentaries with the Pierce brothers and the composer Devin Burrows.
Nab it at Amazon!
Mikey: Collector's Edition – August 11th, 2020
"Remember, Jason and Freddy were kids once, too"
The tagline for this film says it all! Some kids are just bad from the start. Featuring Ashley Laurence (Hellraiser), Whit Hertford (A Nightmare on Elm Street 5: The Dream Child) and Josie Bissett (Melrose Place) this often overlooked horror gem gets a cool Collector's Edition. Some of the features include:
High Definition Blu-ray (1080p) presentation of the main feature in 1.78:1 aspect ratio
Audio: 2.0 Stereo
English Subtitles
NEW! Feature Length Making of Documentary: "The Making of Mikey" (HD, 1:27:11)
NEW! "Mikey: Anatomy of a Scene" with Director Dennis Dimster-Denk (HD, 13:36)
Theatrical Trailer (SD, 2:15)
Collectible Mini-Poster
Amazon has you covered for this one.
Day the World Ended – August 18th, 2020
Last but not least is this classic! I love seeing these films getting released on Blu-Ray, they're time capsules of a bygone era and still are a blast to watch. From  Hollywood legend Roger Corman comes an apocalyptic movie taking place at the end of the world. There are no details on any special features or extras but don't let that stop you from racing over to Best Buy!
It was hard to contain the list to just 10 this month, there's a TON left out there. What would you add? Let us know in the comments, over on Twitter,  Reddit, Instagram, or in the Horror Movie Fiend Club over on Facebook!