Every December, as the snow begins to fall and the urge to cozy up by a roaring fire hits, many of us feel a seasonal call to get away from the hustle of the holidays and hibernate our way through in a comfy, warm, woodland retreat. A cabin Christmas is the stuff of winter wonderland dreams. And with the year it's been, there's no better time to escape the crowded city to a small, secluded place where you can celebrate the holidays without fear. Our specialist travel agents here at Nightmare on Film Street have all your Yuletide getaway needs covered, with the ten coziest cabins for your holiday getaway. Please note, our agents are not liable for any hauntings, murders, undead reckonings, or limb loss that may occur from our cabin rentals. Now that we've got that out of the way, let the festivities begin!
10. The Hall Family Lodge
—

The Lodge (2019)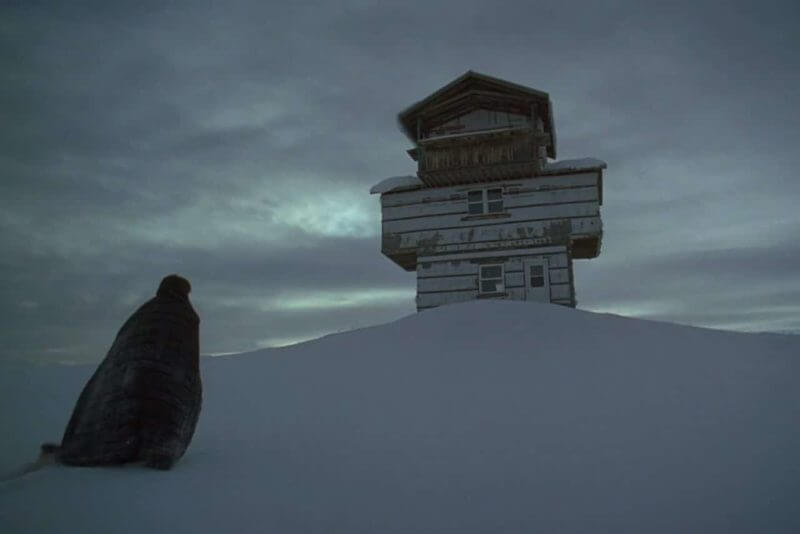 Christmas is a time to come together with family and heal after a rough year. If you're looking to bond with your soon-to-be step children over the holiday, this beautiful lodge in the snow-covered beauty of Western Massachusetts is the destination for you. The cozy charm is sure to melt your new children's icy dispositions, even as the rather excessive Catholic iconography brings back memories of years gone by. Maybe not always pleasant memories, but the holidays with family can get complicated. So long as you have your medication you should be able to enjoy a cozy and cheerful holiday. Just…make sure the kids don't get up to any mischief.
9. The Tucker and Dale Bed and Breakfast
—

Tucker & Dale Vs. Evil (2010)
If your idea of a perfect holiday is spending a weekend with your best friend, some beer, and some renovation projects, have we got the dream vacation home for you. This little lakeside fixer upper in the rustic woods of West Virginia is the perfect destination for hunting, fishing, bonding with your best bud, and even building up the confidence to meet fun new people! Just be careful if those new folks in town are a bunch of college kids, or your perfect holiday retreat could turn into a bloody doozy of a day pretty quick. But since it's the season of peace, maybe it will all turn into a powerful learning experience about the folly of prejudice and jumping to conclusions? It's worth a shot.
8. Annie Wilkes' Cottage — Misery (1990)
There's nothing like a little hospitality for the holidays! In the secluded, snowbound cabin belonging to one Annie Wilkes, you're sure to be treated to some seriously devoted care and attention. Don't expect to find this exclusive destination listed on Airbnb, to book a stay at this cozy little spot you need to do a little off-road exploring. But once you're settled in, you can really relax. Don't expect to even leave your bed! Your stay with Annie will be the ideal respite from the expectations of the world, unless you're her favorite author . Then you might be expected to do a little writing during your stay. With all her kindness, it's the least you could do.
7. Øksfjord Lodge
—

Dead Snow (2009)
There's not much that can match the frozen beauty of a Norwegian winter, and our next cabin recommendation is the perfect cozy retreat for a holiday packed with skiing, drinking, and cozy times by the fire. There's a convenient outhouse with enough room for two if you have no problem ending up on the naughty list. You might even get a surprise retelling of colorful local folklore from a passing hiker! Learn about local history from the stash of treasure and artifacts hidden beneath the floorboards, and feel free to stash some gold for yourself as a free Christmas gift. And if a hoard of Zombie Nazis arrives to reclaim their gold, well now you have a great excuse to get a head start on your New Year's resolutions with some invigorating cardio! 
6. Alabama Party House
—
Cabin Fever (2002)
This cozy spot in rural Alabama is the perfect spot for an old fashioned, bacchanal-style Christmas with bonfires, ghost stories, and plenty of beer. If you're a young college student looking to spend your holiday partying with your friends, this is the ideal getaway for you. Just practice common sense safety guidelines and you're guaranteed a good time. Don't touch any strange animals, bring your own drinking water, and make sure no one outside your pod comes within six feet of your woodland retreat. But with the reality of 2020 almost behind you, feel free to relax some restrictions once you're truly off the grid. Bring plenty of board games and alcohol, since the only pandemic you'll need to worry about on this getaway is good old fashioned cabin fever!
5. Gaelic Getaway
— 

The Hallow (2015)
There's nothing like the hospitality and warmth of a rural Irish Christmas. If you'd like to experience the holiday in a land of folklore, cozy fireside stories, and deeply rooted traditions, then we're pleased to welcome you to this cozy Irish cabin at the edge of a fairytale forest. Whether visiting for the atmosphere or to study the unique fungi of the region, this picturesque destination is sure to get you in the spirit of an older, darker side of the season. Did you know that in much of Europe, the Christmas season was as strongly associated with rampant ghosts, spirits, witches, and fairies as Halloween? In Ireland, the fairies in particular are known to be very active in December, riding through the forest in a dangerous royal procession, moving about and looking to kidnap as many mortal children as they can. Anyway, that's just some colorful folklore to spice up your stay at this Celtic cabin. Don't let the strange movement in the woods outside frighten you. This property comes complete with handy bars on the window to keep you and your family safe and secure this Christmas!
4. Swedish Refuge
—

The Ritual (2017)
For a real old world-style Christmas, why not visit the wilds of Sweden, where many of our holiday traditions began? On a trip to the far north, you can take in a spectacular hike and maybe achieve some much needed deep psychological healing. Our next cabin pairs wonderfully with a memorable journey through the forests of Sweden, where a detour off the beaten path can lead to a holiday adventure you won't soon forget. Should you be caught in the unpredictable weather of the north, this cabin offers the perfect place to rest your head for the night. This retreat offers charming decorations of ancient runes and a truly striking work of avant-garde sculpture on display upstairs. Sure, you might have some disturbing dreams during the night, but who doesn't have the occasional holiday stress dream?
3. The Cabin
—

The Cabin in The Woods (2011)
After falling under the influence of that holiday cheer that we may have … cough…slipped you, this lakeside cabin will seem to be the ideal retreat to spend the festive season with your friends. Don't worry about the creepy gas station attendant you may encounter on the way, we promise this cabin is comfortable, cozy, and not at all connected to the strange, out of character behavior your pals may be exhibiting. Must be the eggnog. Any way, enjoy spacious rooms, woodland decor, and an exciting basement full of intriguing antiques! This a choose your own holiday adventure where you'll be a part of a truly ancient seasonal ritual. Sounds like the ideal Yuletide destination to us…
2. Deadite Destination
—

The Evil Dead (1981)
For a truly rustic holiday weekend on a budget, might we recommend this humble woodland retreat in the beautiful mountains of Tennessee? With nothing but a rickety bridge to connect you to the wider world, and no phone, internet, or tv to distract you, you can relax and get in touch with the true meaning of the season. Enjoy views of the breathtaking forest dusted with snow from the porch swing. Cozy up by a roaring fireplace with nothing but the sound of a ticking clock and the occasional otherworldly whisper to distract you. Bond with your friends as you explore the charming topiary collection and the folksy charm of the…umm…hanging animal skeletons in the back room. Bring them out to trim the tree and save money on ornaments as well as your accommodations. Stay out of the basement and we'll guarantee a lovely holiday weekend.
1. Holiday Homestead
—

Rare Exports: A Christmas Tale (2010)
For a taste of the original land of Christmas, take a journey to the Arctic circle and enjoy a stay at this cozy cabin in the frozen beauty of Lapland. A stay at the Kontio homestead will give you an eye opening look at the important economic link between the people of Lapland and local reindeer populations. Note: this destination is not recommended for children or vegetarians. Enjoy the beauty of the frigid landscape, spot the elusive northern lights, and even experience a visit from the original Santa Clause! An authentic Finnish Santa is worth $85,000 as an export, but at this cabin all you need to do is settle in for a long winter's nap on Christmas Eve and await the arrival of Santa's little helpers, free of charge! Gifts not guaranteed, unless you really want to get a misbehaving child off your hands. With the delicious scent of gingerbread wafting through the house and the prancing and pawing of feet on the roof, this is a picture perfect place to spend your Christmas.
There you have it! A charming selection of cabins sure to suit all of your holiday needs. Whether you're looking to party with your friends, get in touch with the folklore of Christmas, or just get away from it all, our travel agents will happily connect you to the destination of your dreams. Or nightmares. Happy Holidays!
Let us know your favorite cabins of horror over on Twitter, Reddit, Facebook, and in the official Nightmare on Film Street Discord. Want horror delivered right to your inbox in the New Year? Check out the Neighbourhood Watch Newsletter. Seasons Greetings from our Fiend Family to yours!