All adult horror movie fans were once sweet and innocent little ones. Each of us had our own introductions to horror. Some of us dove right in while others were gradually turned over to the dark and scary side. While my folks were watching Halloween (1978) on Betamax, a tiny little blond head was peering out from behind the couch cushions. Apparently, I had snuck out of bed, drawn by the ominous tones of that simple soundtrack, and had been watching intently for quite some time. I still vividly remember (and even feel a bit nostalgic about) several of those sneakily spied scenes. I was three and have been happily in love with the genre (with a little therapy) ever since.
My parents did, of course, dial it back and while they still let me watch too much too young, they did keep to those old school, 80's children's movies for a while. I'm sure they thought that all was well however the with hindsight, those "kids movies" were often more disturbing! Show of hands if the very thought of that delightful cartoon Watership Down (1978) still gives anyone nightmares. I won't even start to talk about Return to Oz (1985)…
"[…] with hindsight, those "kids movies" were often more disturbing!"
In an attempt to avoid some of that trauma with my own beloved offspring, I have tried to gradually introduce her to my favorite film genre with age-appropriate selections. By the time I was her age, I think I had already watched, along with my brief Michael Myers fandom as a toddler, Texas Chainsaw Massacre (1974), Night of the Demons (1988), and Ghoulies (1985), just to name a few. My daughter, on the other hand, was just introduced to Jaws (1975) during a sleepover and I've put the kibosh on the rest…for now. Not that there haven't been missteps. One of the movies on this list, Monster House (2006), absolutely has shades of those inappropriately scary 80's flicks, and when shown to her by her grandpa at the tender age of five, I received a tearful phone call from my little one and copious apologies from my dad.
So with that in mind, here is my list of The 10 Best Monster Movies For Kids to help with introducing your little ghouls to the world of cinematic scary stories:
10. Monster's Inc (2001)
This adorable Walt Disney Pixar film is the absolute best for the ittiest of bitties. With the voice talents of the awesome John Goodman (10 Cloverfield Lane), Steve Buscemi (The Dead Don't Die), and Billy Crystal (The Princess Bride) as some goofball, animated monsters. This is a great little film with really zero scares other than some cartoon villainy and the resulting tension between characters. Its best aspect is that it presents a different way to look at one of the most terrifying ideas of childhood: the monster under the bed!
9. Hotel Transylvania (2012)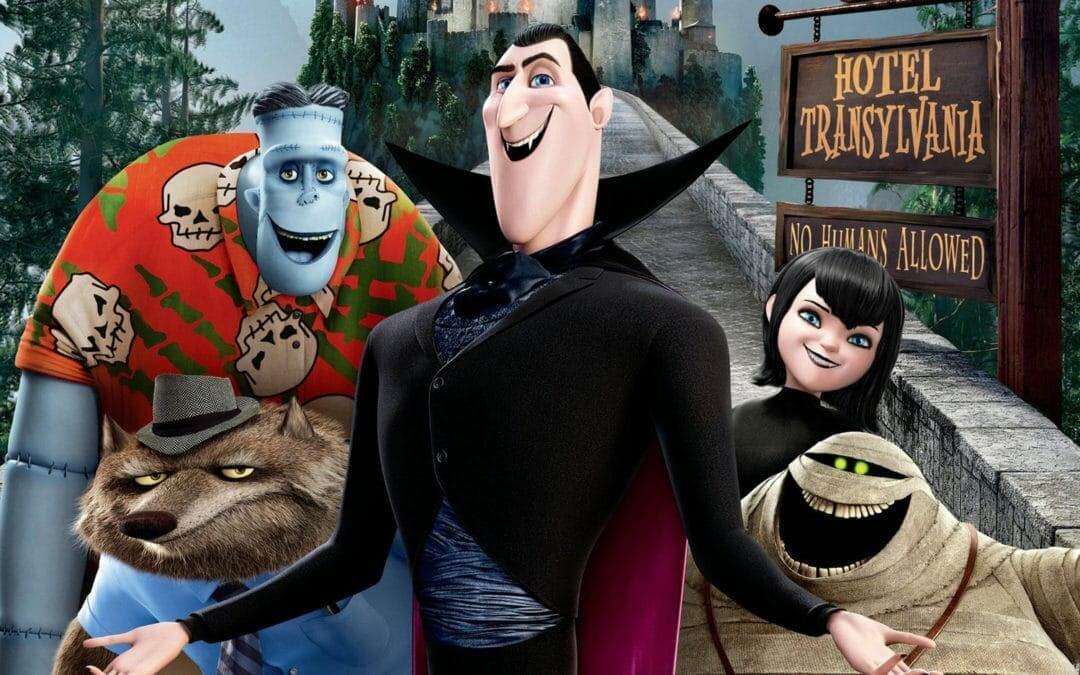 Love the Universal Movie Monsters but the kids are still too little to appreciate them with you? Then this is just the thing! Still great for toddlers, this one will also entertain the older kids. I myself am not ashamed to admit that even this hard-core horror fan gets a kick out of this take on classic monsters too. Starring Adam Sandler and his usual crew as Count Dracula and his usual crew (Wolfman, The Blob, Frankenstein's Monster, The Mummy, etc) as they try to help navigate the Count's only child through adolescence. Andy Samberg (Brooklyn Nine-Nine) also stars in this as a bumbling love interest and many monster/human hijinks ensue once he enters the picture.
8. Frankenweenie(2012)
A great introduction into not only the wonderful world of Tim Burton, but also to Mary Shelley's classic tale, this film makes for a great family movie night. To make the story appealing to the little ones, Victor Frankenstein is a little boy who works his reanimation magic on his beloved pup, perfectly named "Sparky". The creator in this tale adores his creation but still has frenemies, angry villagers, and other undead monsters to contend with. Until your kids are old enough to enjoy the spiritual stylings of Beetlejuice (1988), Frankenweenie will surely suffice for a Burton fix.
7. E.T. The Extraterrestrial (1982)
Bear with me on this one. I'm sure someday, you'll want to hunker down with the entire family in front of films like Alien (1979) or The Thing (1982) it's just that those classics won't go over too well with the elementary school set. E.T. fits the bill as a great movie to introduce the kids to sci-fi horror. There are some genuinely scary scenes as Elliot (Henry Thomas) and his little sister Gertie (Drew Barrymore) have to save their alien friend from some scientist baddies but this movie is tempered with enough humor and adventure to not cause the younger set to need a night light.
6. Goosebumps (2015)
When I was a kid I absolutely enjoyed an R..L. Stein or Christopher Pike from time to time and really like this adaptation of Stein's Goosebumps series. Starring Jack Black(Tenacious D) as the famous author, this is another great monster movie for older kids. When the horrifying creatures (giant praying mantis anyone?) from Stein's books come to life, it's up to a few neighborhood kids to save the day. Some scary scenes and teen romance but mostly a lot of great family fun.
5. Monster House (2006)
Steve Buscemi seems to have the kid's monster movie cornered as this is his third entry on this list but this one of his comes with a warning: it has some genuine scares. While it appears to be marketed to children in general, it is absolutely for older kids only! Directed by Gil Keenan (Poltergeist 2002) this is the familiar story of a local creepy house that neighborhood kids dare each other to approach. In this case, the danger is very real and very frightening.
4. The Spiderwick Chronicles (2008)
For monsters of a more fantastical variety such as hobgoblins, ogres, and boggarts this adaptation of a popular books series is a great choice. It tells the story of a twin boys, both played by the talented Freddie Highmmore (Bates Motel), his family, and their adventures in the crumbling old Spiderwick Estate. A bit different than some of the others on this list it still packs a monster punch.
3. Monster in Paris (2011)
This French animated musical takes its inspiration from both The Hunchback of Notre Dame (1923) as well as The Phantom of the Opera (1925). Opera singers, mysterious strangers, dastardly villains, and a love story all combine in this beautifully done bit of filmmaking. The music and sweet characterization of an otherwise scary pest make this enjoyable for little ones, older children, and adults alike.
2. Coraline (2009)
A great introduction to psychological horror for older kids, this adaptation of the 2002 Neil Gaiman(Good Omens) children's novel of the same name is actually a very creepy tale. Don't be fooled by the colorful animation, this is the story of little Coraline, voiced by Dakota Fanning(War of the Worlds), and her near disastrous run in with some terrible button-eyed monsters in the walls of her family's new flat. Our family's favorite on this list but definitely high on th ecreep factor scale.
1. Little Monsters(1989)
We started our list with a take on the monster under the bed legend and we'll end with the same. This late 80's classic features classic 80's talent Fred Savage(Princess Bride), Howie Mandel(Bobby's World), and Rick Ducommun (The 'Burbs). It tells the story of an isolated little boy in a new neighborhood and his unusual friendship with a subterranean creature. It is a bit dated but still fun and funny enough to be enjoyed by the eight and up set.
What was your favorite monster movie as a child? Did you find it on this list? Did you make a few discoveries that you will be putting into your own child's regular Halloween rotation? Let us know on Twitter, in the Nightmare on Film Street Subreddit, and on Facebook in the Horror Movie Fiend Club!