Parenting is a thankless job. And no parent is given less appreciation than the mother of an evil, maniacal, (cute!) killing machine. In the new horror-comedy The Baby, a directionless Londoner is forced to sort her shit out when she's entrusted with the care of the antichrist. There's no concrete proof that The Baby's baby is the spawn of Satan himself but it's rare for an infant to leave a trail of dead bodies wherever it goes.
Premiering on HBOmax April 24th, The Baby is an eight-episode limited series that follows Natasha (Michelle De Swarte), a 30-something that's watched all her friends become lame, boring mothers who can't hold a conversation without bringing up something twee about their babies. She can't understand why anyone would give up smoking and drinking with their besties for a little crying brat, but she gets a first-hand look at motherhood when a baby literally falls into her arms….right after the mother of that baby goes splat! in front of her, having jumped having plummeted off the cliff above her seaside cottage.
"…definitely the funniest TV show about killing babies that you're bound to watch this year."
Natasha has no desire to take care of a dead woman's baby, so she leaves it with the police. When the police die mysteriously, she tries to abandon the baby at a gas station. When the gas station attendant expires suddenly, she- well, I think you get the idea. She's stuck with this little monster, like it or not. Before long, she's contacted by an evil baby expert who has been following the nefarious newborn for decades as it's moved from mother to mother. Surprise! every appointed mother before Natasha has met a gruesome end, and if she doesn't find a way to rid herself of this bundle of woe soon, she'll meet a similar fate. The Baby is definitely the funniest TV show about killing babies that you're bound to watch this year.
ENJOYING THIS POST?
Nightmare on Film Street is an independent outlet. All of our articles are FREE to read and enjoy, without limits. If you're enjoying this article, consider joining our fiend club on Patreon for only a couple-a bucks a month!

It goes without saying that it's hilarious to watch a woman who does not want a baby, forced to deal with taking care of one. Especially one that is liable to murder other children at the playground at the drop of a hat. What's most interesting about The Baby, however, are the reactions of the people around Natasha. Her friends and family are so overjoyed by The Baby that they almost forget to ask where the f*ck it came from. In and around its goofy, pitch-black shenanigans, The Baby is an exploration of the roles women are expected to play in a society hung up on its own one-size-fits-all approach to life.
https://youtu.be/480CO5F_TXE
Natasha is a wrecking ball. She destroys every situation she swings herself into, without any care for the damage she creates. She's not a bad person, she's just as narrow-minded as the machine she's raging against. And, of course, having a baby helps give her a new perspective on the lives of the women closest to her. But even that revelation is paired with its own grim examination of motherhood's darkest sides. Sure, a supernatural, serial-killing baby is the immediate threat looming over these characters, but The Baby's big bad is a world that wants to decide who can and can't have a baby. All angles of motherhood are explored, and many of them are d e p r e s s i n g, but it's never without a cutting sense of humor.
The comedy is a large focus of the earlier episodes but it never disappears as the show's horror elements slowly reveal themselves. Horror fans especially will appreciate this macabre comedy-of-terrors but it's also a gut-punch of a story for any new mothers out there tired of being told that having a baby is the most fulfilling, rewarding, and enriching experience of their entire lives. Sometimes it's just plain hell.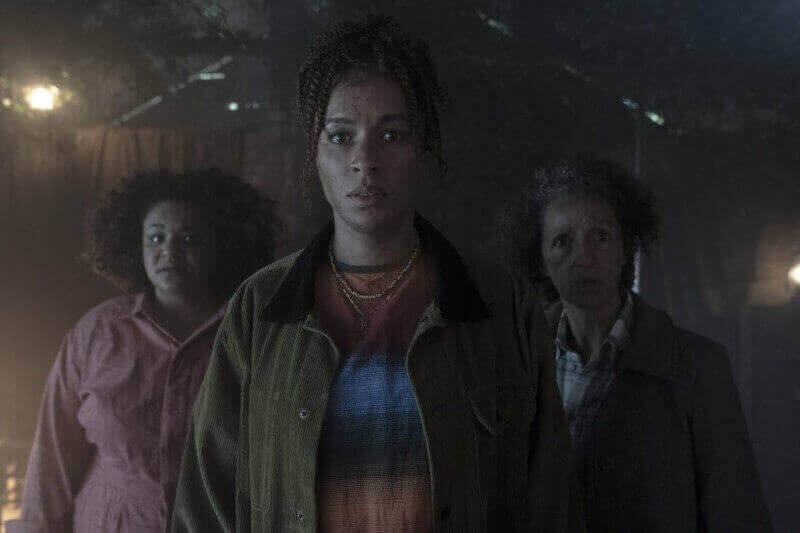 From creators Siân Robins-Grace & Lucy Gaymer and SISTER, the studio that brought you Chernobyl and Landscapers, The Baby debuts on HBOmax April 24. The darkly funny limited series stars Michelle De Swarte (The Duchess) Amira Ghazalla (The Rhythm Section), and relative newcomer Amber Grappy. Rounding out the cast are Patrice Naiambana (Spectre), Sinéad Cusack (Marcella), Shvorne Marks (Endeavour), Isy Suttie (Peep Show), Seyan Sarvan (HBO Max's It's a Sin), Karl Davies (The Tower), and Divian Ladwa (Ant-Man and the Wasp). The series is directed by Nicole Kassell, Stacey Gregg, Faraz Shariat and Ella Jones, and written by Siân Robins-Grace, Susan Soon He Stanton, Kara Smith, Anchuli Felicia King and Sophie Goodhart.
Be sure to let us know what you thought of HBOmax's newest horror-comedy The Baby (and what you would do if you were suddenly asked to take care of an evil baby) over on Twitter, Reddit, Facebook, and in the official Nightmare on Film Street Discord. Not a social media fan? Get more horror delivered straight to your inbox by joining the Neighbourhood Watch Newsletter.