Trust is hard to come by these days. Everything is so backwards and everyone is so manipulative that it's hard to know who or what you can believe. Up is down? News is fake? Pennywise is daddy? Nazis are patriots? The Backstreet Boys still slap? The only thing we can all agree on is that nothing makes sense anymore. The one thing that we are supposed to still believe in, the one respite from the storm of bullshit the world keeps hurling into the fan, is supposed to our families and loved ones. Colin Minihan's latest film, What Keeps You Alive, takes that shelter and turns it into a deadly trap filled with betrayal and fear.
There's something both liberating and terrifying about getting married. You finally have someone else you can rely on, making it so you don't have to go through this life alone anymore. In return for this gift, you swear before the courts and your god to give them everything you are. You tear out your soul and hand it to your partner with an expectation that they will care for it as if it were their own. This is a point of no return that cannot be crossed without someone getting hurt. What Keeps You Alive takes you past that point of no return and makes you watch as your partner crushes your soul and comes back for the rest of you. 
Jules (Brittany Allen) and Jackie (Hannah Anderson) are celebrating their one-year wedding anniversary by heading up into the woods and staying the weekend at a lake house built by Jackie's great-great-grandfather. The place is a massive collection of hallways, animal carcasses and rustic aesthetic. Jules falls in love with the place immediately and gives us all a tour with a beautiful tracking shot that lasted, uncut, for nearly three minutes. They are alone, they are in love, and they can't wait to pop open a bottle of wine and enjoy their anniversary. Those feel-goods only last for a few hours, however, because they are soon interrupted by an old friend of Jackie's. 
Ads are Scary
Nightmare on Film Street is independently owned and operated. We rely on your donations to cover our operating expenses and to compensate our team of Contributors from across the Globe!
If you enjoy Nightmare on Film Street, consider Buying us a coffee!
"Killing for sport is not what hunting is… My father taught me to only kill what keeps you alive."- Jackie
Sarah (Martha MacIsaac) lives across the giant lake and came over to check things out when she saw the lights come on. It's obvious that Sarah and Jackie have known each other since childhood, but, confusingly, Sarah calls her "Megan" when she sees her. Apparently, Jackie has some secrets that she has kept from her wife. Not only did Jules not know about this palatial lake house Jackie has access to, but she doesn't even know her wife's real name. When Jules asks her about it the next morning, Jackie pulls a full Kevin Spacey and claims that she changed her name when she found out she was gay, to own her identity. A little bit of charm and a beautiful locket later, the couple are back to hugging and cuddling.
The next day, Jules decides to take advantage of a morning alone and row across the lake to see Sarah and her husband, Daniel (Joey Klein). While there, Sarah brings up a third friend that they had all those years ago. This friend, Jenny, died unexpectedly and many people in the community believed that Jackie had something to do with her death. When confronted once again with a secret from her past, Jackie reacted like anyone else would, really. There were tears, a heartfelt story about losing her best friend, and a full two-handed shove to her wife's chest, sending her flying off the edge of a cliff.
You will have to watch the film to get anymore of the story, because it definitely doesn't end there. What follows is a game of cat-and-mouse where the person you called your "wife" an hour earlier is stalking you in the woods like an animal. Jackie's predatory nature is played brilliantly by Hannah Anderson, who switches back and forth from crying, caring lover to dead-eyed snake with chilling ease. There are two scenes in What Keeps You Alive that show Jackie practicing her calls to 911 that will be sure to give you the willies.
If you're a true crime fan like me, then you've heard convincing psychopaths on tape calling in their dead loved ones. She pulls it off completely and shows us the calculating reptile mind that lies beneath her grieving facade. Jackie is refreshing and fun to watch because she isn't doing this for any specific reason. She's not trying to cover anything up. She doesn't really want any life insurance money, either. She enjoys killing, to make others suffer. There's nothing special about Jules. She is just the latest animal to fall into Jackie's crosshairs. 
"I'm free in all the ways you're not. Your conscience is not a source of strength. It's your Achilles heel."- Jackie
It's Jules that bugs me the most about this film. Brittany Allen's performance is stellar, but distractingly uneven. I see this as more of an issue with the material and direction than her decisions as an actress. Jules vacillates between helpless lamb being herded into the slaughter and kick-ass heroine ready to war against the shepherd. Her disbelief is believable, her emotions spot-on, but she continues to make the worst decisions ever in her time with a psychopathic wife. There are at least fifteen opportunities to escape or defend herself that she refuses to take advantage of, and when she finally does get an opening, she makes the worst possible decision. 
Enjoying This Post?
Nightmare on Film Street is an independent outlet. All of our articles are FREE to read and enjoy, without limits. If you're enjoying this article, consider Buying us a coffee!
While Jules' unevenness and proclivity for poor decisions is tiresome and a little frustrating, don't let this keep you away from checking out What Keeps You Alive. Colin Minihan directed an absolutely gorgeous film. The beauty and loneliness in those woods was spot on, reminding me of the hours I would spend alone in the timber growing up. The bugs would buzz, the leaves would rustle, and every snap of a twig could be something monstrous searching for you. The aerial shots of the lake were especially gorgeous, with the choppy, inky black water holding more secrets than you want to know about. The music in the film, created by Brittany Allen, was disorienting at points and chest-rattlingly primal in others. It placed you in the head-space of the hunted animal for the entirety of the film, and it was a great experience.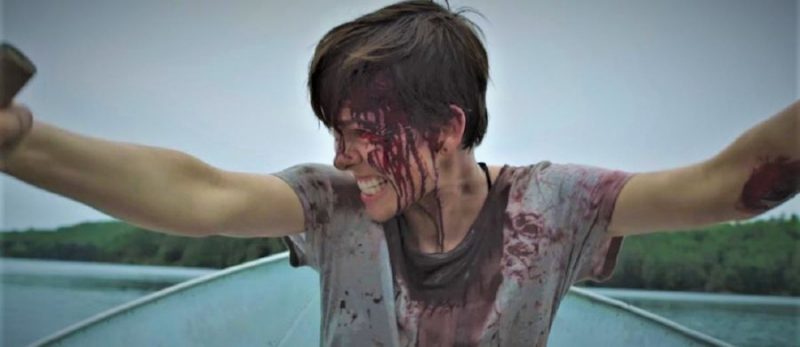 There's a lot to love in What Keeps you Alive and a few things that drag it down, but overall it's a brutally enjoyable film that is completely worth the price of a rental on a Friday night. Just be sure to keep an eye on the person sitting next to you. You may have no idea who they really are, or what exactly they are willing to do to you to feel something. 
For more of the hottest horror news, reviews and retrospectives, be sure to bookmark our homepage at Nightmare on Film Street! Also, after you've had a chance to catch What Keeps You Alive, head over to Facebook and join our Fiend Club to let us know what you thought.