Filmmakers Abel and Burlee Vang (The Vang Brothers) known for their 2016 horror film Bedeviled are back this year with their new supernatural drama They Live in the Grey, starring Michelle Krusiec (The Invitation), Madelyn Grace (Don't Breathe 2), Ellen Wroe (Final Destination 5), and Ken Kirby (Browse). They Live in The Grey takes numerous popular tropes from modern paranormal and arthouse horror trends and mashes them together resulting in a very confusing story with glimmers of excellence along the way.
The film follows protagonist Claire (Krusiec) as she is mourning the loss of her beloved son. Her marriage to Peter (Kirby) is in shambles and she solely occupies their family home where she desperately tries to close herself off from the outside world. The only thing she has to keep her mind busy is her career as a social worker assisting children who come from abusive homes.
"…between Michelle Krusiec's haunting performance and the Vang Brothers dark storyline you may not escape without a dry eye."
After she takes a seemingly routine case of possible parental abuse against a young daughter she soon learns that the situation may not be that simple at all. In fact the situation is much more dire than Claire ever could have guessed as she discovers the family is being plagued by supernatural forces beyond their comprehension. It is up to Claire and Claire alone to help this tormented family before they lose custody of their daughter for reasons out of their control and the only way for her to do it is to finally face her inner demons and come to terms with her own mysterious clairvoyant abilities.
ENJOYING THIS POST?
Nightmare on Film Street is an independent outlet. All of our articles are FREE to read and enjoy, without limits. If you're enjoying this article, consider joining our fiend club for only a couple-a bucks a month!

Seasoned actor Michelle Krusiec delivers a fantastic performance as the grief-stricken Claire and most definitely proves herself to be an incredible force. The other standouts were the talented Madelyn Grace as Sophie, who recently impressed as the lead protagonist in Don't Breathe 2, and Ellen Wroe as Audrey, Sophie's mother who is accused of physically abusing her daughter. These three powerhouse female actors carry the heart at the center of the film and shine bright amongst the more flawed aspects of the production overall.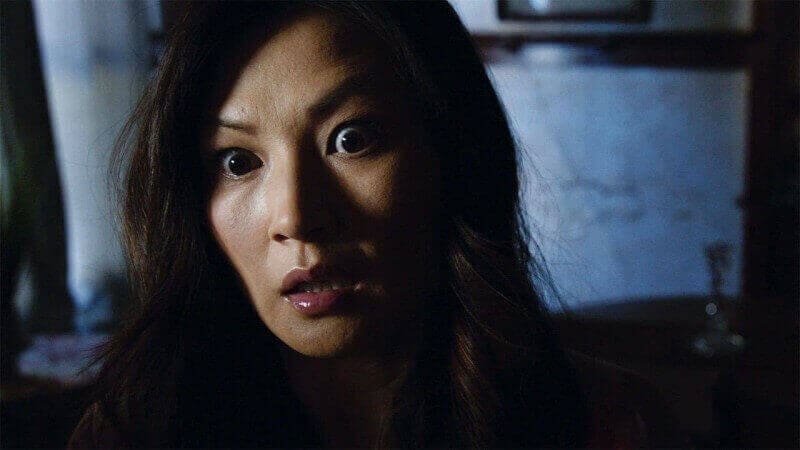 In broad terms, the film tries to do way too much and ends up being entirely too long. There are so many plot points that The Vang Brothers attempt to squeeze into their just over two-hour runtime and it leaves the viewer overwhelmed with information and exhausted by the slow pace it took to get there. I kept waiting excitedly for the film to ramp up and knock me off my seat because I knew the actors were talented enough to deliver it, but that did not happen until about the last twenty minutes or so. By then I was underwhelmed, even with the surprise of a big twist ending. With constant jumping from flashbacks to present day, every scene felt a bit disjointed from the last which unfortunately made it difficult to follow along. However, the filmmaking approach stylistically supports the main themes of the story and helps drive home the more intense moments.
As directors, Abel and Burlee Vang do a very impressive job of translating mood through their filmmaking style. Right away you know what kind of film you are in for from the very first scene on. The brothers are not afraid to be as frank as possible and they do an excellent job of showing and not telling. Michelle Krusiec perfectly fits into the world that was created for her and ultimately stands out as the key ingredient to this entire film.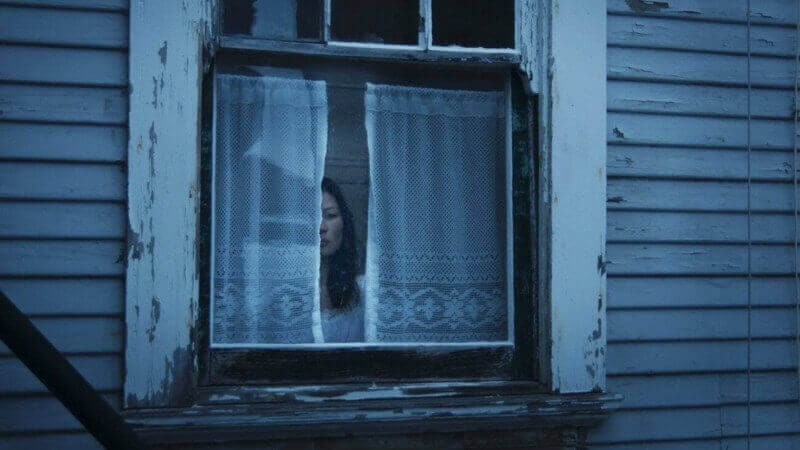 They Live in The Grey draws a lot of inspiration from films like The Sixth Sense, Hereditary, and The Ring but it does not necessarily bring a ton of new ideas to the table. What the film does have going for it is a talented cast. The Vang Brothers tell this story from an Asian American point of view which is incredibly refreshing as there is a major lack of Asian representation in American films, especially horror.
Horror fans who love supernatural or paranormal sub genres should definitely check this film out because it delivers on jump scares, spooky specters, and wraps it all up with a twist ending I did not see coming! Prepare yourself with a box of tissues though because between Michelle Krusiec's haunting performance and the Vang Brothers dark storyline you may not escape without a dry eye.
"…delivers on jump scares, spooky specters, and wraps it all up with a twist ending I did not see coming!"
The Vang Brothers They Live In The Grey is available to stream on Shudder beginning February 17, 2022.  Let us know what you thought of this supernatural heartbreaker over on Twitter, Reddit, Facebook, and in the official Nightmare on Film Street Discord. Not a social media fan? Get more horror delivered straight to your inbox by joining the Neighbourhood Watch Newsletter.