Welcome to Scream Warriors!, a brand-new column that covers new and upcoming releases from Scream Factory, Shout! Factory's label dedicated to classic and cult horror and science-fiction films.
This month's releases focus heavily on demons, resurrecting the dead – obviously – and assorted loose body parts!
January 7
Depraved
From indie horror maestro Larry Fessenden (Habit, Wendigo) comes Depraved, a stylish, modern-day retelling of the Frankenstein legend. Suffering from PTSD following his stint as an army medic, Henry (David Call, The Sinner) now works restlessly in his Brooklyn laboratory to forget the death he witnessed overseas… by creating life in the form of a man pieced together from body parts. After he procures a brain from an unwitting victim, his creation — Adam (Alex Breaux, When They See Us) — is born. Giving life is only the beginning, however, as Henry must now teach Adam how to be human again. As he (re)learns skills like speaking and playing ping-pong, Adam begins to regain his memories, including the trauma that led to his current state.
Fessenden's re-imagining of Mary Shelley's classic story is provocative, delving into timely themes while providing plenty of scares. Pick up the Blu-ray for Fessenden's audio commentary and some choice featurettes, including Fessenden's Depraved – Making Frankenstein In A Brooklyn Loft.
Trespassers (2019)
Directed by Orson Oblowitz and written by Corey Deshon, IFC Midnight's 2019 film Trespassers is a neon-soaked thriller about two couples, each working through relationship issues, who rent a house in the desert for an escape from reality. Sarah (Angela Trimbur, The Final Girls) and Estelle (Janel Parrish) are longtime friends looking forward to reconnecting while their boyfriends, Joseph (Zach Avery) and Victor (Jonathan Howard), are immediately wary of one another. As tensions escalate over the course of a debaucherous night, things take an unexpected turn when a woman (Fairuza Balk of The Craft) claiming to be a neighbor with car trouble shows up at the door.
The Final Programme (1973)
Released in the U.S. by Roger Corman's New World Pictures under the title The Last Days Of Man On Earth, 1973's The Final Programme is a British fantasy science fiction-thriller about Jerry Cornelius (Jon Finch, The Horror of Frankenstein), a scientific genius and secret agent who teams up with computer expert Miss Brunner (Jenny Runacre, The Witches) to recover "The Final Programme," a microfilm formula for a self-replicating human being. As the world teeters on the brink of anarchy and annihilation, Jerry must retrieve the microfilm before it falls into the wrong hands and leads to the creation of a new messiah.
Written and directed by Robert Fuest, the dark sci-fi satire stars Patrick Magee (A Clockwork Orange), Sterling Hayden (The Godfather) and Sarah Douglas (Superman II). Scream Factory's Blu-ray release includes an audio commentary with Fuest and Runacre, moderated by author and film historian Jonathan Sothcott.
January 14
The Mummy's Shroud
1967's The Mummy's Shroud is set in 1920 and tells the story of a small archaeological team, headed by Sir Basil Walden (Andre Morell of The Plague Of The Zombies), that discovers the hidden tomb of the boy king Kah-to-Bey (Toolsie Persaud). Ignoring the warnings of local Bedouin Hasmid (Roger Delgado, best known as The Master from Doctor Who), the archaeologists desecrate the tomb and take Kah-to-Bey to Cairo, where his remains are placed next to the mummy of Prem, his devoted manservant. Hasmid chants the sacred oath inscribed on the burial shroud that covers the boy king's body — as you do — and restores Prem to life, resulting in a murderous rampage in which the Mummy strangles men to death, tosses them out of windows, and even throws acid in their faces.
The third entry into Hammer Horror's mummy series is the dustiest and mustiest of the bunch, despite lavish sets, vivid colors, and Don Banks' excellent score. Still, for completists, Scream Factory's Blu-ray release extends this film's shelf afterlife with an audio commentary by author and film historian Bruce G. Hallenbeck and a few solid featurettes, including The Beat Goes On: The Making of The Mummy's Shroud and World Of Hammer – Mummies, Werewolves, and the Living Dead.
Demons of the Mind (1972)
Patrick Magee (A Clockwork Orange) and Gillian Hills (Michelangelo Antonioni's Blowup) co-star in this 1972 psychological shocker from Peter Sykes, director of one of Hammer Horror's most unique films, To The Devil… A Daughter.
In 19th century Europe, the depraved aristocrat Baron Zorn (Robert Hardy of Harry Potter and the Chamber of Secrets) lives in a castle with his children Elizabeth (Hills) and Emil (Shane Briant, of Frankenstein and the Monster From Hell). Zorn believes that his children contracted a demonic hereditary curse from his wife before she committed suicide and keeps them prisoner in the castle, drugging them to prevent them from escaping and drawing the 'bad blood' from their bodies — you know, typical Parenting 101 stuff.
Things are going great — I mean, as great as things can go in 19th century Europe when your damn(ed) kids are cursed by demons — until a traveling physician (Magee) descends upon the old mansion to cure the children and uncovers a V. C. Andrews-esque web of incest and paternal tyranny.
Reminiscent of Roger Corman's House of Usher, Demons of the Mind is an ambitious, offbeat, and stylish entry in the Hammer Horror pantheon and worth checking out. Scream Factory's Blu-ray release includes a new audio commentary with author and film historian Steve Haberman, an interview with camera operator Neil Binney, and the featurette Blood Will Have Blood: The Making of Demons of the Mind.
January 28
Body Parts (1991)
Co-written and directed by Eric Red (of The Hitcher and Near Dark), 1991's Body Parts is the story of a medical experiment gone very wrong, based on the 1966 horror novel Choice Cuts by Boileau-Narcejac. The film stars Jeff Fahey (The Lawnmower Man, Planet Terror) as Bill Chrushank, a criminal psychologist who loses his arm in a grisly car accident. After a donor's arm is successfully grafted onto Bill's body, the arm takes on a violent life of its own, striking out against Bill's wife (Kim Delaney) and children.
Bill sets out to learn the donor's identity and makes a horrifying discovery: his arm belonged to convicted serial killer Charley Fletcher, who murdered 20 people. Body Parts also stars Brad Dourif (Child's Play, Graveyard Shift, The Exorcist III), Lindsay Duncan (The Reflecting Skin, Little Joe), and Zakes Mokae (The Serpent and the Rainbow, Dust Devil, Vampire in Brooklyn).
Scream Factory's excellent Blu-ray release includes a brand new audio commentary with Red, as well as the following special features:
NEW I Dare You To Read The Script – an Interview with director Eric Red
NEW Something Unstoppable – an interview with actor Paul Ben-Victor
NEW Molded For Cinema – an interview with actor Peter Murnik
NEW That One Hurt – an interview with editor Anthony Redman
Deleted gore footage with optional commentary with director Eric Red
Theatrical trailer
TV spots
Still gallery
Let's Scare Jessica to Death (1971)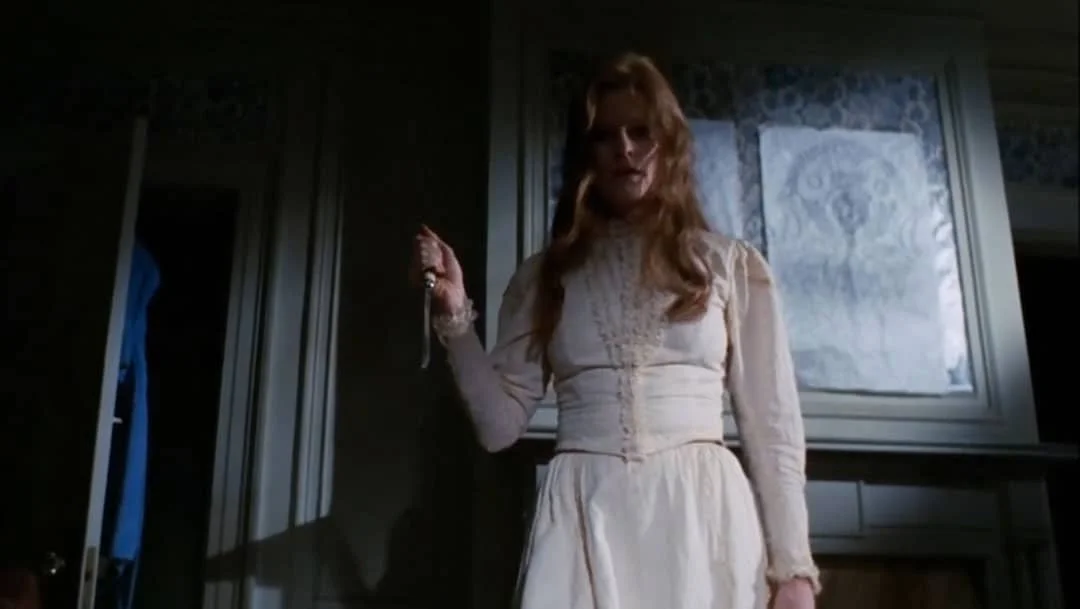 John Hancock's 1971 directorial debut, Let's Scare Jessica to Death, is one of those underground horror movies that appears on every "Great Horror Movies You Haven't Seen" list, and for good reason. Hancock's unique feminist horror film stars Zohra Lampert (The Exorcist III) as Jessica, a young woman who is released from a mental institution — after suffering a nervous breakdown — to the care of her husband, Duncan (Barton Heyman of The Exorcist, Raising Cain). What starts as a restful recuperation turns into a swirling vortex of madness as Jessica begins hearing voices and sees a mysterious young woman (Gretchen Corbett, Jaws of Satan) watching her from a distance. Things only get weirder as Jessica learns the local legend of the undead Abigail, who drowned in 1880 just before her wedding day.
Finally available on Blu-ray thanks to Scream Factory, Let's Scare Jessica to Death will find new life and cement its place as one of the great horror films. In addition to a great high-definition transfer, the disc comes with several special features, including:
NEW Audio Commentary with director John Hancock and producer Bill Badalato
NEW Art Saved My Life – an interview with composer Orville Stoeber
NEW Scare Tactics: Reflections On A Seventies Horror Classic – an interview with author/film historian Kim Newman
NEW She Walks These Hills – the film's locations then and now
Theatrical trailer
TV spot
Radio spot
Still gallery
The Slumber Party Massacre (Deluxe Limited Edition Steelbook)
When Trish (Michele Michaels, of New Year's Evil and Satan's Mistress) decides to invite her high school basketball teammates over for a slumber party, she has no idea the night is going to end with an unexpected guest crashing the party – an escaped mental patient and his power drill – in the 1982 cult classic, The Slumber Party Massacre. Written by Rita Mae Brown and directed by Amy Holden Jones, this '80s slasher flick is getting a kick-ass deluxe limited edition Steelbook release, complete with a NECA action figure and a rolled lithograph!
This Deluxe Limited Edition contains:
[Limited Edition Steelbook] 1-disc Blu-ray
An exclusive, limited edition 8″ tall Russ Thorn action figure by NECA
An exclusive, limited edition 28.5″ X 16.5″ rolled lithograph — made exclusively for this promotion — of the newly-designed art from artist Laz Marquez (this will ship rolled, in a poster tube)
NEW 4K scan from the original camera Negative
Sleepless Nights: The Making of The Slumber Party Massacre
Audio commentary with director Amy Holden Jones, actors Michael Villella, and Debra De Liso
Interview with actor Rigg Kennedy
Theatrical trailers (U.S. And U.K.)
Alternate title sequence
Still gallery
That's it for this edition! Join me next time for a breakdown of all of Scream Factory's February releases. Be sure to let us know what Scream Factory releases you're most excited for and what physical media you're taking home this month over on Twitter, in the Nightmare on Film Street Subreddit, and on Facebook in the Horror Movie Fiend Club!