The Nightmare on Film Street Hall of Fame is where we celebrate all of our amazing Patrons – past and present, that have supported the show. Their continued generosity allows us to continue creating bigger and better creepy content!
Want to join our freaky family? Join the Fiend Club! 
MESSAGE TO OUR PATRONS:
Nightmare on Film Street has grown out of a love for horror, by horror fans. We're not Hollywood producers, we're not filmmakers -  we like watching scary movies. Fandom in this decade can be alienating and isolating. Our niche is a weird one, and we're here to celebrate it with you. Our podcast has always intended to be a conversation at the coffee shop after a movie marathon, a discussion at the bar after the movie theatre. We're the friends you talk to about horror (because your real life friends are square and just don't get it. Sorry Jan, you're square.)
Thank you from the bottom of our creepy little hearts for tuning in, interacting on social media, and supporting the show. Nightmare on Film Street truly is fan supported, and we wouldn't be here without your ears, or, your weird.  
Stay Creepy, Fiends! 
- Jon and Kim.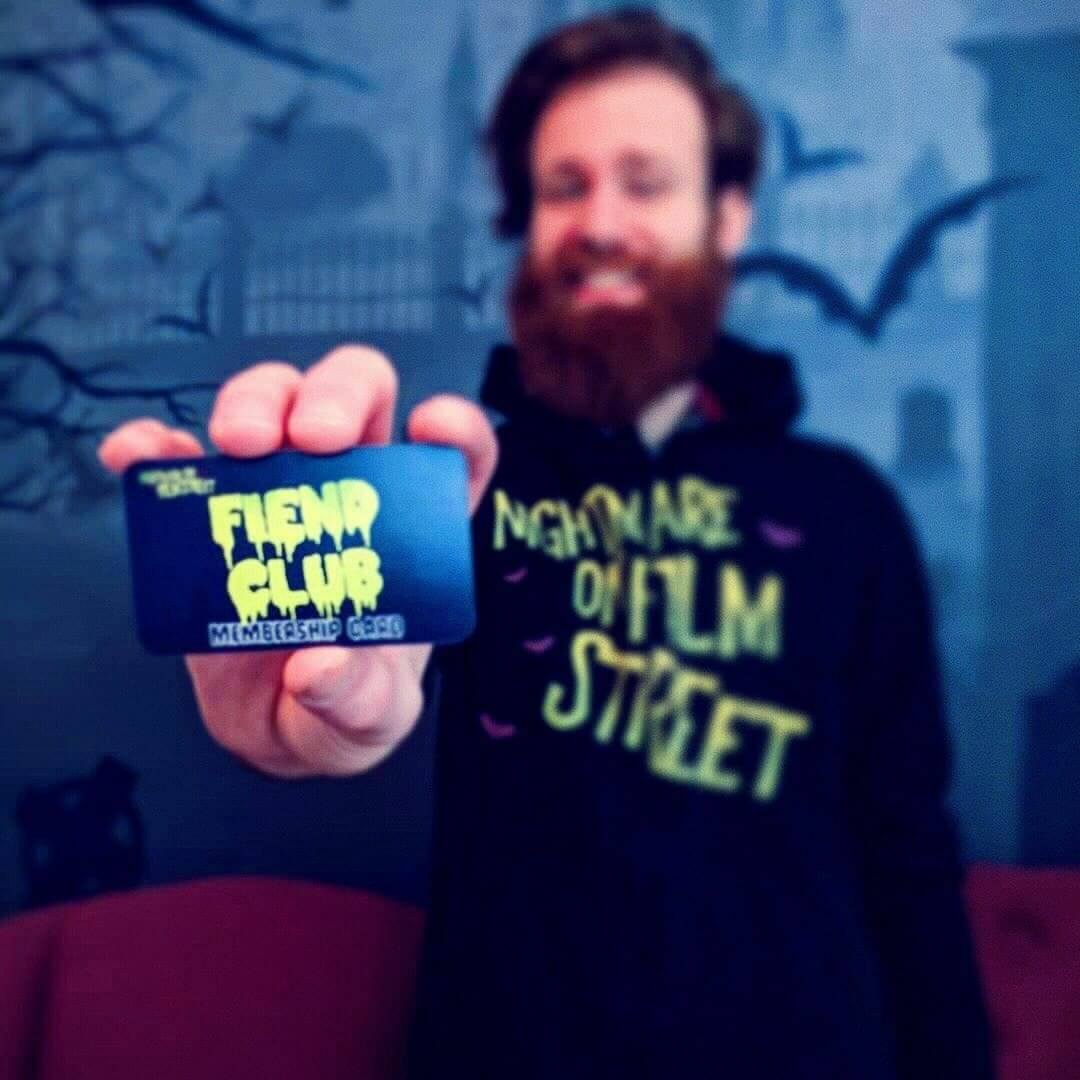 Tyler D.
Alfred D.
April B.
Alyxandra V.
Alex S.
Bradie F.
Rachel C.
Erin D.
Len C.
Brendan J.
Chelsey B.
Michael A.
Maxwell M.
Andres L.
Edward G.
Mark D.
Alexandra J. 
Kristine A.
Matt B.
Briana L. 
Samantha V.
Mia B.
Mike B
Janice L.
Anthony R.
Nathan K.
Jessica V.
Matt T.
Billy M.
Sharimar R.
Joshua A.
Matt H.
Will T.
Chris G.
Simon G.
Brad M.
Bill B.
Phil B. 
Hallow W.
Kyle M. 
Brad M.
Joshua H.
Shawn L.
Julio I.
Jonathan B.
Hunter F.
Veronique K.
Angela S.
Scott E.
Rosa M.
Andrew S.
Nicole C.
Chris L.
Tim and Baby Alex
Derrick R.
Heather B.
Daniel V.
Dustin L.
Stuart D.
Meg B.
Paul G.
Tyler L.
Lorenzo M.
Kellie T.
Matthew S.
Niklaus H.
Lexi M.
Casey L.
Shay O
Chaz N.
Klaus
Mallory G.
Sonya S.
Katherine S.
Isabel M.
Brian O.
Luke F.
Nikko S.
Chessie L.
Jeff E.
Parker J.
Angel V.
Sara C.
Alexa H.
Rebecca W.
Catherine D. 
Rob S.
Wayne R.
Marky N.

Grover W.

Nora R.
Carol B.
Nicola P.
Sarah W. 
Matthew N.
Dylan W.
Brittney M. 
David H.
Kimble W.
 Lindsay L.
Melissa T.
Ken W.
Shaun W.
Matt P. 
Grace
Lux T.
MaryClaire M.
Blake A.
Jaime Z.
Miranda M.
Sean P.
Blake M.
Danielle V.
Dave B.
Lindsey D.
Nathan M.
Kelsey S.
Kenny M.
Jonathan F.
Oliver L.
Sara A. 
Corey C.
Gillian L.
Beverley P. 
Alicia S.
Denise H.
Chris T.
Jeremy T.
Joshua L.
Christian V.
Lisa G.
Noah M.
Emily H.
Chloe V.
David H.
Josh B.
Ellen C.
Calvin S.
Alex P.
Dakota E.
Jens M.
Andrew S.
Emily H.
Kyle G.
Joey S.
Chris D.
Marc S.
Barry P.
Katie D.
Chris M.
Tiffany M.
Nicole M.
Andy J.
Meaghan M.
Andrew M.
Bryan H.
Ariel P.
Brittney H.
Prince J. 
Victoria M.
Mike D.
Kelsey S.
Craig O.
Ross D.
Jon H.

Michael A.

 Vince H.
Kristie S.
Taylor S.
Nick M.
Steven Andrew G.
Carlos D.
Christian F.
Jon S.
Brent S.
Alyssa B.
Jason B.
William B Jr.
Stephanie L.
Dale R.
Haley W.
Jordan N.
Kyle B.
Istahil I.
Dave B.
Ashley K.
Michelle E.
Roberto J.
Noah D.
Darlene L.
Sean M.
A.K T.
Taylor B.
Ryan M.
Rachel C.
Sam A.
Jay B.
Chessie L. 
Spencer M.
Jessica M.
Zachary L.
Mitchell S.
Sahna
Malcom R.
Jenn D.
Bobby G.
Chris B.
Justin H.
Tra D.
Todd M.
Jackelin C.
Joe S.
Megz
Neal S.
Sam L. 
Daniel B.
Zane D. 
Alex F.
Lisa M.
Taylor S.
Melissa B.
Anthony J.
Lisa M.
David & Whitney
Sydney G.
Bryan W.
Chelsey S.
Zach B.
Cristian P,
Brian O.
Brandon H.
Robert G.
Chay P. 
Violet M.
Charles T.
Juliana K. 
Alexis R.
Jeremy J.
Ellie P.
Mickey R.
Jay S.
Sean S.
Taylor D.
Jay B.
Veronique A.
Katie H.
Matthew N.
Richard S.
Kristen A.
Katie S.
Jordyn F.
Jasmine & Derek
Eliah M.
Lucie C.
Peter H.
Ally C.
Stephony H.
James M.
Estee
Merrilee O.
Bradley P.
Joseph C.
Cody B.
Thomas W.
Alexander Y.
Rachel I.
Poppy A.
Destiny D.
Lucais J.
Jade C.
Richard J. 
Quinton L.
Louis U.
Daniel B.
Jeremy M.
Candice L.
Charlie K.
Erin N.
Devin B.
Kelsey S.