October TV Alert! Dive into our essential Halloween TV Guide for 2023 and catch the most anticipated screenings this spooky season. This guide is your passport to the best horror movie premieres, spooky specials, and halloween horror movie marathons TV and streaming have to offer. We've compiled all of the mega-hits from AMC Fearfest, SyFy, Shudder, crowd-favorite Freeform's 31 Nights of Halloween, and more!
Whether you're a die-hard horror fan or just in for the October vibes, there's bound to be something perfect to get you into the Halloween spirit this season. Whether you want to watch all of the Halloween films backward (why, AMC, why?), or stressed-out bakers making giant Halloween disasterpieces while a big clock on the wall yells at them, we've got ya covered! And for our global audience, use this timezone converter link to align your screams with the screen's. Please note: schedules are subject to change. We'll update this post frequently as more titles are added.
Mark your calendar, and brace yourself for an electrifying month of Halloween TV!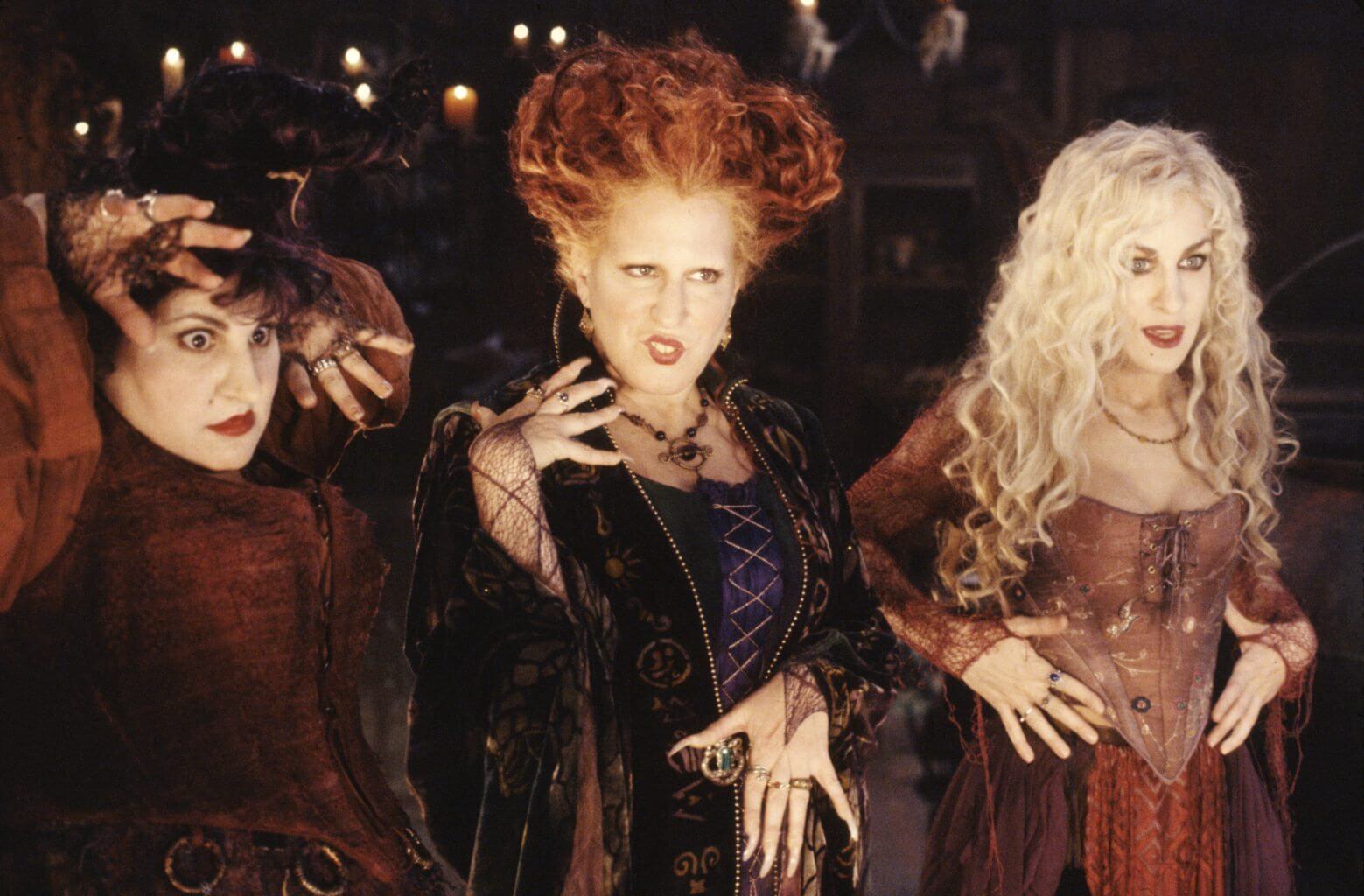 Sunday, October 1st
Freeform's 31 Nights of Halloween
10:10am ET – Scared Shrekless
10:40am ET – Halloweentown
12:45pm ET – Goosebumps 2: Haunted Halloween
2:50pm ET – The Haunted Mansion (2003)
4:55pm ET – Tim Burton's The Nightmare Before Christmas
6:35pm ET – Hocus Pocus
8:45pm ET – Hotel Transylvania
10:50pm ET – Hotel Transylvania 3: Summer Vacation
1:00am ET – Decorating Disney: Halloween Magic
AMC Fearfest
1:00am ET – Halloween (1978)
3:00am ET – Halloween (2007)
5:30am ET – Halloween II (2009)
8:00am ET – Halloween (1978)
10:00am ET – Halloween III: Season Of The Witch
12:00pm ET – Halloween 4: The Return Of Michael Myers
2:00pm ET – Halloween 5: The Revenge Of Michael Myers
4:00pm ET – Halloween (2007)
6:30pm ET – Halloween II (2009)
9:00pm ET – Halloween: Resurrection
11:00pm ET – Halloween H20: 20 Years Later
SyFy 31 Days of Halloween
8:30 am ET – The Faculty
10:30 am ET – Child's Play 2
12:25 pm ET – Child's Play 3
2:27 pm ET – Bride Of Chucky
4:27 pm ET – Seed Of Chucky
6:27 pm ET – Curse Of Chucky
8:30 pm ET – CHUCKY
8:31 pm ET – Cult Of Chucky
10:33 pm ET – The Mummy (1999)
Other Programming
7:00pm ET – Mickey and Friends Trick or Treats (Disney Channel, Special)
9:00pm ET – Halloween Wars (Food Network, New Episode)
10:00pm ET – Jack Osbourne's Night of Terror (Travel Channel, Season 2 Premiere)
10:00pm ET – Outrageous Pumpkins (Food Network, New Episode)
10:00pm ET – Psycho: The Lost Tapes of Ed Gein (MGM+, New Episode)
Monday, October 2nd
Freeform's 31 Nights of Halloween
10:30am ET – The Simpsons: Treehouse of Horror
11:00am ET – Goosebumps 2: Haunted Halloween
1:00pm ET – Twitches
3:00pm ET – Twitches Too
5:00pm ET – Shrek Forever After
7:00pm ET – Hotel Transylvania
9:00pm ET – Hotel Transylvania 3: Summer Vacation
12:00am ET – The Simpsons: Treehouse of Horror episodes
AMC Fearfest
12:21am ET – The Walking Dead: Daryl Dixon
1:30am ET – Ride With Norman Reedus
2:33am ET – The Walking Dead: Daryl Dixon
3:42am ET – Ride With Norman Reedus
4:45am ET – The Walking Dead: Daryl Dixon
9:15am ET – The Apparition
11:15am ET – Jason X
1:30pm ET – Halloween: Resurrection
3:30pm ET – Halloween H20: 20 Years Later
5:30pm ET – Misery
8:00pm ET – Rosemary's Baby
11:00pm ET – Cursed Films
SyFy 31 Days of Halloween
1:05 am ET – SurrealEstates marathon
6:00 am ET – Bates Motel marathon
10:00 am ET- The Scorpion King
12:00 pm ET – Warm Bodies
2:15 pm ET – Pride And Prejudice And Zombies
4:30 pm ET – Zombieland
6:30 pm ET – The Mummy (1999)
9:15 pm ET – SurrealEstate – S2 Behind The Scenes
9:17 pm ET – The Mummy Returns
Other Programming
Fright Krewe (Hulu/Peacock, Series Premiere)
9:00pm ET – Halloween Baking Championship (Food Network, New Episode)
10:00pm ET – Halloween Cookie Challenge (Food Network, New Episode)
11:00pm ET – The Big Bake: Halloween (Food Network, New Episode)
Tuesday, October 3rd
Freeform's 31 Nights of Halloween
10:30am ET – Decorating Disney: Halloween Magic
11:30am ET – Twilight: Special Edition
2:30pm ET – The Twilight Saga: New Moon
5:40pm ET – Hocus Pocus
7:50pm ET – Cruella
12:00am ET – The Simpsons: Treehouse of Horror episodes
AMC Fearfest
12:00am ET – Misery
2:30am ET – The Walking Dead: Daryl Dixon
3:39am ET – Ride With Norman Reedus
4:42am ET – The Walking Dead
9:15am ET – Drag Me To Hell
11:15am ET – The Rite
1:45pm ET – The Prodigy
3:45pm ET – The Texas Chainsaw Massacre
6:00pm ET – Candyman
8:00pm ET – Ghost Ship
10:00pm ET – Thirteen Ghosts
SyFy 31 Days of Halloween
2:02am ET – The Scorpion King
2:02am ET – Zombieland
6:00am ET – CHUCKY Season 2 Marathon
10:00am ET – CHUCKY – Season 3 Behind The Scenes
10:03am ET – Crank
12:00pm ET – The Mummy Returns
2:45pm ET – The Mummy: Tomb Of The Dragon Emperor
5:00pm ET – John Wick
7:02pm ET – John Wick: Chapter 2
9:32pm ET – John Wick: Chapter 3 – Parabellum
Wednesday, October 4th
Freeform's 31 Nights of Halloween
10:30am ET – The Twilight Saga: New Moon
1:30pm ET – The Twilight Saga: Eclipse
4:30pm ET – The Haunted Mansion (2003)
6:30pm ET – The Simpsons: Treehouse of Horror marathon
12:00am ET – Halloweentown
AMC Fearfest
12:00am – Insidious: The Last Key
2:15am – The Walking Dead
3:28am – The Walking Dead
4:29am – The Walking Dead
9:30am – Wes Craven's New Nightmare
12:00pm – A Nightmare On Elm Street 4: The Dream Master
2:00pm – A Nightmare On Elm Street 3: Dream Warriors
4:00pm – A Nightmare On Elm Street 2: Freddy's Revenge
6:00pm ET – A Nightmare on Elm Street (1984)
8:00pm ET – A Nightmare on Elm Street (2010)
10:00pm ET – Friday the 13th (2009)
SyFy 31 Days of Halloween
12:28 am ET – Cold Pursuit
2:58 am ET – Primal
5:00 am ET – CHUCKY Season 2 marathon
10:00 am ET – Patient Zero (2018)
12:00 pm ET – The Mummy: Tomb Of The Dragon Emperor
2:30 pm ET – John Wick
4:20 pm ET – John Wick: Chapter 2
6:36 pm ET – John Wick: Chapter 3 – Parabellum
9:00 pm ET – CHUCKY – Season 3 Premiere
10:01 pm ET – SurrealEstate – Season 2 Premiere
11:01 pm ET – Winchester
Other Programming
Haunted Mansion (2023) (Disney+, Movie Streaming Premiere)
10:00pm ET – American Horror Story (FX, New Episode)
10:00pm ET – SurrealEstate (Syfy, Season 2 Premiere)
Thursday, October 5th
Freeform's 31 Nights of Halloween
10:30am ET – The Twilight Saga: Eclipse
1:30pm ET – The Twilight Saga: Breaking Dawn – Part 1
4:00pm ET – The House with a Clock in Its Walls
6:30pm ET – Monsters, Inc.
8:30pm ET – Monsters University
12:00am ET – Halloweentown II: Kalabar's Revenge
AMC Fearfest
12:00am – Child's Play (1988)
2:00am – The Walking Dead
3:06am – The Walking Dead
4:09am – The Walking Dead
9:00am – Sinister 2
11:15am – Freddy Vs. Jason
1:30pm – Friday The 13th (1980)
3:30pm – A Nightmare On Elm Street (2010)
5:30pm – Poltergeist (1982)
8:00pm – The Exorcist (1973)
10:45pm – Jeepers Creepers
SyFy 31 Days of Halloween
1:01am ET – The Conjuring 2
6:00am ET – Bates Motel Season 1 marathon
9:00am ET – Silent Hill
11:56am ET – Scream 4
2:27pm ET – Hell Fest
4:28pm ET – I Know What You Did Last Summer
6:30pm ET – The Conjuring 2
9:32pm ET – The Protege
Other Programming
7:00pm ET – Monster High: The Movie 2 (Nickelodeon, Movie Premiere)
10:00pm ET – The Dead Files (Travel Channel, New Episode)
Friday, October 6th
Freeform's 31 Nights of Halloween
10:30am ET – The Twilight Saga: Breaking Dawn – Part 1
1:00pm ET – The Twilight Saga: Breaking Dawn – Part 2
3:30pm ET – Family Guy episodes
12:00am ET – Little Shop of Horrors (1986)
AMC Fearfest
12:45am – Creepshow
3:45am – The Walking Dead: Daryl Dixon
4:54am – The Walking Dead
9:30am – Eli Roth's History Of Horror
10:30am – The Uninvited
12:30pm – Poltergeist (1982)
3:00pm – Jeepers Creepers
5:00pm – Halloween (2007)
7:30pm – Halloween II (2009)
10:00pm – V/H/S/94 (2021)
Other Programming
Totally Killer (Amazon, Movie Premiere)
Undead Unluck (Hulu, Series Premiere)
Pet Sematary: Bloodlines (Paramount+, Horror Movie Premiere)
V/H/S/85 (Shudder/AMC+, Movie Premiere)
Reptile (Netflix, Movie Premiere)
Saturday, October 7th
Freeform's 31 Nights of Halloween
7:00am ET – ZOMBIES (Premiere)
9:00am ET – ZOMBIES 2 (Premiere)
11:00am ET – Scared Shrekless
11:30am ET – Shrek Forever After
1:30pm ET – Tim Burton's The Nightmare Before Christmas
3:10pm ET – Hotel Transylvania
5:10pm ET – Hocus Pocus
7:20pm ET – The Addams Family (1991)
9:25pm ET – Addams Family Values
11:30pm ET – The House with a Clock in Its Walls
AMC Fearfest
12:15am – V/H/S/99
2:45am – Dark Skies
5:00am – The Walking Dead
6:00am – Tremors: A Cold Day In Hell
8:15am – Army Of Darkness
10:00am – Halloween (2007)
12:30pm – Halloween II (2009)
3:00pm – Final Destination 5
5:00pm – The Final Destination (2009)
7:00pm – Final Destination (2000)
9:00pm – Final Destination 2
11:00pm – Final Destination 3
Other Programming
8:00pm ET – 3 Bed, 2 Bath, 1 Ghost (Hallmark Channel, Movie Premiere)
Sunday, October 8th
Freeform's 31 Nights of Halloween
7:00am ET – Scared Shrekless
7:30am ET – Shrek Forever After
9:30am ET – The House with a Clock in Its Walls
12:00pm ET – Hotel Transylvania
2:05pm ET – Miss Peregrine's Home for Peculiar Children
5:10pm ET – The Addams Family (1991)
7:15pm ET – Addams Family Values
9:20pm ET – Hocus Pocus
11:30pm ET – The Craft (1996)
AMC Fearfest
1:00am ET – Final Destination (2000)
3:00am ET – Final Destination 2
5:00am ET – Quarantine 2: Terminal
7:00am ET – Hellraiser: Bloodline
9:00am ET – The Dead Zone
11:30am ET – 1408
2:00pm ET – Misery
4:30pm ET – Firestarter (1984)
7:00pm ET – Christine
9:00pm ET – The Walking Dead: Daryl Dixon
10:23pm ET – The Walking Dead: Daryl Dixon
11:46pm ET – Christine
Other Programming
9:00pm ET – Halloween Wars (Food Network, New Episode)
10:00pm ET – Jack Osbourne's Night of Terror (Travel Channel, New Episode)
10:00pm ET – Outrageous Pumpkins (Food Network, New Episode)
10:00pm ET – Psycho: The Lost Tapes of Ed Gein (MGM+, New Episode)
Monday, October 9th
Freeform's 31 Nights of Halloween
10:30am ET – Miss Peregrine's Home for Peculiar Children
1:35pm ET – Bewitched (2005)
3:40pm ET – The Craft (1996)
6:10pm ET – Hocus Pocus
8:20pm ET – Maleficent: Mistress of Evil
12:00am ET – The Simpsons: Treehouse of Horror episodes
AMC Fearfest
1:46am ET – The Walking Dead: Daryl Dixon
3:09am ET – The Walking Dead: Daryl Dixon
4:32am ET – The Walking Dead: Daryl Dixon
9:15am ET – House Of The Dead
11:15am ET – Sinister 2
1:30pm ET – The Haunting In Connecticut
3:45pm ET – Insidious: The Last Key
6:00pm ET – Don't Breathe
8:00pm ET – Thirteen Ghosts
10:00pm ET – The Last House On The Left (2009)
Other Programming
9:00pm ET – Halloween Baking Championship (Food Network, New Episode)
10:00pm ET – Halloween Cookie Challenge (Food Network, New Episode)
11:00pm ET – The Big Bake: Halloween (Food Network, New Episode)
Tuesday, October 10th
Freeform's 31 Nights of Halloween
10:30am ET – Family Guy episodes
1:00pm ET – Twilight: Special Edition
4:00pm ET – The Twilight Saga: New Moon
7:00pm ET – Halloweentown
9:00pm ET – Halloweentown II: Kalabar's Revenge
12:00am ET – The Simpsons: Treehouse of Horror episodes
AMC Fearfest
12:30am ET – The Strangers
2:15am ET – Fear The Walking Dead
3:23am ET – Fear The Walking Dead
4:29am ET – Fear The Walking Dead
9:30am ET – Evil Dead
11:30am ET – Thirteen Ghosts
1:30pm ET – The Thing
4:00pm ET – Pumpkinhead
6:00pm ET – Halloween H20: 20 Years Later
8:00pm ET – Halloween: Resurrection
10:00pm ET – The Last Drive-In with Joe Bob Briggs: Halloween (Shudder/AMC+, Special)