Hi-De-Ho! Ha-Ha-Ha
As we wait in anticipation of the new Child's Play TV series (aptly named Chucky) coming this year, what better time to become friends to the end with horror's iconic killer doll? Instead of a traditional numerical ranking, we're breaking down the entire film series for all the newbies out there, placing them in a hierarchy from the must-watch's all the way down to the easy passes. If you're new to the franchise and you don't know where to begin this list is tailor-made for you to discover why everyone loves a killer doll named Chucky.
The Must-See For Horror Fans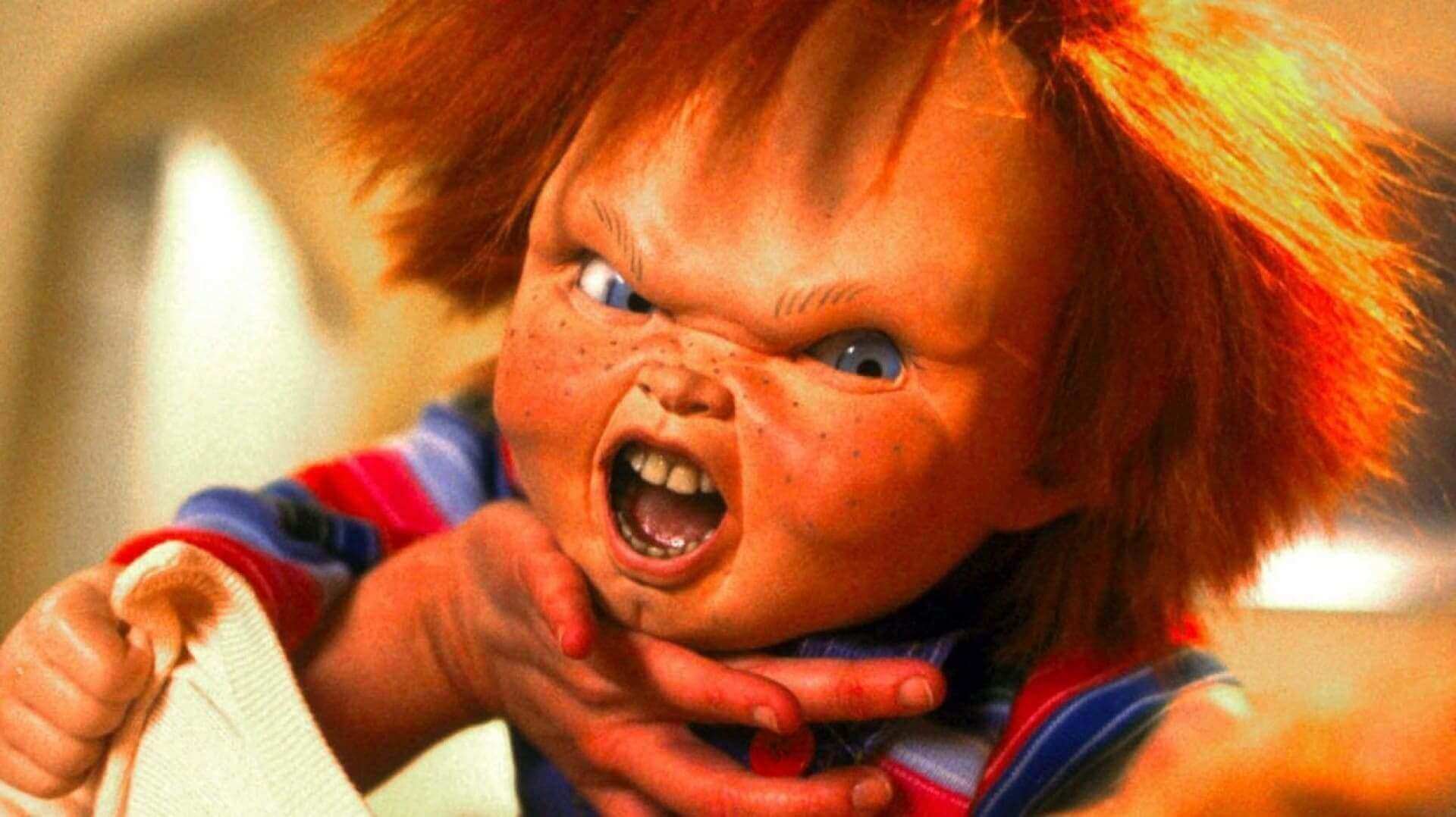 Child's Play (1988)
The one that started it all. The original Child's Play is required viewing not just for horror fans' understanding of the origin of Chucky, but also because it's just a damn good horror movie. A marvel of puppeteering, the film tells the story of serial killer Charles Lee Ray (Brad Douriff) who, seconds before his death, transfers his soul into a children's toy – the Good Guy doll. Throughout the movie, Chucky takes revenge on those responsible for his death, eventually learning that he must transfer his soul back into a human body before he is confined to the doll for good. Even today, it's an unnerving sight to see a doll actually get really angry at you. A somewhat forgotten facet of the Chucky character is in this original, the doll actually morphs to look like it's human possessor over time. Child's Play is without question the scariest film in the entire franchise, and you'll come to understand upon viewing that all of those childhood nightmares about Chucky were well-warranted.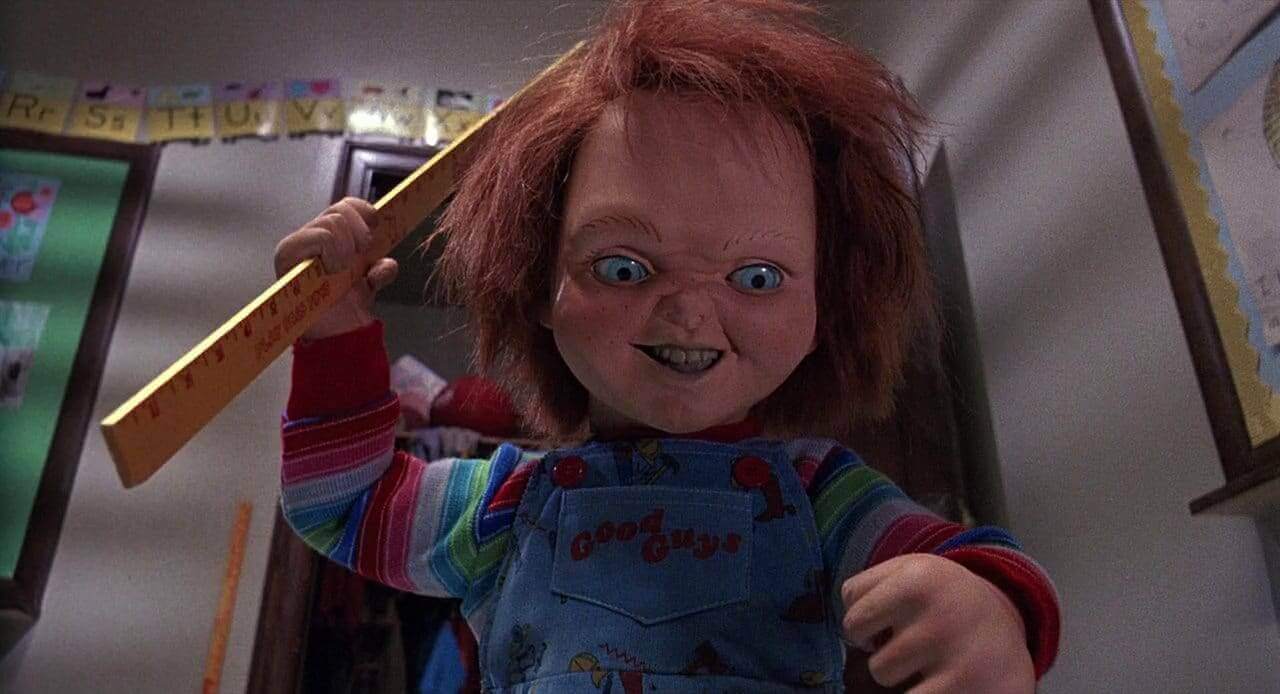 Child's Play 2 (1990)
I've seen many lists and rankings that consider Child's Play 2 the best film in the franchise. While I'd stop short of awarding it that top honor, it certainly is one of the most enjoyable to watch. In a move that can be described as questionable at best, the manufacturers of the Good Guy refurbish the doll corpse of Chucky to prove to the public their dolls are safe. Naturally, this proves to be extremely unsafe, and the killer doll tracks down poor Andy Barclay (Alex Vincent) once again, this time to a foster home. Chucky slashes through everyone who gets in his way of Andy, once again facing the prospect of living out his life as a plastic freak. Much like Freddy Krueger in A Nightmare on Elm Street 3: Dream Warriors, Child's Play 2 molded Chucky into the sarcastic, pissed-off doll we all came to know and love. The overwhelming horror elements of the original are exchanged for a near split between horror and humor, a balance that really feels right for the horror icon. Most importantly, all of this is done respectfully to the characters involved, avoiding the spoof territory the franchise would eventually fall into.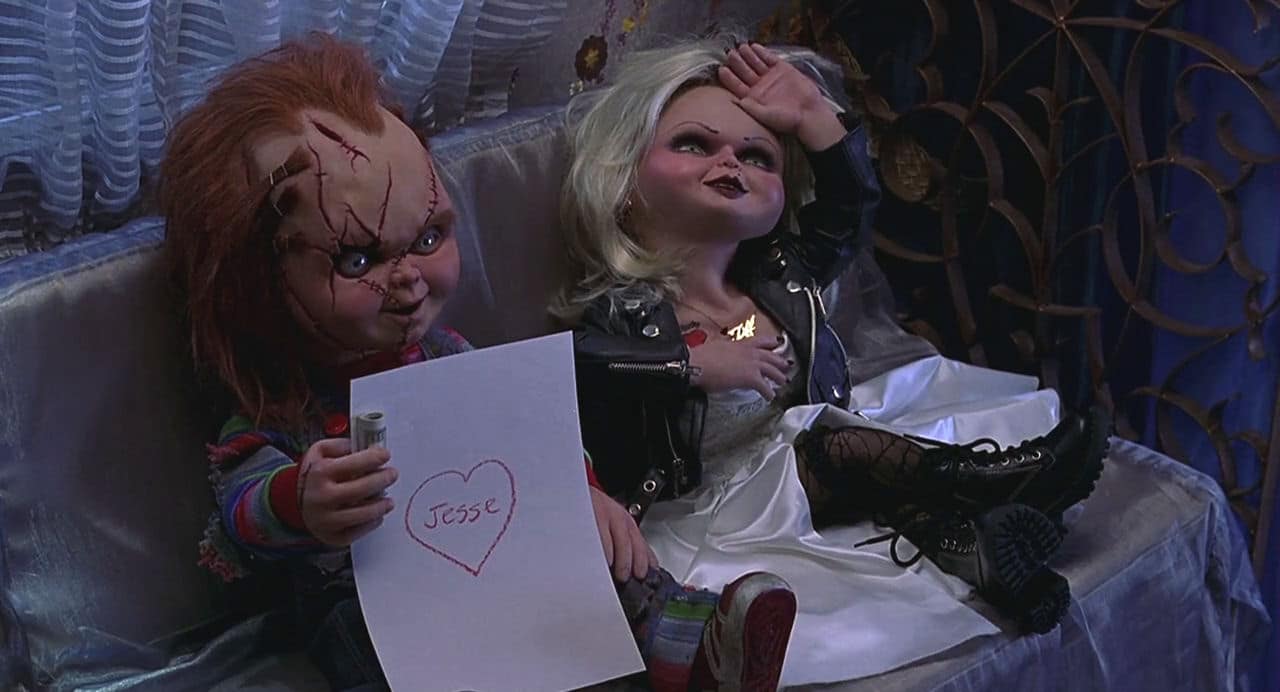 Bride of Chucky (1998)
A reboot of sorts before the term became popular, Bride of Chucky takes place after Chucky seemingly died for the last time at the end of Child's Play 3. Charles Lee Ray's girlfriend, Tiffany (Jennifer Tilly), steals the shredded remains of the doll, sews them together, and brings him back to life via a copy of "Voodoo For Dummies". After a falling out in their relationship, Chucky kills Tiffany and transfer her soul into (you guessed it) a doll, as misery enjoys company. The movie maintains a comfortable blend of humor and horror, similar to that of that Child's Play 2, but leans much further into the laughs. Witnessing two dolls in a domestic dispute over doing the dishes is unapologetically funny and upsetting all at the same time. Also, the choice to make this a black comedy/slasher road trip really was a great move. Even though Bride of Chucky isn't likely even in the top three of scariest movies in the series, it could very take the top spot as most entertaining.
For A Good Time, Call…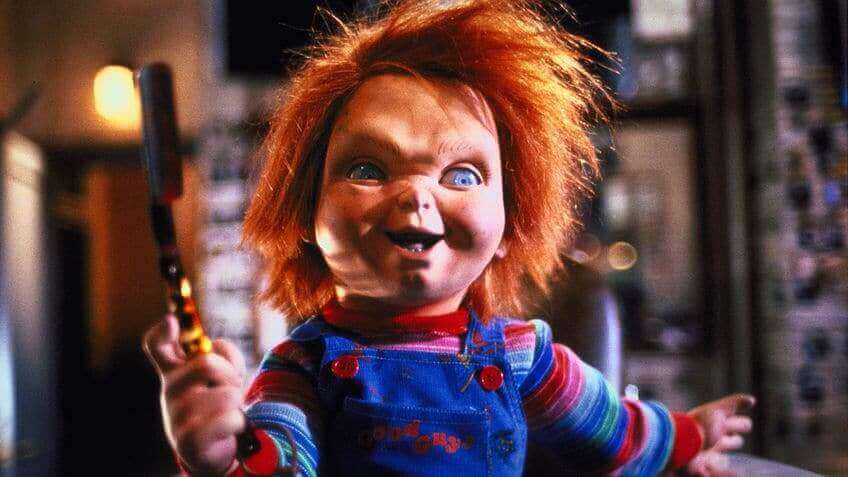 Child's Play 3 (1991)
In my opinion, this film catches way more hate than it deserves. Maybe due to it's lightning-fast release, a mere nine months after Child's Play 2. The third film is admittedly light on plot and heavy with questionable decisions. Set eight years after the events of the second film, Chucky follows Andy (Justin Whalin) to a military academy he's enrolled in after multiple bad runs in foster homes. The killer doll sets his sights on a younger child at the school to transfer his soul into, and Andy must fight the doll and his sudden cache of heavy weaponry to save him. While it certainly offers less than the first two, Child's Play 3 is still a real fun watch. After the second film's turn more humorous territory, there's still enough scares left in the tank for a satisfying conclusion to the trilogy. Considering we get to see Chucky terrorize a carnival with half of his face missing, that enough is worth the price of admission, is it not?
Curse of Chucky (2013)
After the poor reception to Seed of Chucky seemingly killed Chucky for good, director/writer Don Mancini and producer David Kirschner regrouped to deliver this soft reboot/sequel nine years later. While viewers will certainly get more entertainment out of this entry if they've seen the previous films, Curse of Chucky starts a fresh new story that can be enjoyed without knowledge of its predecessors. The movie follows Nica Pierce (Fiona Douriff), a character (seemingly) unrelated to the original plotline, and her unpleasant family being terrorized after a brand new Good Guy doll shows up in the mail. Mostly occurring in a creepy old house, Curse of Chucky successfully brings the horror back to the Child's Play franchise that it so sorely missed, all while adding new layers to the long-tenured series. Entertaining from start to finish, it's easy to wonder if Universal made a mistake sending the film direct to video.
If You're a Chucky Fan and Need More

Cult of Chucky (2017)
If you're a casual horror fan, Cult of Chucky might not bring enough to the table to hold your interest for an hour and a half. However, if you're really into the Child's Play franchise, this one has a lot to offer. Following the events of Curse of Chucky, everyone's favorite killer doll follows Nica (Fiona Douriff) to a psychiatric ward, somehow at the same time an adult Andy Barclay (Alex Vincent) holds him hostage at his reclusive home, torturing Chucky for causing his life to go off the rails. Mancini does a commendable job blending the original films' storyline while continuing the new direction launched by the previous entry. It's great to see Alex Vincent's Andy back in the picture, and the cliffhanger ending leaves a lot of opportunities for a potential future sequel. If you have not seen the previous films, though, you won't get near as much out of this one as it has to offer, and will likely be left scratching you head wondering what the hell you just saw.
Watch If You Dare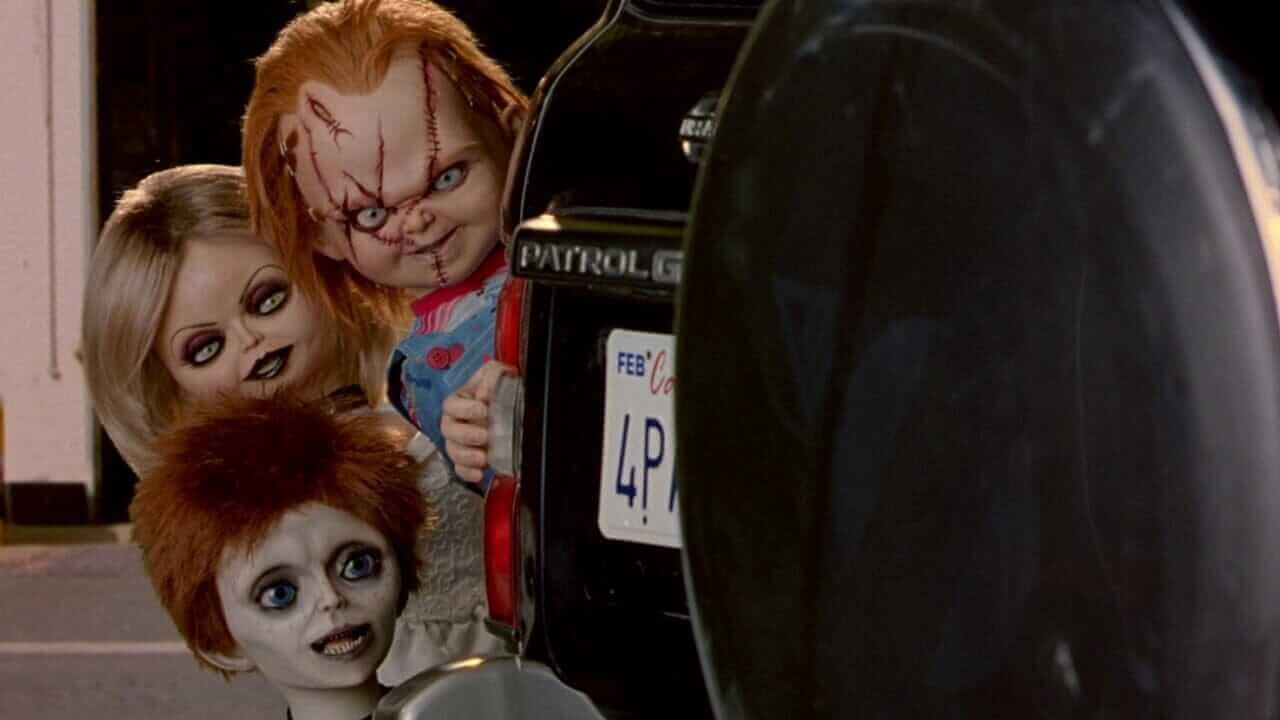 Seed of Chucky (2004)
The longer a franchise runs, the more eager the filmmakers seem to push them into spoof territory. Every franchise is guilty of it, with Freddy's Dead: The Final Nightmare, Halloween: Resurrection, and Jason X as some of the more infamous examples. In most instances, these caricatures of the original are not well received, and for good reason. Seed of Chucky certainly falls into this category. Existing in a meta world where Chucky and Tiffany are movie characters who actually (allegedly) existed in real life, the killer couple searches Hollywood for human bodies to inhabit while raising their doll offspring, Glen. While Bride of Chucky pulled off the delicate balance of horror and humor, it's follow-up seems to exist purely to gross out and poke fun of itself. The film feels like it was way more fun to make than to watch the resulting footage, and viewers are left feeling like they just watched the desperate end of a franchise. Fortunately, Mancini and crew found their footing afterward.
Child's Play (2019)
I've made my feelings on 2019's Child's Play quite clear in the past. Spawned while original creator Don Mancini was still churning out films following the original continuity, MGM (who owned the rights to the 1988 original) pushed out the remake anyway. The film maintains Chucky's name and likeness – a redhead killer doll – but exchanges the Good Guy doll possessed by serial killer Charles Lee Ray for the technology-gone-haywire Buddi doll (voiced by Mark Hamill). This film could, and should, have worked on its own story of AI turning on children without capitalizing on anything "Chucky". Every time the name is spoken in the movie, it feels so ungodly forced, like the filmmakers are winking and saying "Hey, you remember Chucky the killer doll from the 80's, right? Right?!" In a way, the desperation to attach the story to the well-known slasher severely hinders the avenues the film could explore, and we're left with 90 minutes of "meh".
How would you rank the films of the Child's Play franchise? Which film in the series did you see first? And by the way, "WHERE THE HELL DID YOU LEARN TO BAKE?!" Continue the conversation on Nightmare on Film Street's socials and don't forget to listen to this week's episode the Nightmare on Film Street podcast where Kim and Jon discuss the killer couples featured in Bride of Chucky and Natural Born Killers HERE. Share your thoughts and opinions with us over on Twitter, Reddit, and Facebook, as well as the official NOFS Discord!