A Christmas miracle turns macabre in time-bending holiday horror It's A Wonderful Knife. Written by screenwriter remixologist Michael Kennedy (Freaky) and directed by Tyler Macintyre (Tragedy Girls), this snowy slasher bends the bones of Frank Capra's heart-warming It's a Wonderful Life (1947) into a stalk & slash tale of hell on earth and ill will toward the inhabitants of an idyllic mountain town. It's a very on-the-nose re-imagining of the holiday classic that delivers its biggest gifts in the first act but features some silly characters and a send-up of every painfully charming Christmas movie already flooding streaming platforms. 
The premise alone is enough to intrigue any modern horror fan. It's A Wonderful Life is such a celebrated classic that you don't actually have to have seen it to know everything about it. It's been spoofed and lampooned for so long that's it's just part of the DNA of movies now. And on top of that, as someone still mourning the loss of Spirit Halloween, fun-sized candy, and fog machines, it's also nice to see Horror give Christmas a punch in the gut.
"It's always nice to see Horror give Christmas a punch in the gut."
The real gift of It's A Wonderful Knife is how easily it would play alongside any Lifetime Christmas movie. If your partner or parent is already forcing you to sympathize with a big city executive who finds love in a snowy small town or put up with a widower rediscover romance under the mistletoe, they might not notice the difference if you secretly pressed play on this one. Until people start getting their throats slashed by a vengeful Christmas Angel, of course. That might be a dead giveaway that you've done something naughty.
From its cartoonish characters to its familiar plot beats, It's A Wonderful Knife hits all the hallmarks of a modern Holiday Rom-Dram, including a community in Christmas crisis. Our Final Girl, Winnie Carruthers (played by Yellowjackets' Jane Widdop) saves her town from a sadistic killer on Christmas Eve but spends the next year haunted by the memory of that night. In her darkest hour, she wishes she was never born and suddenly finds herself in an alternate timeline where the killer was never stopped, and countless lives have been ruined. Now it's up to Winnie to stop this masked madman and save Christmas (again) before it's too late.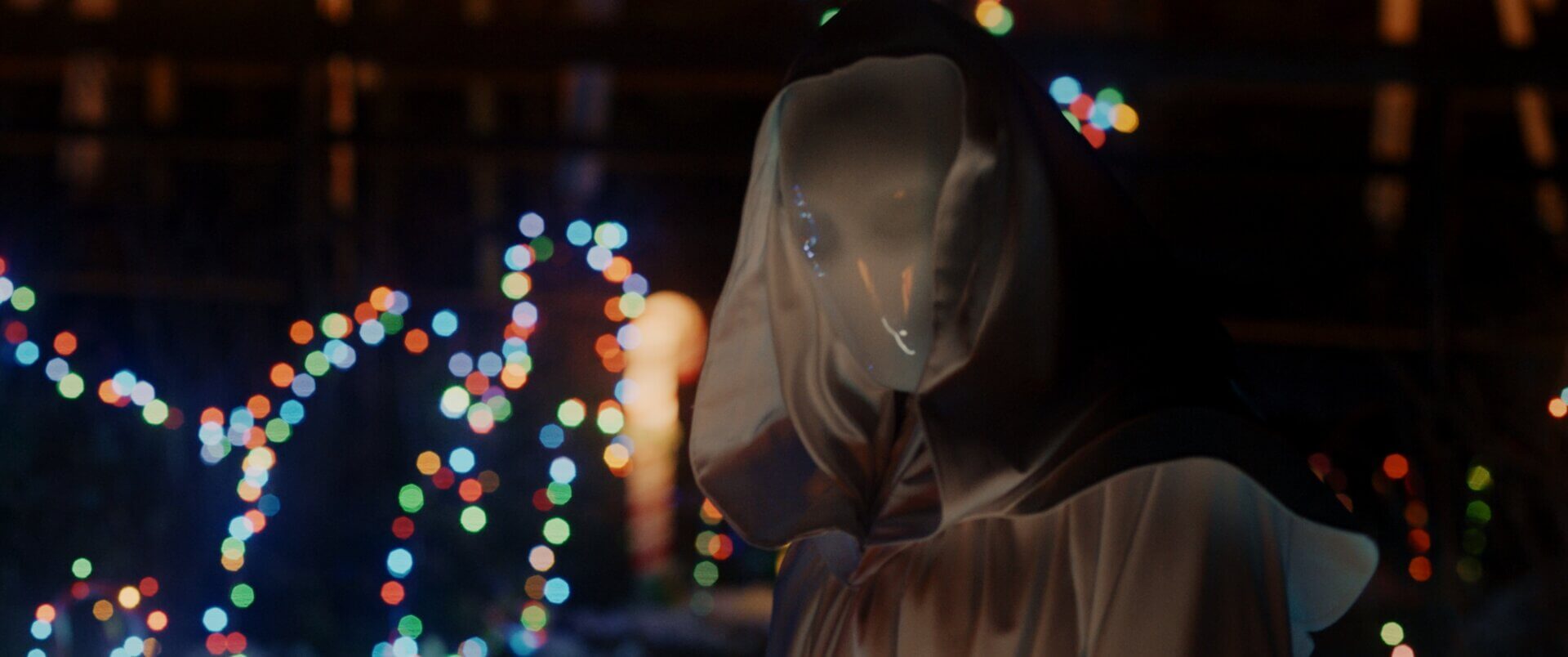 Unlike most slashers It's A Wonderful Knife brushes away it's whodunnit mystery in the opening act. With the killer stopped in Winnie's primary timeline, she immediately knows their identity but can't convince anyone in the alternate timeline to believe her. And beyond an ever-growing pile of bodies. Winnie also finds herself at odds against the town's money-hungry real estate developer who has cannibalized the town after a few suspiciously convenient deaths the year prior. It's a real Back To The Future II version of dystopia but one that's spearheaded by a hilarious performance from Justin Long as Henry Waters– a man with Looney Tune-sized veneers whose greed would impress even The Grinch.
The main villain dons an all-white Christmas Angel outfit that he either own hundreds of or has one hell of a dry cleaner. Seems he's getting that dang thing covered in blood every night! It's a great image for a Christmas Slasher especially given the "Hallmark Original" quality of the entire project. It's A Wonderful Knife really nails the golly-shucks nature of those dime-a-dozen Holiday flicks but beyond that it gets lost in the web of its own spoof. The title tells you everything you need to know about the movie and rarely finds the opportunity to delve any deeper into its own set-up. It's a got a handful of fun moment but, sadly, it's about as disposable as the movies it's imitating. That said, as fans we're always looking for new snowbound horrors every year and It's A Wonderful Knife if a gift-wrapped treat for the slasher fan looking to spread a little Christmas fear this holiday season.
"A gift-wrapped treat for the slasher fan looking to spread a little Christmas fear this holiday season."
It's a Wonderful Knife hits select theatres November 10! Let us know what you thought of this silly Holiday Slasher over on Twitter, Threads, Instagram, Facebook, and the Nightmare on Film Street Discord! Not a social media fan? Get more horror delivered straight to your inbox by joining the Neighbourhood Watch Newsletter.

[Review] A Holiday Classic Takes A Nosedive Into Horror in IT'S A WONDERFUL KNIFE