Ahhh, the holidays. Is there a more magical time of the year? Bright lights dazzle across snow-covered yards and families gather around delicious feasts to give thanks for all they have. Nothing could possibly ruin the celebration, not even the crazed crowds of Black Friday shoppers clamoring for the years hottest toys and gadgets. It's just like any other year. Okay, maybe the customers are little more… ravenous than usual. Its no big deal though. The dedicated staff of We Love Toys are prepared for anything.
Director Casey Tebo (Happy Birthday) hilariously brings to life the much darker side of America's favorite shopping day in his 2021 horror comedy Black Friday. Starring some horror heavy hitters like Devon Sawa (Final Destination), Ivana Baquero (Pan's Labyrinth), Ryan Lee (Goosebumps), and the incomparable Bruce Campbell (Evil Dead), Black Friday tows the line between an outrageously slimy scifi thriller and a biting satire of America's capitalistic society and corporate greed.
The film follows the staff of We Love Toys as they gear up for another Black Friday dealing with rude customers, grueling hours, and snarky co-workers. We are introduced to a ragtag cast of characters who all, for one reason or another, find themselves donning their name tag, smock, and beaming smile (fake or otherwise) to work through the night with promises of holiday bonuses.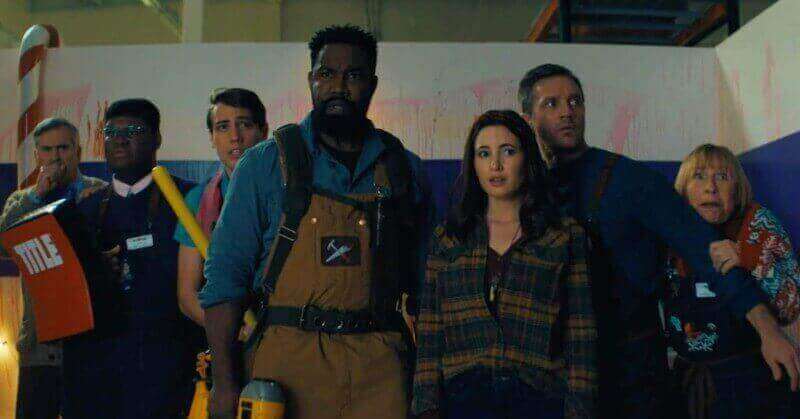 Ken (Devon Sawa), a wisecracking divorcee who just wants the best for his kids, is no stranger to the thrills this night brings. y his side are Marnie (Ivana Baquero), whom may or may not have reciprocating feelings for him, Chris (Ryan Lee), a friendly, but meek young man with a somewhat crippling phobia of germs, Archie (Michael Jai White), the brawns of the bunch, and Jonathan (Bruce Campbell), the overzealous store manager who cares more about making sales goals than the well-being of his employees.
These co-workers must quickly learn to work better together when the already intimidating Black Friday shoppers show their true colors as parasitic, man-eating monsters that will stop at nothing to absorb every living thing in their path. Contrary to store policy, the employees of We Love Toys soon realize that maybe the customer isn't always right.
Right off the bat, the concept of this film is fantastic. Casey Tebo so accurately depicts the frenzied mob-like crowds of shoppers on Black Friday, then kicks it up a notch and illustrates how materialism and consumer hunger can spread just like a deadly parasite from customer to customer. As the store is taken over, the staff remain as collateral damage, doomed to suffer the consequences of how corporate America's greed poisons the minds of consumers, leaving all true meaning of the holidays obsolete.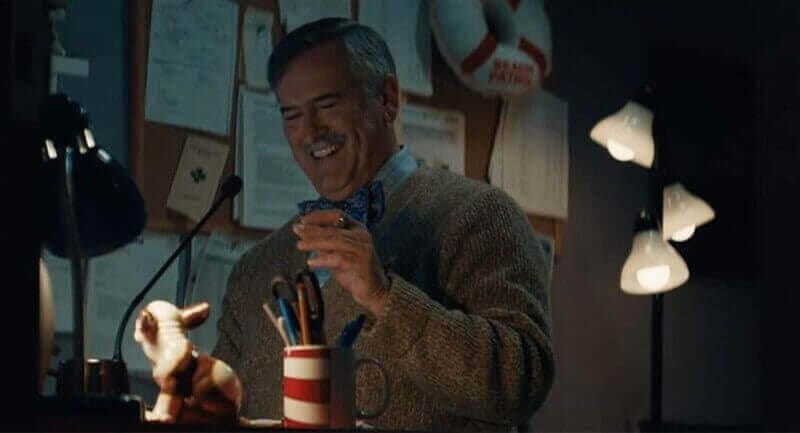 This film is most definitely timely, given the world's current reality of the pandemic and economic distress with the holiday season fast approaching. At times, the point is driven home a little heavy-handedly when poking fun at "Wokeism" in our society, like calling Black Friday "Green Friday" to avoid being labeled as racist. There are also some very obvious "Karen's" who verbally assault and demean innocent employees who don't want to be there any more than they do. Overall, the film is successful in satirizing our current social and political climate, but no example is better than its depiction of the monsters.
The gore and blood really shine in stark contrast to the comedic delivery of the lines by the cast. Take the wet and goopy body horror of Society (1989) and mash it together with the absurd hilarity and social commentary of Slaxx (2020) and you've got Black Friday. It takes the tropes of 80s B-horror and totally modernizes it to make a bigger statement about American consumerism.
"Black Friday tows the line between an outrageously slimy scifi thriller and a biting satire of America's capitalistic society and corporate greed."
The film's monsters are never specifically identified as zombies or extra terrestrials, but it works to be left a mystery because ultimately it doesn't matter. Once one customer is infected, total pandemonium is inevitable. The parasite has a mind of its own and the more victims it takes, the hungrier it gets. The creature design and scifi elements are very reminiscent of Lovecraftian horror, which works to its benefit and leaves the viewer feeling like they need a shower (definitely not a bad thing!). The acting also elevates this film to a high level. The actors so accurately portray their character stereotypes. If you have ever worked retail, then you have met some of the equivalent of these characters.
This film really does have everything a horror fanatic would love, and I don't just mean Bruce Campbell fighting off evil in a store that is very reminiscent of another well-known store called ValueStop. Between the beloved horror actors, the spine-tingling body horror, and the very relevant comedic commentary, Black Friday gets right to the point and does it pretty well. I will definitely be adding this to my holiday horror watchlist and you should too! Black Friday will be available in select theatres and VOD on November 19th. Nothing can protect you from these "suburban savages!"
What are your holiday plans? Would they be more, or less fun with murderous psychos involved? Let us know on Twitter, Reddit, Facebook, and in the official Nightmare on Film Street Discord. Not a social media fan? Get more horror delivered straight to your inbox by joining the Neighbourhood Watch Newsletter. And for all the best horror content online, keep lurking at Nightmare on Film Street.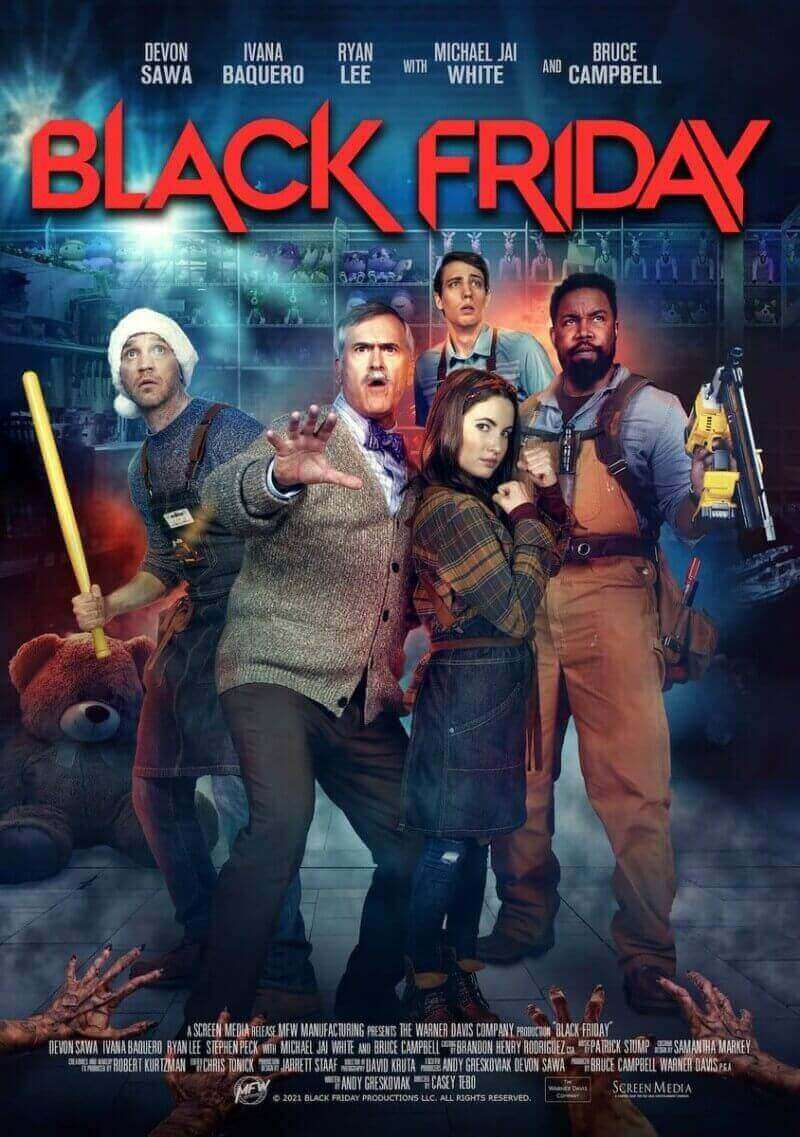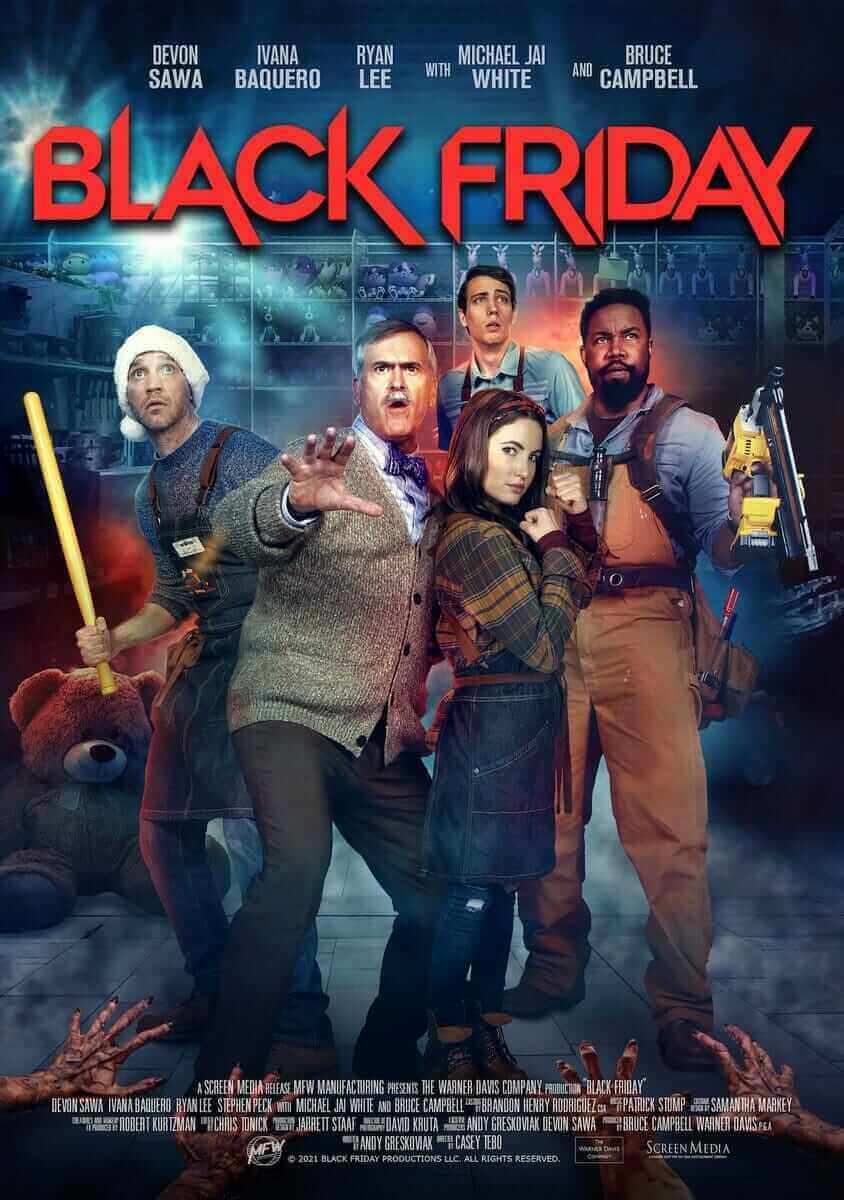 Summary
A team of toy store employees must band together to fight an evil even more terrifying then than your average Black Friday shoppers. The blend of body horror and hilarious social commentary make this a fun-filled holiday watch!