Slasher fans have been ringing in The New Year for decades now by rewatching the 80s party horror classic Terror Train. The Jamie Lee Curtis cult favorite has been scaring up a good time for over 40 years now but it's time we pass the torch on to a new generation. Terror Train (2022) is a faithful but fresh re-telling of Roger Spottiswoode's celebrated Terror Train (1980), and it's available to stream for free right now on Tubi.
The updated slasher remake recently celebrated its World Premiere at the 2022 Brooklyn Horror Film Festival and in true Tubi fashion, it was a free screening- 'cause Tubi is the perfect streaming service for horror nerds on a budget. Directed by Philippe Gagnon from a screenplay by Aaron Martin & Ian Carpenter, Terror Train (2022) stars, Schitt's Creek's Tim Rozon and Robyn Alomar (Riot Girls) as our new Scream Queen. Rounding out the cast are Dakota Jamal Wellman, Nadine Bhabha, Romy Weltman, and Tori Barban.
"…a faithful but fresh re-telling […] comfort food for the macabre movie fan."
I wouldn't necessarily call the original Terror Train one of my favorite Slashers, but I've always enjoyed its fun, party vibe. And setting a slasher movie in a confined location, during a costume party is an immediate 3-star bump regardless of how its whodunit mystery shakes out. Terror Train (2022) takes that costume party angle one step further, setting this new story on Halloween night rather than New Year's Eve.
ENJOYING THIS POST?
Nightmare on Film Street is an independent outlet. All of our articles are FREE to read and enjoy, without limits. If you're enjoying this article, consider joining our fiend club on Patreon for only a couple-a bucks a month!

If you're a diehard fan of the original worried that this update will upend your favorite flick, there are still a handful of elements kept intact. We're still locked inside a moving train with a group of horny, drunk college punks. There's still a goofy magician character, portrayed by Tim Rozon, in place of a young David Copperfield. And best of all, a mysterious figure is stalking and murdering partygoers one at a time in various creepy outfits.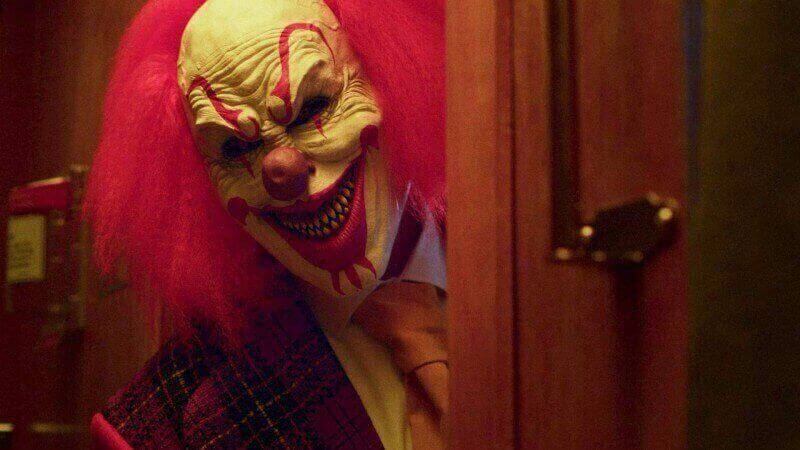 It's hard to be mad at a 90-minute slasher film. Good or bad, it's the exact right amount of time to get to know, learn how to despise, and wave goodbye to a batch of murder victims. Like so many slasher remakes though Terror Train is loaded with caricatures of college kids. I'm never coming to these movies for deep character studies, but it's always weird to see how middle-aged filmmakers think 20-something talk.
Of course, just around the time you start rolling your eyes, someone gets stabbed by a monstrous butcher knife or run through with a sword. The moments between kills in movies like Terror Train aren't terribly important, and they're even easier to look past when you remember that Slasher movies are one of Horror's most reliable formats.
"Although Terror Train (2022) doesn't [deliver many surprises], it's still got a few eye-poppin' moments and a creepy clown killer."
As predictably entertaining as an episode of The Simpsons, Slashers are a comfort food for the macabre movie fan. The films that stand the test of time are the ones that deliver surprisingly intense performances or devilishly inventive murder set pieces. And Although Terror Train (2022) doesn't quite check both those boxes, it's still got a few eye-poppin' moments and a creepy clown killer. If this is already a subgenre that you rock with, Terror Train (2022) is a slasher flick you can easily curl up with. If they've never been your bag, then you'll probably find this one a bit of a grind too. But let's not look a gift horror in the mouth. A free movie is a free movie, and this free movie has decapitations, slit throats, and blood-splattered Halloween costumes.
Terror Train (2022) celebrate it's World Premiere at the 2022 Brooklyn Horror Film Festival and is available to stream on Tubi right now! Click HERE to follow our continued coverage of the festival and be sure to let us know if you're dying to see V/H/S/99 over on Twitter or in the Nightmare on Film Street Discord! Not a social media fan? Get more horror delivered straight to your inbox by joining the Neighbourhood Watch Newsletter.
And don't forget to enter the #31DayHorrorChallenge giveaway HERE.