Porno is an absolutely hilarious little movie from director Keola Racela about a group of born-again Christian teens under the spell of an evil force they unwittingly unleash after watching a sexy mysterious film. There are no prayers that can protect you from the sidesplitting humor of of this gory, hormone-fueled horror. Porno is the feature film debut of Keola Racela from a screenplay written by executive producers Matt Black and Laurence Vannicelli. The film stars Evan Daves, Jillian Mueller, Larry Saperstein, Glenn Scott, and Robbie Tann as the intense, straight-edge ex-addict Heavy Metal Jeff. A wonderfully wild ride, and a must-see for comedy fans that don't cringe at the sight of a lot a little blood.
It's worth noting that the film is set in a more innocent time, before the internet when the only pornography you could see (as a no-good, sinning teenager) was the pornography you found by accident. Sure, we all have devices now that can show us literally anything we want to see –  but it wasn't always that way. We used to wait for things. I don't wait for anything now! I live in a same-day delivery, video-on-demand world and I'm not going back. But for decades before The Future arrived, the only way curious teenagers could view pornography was finding old magazines in their dad's tool shed, or in the bellows of a dirty (and possibly satanic) movie theatre. Needless to say, lust finds a way.
After sweeping up popcorn and scrapping off bubble gum from under the seats of their local 2 screen movie theatre, a small group of teenage co-workers settle in for a wholesome viewing of Encino Man (1992). Plans are interrupted when a creepy vagrant leads the group to the abandoned third auditorium hiding in plain sight. Buried in years of dust and decay, the teens make their way to the cinema's archive- a treasure trove of unaccounted for and unknown reels. Most are in no condition to be screened, but one stands out as a diamond in the rough, practically calling out in the darkness to be resurrected and given life.
Ads are Scary
Nightmare on Film Street is independently owned and operated. We rely on your donations to cover our operating expenses and to compensate our team of Contributors from across the Globe!
If you enjoy Nightmare on Film Street, consider Buying us a coffee!
After some back and forth, the group climbs out from the ashes of the forgotten archive, hoping the eerie mystery movie is – at the very least – better than Encino Man. It's all the coercing anyone needs to risk their eternal souls for smut, but it takes less than a minute for the kids to realize they are in way over their heads when a half-naked woman appears on screen, the centerpiece of a sinister ritual. It's in the reaction shots of the teens with the cruel blue hue of these incendiary images washing over their shocked faces that the cinematography of John Wakayama Carey (Rift) really begins to shine. In these moments, we lord over the cast like a Killer's POV creeping closer and closer from the theatre screen until we've broken through into the minds of our victims, sinking our claws in deep. Watching their shocked faces you'd swear the walls were closing in on them- an invisible force tightening its grip on their very souls. But it's just a movie…right?
"Porno's got cinematography for days, and gags that just won't quit. It's gorgeous, goofy, gory fun."
Focused on shaking off the bad vibes the "porno" was selling wholesale, the group do their best to finish cleaning up for the night and return the film reel back where they found it. In other words, they split up. Enter: Evil. Just as Chaz (Jillian Mueller) & Ricky (Glenn Scott) are discovering more information on the monster silently stalking them, poor Todd (Larry Saperstein) finds his way into it's cross-hairs. From an old text found near the reel, Chaz reads about an ancient and powerful entity known as a Succubi, that (as Todd can most definitely confirm) preys on the desires of it's victims, appearing in the form they most covet. For some, it appears as the women in the film, but for others she comes in more abstract forms, feeding only after they have given themselves over entirely- if you catch my drift.
Sure, I'm a little unclear on on the rules the paranormal porno's Succubi demon and the extent of it's powers but Lamberto Bava's Demons (1985) is equally unclear on both counts and we've been calling it a cult classic for over 30 years. I would have loved a more clear explanation of a lot of character's intentions in the film, but I came for a comedy with supernatural baddies and gory goodness, and I was not left unfulfilled.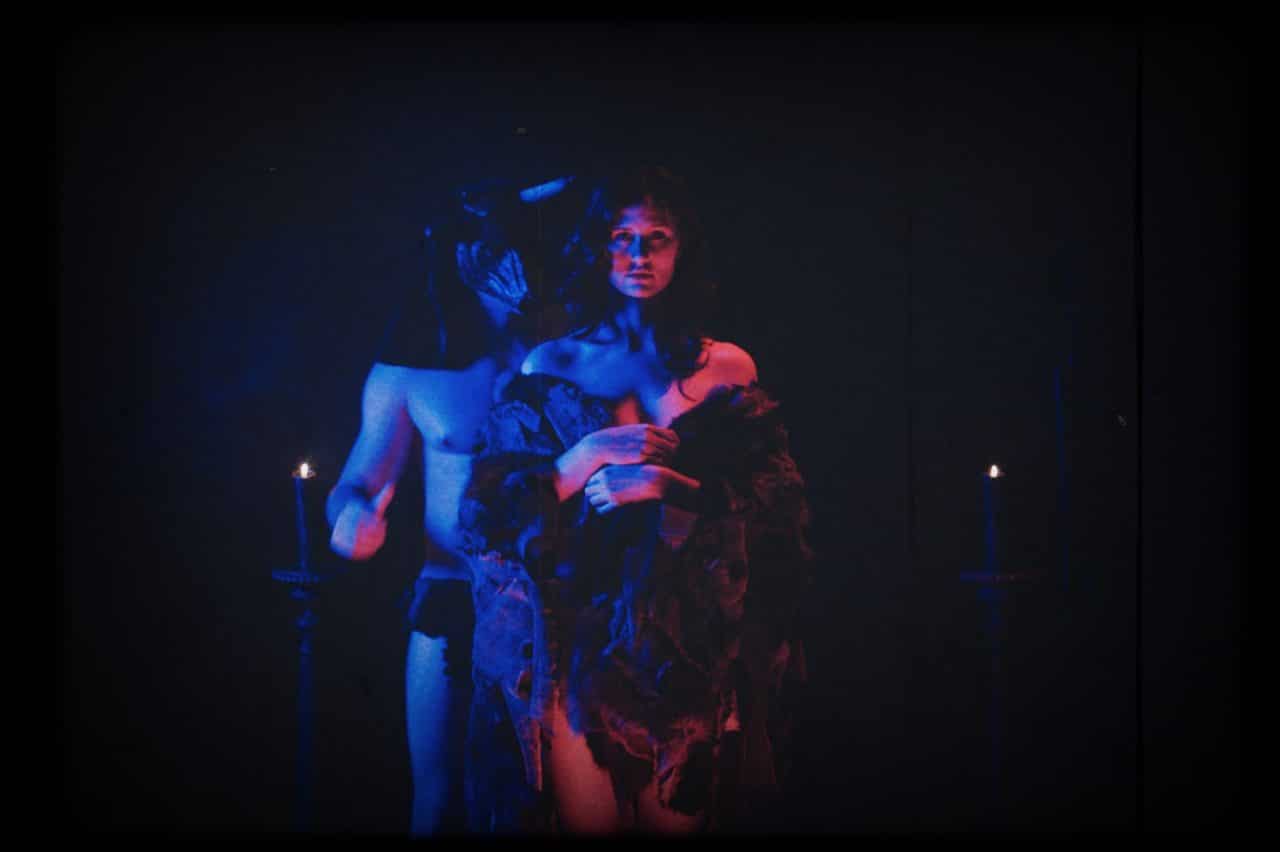 As someone who spent most of his adolescence in a Christian environment, I got a huge kick out of every stereotypical, repressed character: Teenage peeping toms living in constant shame of their voyeurism, intimidating ex-addicts that feel like they're forever auditioning for Scared Straight-Edge, kids still in the throws of puberty trying to pray away their sinful thoughts, and girls tired of being strung along by boys claiming to be too fearful of God's wrath to hold hands. These characters run the gamut of the god-loving, self-loathing support group. But the jokes made at their expense understand the vulnerability of these characters so it never feels like you're pointing and laughing. Until of course they've earned a hearty point-and-laugh all on their own.
Porno's got cinematography for days, and gags that just won't quit. It's gorgeous, goofy, gory fun. While the movie leaves some loose end untied surrounding the management of the movie theatre, and the full extent of the power this place holds, you move from one laugh-out-loud set piece to another seamlessly with just enough time to catch your breath. Despite the name and everything you might expect from the plot description the movie rarely dives into anything too raunchy to be off-putting. Porno is a perfect movie for anyone that once worried they were gross, broken, or wrong for listening to the silly, stupid, and utterly embarrassing things their hormones made them do. In other words: Porno is for Everyone.
We caught Porno as part of the 2019 Overlook Film Festival in New Orleans, Louisiana where it was selected as one of the Opening Night films. Stick around Nightmare on Film Street for even more festival coverage, and check out our Twitter and Instagram pages for highlights from the event.