Gigi Saul Gerrero's American Nightmare Bingo Hell is a wild tale of greed with a slimy villain and a kickass cast of elderly women who take up arms when evil rolls into town to destroy them. Released as part of the 4-film streaming event on Amazon Prime Video, Bingo Hell is easily the most bananas of the bunch, leaning heavily on practical effects, outlandish visual flourishes, and a truckload of green slime.
Written by Shane McKenzie (El Gigante), Gigi Saul Guerrero (Into The Dark: Culture Shock), and Perry Blackshear (The Siren), Bingo Hell stars Adriana Barraza (Rambo: Last Blood) and L. Scott Caldwell (Lost) as protectors of a shrinking neighbourhood under attack by a sinister newcomer, played by the always menacing Richard Brake (3 From Hell). It's one of the most honest interpretations of The American Dream's dark side and the kind of bold commentary on modern life that you'll only find in indie horror.
"…Gigi Saul Guerrero is a director who isn't afraid to dump a 2-ton truckload of fake blood on the floor of your living room."
If there's one clear message coming out of nearly every American-made horror movie in the last 50 years, it's that America is coming for you. Whether you like it or not, as an American, you are caught up in the gears of a cruel and uncaring capitalist machine…and your days are numbered. Lupita's (Adriana Barraza) Oak Springs neighborhood is the newest community on the chopping block in the gentrification game. She and her neighborhood friends spent their glory days protecting each other's families and businesses from gang violence and drugs but just as their about to put their feet up and enjoy retirement, a bigger threat has moved in down the street.
In the dark of night, a mysterious stranger known only as Mr. Big (Richard Brake) has rolled into town to strip this peaceful street bare like a pack of hyenas picking an elephant carcass clean. His new bingo hall is alluring, promising folks a future filled with wealth and prosperity because "everyone deserves to be a winner". Most fall victim to Mr. Big's smooth-talking, get-rich-quick sales pitch but Lupita sees right through him. She knows there's something evil hiding behind his million-dollar smile. Something sinister that will chew them up and spit them out at the first opportunity. There's also the matter of every winner showing up dead shortly after winning big at the bingo hall. That usually sets off a few alarm bells.
The jackpots at Mr. Big's Bingo Hall get bigger and bigger with each passing day but the winners get more than they bargained for. These lucky winners barely have enough time to dream about how they're going to enjoy their new windfall before they meet a gruesome end. People are skinned, and mangled, and more 🙂 all with a brilliantly brutal practical approach to the gore effects.
These death are outlandish and over-the-top but they are just as unbelievable as seeing your frugal, conservative neighbor die of a drug overdose in a penthouse suite after winning the lottery. Money does terrible things to people and while we all secretly think it will be the solution to all our problems, it will also mean the death of us if we're not careful. That might sound a little after-school-special preachy the way I'm describing it, but I promise it all goes down smoothly in the hands of a storyteller like Gigi Saul Guerrero, who makes sure to serve those sentiments on a grande platter of blood, guts, and green slime.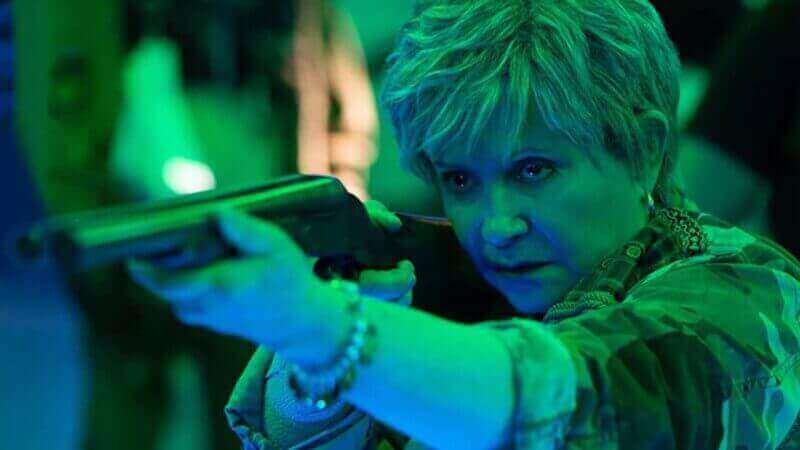 If you need your horror movies to be fun and freaky in equal measure, then Bingo Hell is a sure-fire good time. It's a boom-pow late-night horror flick with a steady stream of visual gags and practical effects. (It also manages to make bingo balls creepy which was a cool surprise.) Richard Brake is as subtly creepy as ever in the role of the supernaturally sinister Mr. Big and Adriana Barraza & L. Scott Caldwell's Lupita & Dolores kick so much ass in the finale that you'll wish you could see them team up with Danny Trejo in a future Machete movie.
Bingo Hell is, by far, the most off-the-wall addition to the Welcome To The Blumhouse film series (They are all great movies btw. Watch them!) and further proof that Gigi Saul Guerrero is a director who isn't afraid to dump a 2-ton truckload of fake blood on the floor of your living room.
"People are skinned, and mangled, and more 🙂 all with a brilliantly brutal practical approach to the gore effects."
Gigi Saul Guerrero's Bingo Hell is available to stream on Amazon Prime Video as part of the Welcome To The Blumhouse two-week double-feature event. Listen to our interview with Gigi Saul Guerrero on the Nightmare on Film Street Podcast HERE and let us know what you thought of Bingo Hell over on Twitter, Reddit, Facebook, and in the official Nightmare on Film Street Discord. Not a social media fan? Get more horror delivered straight to your inbox by joining the Neighbourhood Watch Newsletter.