After a pandemic's-worth of wait, The Green Knight is finally here. Teased in early 2020 (now hereby known as "simpler times"), the A24 dark fantasy epic lured us horror fiends in with an ambiguously sinister trailer; promising a foreboding epic set during the height of knights, mead, muddy floors, and Merlin. Oh yeah, and a big ole beheading.
"..a foreboding epic set during the height of knights, mead, muddy floors, and Merlin."
Based on the 14th-century poem 'Sir Gawain and the Green Knight', The Green Knight was written, edited, produced, and directed by David Lowery (A Ghost Story). The film follows young knight-to-be and nephew of King Arthur (Sean Harris, Possum) Sir Gawain, played by Dev Patel (Chappie), on a quest for honour and to ultimately prove himself a brave and worthy knight.
The opportunity quickly arises when at a Christmas celebration in the iconic round table chambers, earthen creature The Green Knight (Ralph Ineson, The Witch) lures him to a Christmas game. The challenge; to deliver himself a single blow in exchange for his enchanted axe, but in return, the knight must receive the exact same blow in one year at the Green Chapel.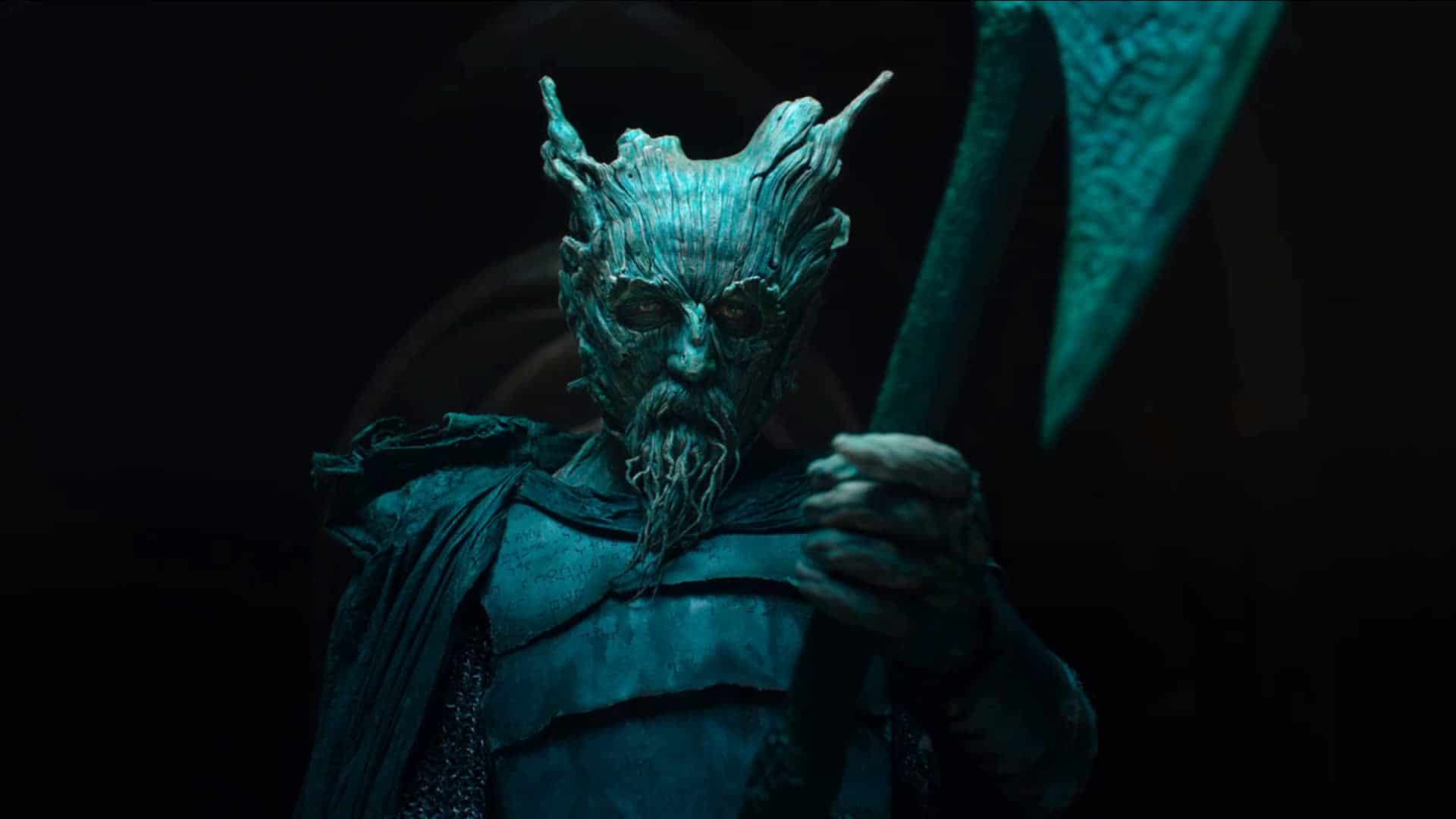 Sir Gawain quickly rises to the challenge, with King Arthur, Queen Guinevere (Kate Dickie, Game of Thrones), and all of the acclaimed knights looking on. In a surprising turn, The Green Knight bows, exposing himself to whatever blow Sir Gawain sees fit. Unable to refuse the likely glory to come of slaying such a beast, Sir Gawain delivers an unrelenting blow to the Green Knight, beheading him.
Ads are Scary
Nightmare on Film Street is independently owned and operated. We rely on your donations to cover our operating expenses and to compensate our team of Contributors from across the Globe!
If you enjoy Nightmare on Film Street, consider Buying us a coffee!
Instead of.. you know.. dying, The Green Knight grabs his head and rides off cackling into the night like the Headless Horseman in Sleepy Hollow. The deal has been struck.
Obvs, Sir Gawain isn't too excited about his eggs coming home to roost, but during that year he enjoys a celebrity-like status for very little effort on his part. (He even gets his own traveling puppet show!) But the anxiety soon grows as he sets out to complete his end of the bargain.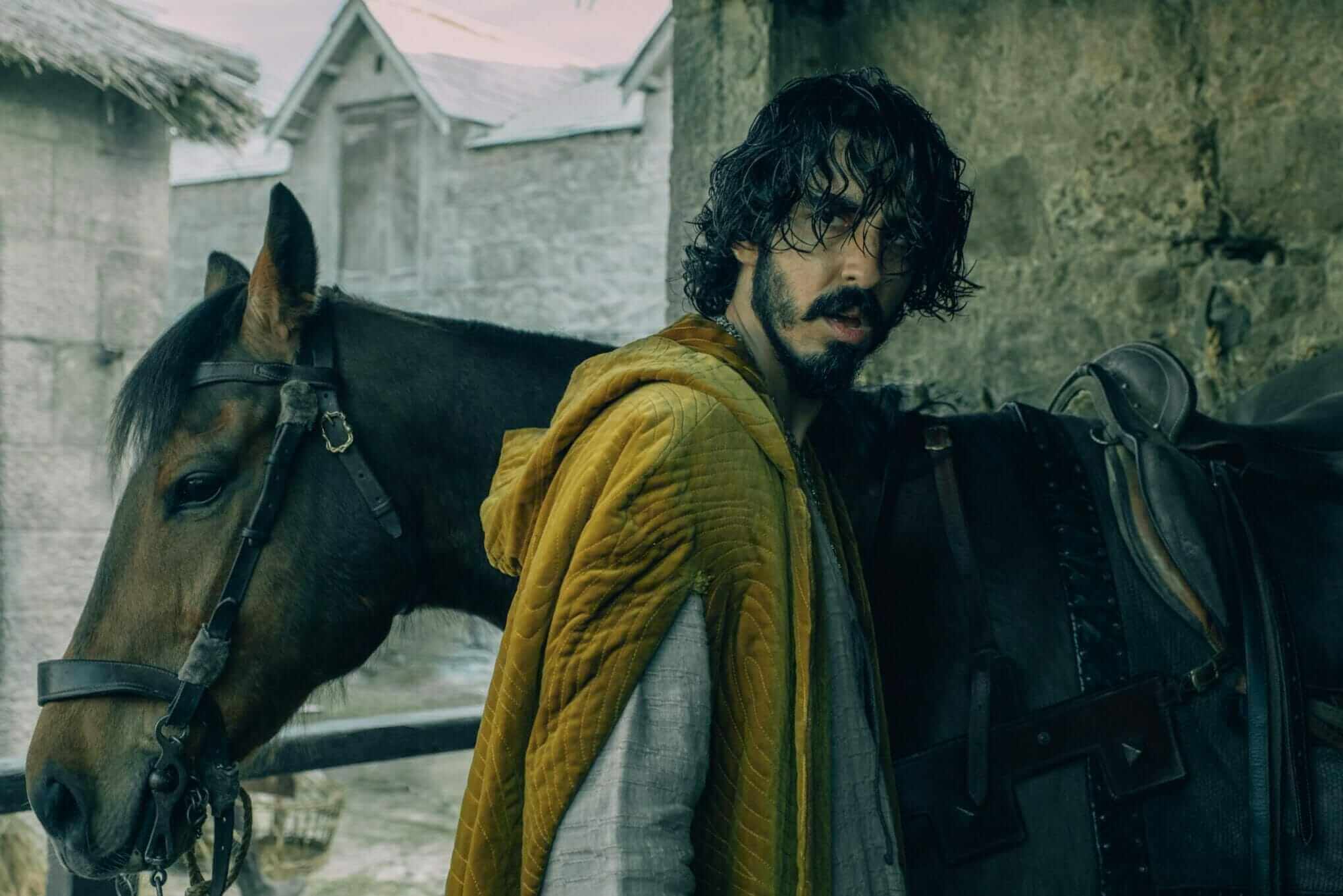 The Green Knight is a true A24 darling, fitting snug among their moody palette of melancholy, beheadings, the brooding voice of Ralph Ineson, and lots of adorable sheep. David Lowery directs with dreamy precision, allowing this woodsy forest epic to move and flow with an organic lens. We travel on horse-worn trails, glide up rocky planes, and loop dizzily through the forest while following our hero as he traverses natural and ethereal settings.
Dev Patel shines as Sir Gawain, and not just because he's cloaked in the most fantastic caramel cloak (shoutout to costume designer Malgosia Turzanska). Patel is able to convey the knight's reckless nature of a novice out to prove himself, displaying the vulnerability of a character desperate for glory while constantly out of his depth. Sir Gawain is young and brave, but also vulnerable and fearful – a cocktail of emotions not easy to emulate.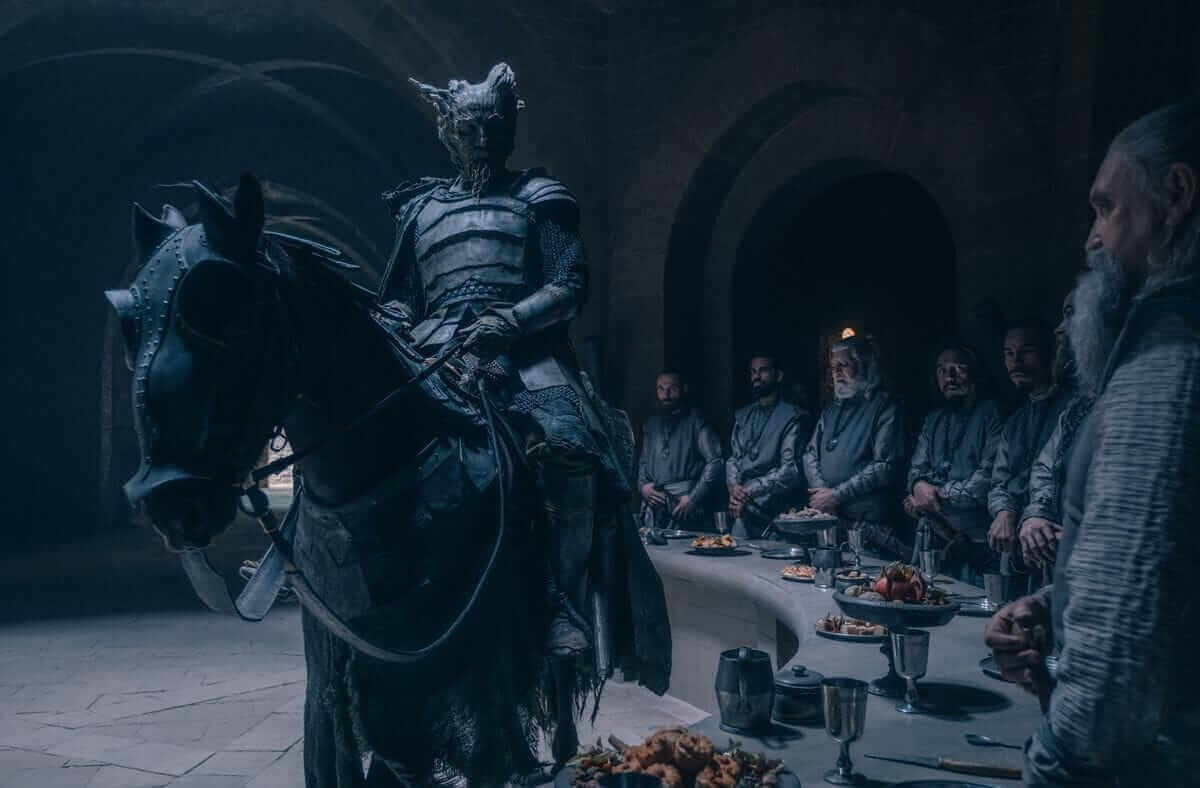 And too, Ralph Ineson as the mysterious Green Knight. An old spirit of bark but immeasurable strength – Ineson is often only given his eyes to express the character – conveying an alluring, ageless wisdom and then flickering to the feisty bit of trickery hiding under his bark-like flesh. His low, gravelly voice has the ere of calmness of an ageless creature, but still reaches tones and levels that signal a level of foreboding and mystery.
This epic will satiate starved fantasy fans, still reeling years after a lackluster Game of Thrones finale, hungry for a historical fantasy that is unafraid to reach dark depths, with otherworldly beasts and beheadings.
The Green Knight is a haunting epic – dark, dreamy, and worthy of King Arthur's court.
The Green Knight is out now in theatres. Are you a dark fantasy fan? Let us know over in the Nightmare on Film Street Discord!