While we grow up being told appearance doesn't matter, how we look ultimately affects our standing in the workplace. This is something aspiring professional Anna Bludso (Elle Lorraine) knows all too well now that she's working in the television and music industry. In Bad Hair, a sharp horror comedy directed by Justin Simien (Dear White People), the women are doing whatever it takes to get ahead in a cutthroat business — even if it means killing the competition.
Simien's shrewd interpretation of society's obsession with hair is a timely essay; a movie like this is punctual in today's world. The film has ageless themes, but the story is firmly set in 1989: popular music is evolving at a breakneck speed and the corporate world is struggling to keep up with it. One particular television channel called Culture, a fictionalized network not unlike BET, is undergoing some major internal changes; this doesn't bode well for the movie's protagonist, Anna, who was counting on a promotion. With a new boss (Vanessa Williams) in charge, everyone's jobs are in question and the entire programming schedule is retooled.
"Justin Simien braids a clever and funny allegory whose central themes are intelligible without being pushy."
In a bid to stay on the boss' good side and finally get some recognition for her hard work, Anna takes some advice and looks into another of the decade's growing trends: hair weaves. She can't make rent and she hates doing anything with her hair due to a childhood trauma involving a relaxer-related chemical burn, but Anna is desperate to become a producer. Although the road to her new extensions is a painful one, the end result includes turned heads and new opportunities.
The new 'do doesn't come without its drawbacks: Anna is accused of selling out. The assertion resonates with her because she's torn between being true to herself while still working for a company that commodifies her culture. Adding to her ethical predicament is the fact that Anna's new hair has a life of its own — her purchased tresses are parasitic and only calm down when they're fed blood. If Anna has any chance of making it out alive in this vampiric industry, she has to learn the origin of her fresh locks.
Ads are Scary
Nightmare on Film Street is available FREE to read, listen to, and enjoy; without intrusive ads, blocks or limits. We are independently owned and operated. We rely on your donations to cover our operating expenses and to directly compensate our team of 30+ Contributors.
If you enjoy Nightmare on Film Street, consider Buying us a coffee!
The messages at the core of Bad Hair are important to hear as they are complex, so the benefit of humor certainly makes them all the more palatable. With a creative eye and an informed voice, Simien broaches the issue of unfair hair policies towards Black people in business settings as well as society in general. Anna's natural style is frowned upon by her superiors and some of her loved ones, yet going the weave route isn't any easier — emotionally or socially. It's a no-win situation that many viewers will find relatable.
A considerable sheen of horror highlights pauses in character morality and every bout of explanatory folklore; scenes of sinewy and prehensile hair feasting on victims echoes vampire myth but with a new twist. Be that as it may, these moments of hair tendrils chowing down on the red stuff are never quite scary. They fit in more with J-horror of yesteryear where overt fright is superseded by hypnotic and wild imagery. This fantastical element, which adds layers to the aforementioned debate about Black hair at work, makes the movie memorable.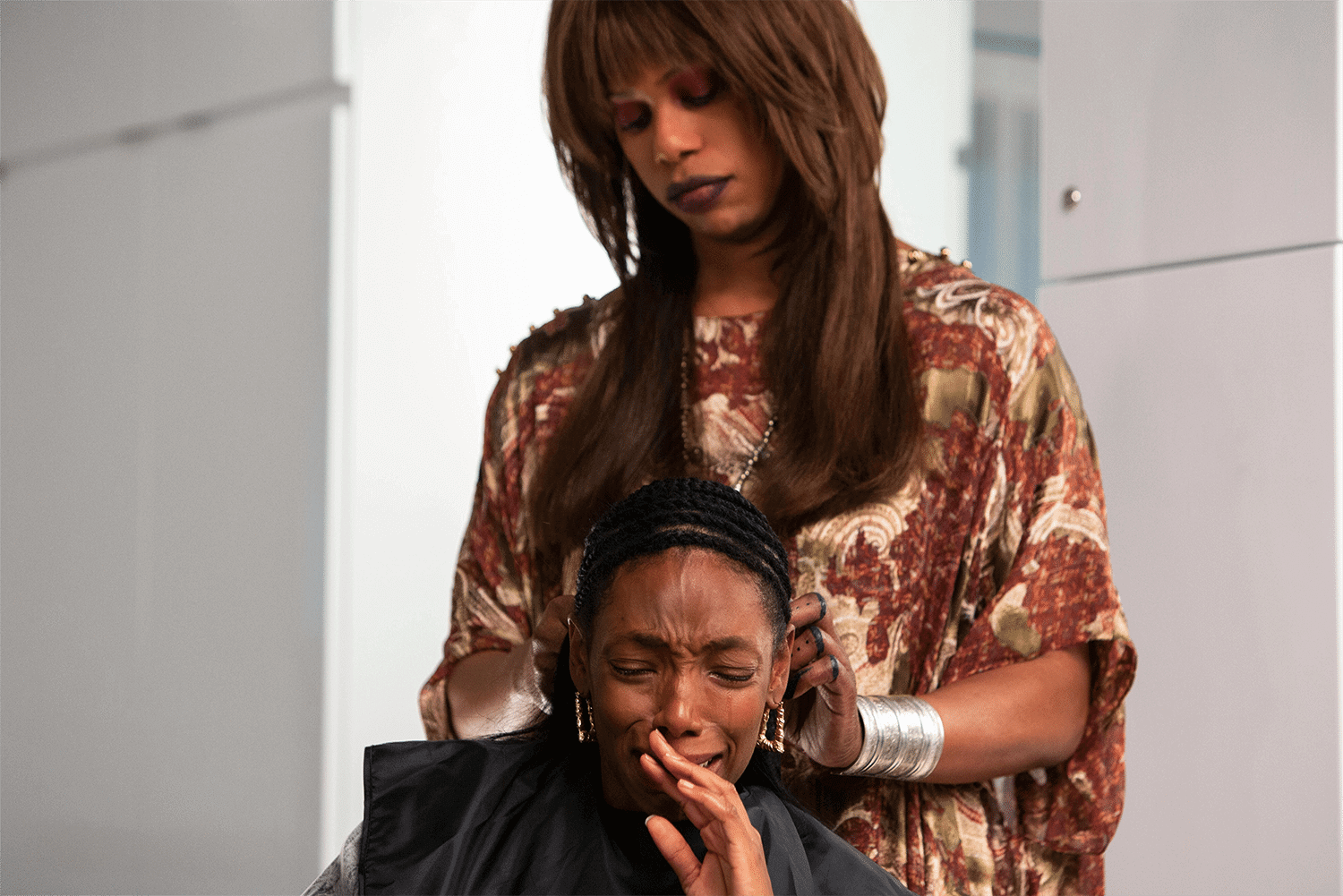 Bad Hair's likable star is put through a series of intense emotions that she tackles with deftness and commitment; her supporting cast is similarly talented. The director's way with pastiche is equally impressive and insightful, and audiences will truly feel like they traveled back to an age when New jack swing was taking over the airwaves and power suits were a fashionable tool. There is a noticeable unevenness in the story — the push and pull between humor and horror will leave some viewers lost — but the film makes up for that by keeping us engaged in other ways.
Justin Simien braids a clever and funny allegory whose central themes are intelligible without being pushy. He never misses an opportunity to educate, but he also doesn't forget to entertain.
"[Bad Hair fits] in more with J-horror of yesteryear where overt fright is superseded by hypnotic and wild imagery."
Bad Hair is now streaming on Hulu as of October 23. Share your thoughts on this movie with the Nightmare on Film Street community on Twitter, in our Official Subreddit, or in the Fiend Club Facebook Group!