If you've been waiting patiently for another chill-you-to-the-bone haunted house story since James Wan's The Conjuring first scared you silly, get ready to hide underneath your blankets while braving the Spanish-language scare factory that is 32 Malasana Street (Malasaña 32). Set against a backdrop of 1976 Madrid, a family becomes the target of a malevolent spirit after relocating from their small village, in search of a better life in the big city. The film wastes no time in rolling out the dread carpet for its ghost and features some of the most satisfyingly scary sequences I've enjoyed all year.
Directed by Alberto Pintó from a screenplay by Ramón Campos & Gema R. Neira and David Orea & Salvador S. Molina, 32 Malasana Street (Malasaña 32) stars Begoña Vargas, Iván Marcos, Bea Segura, Sergio Castellanos, José Luis de Madariaga, Iván Renedo, and genre favourite Javier Botet (Crimson Peak, Two Pigeons).
Ads are Scary
Nightmare on Film Street is independently owned and operated. We rely on your donations to cover our operating expenses and to compensate our team of Contributors from across the Globe!
If you enjoy Nightmare on Film Street, consider Buying us a coffee!
"…The Conjuring's got nothing on 32 Malasana Street"
Hoping to leave behind a troubled past and grim prospects, the Olmedo family relocates to Madrid after purchases an old apartment at 32 Malasana Street. It's not a move that anyone in the family is happy about but after the village became an unwelcome place filled with gossip and hushed talk about the Olmedo's, it no longer felt like home. Back in the village, all they had was each other. They were only safe inside the walls of their house, and although the city has given them the fresh-start they so desperately needed, they are no longer safe in the comfort of their new surroundings. A spirit roams the halls of their new apartment, stalking them in the night, hiding in the shadows, threatening to steal their son away from them when they let their guard down. Much like the Olmedo's, 32 Malasana Street's past holds dark secrets that threaten to tear the family apart.
Wan devotees will no doubt shout down at some of the scares of this film for sharing some of the same DNA as Ed & Lorrain Warren's hijinks, but The Conjuring's got nothing on 32 Malasana Street. Where they both succeed, however, is in how they bend and manipulate simple human experiences into terrifying, living nightmares that you cannot escape. The scares are so carefully constructed that you're barely given a second to breathe before the air is completely sucked back out of the room again! This is thanks, largely, to the incredible physical performances of Javier Boter (who get to play more than one iteration of the evil spirit, as well as a surprise appearance as the building manager!) and the film's incredible sound mixing.
Not enough credit can be given to Javier Botet for helping shape the look and design of our modern supernatural baddies. From Mama (2013) to IT (2017), REC (2007) to Crimson Peak (2015)– Botet has been the face of fear in so many of your favourite modern horror movies that it's almost easier to list the movies he hasn't been cast in. The control and contortion he has over his own body is super-duper scary but also so incredibly impressive…once you've stopped wetting your pants and you're able to appreciate the artistry in his terrifying talent. Paired with that performance like a bold, frights-forward glass of blood-red wine is an essential but oft-overlooked element in crafting a good scare: Sound Design.
It isn't until you're heart has sunk, your eyes have stretched themselves wide open, and you feel the blood pounding through your skull that you realize just how scared you really are. Yes, seeing those long, pale fingers reach out from the darkness to scroll a message on a child's etch-a-sketch is unsettling but it's the soundscape of the room and a sudden, unnatural shift to impossible silence that really sends you into panic mode. It's the small details that make the whole scene work so effectively and without their support, the screams would fall on deaf ears. The foley is so crisp and sharp that even the sound of a marble rolling across the wooden floor of their apartment had me squirming in my chair. Those sounds are put so forward in the mix too that you'd think someone is flipping a breaker right there in the room with you, or spinning a hypnotizing top on the floor beside you, just out of sight.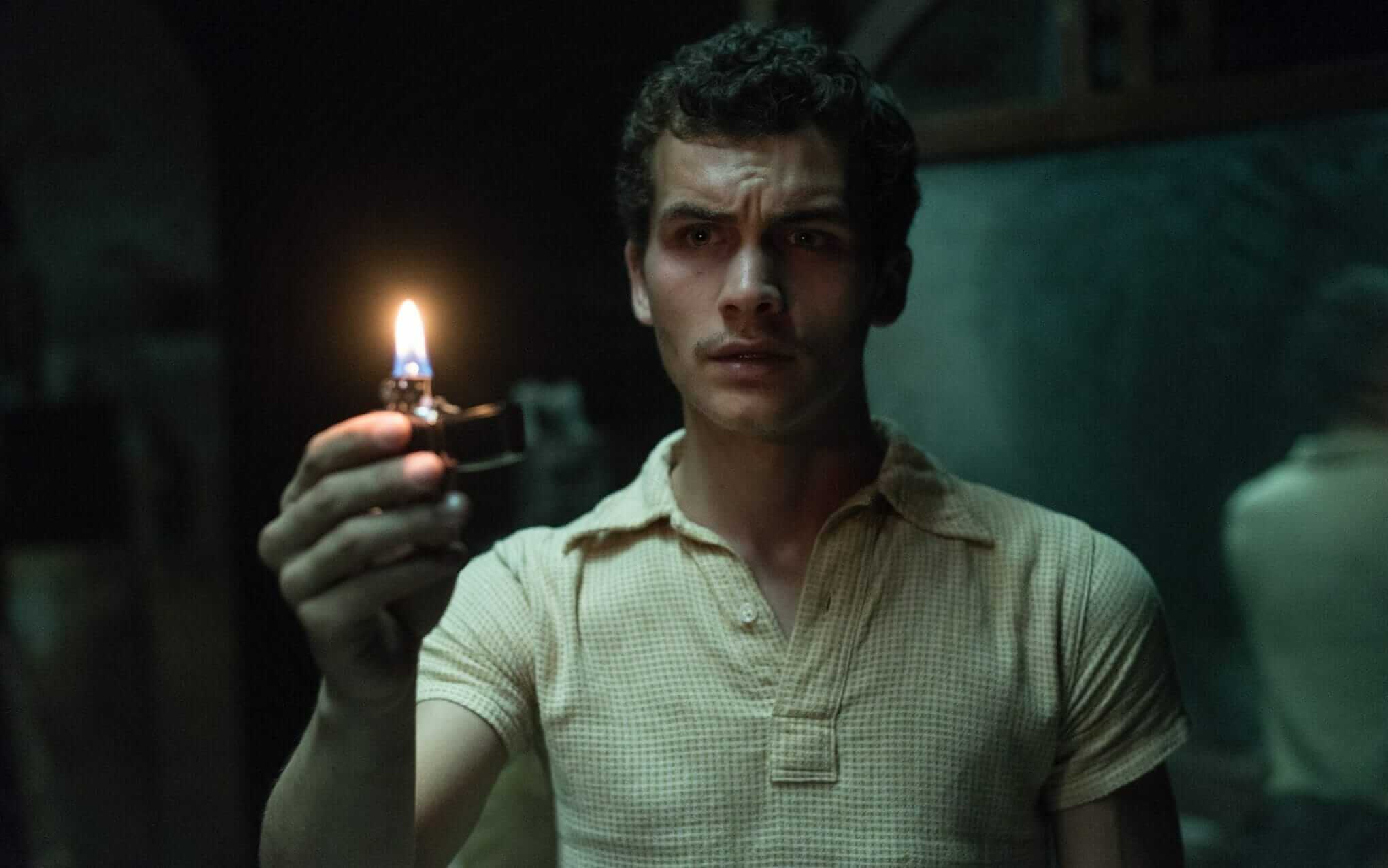 32 Malasana Street has some of the best-built scares of 2020, hands down. I love a gory, sinewy mess of blood and viscera, but nothing triggers my fight-or-flight response more than a simple, subtle manipulation of a character's surroundings. James Wan has proven himself a master of those quiet, restrained shockers and it's surely only a matter of time before Warner Bros. announces plans for an Americanized remake with Wan on board to produce (a la Fox Searchlight's swooping up of Terrified with Guillermo del Toro). If director Alberto Pintó isn't deserving of a Conjuring universe spin-off, then I don't know who is.
Sure, there are some questionable choices made in a chaotic final showdown between the Olemados and the evil spirit, but they are decisions born out of who the characters are and how badly they have been beaten around since settling into the grave circumstances of their new digs. Where lifelong fans will find freshly tread ground is in the back story of its paranormal entity. Details cleverly hidden from us add an eye-widening wrinkle to the story that ripples back into previous scenes for an added layer of tragedy to this tale of homespun horror. 32 Malasana Street is the international horror film of 2020 that you can share to your "dubs-or-death" friends, that roll their eyes at the thought of reading a few subtitles here and there. So call your friends up on zoom, sync-up your Shudder accounts, and get ready to see them pull their sweaters over their faces like the scaredy cats they are (myself included).
"32 Malasana Street has some of the best-built scares of 2020, hands down."
Alberto Pintó's 32 Malasana Street is available to stream on Shudder now. Let us know what you thought of this haunted house fright-fest over on Twitter, in the Nightmare on Film Street Subreddit, and on Facebook in the Horror Movie Fiend Club!