The stakes have never been higher for Bill & Ted than they are in Bill & Ted Face The Music. Sure, they've conquered death and graduated high school (two things no one ever thought they would do), but this is the big leagues now and people are depending on them. They both have families, marriages-in-crisis, and the universe as we know it is crumbling under the weight of their past follies. It's a corny and overly-optimistic buddy-comedy that takes the Bill & Ted legacy to the stars and back, but a corny and optimistic comedy that came on a day when I really needed a good 90-minute smile. In keeping with the quantum spirit of the film, Bill & Ted Face The Music is at one time both most excellent and most heinous. How you react to this painfully cheerful story all depends on what version of yourself you are when you press play.
When we meet back up with Bill & Ted in 2020 they are still performing together as Wyld Stallyns but the band is a shadow of what it was once. Death (William Sadler) left years ago after a bitter legal battle, the princess are sitting in the audience instead of rocking out on stage, and gone are the days of soldout arena shows. The triumphant end of Bill & Ted's Bogus Journey never came true because, as it turns out, they still haven't written the song that will bring peace and harmony to the universe. They've been working day after day to write the song but it's come at a cost. The band is dead, the universe is in the jeopardy, and (worst of all) their marriages are on the rocks. Keanu Reeves and Alex Winter are as effortlessly Bill & Ted now as they were 30 years ago, even if their characters are entirely outlandish as middle-aged men. Their ignorance and stupidy is charming as youthful teenagers but they look more like cautionary tales of a life wasted as adults. And to their credit, that's not lost on them in their story. They know other people see them as foolish and immature, and they know they should have moved on years ago, but they are admirably dedicated to their goals.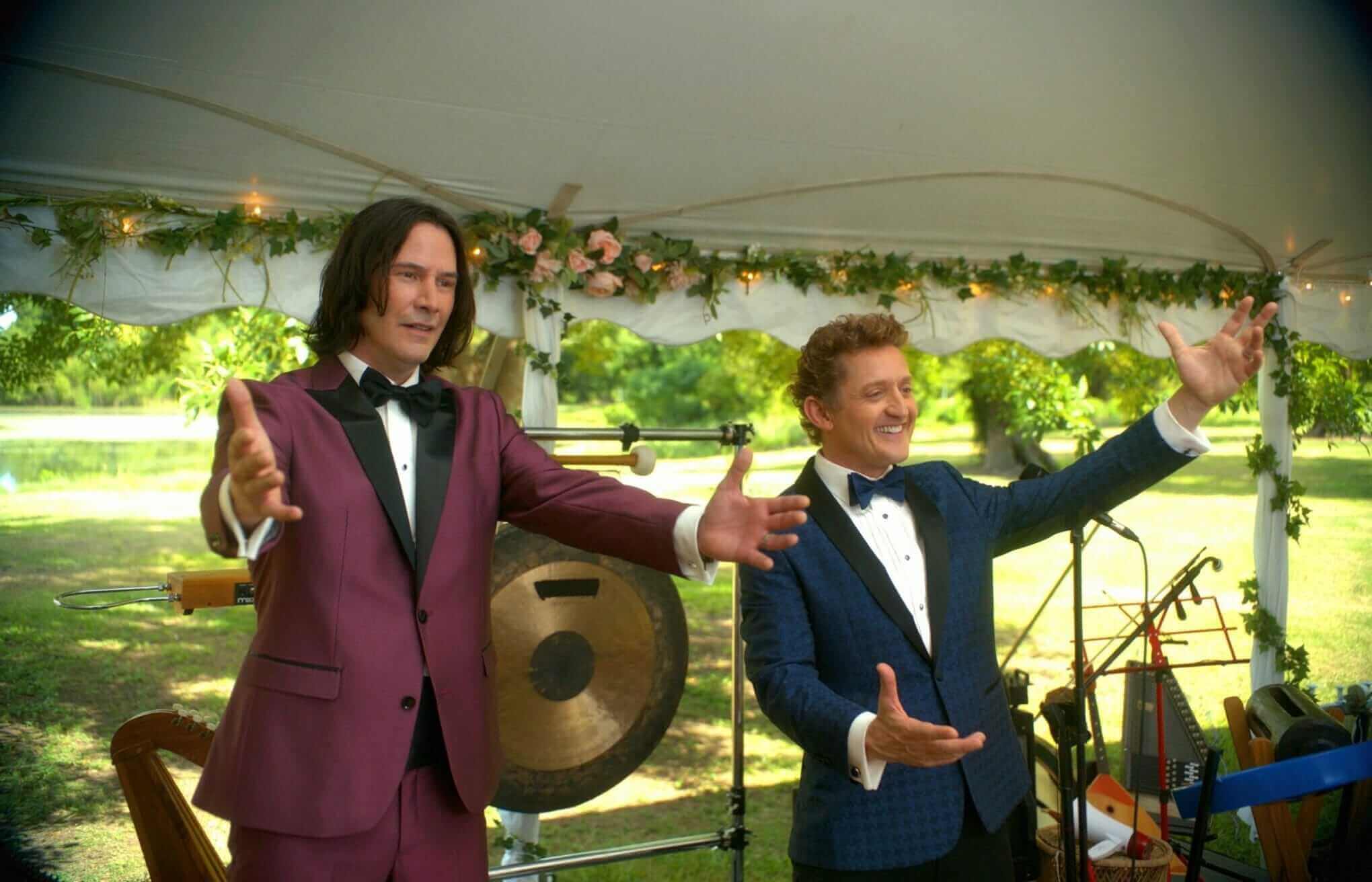 What I'm really coming for in a buddy-comedy like Bill & Ted Face The Music is the friendship between these two goofs. As silly and cartoonishly-airheaded as they are, Bill & Ted are the textbook definition of best friends. The entire world may tell them they are foolhardy dreamers wasting their lives on an insane pipedream but they always have each other's back. Even in their darkest moments, Bill & Ted are encouraging to one another. To a fault really. Their relationship is really what has driven a spike in their marriages and they need to learn how to be individuals before their co-dependence ruins everything. I don't know that the movie fully solves that problem in the end but there's no denying that these two misguided dweebs are good guys. They've just been so focused on their own personal success for so long that they forget that the families they were building are just as important as their careers. It really sounds like any midl-life rockstar crisis if you forget that they also travel through time on occasion.
Bill & Ted Face The Music also features a killer supporting cast that includes Samara Weaving (Ready or Not) and Brigette Lundy-Paine (Bombshell) as Bill & Ted's daughters Thea & Billie. Unlike everyone else in their life, Thea & Billie really look up to their dad's and respect their art. When their dads are booed off stage or told to grow up and stop playing weird music, Thea & Billie are never far away cheering them on and complimenting their craft. Bill & Ted may have fallen short of achieving their dreams but their passion and love for music is alive and well in their daughters. And after a surprise visit from Roofus' daughter Kelly (Kristen Schaal, Last Man on Earth) spells trouble for their dads, Thea & Billie go off on a separate adventure to build the perfect backing band for Wyld Stallyns that includes Louis Armstong, Jimi Hendrix, Wolfgang Mozart, and Kid Cudi (who also happens to have a lot of useful knowledge about quantum entanglement). o top it all off, chasing both groups is a conflicted, time-traveling killing machine named Dennis Caleb McCoy played by a virtually unrecognizable Anthony Carrigan (Barry).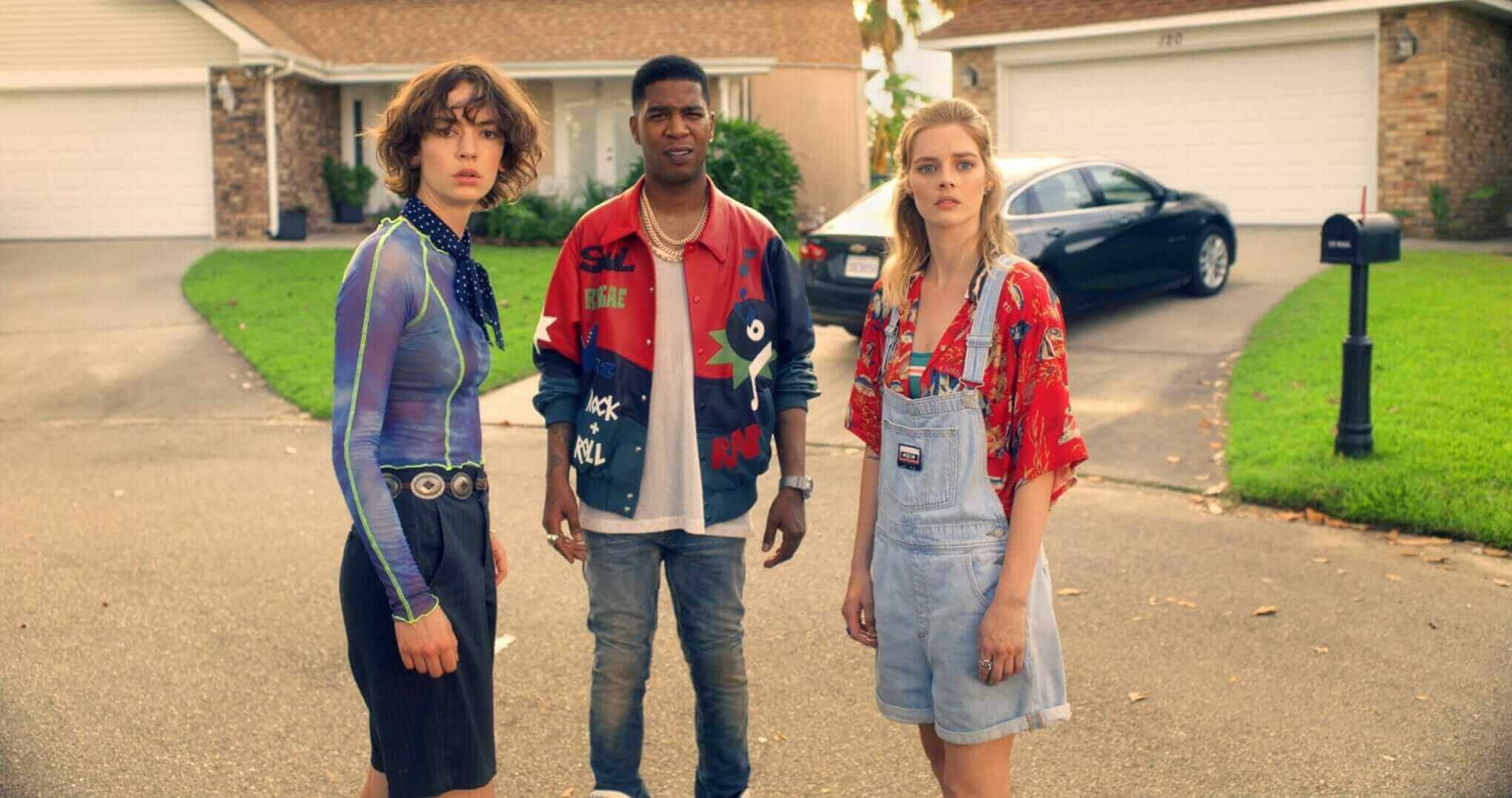 William Sadler (Tales From The Crypt: Demon Knight) is back, reprising his role as Death, the grim reaper and bass player of Wyld Stallyns, although in a much more limited role than I would have liked to see. He's my favorite character of the franchise, and Sadler picks up the scythe again as though he'd never put it down, but ultimately this is Bill & Ted's story and they are given center stage. The Bill & Ted vortex also, sadly, swallowed their wive's side-storyline. At a key moment in the movie, it's revealed that "the princesses" Joanna & Elizabeth (played here by Erinn Hayes and Jayma Mays) have been time-traveling with future versions fo themselves. Somewhere in that journey they fall in love with their husbands again but it's never shown to us and it's absence leaves a really big hole in the 3rd of the film. I was really looking forward to a moment when we, Fight Club-style, revisit moments through their perspective but it never came and I'm still sad about it.
If you have a problem with happy endings you're probably gonna hate Bill & Ted Face The Music. If you've never once believed that a song could change the world (it can't but hey, it's worth a try) then this definitely isn't the movie for you. If you're gonna roll your eyes for an hour-and-half at a heartfelt comedy about family, legacy, and saving the universe, then I would recommend you steer clear of this goofy good time. Bill & Ted Face The Music is an on-brand continuation of an over-the-top story that's never taken itself too seriously. It's full of fun gags and multiple appearances from bizarro future versions of Bill & Ted, including a pretty fun sequence where the heavy metal dunderheads have become unbelievable jacked bodybuilder bros behind bars. It's clear where most fans will place the third installment in their franchise ranking but like a corny, optimistic idea it can really save the day if you let it.
Directed by Dean Parisot (Galaxy Quest) from a screenplay by Bill & Ted creators Chris Matheson & Ed Solomon, Bill & Ted Face The Music is available in select movie theatres, drive-ins and VOD August 28. Let us know whether the third installment of the most unlikely trilogy is excellent or most heinous over on Twitter, in the official Nightmare on Film Street Subreddit, and in the Horror Movie Fiend Club on Facebook!