The late-night shift becomes a living nightmare in Brea Grant's 12 Hour Shift, a comedic one-night disaster that sends a junkie nurse through the wringer as she tries to avoid police, dodge suspicion, and stay alive, all while trying to do her job…and maybe stealing a few organs along the way. Written and Directed by Brea Grant (who also wrote and starred in Lucky, playing at this year's festival as well) 12 Hour Shift stars Angela Bettis (May), Chloe Farnworth, David Arquette (Scream), Nikea Gamby-Turner (Lucky), Kit Williamson (Mad Men), and a surprise appearance from wrestling legend Mick Foley.
It's 1998, the world is finalizing their Y2K preparations, and someone in the county hospital is stealing a whole bunch of organs. Mandy (Angela Bettis) couldn't care less because it's been hours since her last handful of prescription pills from the nurses' station, and she's got to get a move on before someone notices the suspicious nurse carrying a bag of organs out to the loading dock. It's not the most professional operation, but what are you going to do when your organized crime syndicate is comprised entirely of rednecks, including her airhead cousin Regina (Chloe Farnworth) who can't even remember to put the organs in her cooler before leaving the hospital. Needless to say, her boss (another cousin) isn't happy that he just traded a handful of cash for an empty cooler and he wants another kidney now.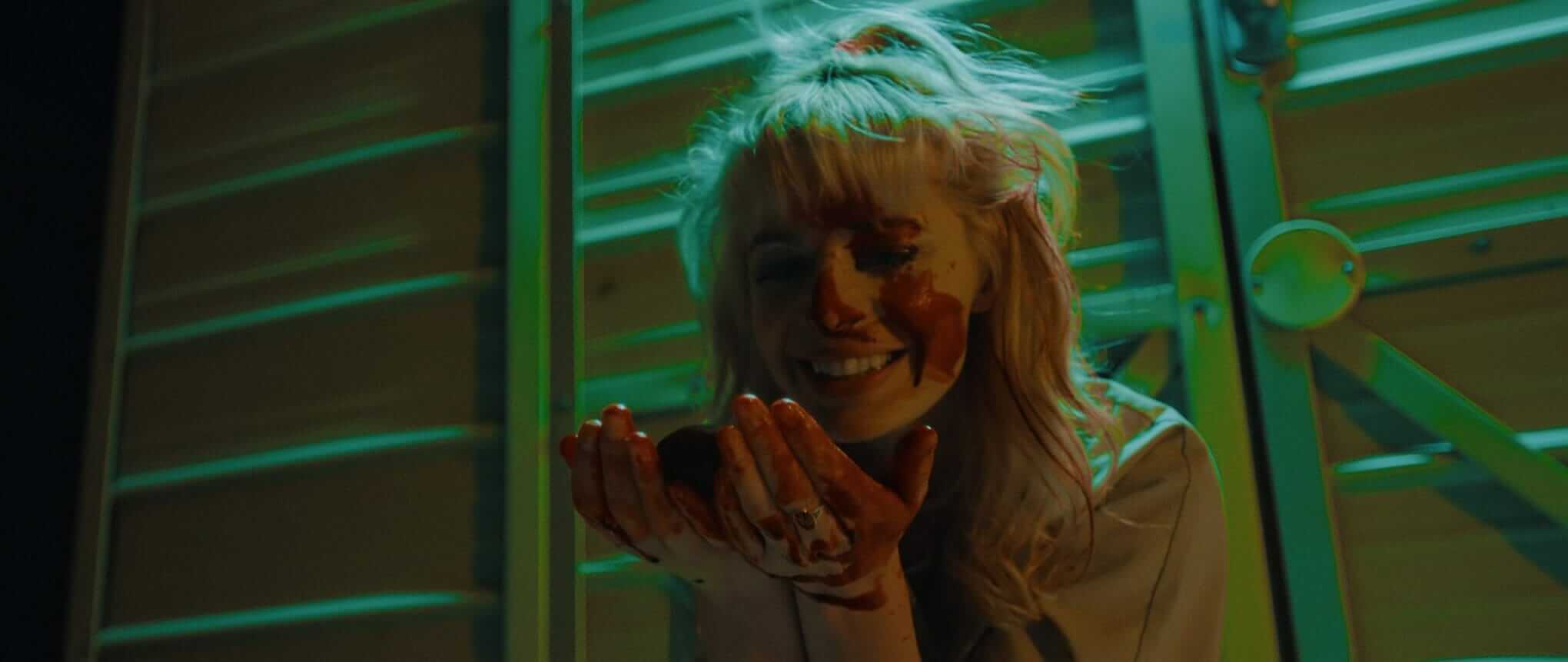 The premise itself is pretty goofy but you're along for the ride immediately. Mandy is a pretty likable character if you've always wanted to tell the passive-aggressive shitheads you're forced to work with and fake smile at to f*ck off. Sure, she's got a whole host of personal problems that she's working through but they're hers to deal with and she doesn't let them affect her work. Okay, that might not be entirely true. She is stealing drugs, caring for patients while under the influence, oh- and occasionally killing people with a bleach injection so she can steal their organs. Almost forgot about that one. And as if she doesn't have enough to deal with right now, Chloe has snuck back into the hospital, disguised (poorly) as a nurse. She wants Mandy to plunder another poor patient like a meat-filled bank vault, otherwise she's be filling the order herself. Mostly though, Chloe just bumbles around the hospital like a bull in a kidney shop.
Ads are Scary
Nightmare on Film Street is independently owned and operated. We rely on your donations to cover our operating expenses and to compensate our team of Contributors from across the Globe!
If you enjoy Nightmare on Film Street, consider Buying us a coffee!
There's a whole roster of fun, funny characters in 12 Hour Shift, and when they all get to interact with each other it's a really good time. The set pieces are all a little compartmentalized, especially in the chaotic finale, but every scene has at least one good laugh. The hospital itself is loaded with everyone you would expect to see in a Halloween episode of an emergency room sitcom. There's a hypochondriac, who knows every staff member by name, begging to be admitted for anything he can; A rookie police officer (Kit Williamson) who wouldn't know an illegal organ operation if he helped a nurse move a body she'd just cut open and pilfered; And, of course, the dangerous prison inmate (David Arquette) brought in last minute for immediate surgery. Hopefully, no one puts a low-level security guard on duty by his bedside to stop him from escaping. *fingers crossed*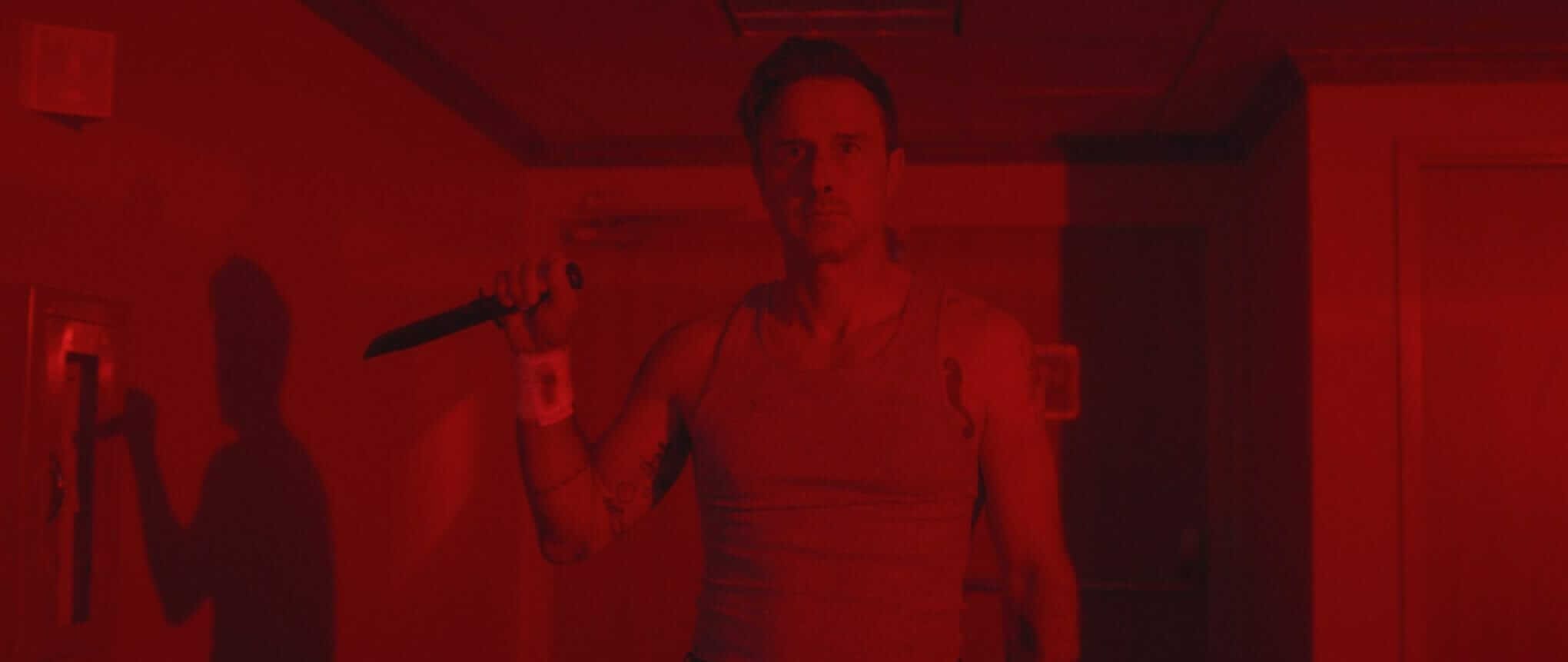 I laughed a lot while watching this silly slapstick story unfold but I spent a lot time wondering what it would have looked like with a stronger edit in the script phase. 12 Hour Shift is an organ-harvesting good time but there are just too many killers in the triage. Chaos comes crashing down on Mandy in what is sure to be the worst shift of her life but no one person or problem seems big enough to really make us worry for her. Like getting the multi-ball bonus on your favorite pinball machine, it's really exciting when a handful of bad guys are bouncing around the halls of the hospital, bumping into each other, creating havoc. You're immediately on edge because the stakes are high and there's potential for a high score but one by one the balls drop with little to no consequence until suddenly it's Game Over.
When 12 Hour Shift takes a moment here-and-there to let us in on what it looks like to be a drug-addicted nurse, it's aces. Mandy lives a hard life, and although her arc is a little expected (and maybe not entirely earned) Angela Bettis really makes this character shine. The problems Mandy is forced to juggle, however, all conveniently wait their turn like patients patiently waiting for her to make the rounds to each of their respective rooms. Every problem the movie solves is met with 3 more issues but there's never any genuine concern that Mandy is in over her head. Key scenes in the final act play out more like improv troop exercises than real conflict but you're never far away from a good chuckle. A little too uneven to be a laugh-out-loud riot or a raw-emotioned tale of slapstick survival, 12 Hour Shift is a 20 cc shot of absurdity, but one that didn't quite hit the main vein.
"12 Hour Shift is an organ-harvesting good time but there are just too many killers in the triage."
Brea Grant's 12 Hour Shift celebrated its International Premiere at the 2020 Fantasia Film Festival. Click HERE to follow all of our festival coverage, and be sure to let us know what you thought of 12 Hour Shift over on Twitter, in the official Nightmare on Film Street Subreddit, and on Facebook in the Horror Movie Fiend Club!