Little Marvin and Lena Waithe's Prime Video series Them reimagines the struggle so many Black Americans have gone — and still go — through in order to just exist. Set in 1950s Los Angeles, a family of four moves from North Carolina to a white neighborhood in East Compton. The other residents have no intention of making their transition easy, though.
Embedded firmly during the Great Migration that lasted over five decades, the Emorys relocate from the South in hope of a better life. Upon their arrival, though, the anxious family is greeted by obstinate bigots who are already planning their barrage of scare tactics. It doesn't take long for them to act on their racist tendencies, either; the block's queen bee Betty (played by Alison Pill) soon organizes a sizable sit-in outside the Emorys' house where they blare music so offensive by today's standards, their lyrics shall not be quoted. Matriarch Lucky (Deborah Ayorinde) is frazzled but remains determined to let the opposition tucker themselves out. Of course, this does not stop her from keeping her husband Henry's (Ashley Thomas) gun loaded and within reach.
Based on other recent Black Horror stories, it's presumable Them is also using supernatural elements to help illustrate the Emorys' plights. The first two episodes lay a heavy foundation supporting this idea; the most evident scenes in "Day 1" revolve around the youngest daughter Gracie (Melody Hurd) and her obsession with the teacher Miss Vera from her favorite books. What reinforces the supernatural angle is the possibility Miss Vera is the shadow person creeping around the house at night and lurking in the foreboding basement. The writers introduce these otherworldly plot items with just enough vagueness so they don't undo the story's innate realism.
ENJOYING THIS POST?
Nightmare on Film Street is an independent outlet. All of our articles are FREE to read and enjoy, without limits. If you're enjoying this article, consider joining our fiend club on Patreon for only a couple-a bucks a month!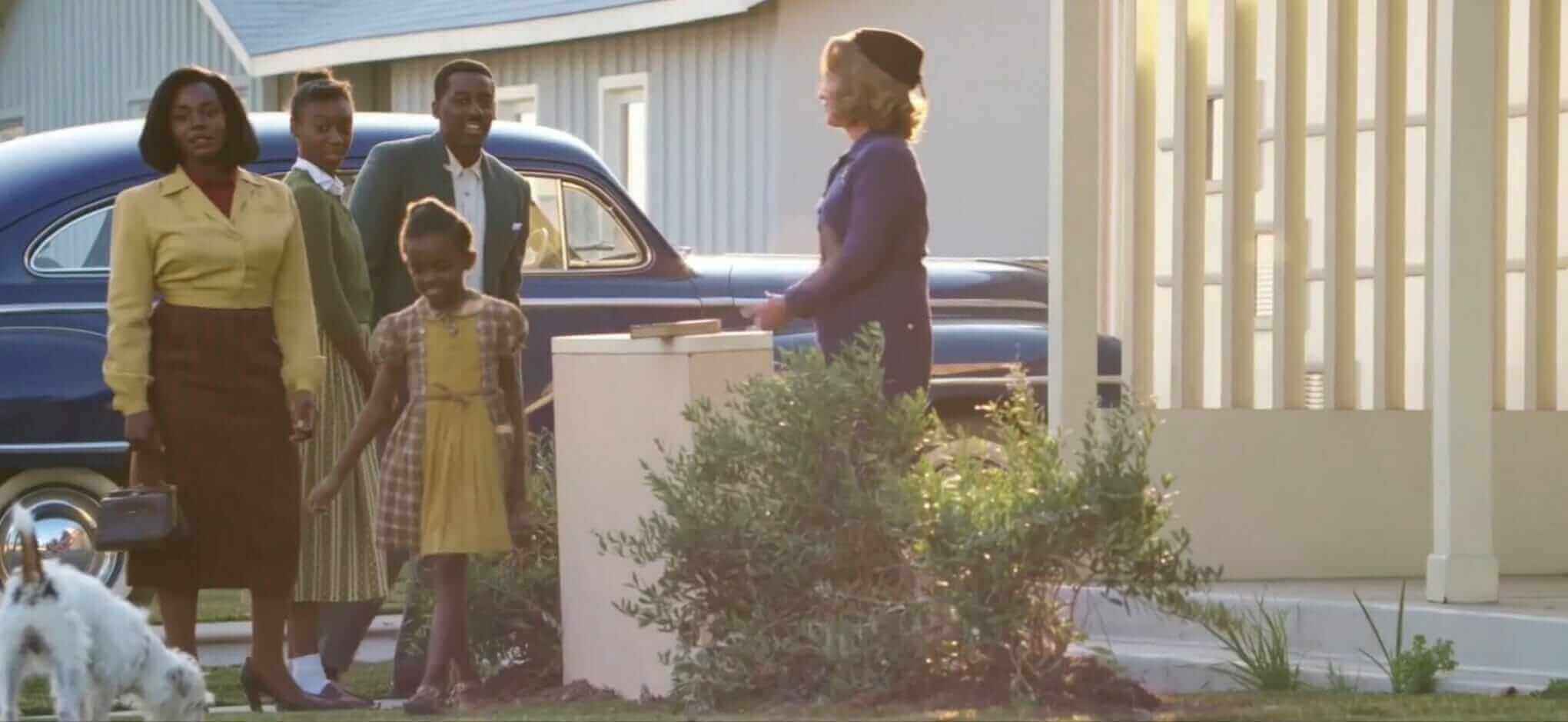 As with the first episode, the second ("Day 3") glimpses into the Emorys' troubled past before coming to Compton. The puzzle pieces slowly come together when understanding why Lucky is in a constant state of unease, and why Henry is so insistent on making this move work. Unbeknownst to either parent, their oldest daughter Ruby (Shahadi Wright Joseph) is an easy target at her school. Meanwhile, Betty continues spearheading the crusade to get the new neighbors out even if everyone else is losing interest. News of her best friend white-flighting to better pastures only adds fuel to the fire; Betty blames everyone else for her unhappiness rather than looking at herself. The episode ends on a peculiar, burbling note which may or may not feed into the supernatural theory.
On occasion, Them models itself too much after its contemporaries by featuring anachronistic song choices, non-sequential storytelling, creepy kids, and a villain whose performance is at risk of becoming preposterous. Every instance of racism is also so concentrated, it's actually quite hard to watch. From a technical perspective, the series delivers, but as a narrative, it's brutal. So much so it's unknown if anyone can be endure scenes like these for an entire season. It's almost unbearable after two episodes.
Them avows to show the penetrating, abrasive nature of racism and how even an idyllic respite like Los Angeles isn't absolved. In doing so, it actually may be doing more harm than good. There is something unsettling about how one's degradation is turned into another's entertainment; audiences will gawk with jaws agape as the Emorys are verbally and physically assaulted. Some might think this is progressive, but it certainly doesn't feel that way as you watch this Black family suffer again and again.
Them enters forbidden "white spaces" of the past and expresses that experience on its own divisive terms. The series is shaping up to be a nightmare for one American family. It's unclear if anyone will find this show enjoyable from a storytelling point of view, but the cast is amazing, if nothing else. Taking pleasure in their characters' misery, however, is another argument.
"…enters forbidden "white spaces" of the past and expresses that experience on its own divisive terms."
The first two episodes of Them screened at the 2021 SXSW Film Festival and the series will stream on Amazon Prime Video starting on April 9. Click HERE to follow our full coverage of the festival and be sure to let us know if you're excited to check out this descent into cosmic madness over on Twitter, Reddit, Facebook, and in the official Nightmare on Film Street Discord. Not a social media fan? Get more horror delivered straight to your inbox by joining the Neighbourhood Watch Newsletter.