It is finally Halloween Weekend! The most magical and spooky time of the year. Everyone has their Halloween movie-watching traditions, but if you're anything like me you can't let the Halloween season pass you by without putting on your rose-colored glasses and taking a trip down the haunted memory lane of Disney Channel Original Halloween Movies.
I have the fondest memories from childhood of curling up on the couch with all the lights off, staying up far later than I was supposed to, and scaring myself silly with whimsical movies about vampires, witches, mummys, and more. I have compiled a list of my personal favorite Disney Channel Original Halloween Movies to satisfy the nostalgic Gen Z horror fan and maybe even introduce these films to a new audience as well. Enjoy 🎃
Mom's Got A Date With A Vampire (2000)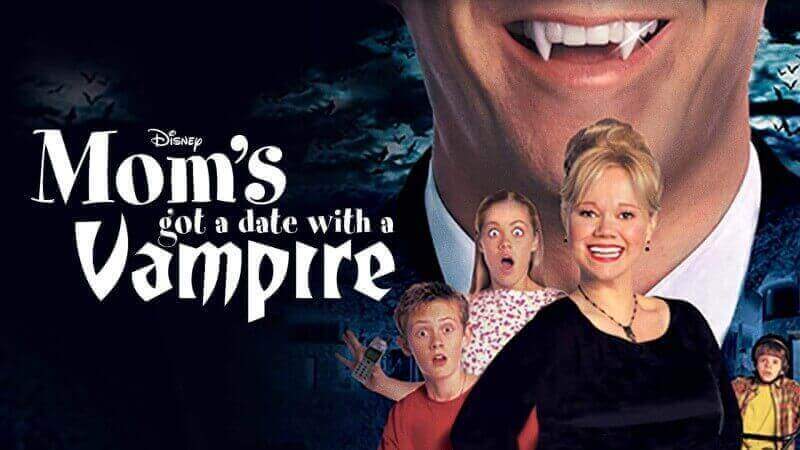 Grounded siblings Adam and his older sister Chelsea will do anything to get their mom out of the house and off their backs for the night, even if it includes setting her up on a date with a mysteriously suave and handsome stranger. The kids think they are in the clear to sneak off and meet up with friends until their youngest brother Taylor becomes absolutely convinced they have unknowingly set their mother up with a vampire! The kids, along with vampire hunter Malachi Van Helsing, must band together and venture out to save their mother from the vampire Dimitri and his nefarious intentions to make her his forever.
3 reasons to watch:
The ICONIC Caroline Rhea (of Sabrina The Teenage Witch fame)
Night of The Living Dead is playing on a tv in the beginning
Van Helsing has an eight-year-old sidekick
Phantom of The Megaplex (2000)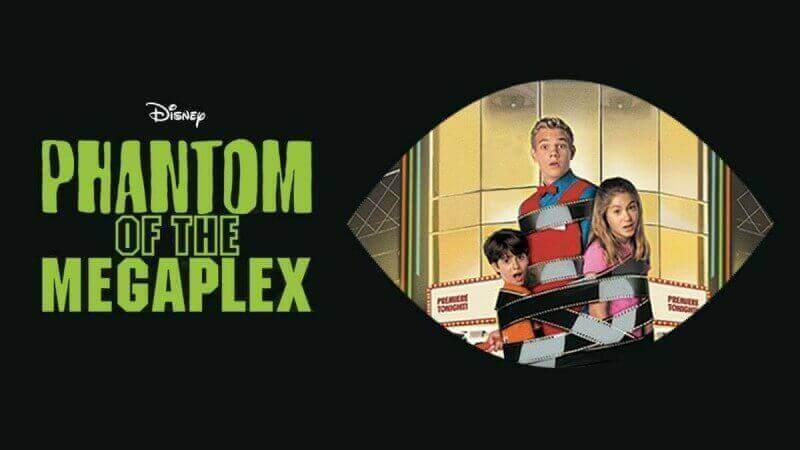 Pete Riley is the dedicated assistant manager at the local Megaplex, a job he loves and takes very seriously. He pays no attention to the rumors that the movie theatre is haunted by a mysterious phantom who was trapped in the demolished wreckage of the previous theatre that was there. On the night of a big movie premiere, Pete has to look after his film-fanatic younger siblings Karen and Brian, who wholeheartedly believe in the phantom.
As Pete prepares his staff for the most important night of their careers and Karen and Brian sit to watch a movie strange things start happening around the theatre like movie screens cutting out, candy machines exploding, and employees disappearing. Is it all a coincidence from the stress of the day or is the phantom attempting to sabotage the biggest night in the history of the Megaplex?
ENJOYING THIS POST?
Nightmare on Film Street is an independent outlet. All of our articles are FREE to read and enjoy, without limits. If you're enjoying this article, consider joining our fiend club on Patreon for only a couple-a bucks a month!

3 reasons to watch:
The film is loosely based on The Phantom of The Opera
Mickey Rooney plays "Movie Mason" a sweet old man who shares his love of film with the movie theatre patrons
More horror movies should take place in movie theatres, just saying
Under Wraps (1997)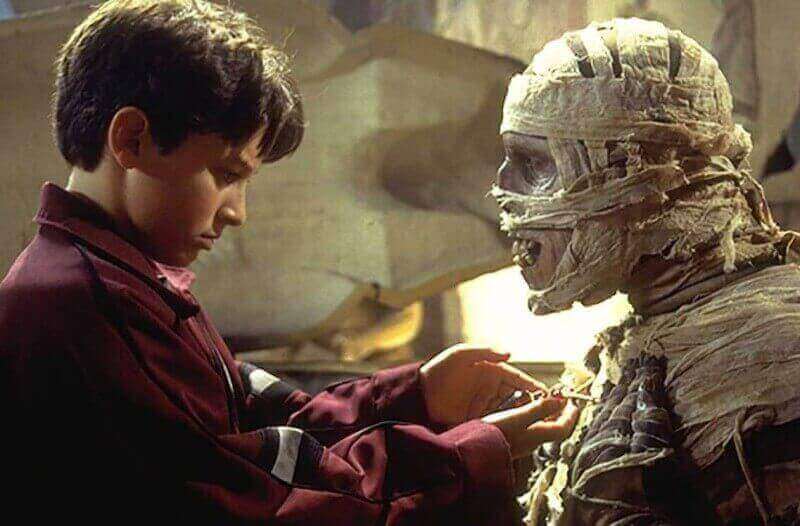 Horror-obsessed tween Marshall along with his friends Amy and Gilbert accidentally discover an Egyptian mummy in the basement of a man presumed dead. Among the numerous artifacts down there is an ancient amulet that just so happens to catch the brilliance of the moonlight at just the right time and the mummy rises from the dead. The kids quickly realize the mummy means them no harm and they affectionately name him Harold, and go to work researching how to help him. They soon learn they must return Harold to his sarcophagus by midnight on Halloween or he will disappear from existence forever and thus ensues a hilarious race against time to save Harold while also outsmarting the devious Mr. Kabul who has more secrets than just Harold hidden in his basement.
3 reasons to watch:
It clearly draws a lot of inspiration from Monster Squad (1987)
Bill Fagerbakke (AKA Patrick Star from Spongebob!!!) plays Harold 
There is a touching Mummy love story side plot that will have your heart swelling
Don't Look Under The Bed (1999)
Frances is a straight-laced and very intelligent high schooler who has outgrown her childish interests and beliefs. She is a model student until strange and unexplainable things start happening around town and all of the evidence points to her. When an older boy named Larry Houdini offers his assistance, revealing he is an imaginary friend who only young children can see, Frances is startled to learn that the Boogeyman is trying to frame her. A Boogeyman is created when a child stops believing in their imaginary too soon and they live to cause chaos and destruction. Its up to Frances, Larry, and her younger brother Darwin to stop the Boogeyman before he hurts anyone else.
3 reasons to watch:
This is a legitimately terrifying kids movie and Disney had to stop airing it after complaints from angry parents
The makeup effects on the Boogeyman are INSANE
The Boogeyman's lair is under your bed so you better keep your feet under the covers at night!
Tower of Terror (1997)
Disgraced journalist Buzzy and his niece Anna are desperate to save his career and catch wind of a compelling story about the Hollywood Tower Hotel that looks promising. They meet with the elderly Abigail who bore witness to the strange and disturbing events that occurred on Halloween night in 1939 when five hotel guests and staff disappeared without a trace when lightning struck the elevator that was carrying them up to the top floor for a party. The duo go to investigate the now supposedly haunted hotel and their research leads them to answers they never could have prepared themselves for and danger around every corner.
3 reasons to watch:
The film is based on the theme park attraction of the same name at the Walt Disney World Resort in Florida
Steve Guttenburg and Kirsten Dunst carry the film with great performances
Swanky Old Hollywood Halloween party??? Yes please
Twitches (2005)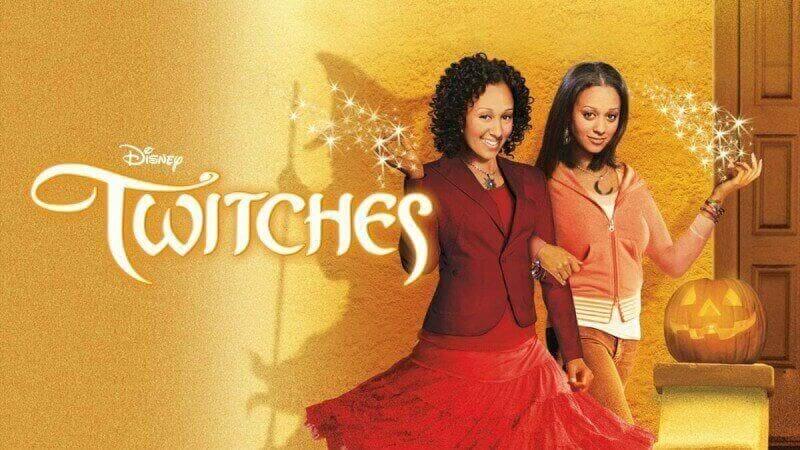 On Halloween night in the magical dimension of Coventry, a very powerful witch and warlock welcome the birth of identical twins. Unfortunately, their home is no longer safe as an evil entity known only as The Darkness is destroying everything in its path. In a final attempt to save his daughters, the warlock transfers all of his powers to them and sends them to Earth in hopes they will be rescued by humans.
21 years later on the twins' birthday, it becomes apparent that the girls were adopted by different families and lead entirely different lives, but still share an unexplainable connection that comes to a head when they just so happen to meet at a store. The girls quickly realize they are anything but ordinary as their suppressed magical powers start to reveal themselves and they learn The Darkness may still be following them.
3 reasons to watch:
Tia and Tamera Mowry (of Sister, Sister fame) absolutely slay
Parent Trap but with witches??? Sign me up
Twins? Witches? Twitches!
Halloweentown (1998)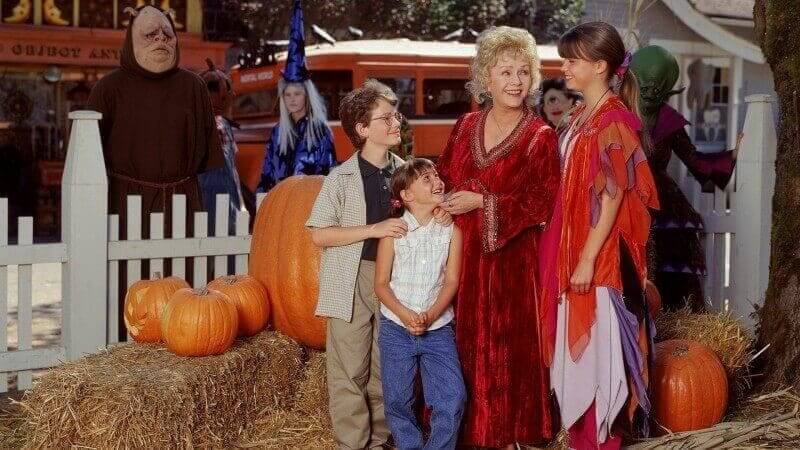 Marnie is into all things spooky. She can't explain why, but she feels drawn to the idea of magic and monsters much to the dismay of her mother who despises Halloween and everything it stands for. One Halloween night Marnie and her younger siblings are surprised by their beloved grandma Aggie for a visit and they are thrilled by her whimsical spirit and love for All Hallows Eve.
Intrigued by their mysterious grandma, the kids sneak out and follow her to the bus stop hoping to go home with her and they are shocked to discover that their grandma has a lot more secrets than they ever could have imagined. They travel through time and space landing in Halloweentown, a quaint village where witches, werewolves, vampires, and more live in peace and harmony. The only problem is people have been going missing from Halloweentown and the kids soon learn that evil is lurking in the shadows and its up to them to rescue the town.
3 reasons to watch:
Debbie Reynolds is Grandma Aggie. Need I say more?
The werewolf is the local barber
Giant jack o'-lantern in the town square
These are just a handful of many spooky spectacles Disney Channel has had to offer over the years, but each and every one of them makes for a perfect entry point into horror. Let us know all about your favorite Disney Channel Originals and if you introduced your kids to Horror this Halloween over on Twitter or in the Nightmare on Film Street Discord! Not a social media fan? Get more horror delivered straight to your inbox by joining the Neighbourhood Watch Newsletter.
And don't forget to enter the #31DayHorrorChallenge giveaway HERE.