The #31DayHorrorChallenge is a month-long Halloween Horror movie Watch-a-thon!
Horror movies and Halloween go together like caramel on apples. Like orange and black. Like pumpkins and triangle faces. Like cemeteries and fog. Like masked killers and virtuous girls who can scream real good. Like old houses on hills and angry dead people who were buried underneath the floorboards.
You get the point.
Every Halloween, we here at Nightmare on Film Street like to celebrate the spooky season all October long with our horror fiends and community across social media!
Enter the #31DayHorrorChallenge! Put on your horror thinking cap and join us every. single. day. this October with a different horror movie – curated by you!
Follow along with our horror challenge guide and pick a different horror movie each day based on that day's theme. For instance, Day 1 is "RE-ANIMATED" – you need to pick a horror film like Night of The Living Dead, Frankenhooker, or Beetlejuice!  Some of the themes are a little more personal, like Day 5 "FIRST TIME WATCH" – that means you've got to watch a horror film you've never seen before!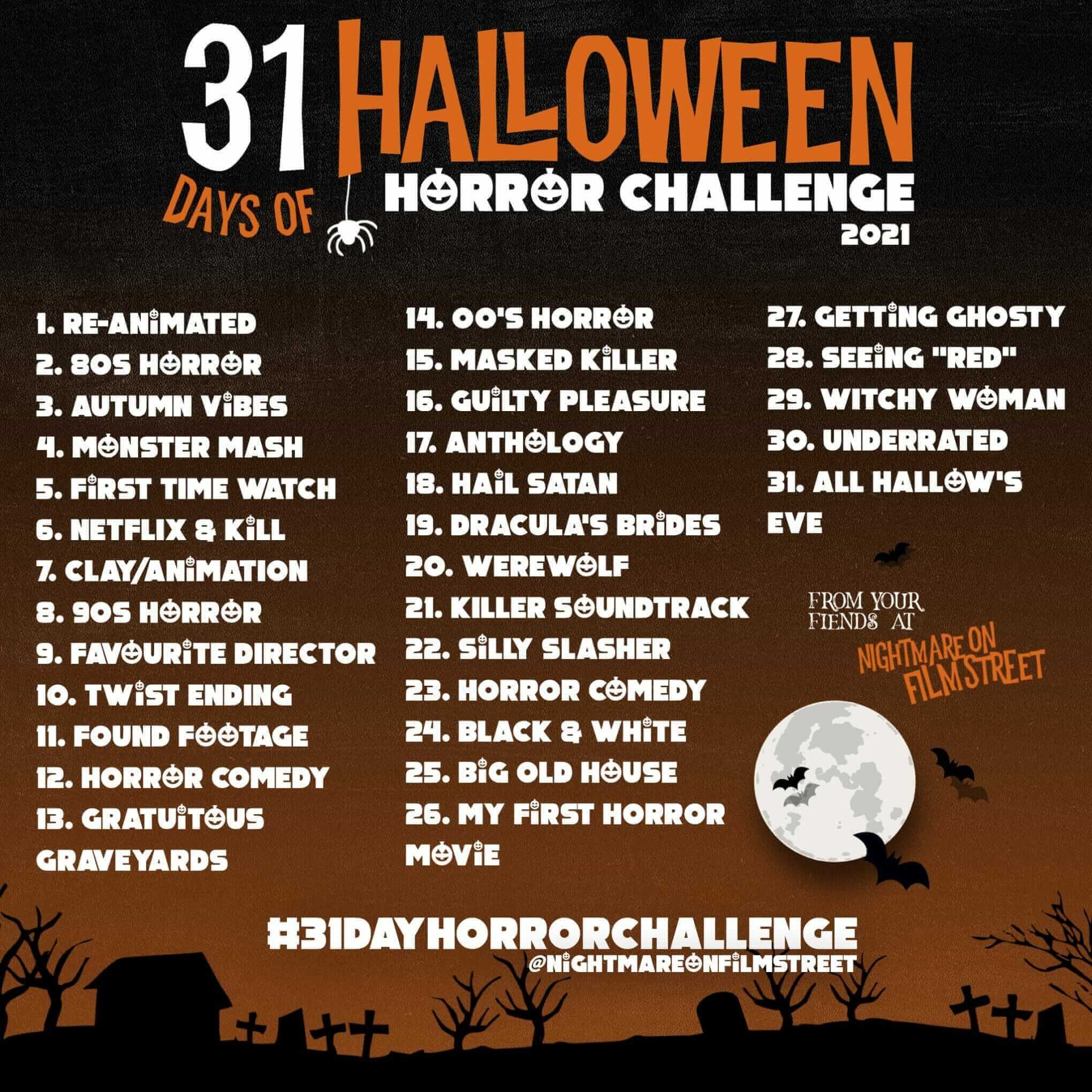 (All the same themes,  just Additional Colors for the 'gram)
To Download:  Click your desired marathon image to blow it up to full-size. Right-click and select Save As. You're then welcome to share, print, post, and do whatever you like with them! Just be sure to tag @nightmareonfilmstreet on Instagram or @nofspodcast on Twitter and use the hashtag #31DayHorrorChallenge so we can all follow along!
And, to keep the Tricks and Treats going, we're celebrating the #31DAYHORRORCHALLENGE with TWO different giveaways!
WEEKLY GIVEAWAY
We're going to select our favorite post of the week every week of October to receive a $25 GIFT CODE for the Nightmare on Film Street Horror Merch Store!
Share creative posts of your daily horror picks, watch stations, cocktails + snacks, art, and whatever fun posts you can come up with for the day's theme! Be sure to use the event hashtag #31DAYHORRORCHALLENGE and tag @NIGHTMAREONFILMSTREET on Instagram or @NOFSPODCAST on Twitter!
MONTHLONG GIVEAWAY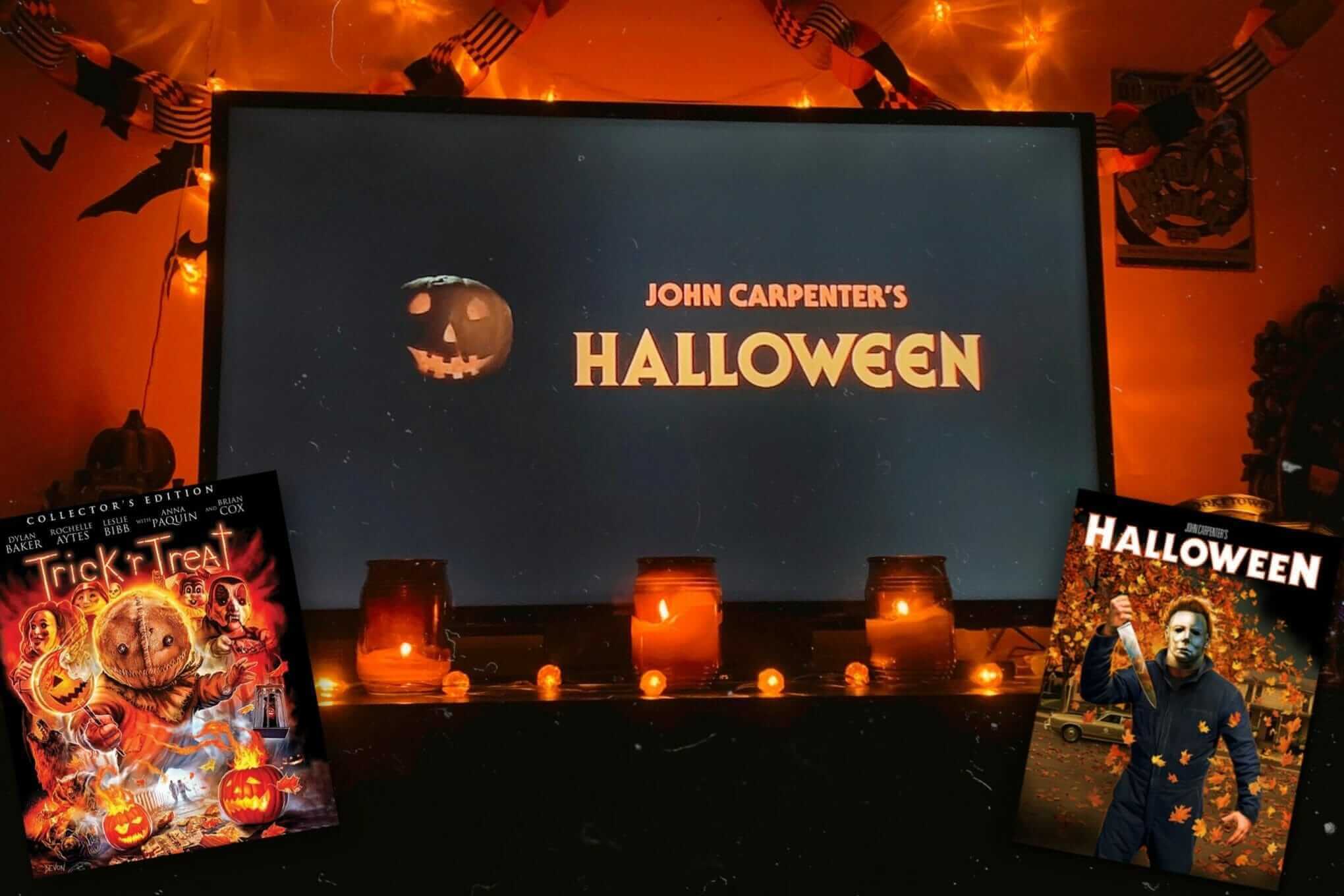 Enter using the app below to unlock plenty of chances to win the #31DAYHORRORCHALLENGE Grand Prize – A "HALLOWEEN 365" PRIZE-PACK! We'll randomly draw one lucky winner from all valid entries on Halloween Night to receive the ultimate prize – one that'll keep the spooky season rolling the whole year long!
#31DAYHORRORCHALLENGE GIVEAWAY!

That's it!  We hope you have a blast this October (however you're safe to celebrate) – and load it full of as many horror movies as humanly possible.
Share what you're watching, your spooky setup and snack pairings, and suggestions for each day using the hashtag #31DayHorrorChallenge on Twitter, Instagram, The NOFS Discord, in our Facebook Group, and wherever you get your social media on!
Happy Halloween from your Fiends at Nightmare on Film Street!