Horror filmmakers often use a relevant perspective and adopt current issues to mimic socioeconomic problems and triumphs. Some are more obvious than others in their application of these themes while others tread lightly. Writer and director Ben Wheatley (Kill List) plants his post-pandemic horror, In The Earth, with unsettling care and brutal precision by taking a more subtle, nuanced approach to humanity's struggle with nature and harvests an ominous middle ground with its narrative. His modern folk horror begins "As the world searches for a cure to a devastating virus, a scientist and a park scout venture deep into the woods. As night falls, their journey becomes a terrifying voyage through the heart of darkness as the forest comes to life around them."
Actress Ellora Torchia (Midsommar) is no stranger to psychological terror but offers a uniquely neutral role in the battle between science and belief in her role as park ranger Alma. Now living in a society that is so unfortunately aware of its own rank amongst larger uncontrollable forces, Torchia portrays the more sobering embrace of a neutral perspective that eventually leads humanity through the trees. In all her lovely charm and sophistication, Torchia helps navigate Alma's importance to the story of In The Earth as well as the ranger's relationship with nature that just might be the only logical solution when coming to terms with our mass fear of the unknown and the unstoppable.
"[In The Earth]

leaves you hanging and that's very much sort of where we are today with the pandemic. I think that's where we all are vis-à-vis humans versus nature."
Jessica Rose For Nightmare On Film Street: In The Earth is just fantastic. There's so much energy in it from start to finish and even after. I'm still thinking about it, it's all still hanging over me. Brilliant performances all around. Everything felt very palpable. How did you prepare for this? What was the physical and emotional prep like? There's a big combination of both in this film.
Ellora Torchia: We were filming this through lockdown and everybody got the script during lockdown, so there wasn't much you could do physically aside from going to the gym. It was emotionally about tackling the beast that was the script and interrogating Ben thoroughly. There were a lot of long conversations and discussions about it. Even with some of the more physical aspects, we just got chucked in the deep end which I thought was brilliant because as the situation lends itself in the actual film, I didn't expect any of it. 
NOFS: What about the script drew your attention to it and to the role of Alma? What was attractive to you about In The Earth?
ET: For me personally, when I read the script I really, really fell in love with the end because it closed all of the loose ends for me as far as Alma's character and her journey. There was something about this finale where you get the sense that she's a sort of human vessel… to move things forward and it kind of felt unfinished, which I like. Often you read things there's a start and an end, it's very finished and this doesn't feel that way. It leaves you hanging and that's very much sort of where we are today with the pandemic. I think that's where we all are vis-à-vis humans versus nature.
ENJOYING THIS POST?
Nightmare on Film Street is an independent outlet. All of our articles are FREE to read and enjoy, without limits. If you're enjoying this article, consider joining our fiend club on Patreon for only a couple-a bucks a month!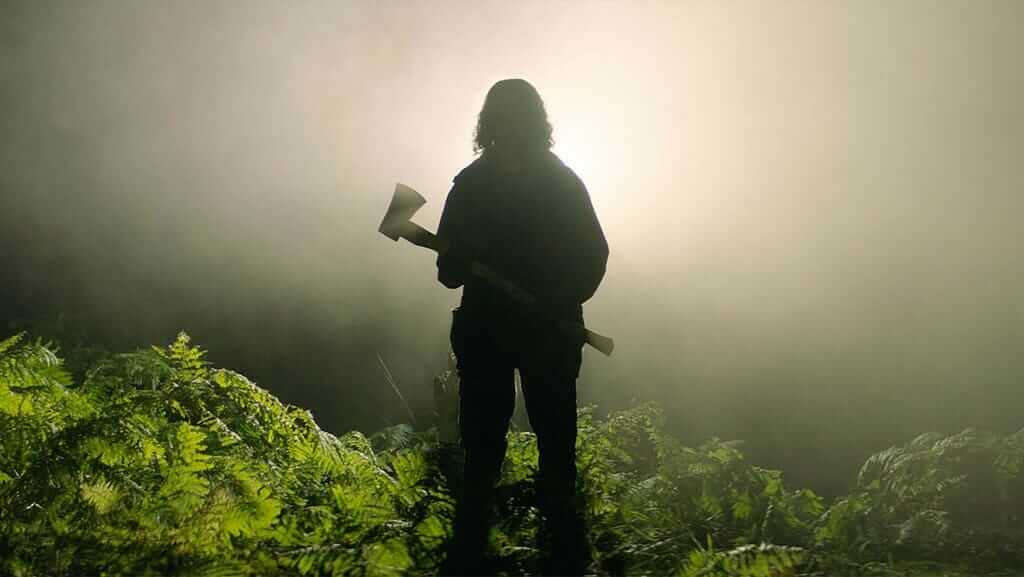 NOFS: I think it is really interesting that you said something about her being "chosen vessel". She's like the one to lead it through the end. What do you think made her that person?
ET: I think everybody's trying to create meaning out of the situation, which potentially doesn't have any. You have the scientists and then you've got the spiritualists with the religious elements there. You've got one person being led by his heart person and then Alma is just doing her job. There was a lot of conversation around wanting to get something very mundane paired with the extraordinary. I think that Ben had that in mind from day one when he spoke to me. He said, "Alma is good at her job." That was the one direction he just kept giving me. I was just like, "Okay, I don't know what that means, but I'll go there." 
A lot of it was just researching what it means to be dedicated. It's a fascinating paradox, because she's a park ranger and at the same time Alma has the most relaxed relationship with nature. She's not trying to make it do something for her, she's just trying to let it be. So it was a paradox being a park ranger and being the one to lead, while at the same time having to take the back seat and watching it from afar thinking, "I know my position within this." Yeah, perspective. I think Alma has an interesting perspective.
"

When I read the part where I think there's something to it that I don't understand or can't put a handle on, I get excited."
NOFS: Of course anyone would want to follow the straight-arrow with the most important perspective to guide them through as safely as possible. I didn't know that this was filmed during the height of quarantine. It's tragically relevant.
ET: It was the first job I did where COVID measures were put into place and to work at all at that time was extraordinary. So I believed it was greenlit during that time. It was cast during that time and we filmed it during that time. It was super, super fast and super rapid, which while scary and daunting, was super exciting. I think it gives In The Earth the energy that it has, that it is what it is. It's this thing that's almost battling within itself.
NOFS: Now that I'm thinking back, I was watching it thinking this had to be something written after the initial mass quarantine or was this written before the COVID-19 breakout?
ET: Ben started writing it during the pandemic. It hit and he started writing. Immediately it was finished and ready to be shot. It was a remarkable feat. Ben is, Joel [Fry] put it well before, Ben is like a one-man film-making machine. He writes, he directs, he films and then he edits. You always feel safe in his hands because he's just got such a brilliant vision. So it's been amazing.
NOFS: I bet! Speaking of working with Ben, I know you've also worked with Ari Aster and they're both pretty big modern horror names especially when it comes to folk horror. Is there something that attracts you to that subgenre or is it just the specific roles that grab you?
ET: It's very funny because I was actually speaking to my mom on the phone like two days ago and she said "It's very interesting, you do seem to be doing a lot of horror." I have no idea, it's not a conscious choice. I think it's the stories and the psychological baggage I like. When I read the part where I think there's something to it that I don't understand or can't put a handle on, I get excited. It just happens that I think the way in which Ben writes, the way in which he directs, you're always left with a question. That was something that was very enticing to me. I think that the way he writes and the way Ari writes is just so in-depth and psychological in meaning behind why the characters do what they do and who they are. That's all necessarily fascinating. Firstly, it's about how the directors work and the storylines and the part.
"…

I wonder whether or not this would be a sort of porthole into allowing people to get away from [the pandemic]…"
NOFS: Based on what you just said about meaning, what are you hoping that viewers take away from In The Earth?
ET: It's a difficult one. I think our job is not to tell people to walk away with anything. I think you will walk away with whatever you do, whether you like it or hate it, that's my personal opinion. I think that there are so many big questions of existentialism and really confronting this whole pandemic situation as well as the fear and anxiety behind it. I think a lot of us have been feeling and have been going through a delayed reaction to this whole situation, so I wonder whether or not this would be a sort of porthole into allowing people to get away from it, but also to really get into the time that we're living in and ask some questions that maybe can't be answered.
Ben Wheatley's In The Earth, presented by Neon, is currently playing in select theaters. Have you experienced In The Earth? What did you enjoy the most about Ellora Torchia's role as Alma? Let us know your thoughts over on Twitter, in the Nightmare on Film Street Subreddit, and on Facebook in the Horror Movie Fiend Club!