Anyone who has seen Stanley Kubrick's The Shining (read: everyone) knows there is nothing more terrifying than snow when combined with isolation. The pair make for a foreboding cocktail, one that will ultimately weigh on the sanity and decision-making of anyone caught in its path. Co-written and directed by Severin Fiala and Veronika Franz (Goodnight Mommy), from a screenplay by Sergio Casci (The Caller), The Lodge quietly descends into that cold, blustery darkness; a barrelling steam train of harrowing destruction. Audiences can only grip tightly to their seats and brace for the inevitable. We are stuck aboard with trauma, sorrow, guilt – and pure, raw terror.
"[T]rauma, sorrow, guilt – and pure, raw terror."
The Lodge opens on mother Laura (Alicia Silverstone) and her two children Mia (Lia McHugh, Along Came the Devil) and Aiden (Jaeden Lieberher, It and It: Chapter Two), Laura rushedly rounding up her children to be dropped off at their father Richard's (Richard Armitage) house. The pair go reluctantly, bemoaning "is she going to be there?" when they pull up to the front drive. She is dad's new girlfriend – Grace (Riley Keough, Hold the Dark, Under the Silver Lake), who we initially don't meet. She instead haunts the outskirts of the early scenes like a ghost, her shadow appearing in the front window like an eclipse over this broken family. When Richard asks Laura to finalize their divorce so that he can marry Grace in the Spring, we get our first glimpse just how deep The Lodge's basement. While her children are still spending time with their father, calm and quiet as a dentist's office, Laura slides the barrel of a revolver into her mouth, pulls the trigger, and lets her pain splatter all over the dining room wall.
Aiden and Mia tearfully grieve their mother's loss, and it's heartbreaking and nearly unbearable to watch. Now in the primary care of their father, Richard is at first respectful not to bring Grace around while the pain of their mother's death is still raw. But by the time Thanksgiving arrives, Richard is ready to begin repairing and re-building his family, ignoring Aiden and Mia's protests. They plan a Christmas holiday at the family lodge, and it seems like a great idea for the family to spend some time away. Until it isn't.
Ads are Scary
Nightmare on Film Street is independently owned and operated. We rely on your donations to cover our operating expenses and to compensate our team of Contributors from across the Globe!
If you enjoy Nightmare on Film Street, consider Buying us a coffee!
Riley Keough has exploded onto the genre scene over the past two years, first landing on my radar after appearing as Kim in It Comes At Night. She possesses a natural talent of playing guarded, alluring, and mysterious characters; ones that emote with dry eyes and pursed lips. These characters tango through nearly every mumblegore film of the creeping A24 indie takeover, so it's no surprise Keough's star has been rising along with them. Grace is another perfect specimen to add to her glass jars shelved on IMDB. The lone survivor of a religious cult, Grace was found among the bodies of her family and religious community as a child. A traumatized sheep in a flock of suicides.
As the audience, we are guarded around Grace, unsure how deeply her trauma bubbles. She hugs an adorable dog (Grady) tightly wherever she goes, drapes herself in cozy blankets and shawls, and secretly hides prescription medication in her bedroom end table – so we hope she's gotten the help and has the appropriate self-care/support to be a mother figure, or even to just simply befriend Richard's children.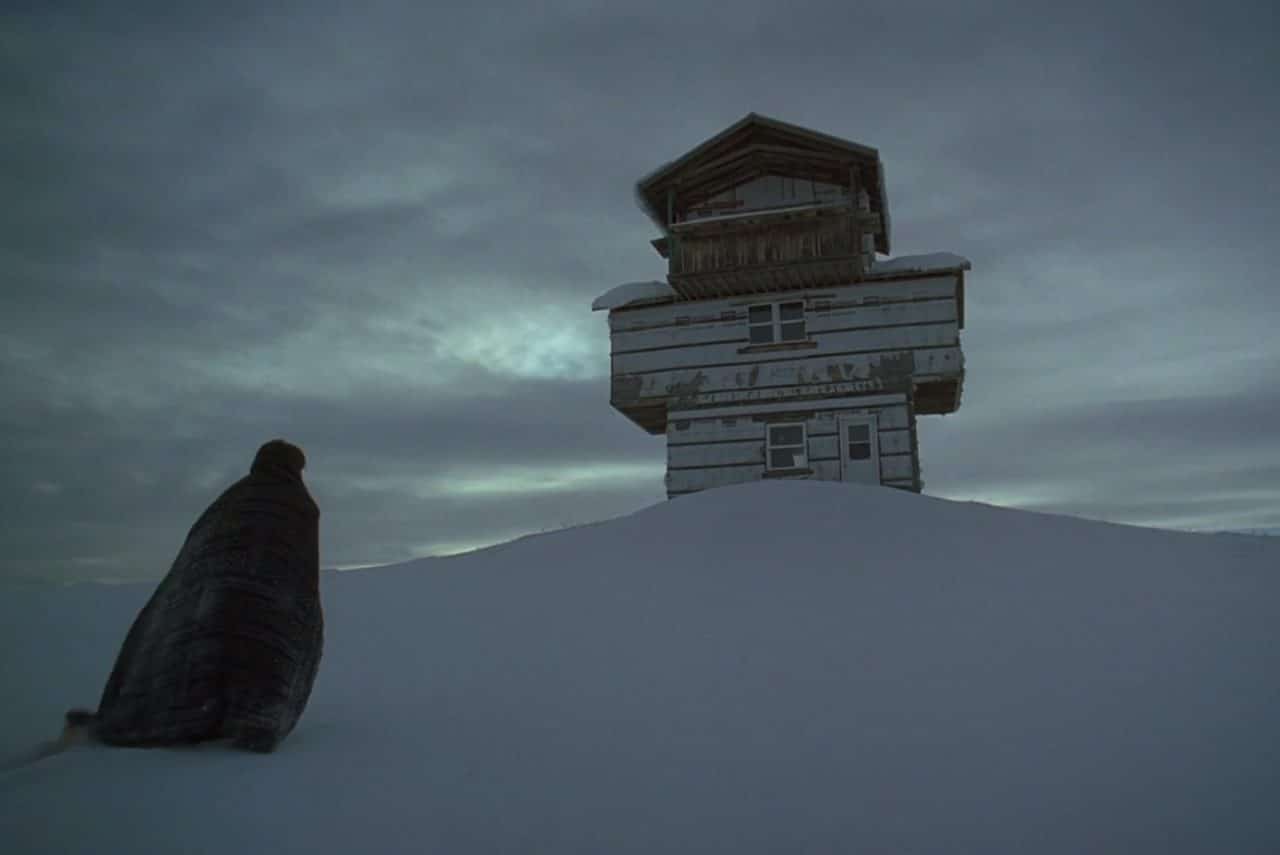 But Aiden and Mia aren't about to let Mom #2 into their lives so easy. After Richard heads back into the city for work, the reluctant trio are left alone in the isolated lodge. Winter rages on, and the kiddos ignore supper calls, knocks on doors, and tv time. Grace is running out of ideas to warm them over.
"We have no idea just what we're so utterly afraid of, but The Lodge will stew us in dread anyway with its intentionally vague plotting and a screenplay paced to withhold."
The Lodge is a tense story steeped in dread. We have no idea just what we're so utterly afraid of, but The Lodge will stew us in dread anyway with its intentionally vague plotting and a screenplay paced to withhold. The eerieness is very much akin to Alejandro Amenábar's The Others (2001). Terrible things have already happened. We're sure terrible things are to come. We can't do anything about it. We can't see a way out of The Lodge.
I'm remaining vague, as The Lodge is best served in a dark theater with few expectations or clues on what to anticipate. The film does lull a bit in the middle after audiences tie knots and connect events, but the final act will take you on a harrowing journey whether or not you know the direction the film is headed. And don't be surprised if the knots you tie unravel at your feet.
Hammer Films' The Lodge screened at the 2019 Overlook Film Festival. Stay tuned to Nightmare on Film Street for more coverage and highlights from the festival, and let us know which films you're excited to check out over on Twitter, Reddit, and the Horror Movie Fiend Club on Facebook!