The Jigsaw Killer has been dead for years but bodies continue to pile up in Spiral: From The Book of Saw. Taking the franchise in a completely different direction, this offbeat installment introduces a new killer, new cryptic messages, and a fresh set of devices designed for torture and torment. There is, however, a stark difference between Jigsaw and the copycat killer responsible for this new batch of bodies. What separates them both is what makes Spiral such an interesting Saw film and those small adjustments completely change the tone and moral lessons of this twisted cat-and-mouse series.
Spiral: From The Book of Saw is directed by Darren Lynn Bousman who returns to the franchise after having directed fan favorites Saw II, Saw III, and Saw IV. Also returning is Jigsaw screenwriter Josh Stolberg to jump-start this new era of death-trap horror and reinvent what a Saw film can be. Tobin Bell is, of course, sorely missed but replacing him is a new killer (and a new puppet!) with their eye on a corrupt police department. It was always going to be hard for anyone to outshine the original criminal mastermind of this dark world, but there's nothing stopping anyone equally motivated from filling a Home Depot shopping cart with barbed wire, rolling up their sleeves, and getting to work.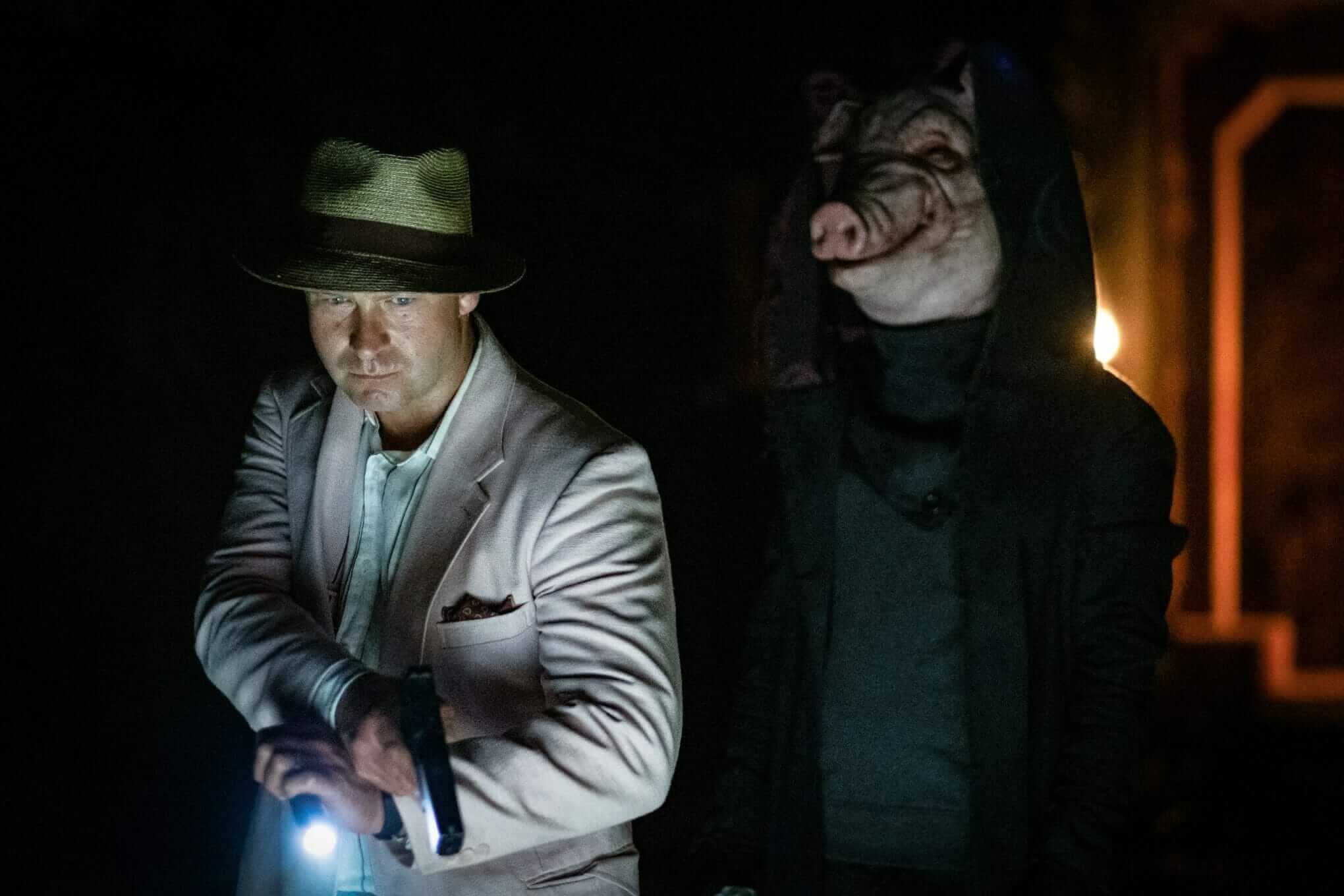 Filling out the cast are Samuel L Jackson (1408) as veteran police captain Marcus Banks, Marisol Nichols (Scream 2) as current police captain Angie Garza, and Max Minghella (Horns) as William Schenk, the rookie cop assigned as a partner to Chris Rock's cynical Detective Ezekiel "Zeke" Banks. (It still blows my mind that Samuel L Jackson and Chris Rock are in a Saw film. Even now, roughly two years after it was first announced. What a time to be alive!)
When Spiral begins, the Jigsaw Killer is dead & buried. His reign of torture has come to an end…but people are still being murdered in elaborately sadistic ways. More specifically, cops are being snatched up and torn into pieces by these murder-ific mechanisms of death. But if John Kramer aka Jigsaw is dead (and he most definitely is) who could possibly be behind these new murders? And why are they targetting police officers? Leading the investigation into these new murders is Detective Ezekiel "Zeke" Banks (Chris Rock) whose been a lone wolf on the police force since he exposed the corruption rampant in his father's precinct. Surrounded by cops that would be delighted to see him in a coffin, and square in the sights of the city's newest serial killer, Detective Banks is forced to play the copycat's sick game in order to solve these gruesome murders.
"…some of the most brutally satisfying [traps] of the franchise."
One of Spiral's biggest strengths is in how it found a way to inject mystery back into the franchise. When James Wan & Leigh Whannell's Saw first hit theatre screens there was no understanding of who the sadistic Jigsaw Killer was or what his motivations were. Since then, we've learned so much about John Kramer, and the band of misfits that have continued his work, that the only question left to ask was "I wonder what this shitty person did to deserve such a horrible fate?". Spiral manages to rebuild the mysterious persona of this world's killer by acknowledging Jigsaw's death and diving headfirst into a new web of secrets and lies.
That air of mystery is what made my favorite installments of the franchise so memorable but it doesn't hurt to have a few eye-popping torture devices along the way, amiright? The killer hiding at the center of Spiral came to play, replacing Jigsaw's torturous teachable moments with sly, sadistic displays of justice. This copycat's methods and mission statement may rub some Saw sticklers the wrong way at first but, as the story unfolds and we see the pattern for what it really is, their motivation for manipulating the Jigsaw MO is made clear. The games of Spiral are A LOT harder to win, but they're also some of the most brutally satisfying of the franchise (including a trap that I think will cement Samuel L Jackson as one of the series' most memorable side characters).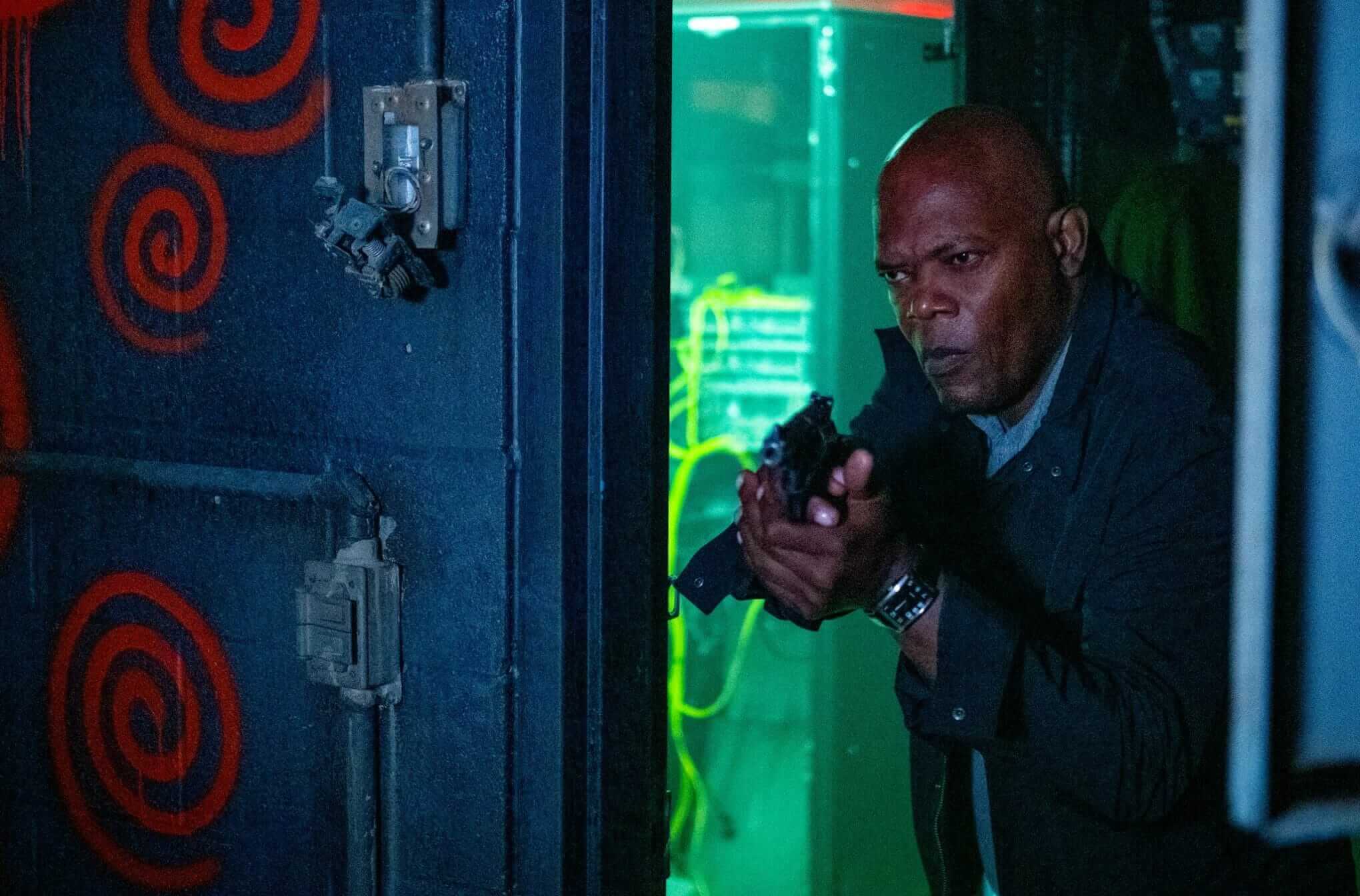 Sadly, there is some connective tissue between beats that's been surgically removed, but it's more a death-by-a-million-cuts downer than a glaring oversight in structure. The story takes a few jumps here and there as it barrels along but it's all in service of maintaining momentum. What really makes a good Saw film for me (apart from viciously inventive death traps) are the last twenty minutes, and Spiral comes at you like a damn freight train. If you're hoping for an ending with a heavy-hitting "Game Over" growled overtop of Charlie Clouser's iconic score, Spiral: From The Book of Saw is sure to be a front-runner for your new favorite finale of the series.
Spiral: From The Book of Saw, a Lionsgate release presented by Twisted Pictures, hits theatres May 14, 2021. Be sure to let us know what you thought of the newest installment of the Saw universe over on Twitter, Reddit, Facebook, and in the official Nightmare on Film Street Discord, where we've already set up a Spoiler-Filled channel to discuss every gory detail. Not a social media fan? Get more horror delivered straight to your inbox by joining the Neighbourhood Watch Newsletter.