Finding itself directly in the crosshairs of the late 70s Pornography boom, and the heyday of independent filmmaking, Ti West X is a sexy slasher loaded with practical gore, a rockin' soundtrack, and high-waisted jeans. It's an original story busting at the seams with sex and violence and craftsmanship, and for all that, we should give this movie its due. But sadly, X falls victim to a familiar villain of the modern moviemaking template. A disease with an alarmingly high infection rate that has festered it's way into hundreds of otherwise healthy horror movies: IP-itis
X has a steady heartbeat, a healthy obsession with young people's bodies (and what they look like covered in blood), but there is a cancer eating away at the heart of this otherwise robust midnight movie. To it's credit, X isn't based on an existing property of films, and it isn't overly referential about films that came before. Heck, it even goes to mild extremes with its villain, exploring a completely new motivation for murder in the slasher arena. However, it fails to deliver a standalone movie that isn't already in conversation with a series of other movies that don't yet exist. Ti West and A24 have crafted one hell of a hook, with some of the most alluring bait that's been trolled through horror's waters as of late, but it didn't quite offer up something with enough substance to really reel me in.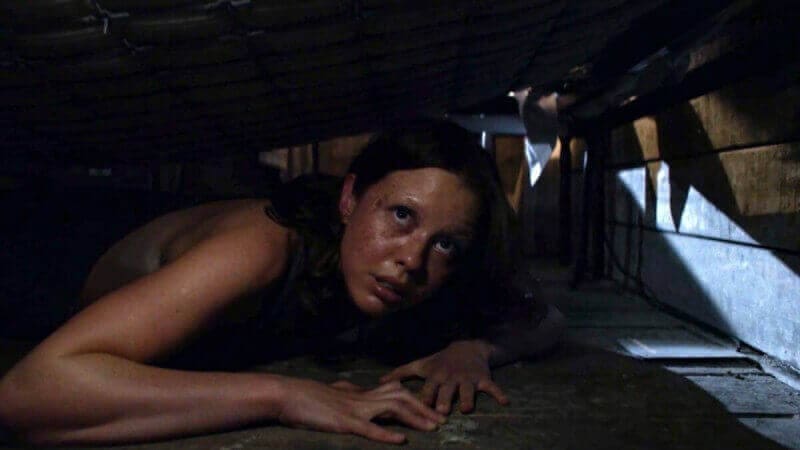 From top to bottom, X is loaded with fun characters. Despite West's admirable insistence on practical gore, and his delightful infatuation with analog tech, the performers are the real reason you'll fall in love with this corpse-riddled, barnyard throwdown. Brittany Snow (Pitch Perfect) plays a whipsmart, bubbly sexpot against Kid Cudi's (Bill & Ted Face The Music) leisure suit sportin' ex-marine with a dick made for the BIG screen. Owen Campbell (Super Dark Times) is the director convinced that "it's possible to make a good dirty movie". Along to help fulfill that vision is his girl-next-door sweetheart played by Jenna Ortega (Scream 2022) and Martin Henderson's (The Ring) pie-in-the-sky stip club manager turned porno producer as well as his young, mysterious arm candy Maxine, played by Mia Goth (Suspiria 2018).
ENJOYING THIS POST?
Nightmare on Film Street is an independent outlet. All of our articles are FREE to read and enjoy, without limits. If you're enjoying this article, consider joining our fiend club on Patreon for only a couple-a bucks a month!

The group has come out to rural Texas to make a low-budget, but artistically minded, porno in a guest house they've rented from an elderly couple. Naturally, no one has told the old couple what they'll be up to while they're on the farm but what they don't know can't hurt them, right? The shoot is going well but soon enough the groups find themselves in danger. First, the director disappears. Then the elderly wife of the farm owner is nowhere to be found. One by one the group learns (the hard way) that their dreams of fame and fortune have lead them, like lambs to the slaughter, into an inescapable nightmare.
"A corpse-riddled, barnyard throwdown"
It was announced just after the film's world premiere at the 2022 SXSW Film Festival that X was, in fact, only one piece of a larger story. Ti West has even, reportedly, already filmed the 2nd of what is to be a 3-picture story, and you really see that with what you're given. Thankfully X doesn't end with a cliffhanger or begin with a suprise X: Part I (looking at you, Dune!) but there is an obvious sense that you are only seeing a snapshot of something bigger. The end of a story for two characters you can't fully connect with because you don't know them enough, and the beginning of another who isn't given a full arc. X is by no means a standalone film, and it's truly the film's biggest sin.
I liked more about X than my complaints might let on. At the end of the day, it's a kick-ass horror movie that f*cks, set in sweaty rural Texas, with villains that add a completely new layer of discussion to the sex/death debate that's been raging amongst the morality police since horror and porno was first invented. Gorehounds especially will appreciate the depraved depths of X, including a wonderfully grotesque callback to Lucio Fulci. It's a near-perfect film, cut off at the knees to make room for future sequels, but sequels that will surely flesh out the story. And knowing that there are two more Ti West horror movies just over the horizon is cause enough to celebrate.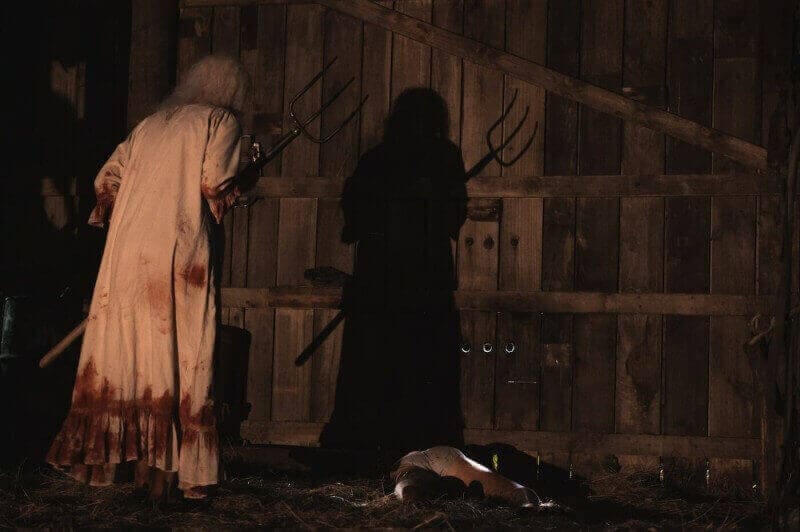 Ti West's X, an A24 production, is playing in theatres right now! Be sure to let us know what you thought of this sexy slasher (and what you would do if your farmland Airbnb turned into a death trap!) over on Twitter, Reddit, Facebook, and in the official Nightmare on Film Street Discord. Not a social media fan?
Get more horror delivered straight to your inbox by joining the Neighbourhood Watch Newsletter.