A glimpse into another world not too unlike our own isn't exactly a novel format for the fantasy genre, but actress turned first-time feature filmmaker Carlson Young (Scream the series) breathes a fresh, feminine perspective into the classic down the rabbit hole jaunt with The Blazing World.
" …a fresh, feminine perspective"
Based on her short film of the same name, The Blazing World was penned, directed, and stars Carlson as the lost Margaret, a young woman struggling to mend the unhealed wounds of a childhood tragedy that sent a fissure through her family. Plagued by haunting visions and tormented by the sinister spectre Lained (Udo Kier, Puppet Master: The Littlest Reich), it's upon returning to her family home that the fantasy flourishes beyond control.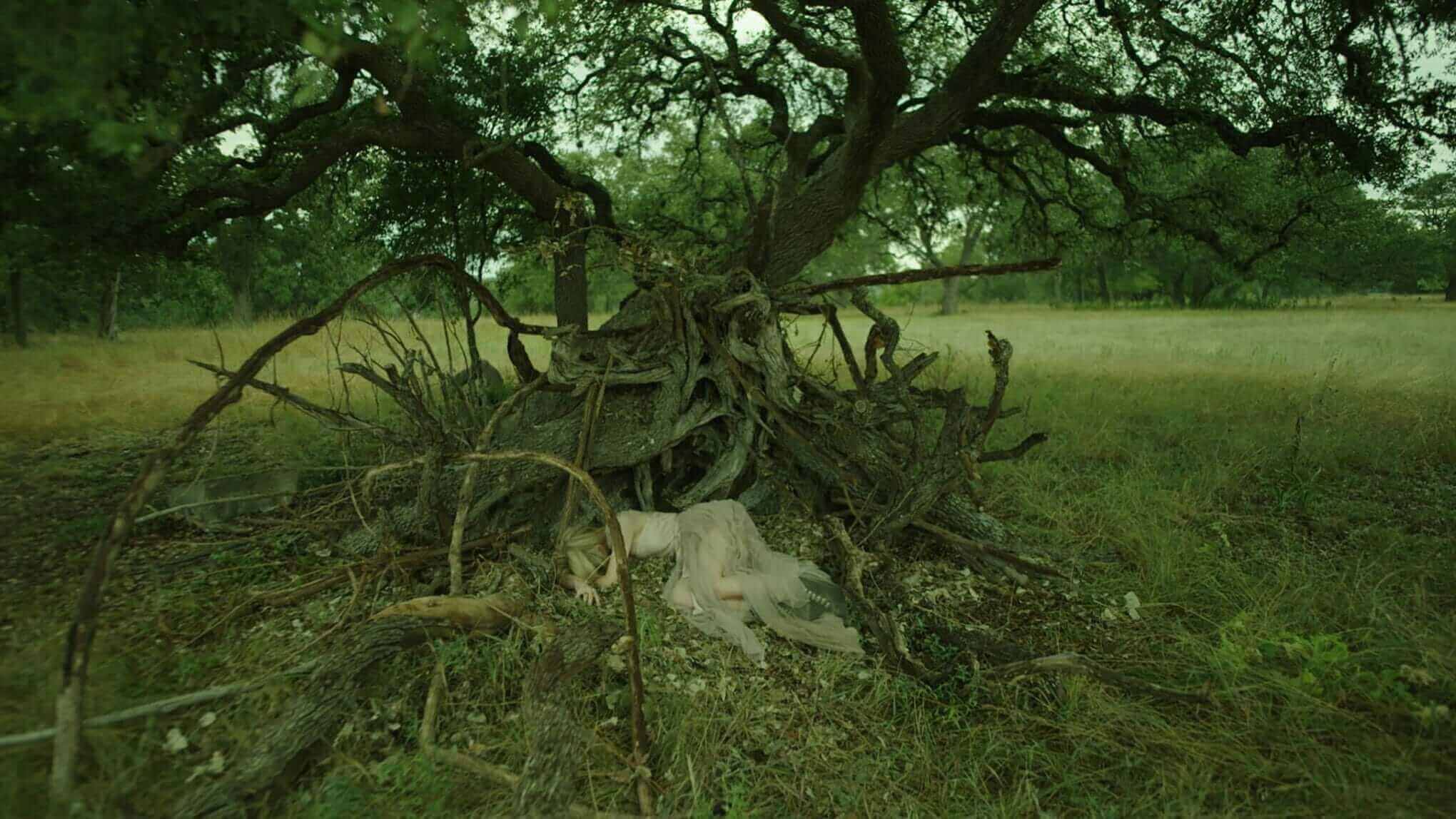 After tiptoeing around her melancholically fragile mother Alice (Vinessa Shaw, Hocus Pocus), and avoiding any deep chats with her stern, masculine and self-medicated father Tom (Dermot Mulroney, Insidious: Chapter 3), Margaret is plagued by increasing visions of the fateful event. We quickly realize the three members of this family are forever stuck in the past like time is a tar pit.
Transported into another world of candy coloured hues and sinister shadows, Margaret must face the three demons that plague her before she is lost to the darkness forever.
Ads are Scary
Nightmare on Film Street is independently owned and operated. We rely on your donations to cover our operating expenses and to compensate our team of Contributors from across the Globe!
If you enjoy Nightmare on Film Street, consider Buying us a coffee!
Like Henry Selick's adaptation of Neil Gaiman's Coraline, The Blazing World sets its own course through an Alice's Wonderlandesque journey of self-discovery with a bold, colourful aesthetic. Soft, dreamlike and feminine, the film plays like a feature-length perfume commercial of pastel pinks, tulle, and sparkling fireflies. This movie is a teenage girl's bedroom.. but maybe don't look under the bed.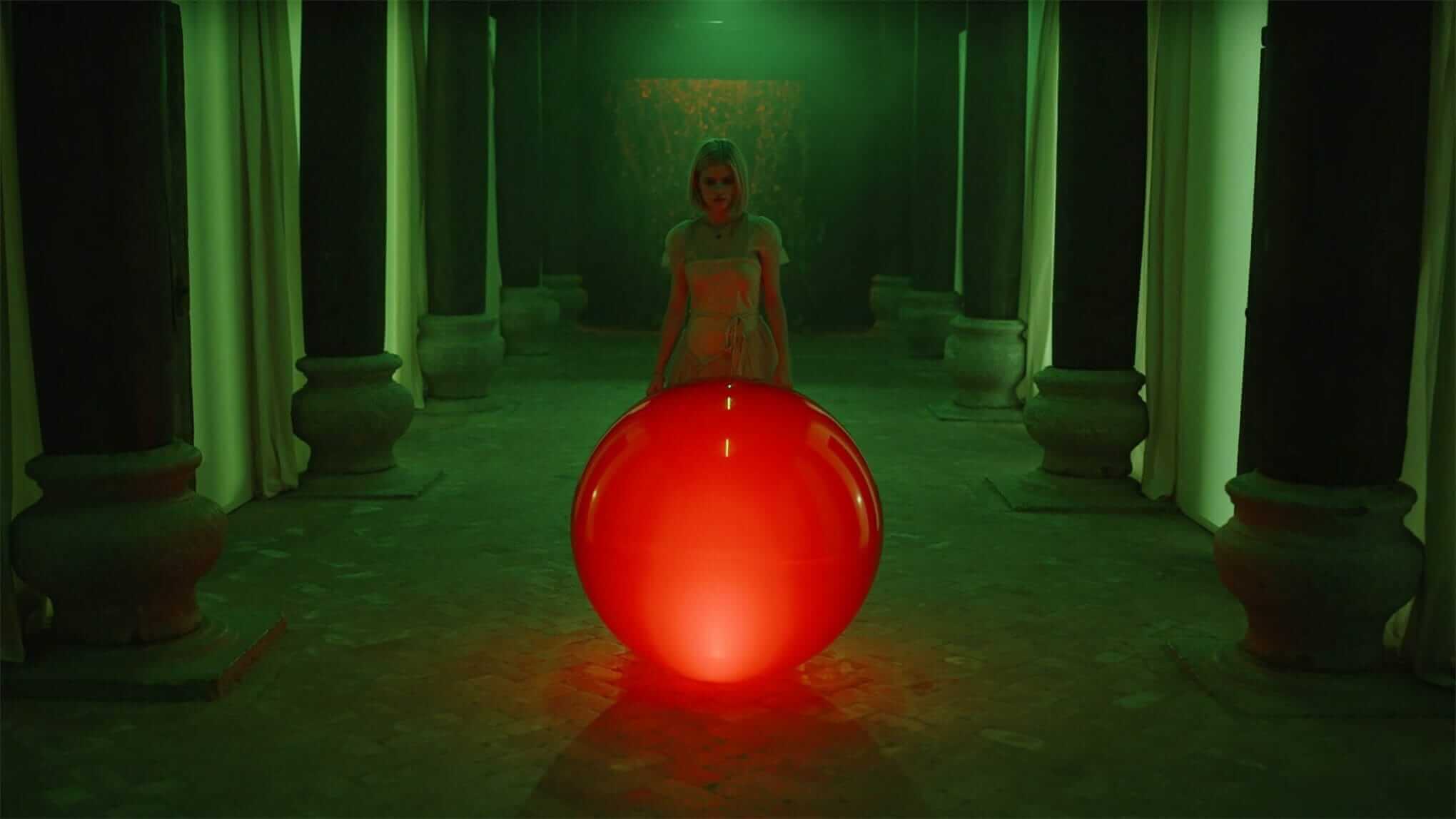 Kier's cool, carnivorous Lained acts as Margaret's guide through the other world, establishing the rules of the frights she must face, whilst still managing to be one himself. "I am not the only hungry thing here. And what the darkness eats, the darkness keeps." Reminiscent of Guillermo del Toro's El Fauno In Pan's Labyrinth; we're hesitant to trust Lained, for he's a hard entity to gauge.
"Contrasting the film's soft femininity is the bold and thematic scoring by Isom Innis."
Contrasting the film's soft femininity is the bold and thematic scoring by Isom Innis. The Blazing World is painted in an expansive sonic soundscape, blowing out silent scenes with classical dirges from The Nutcracker Suite, before diving into melodically groovy 80s synth-wave. It's an audio-visual identity crisis, the perfect hodge-podge to narrate the journey of a wounded woman transcending reality.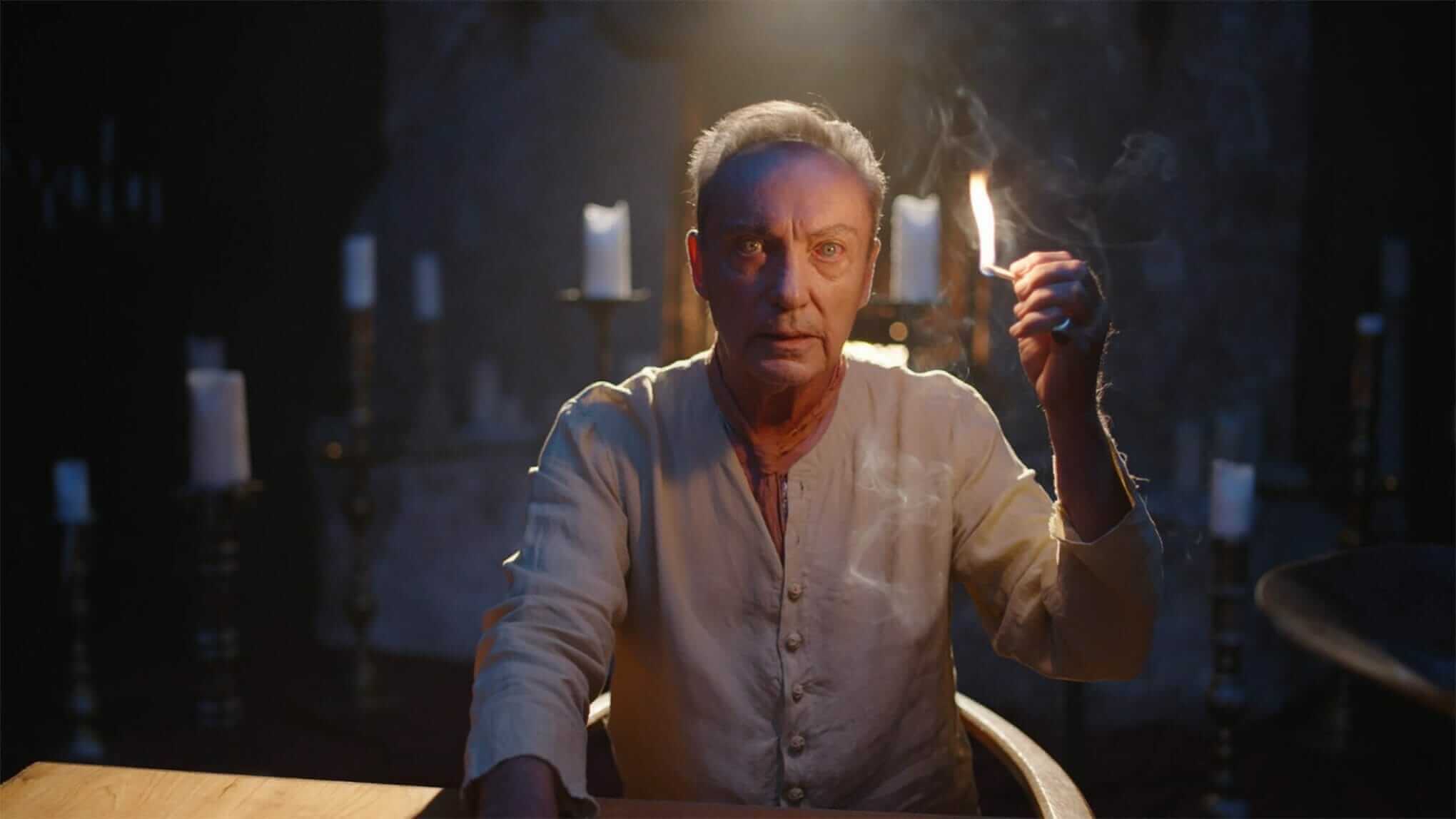 Equally as bold is the film's sound design, acting as punctuation to many of The Blazing World's jumps, frights, and furtive glances. The sounds are all at once shrill and playful, jarring enough to resonate somewhere deep in your belly without sending your ears into a frenzy. Like a buzzing bee in a flower garden; you're on alert, but your pleased he's there all the same.
The Blazing World is a confident, fantastical debut. Carlson isn't afraid to be ambitious and enigmatic with her first strokes as a filmmaker. She allows Margaret's sorrowful adventure to lead her into some wildly strange and unusual places – special shoutout to the segment in the desert being particularly frighting thanks to tight, claustrophobic editing by James K. Crouch.  And though the real-life implications of Margaret's journey and the identity of her demons are never veiled in mystery, Carlson takes broad visual leaps and plays outside of the box with these not so mysterious demons early on.
While not an entirely new take beyond The Looking Glass, The Blazing World is a wildly creative, feature debut that's a visual feast for dark fantasy fans.
Carlson Young's The Blazing World celebrated its World Premiere at the 2021 Sundance Film Festival. Click HERE to follow our full coverage of the festival and be sure to let us know if you're excited to check out this dark fantasy over on Twitter, Reddit, Facebook, and in the official Nightmare on Film Street Discord. Not a social media fan? Get more horror delivered straight to your inbox by joining the Neighbourhood Watch Newsletter.