The V/H/S film series has been a staple in both the found footage and horror anthology arenas for years now, and V/H/S/99 is a new high mark for a franchise already well-known for delivering killer bite-sized horror. It's also a welcome return to Fun, which hasn't always been a top priority in the series. V/H/S/99 has more laughs and gags than any previous entry but don't you worry, it's also loaded with ghouls and gore.
Each segment of this creepy collection is weirder and wilder than the next, and kicking it all off is Shredding, written and directed by Maggie Levin (My Bloody Valetine). Equal parts bootleg band tape and Jackass spoof, Shredding follows a group of budding musicians that want to play a show in an abandoned venue where an underground punk band burned died in a tragic fire. It's a scrappy little rock 'n' roll nightmare but packs some of the movie's goriest practical effects in a killer finale.
"V/H/S/99 has more laughs and gags than any previous entry [but] it's also loaded with ghouls and gore."
Johannes Roberts' (The Strangers: Prey At Night) Suicide Bid is a devilish slice of Sorority Horror that gets real dark, real fast when a pledge is buried alive in a cruel hazing ritual. It also builds in a great ghost story and, surprise-surprise, getting buried is only the beginning of the nightmare. V/H/S/99 comes at you hard and fast without a wraparound story that ties each segment together. I'm a fan of wraparounds so for me it was sorely missed, but this deep into the franchise I think we can just assume some evil bastard in a haunted warehouse somewhere cut the tape together like a mixtape of unimaginable horror.
ENJOYING THIS POST?
Nightmare on Film Street is an independent outlet. All of our articles are FREE to read and enjoy, without limits. If you're enjoying this article, consider joining our fiend club on Patreon for only a couple-a bucks a month!

The Gawkers, directed by Tyler Macintyre (Tragedy Girls) is the closest the film comes to a wraparound story. Split in two with a homemade stop-motion animation from an innocent pre-teen that gets hijacked by his horny older brother, Gawkers makes a handful of appearances between the other segments until it's given center stage. Like so many of the shorts in V/H/S/99, the less you know the better, but suffice it to say- a group of peeping toms get what's coming to 'em.
Kuso director & co-writer Flying Lotus returns with Ozzy's Dungeon, easily the most bizarre section of the feature. What begins as a slice of gonzo 90s game show high-strangeness continues to evolve and spiral downward into insanity. Fans of his breakout feature will not be surprised by his truly deranged sense of storytelling. If there was a segment that required a barf bag, Ozzy's Dungeon would certainly be it. 
Joseph & Vanessa Winter close out V/H/S/99 with To Hell And Back which is a pretty wild story about a satanic cult attempting to summon a demonic entity at the stroke of midnight on December 31st, 2000. The Winters recently shocked Shudder audiences with their debut feature (which I'm just gonna go ahead and call the best found footage horror movie of the year) Deadstream, and To Hell And Back further solidifies them as two of the best new voices in Horror.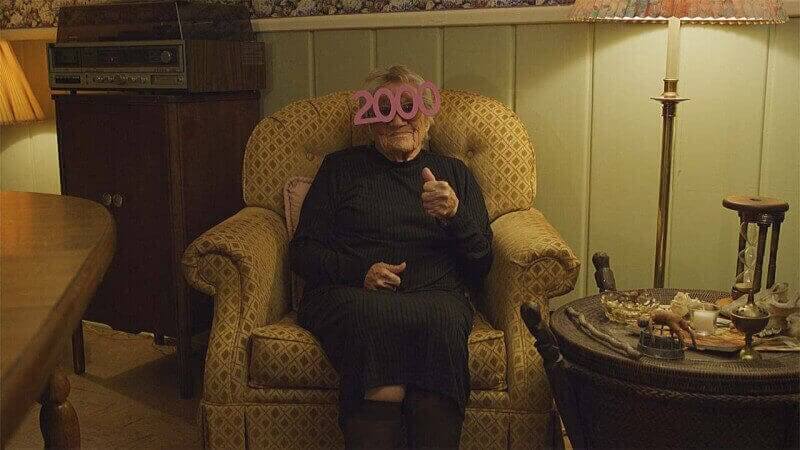 The brilliance of the V/H/S franchise is that anyone can jump in at any time. There aren't 98 other movies you have to see to understand V/H/S/99, you just need to buckle up and enjoy the ride. And more than that, it's a franchise that constantly pushes the boundaries of what Found Footage movies can do. Each segment has something genuinely brilliant and is sure to impress whether this is the first or the hundredth found-footage flick you see this year. You're in for one hell of a good time 🤘📼🤘
"Each segment has something genuinely brilliant…"
V/H/S/99 celebrated its East Coast Premiere at the 2022 Brooklyn Horror Film Festival and will be available to stream on Shudder beginning October 20th. Click HERE to follow our continued coverage of the festival and be sure to let us know if you're dying to see V/H/S/99 over on Twitter or in the Nightmare on Film Street Discord! Not a social media fan? Get more horror delivered straight to your inbox by joining the Neighbourhood Watch Newsletter.
And don't forget to enter the #31DayHorrorChallenge giveaway HERE.