I love a good haunted house film — the genre is my ghost loving horror fan addiction. But as rich a sub-genre as it is, it sometimes feels like there's only so many ways to tell a haunted house story. That's why it's such a treat when you happen upon a unique cinematic ghost story, one that sticks with you and reignites your love for the storytelling potential of the medium. Sanzaru did that for me. It's an unassuming little film, but its vision of a haunting felt genuinely different and emotionally resonant. Sanzaru is the directorial debut of Xia Magnus, and it signals a new striking talent to watch in the arena of supernatural storytelling. 
Sanzaru follows Evelyn (Aina Dumlao) a Filipina home care nurse currently assisting Dena Regan (Jayne Taini) the dying matriarch of a rural Texas family. But Evelyn has some company. Her nephew (John Viktor Corpuz) is staying with her after being suspended from school, and Dena's son, Clem (Justin Arnold) lives in a trailer behind the house and occasionally drops in. Yet even with the company to distract Evelyn, there's something off about the house. Her nephew keeps fainting and insists it's not from his frequent runs along the country roads. Sometimes, mysterious whispering can be heard coming through the old speakers scattered throughout the home. And at night, Dena is heard loudly yelling at a mysterious figure. Is it her creeping dementia, or is something actually talking to her from the walls? 
Ads are Scary
Nightmare on Film Street is independently owned and operated. We rely on your donations to cover our operating expenses and to compensate our team of Contributors from across the Globe!
If you enjoy Nightmare on Film Street, consider Buying us a coffee!
"

From the surreal opening to the emotionally engaging first act, it's clear we aren't in for the usual spooky fare."
The synopsis makes Sanzaru sound like a typical haunting film, but it's anything but. From the surreal opening to the emotionally engaging first act, it's clear we aren't in for the usual spooky fare. Instead, we have a story that reveals it's horrors — and hauntings, through its characters. Dumlao is incredible as Evelyn. She's quiet and holds her feelings close to her heart, but her eyes hold fire and deep sadness in equal measure. As she begins to uncover the secrets of the Regan's house, she uncovers secrets in herself. Dumlao holds so much of  Evelyn's isolation and trauma in her face that the excellent script, also by Magnus, can hold back just enough to maintain its mystery and depth without sacrificing character development. 
Taini is gut wrenching as a woman who has lost control of her body and her mind. The moments when she's back to her old self and her bright, intelligent nature shines through only adds to the tragedy of her decline. And when she stares at an invisible presence in her room, you can sense the weight of her buried secrets. Corpus and Arnold round out the excellent small cast, both playing men with their own buried guilt and pain, one an adult haunted by his past, the other a teen despondent at his vanishing future.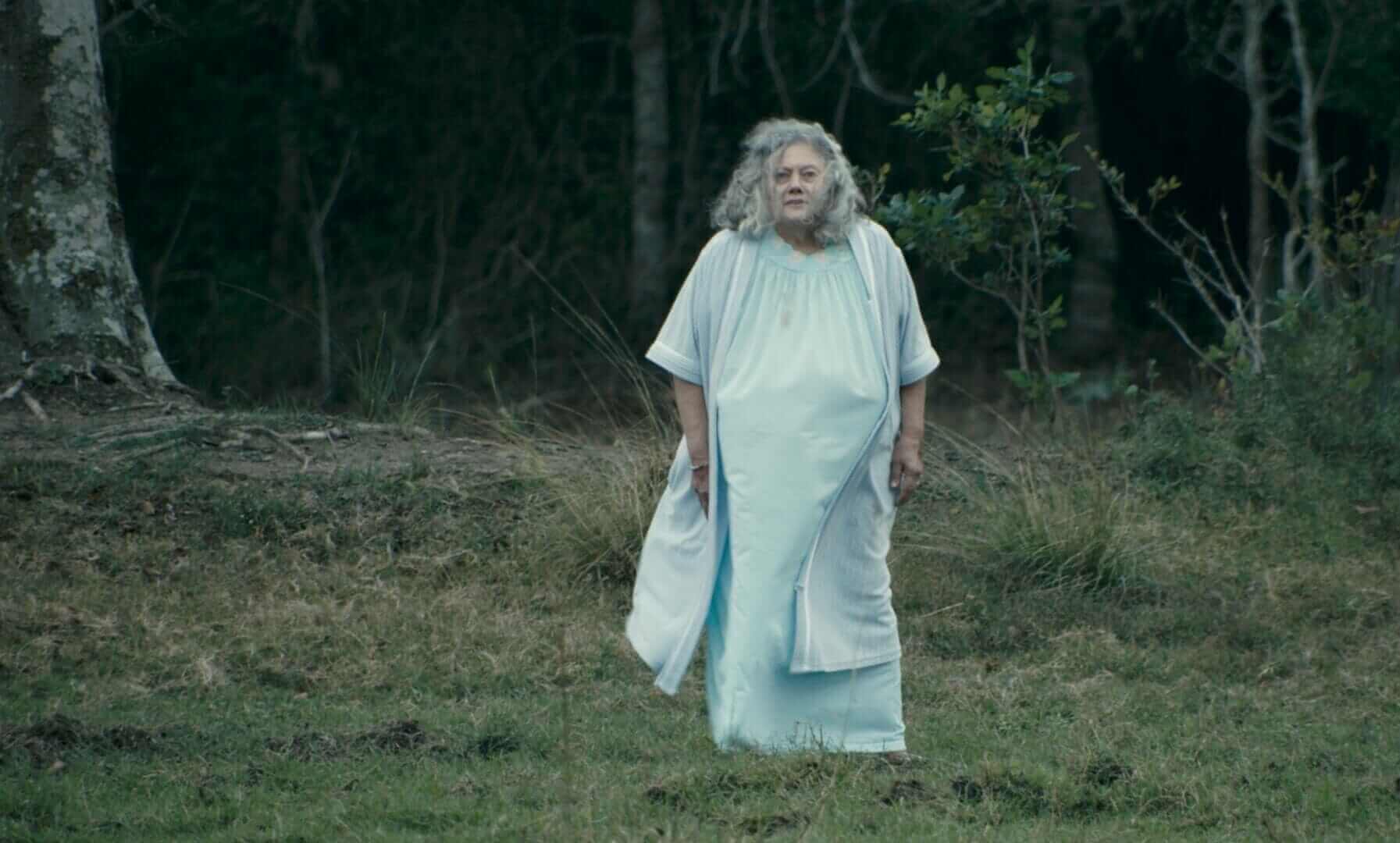 Sanzaru is a film about what we hold inside ourselves, refusing to be rid of. It's about generational curses from two completely different families, and what it takes to break them. These characters are haunted by something beyond spirits, but when the supernatural does appear, the film manages to create a uniquely unsettling visual language for its ghosts. Magnus chooses to channel retro effects that evoke the hallucinatory visuals of Nobuhiko Obayashi's House (1977). But despite the lo-fi look, the effects make the apparitions even more disturbing in how unfamiliar they appear to a Western viewer. Magnus plays with Filipino folklore throughout the film, and it's clear Sanzaru's ghosts exist in that tradition as well. It adds up to an unexpected, yet utterly believable apparition. The sound design of Sanzaru's hauntings stands out in a category where so many films express little sonic variation for their ghosts. From the otherworldly opening to the apparitions themselves, the spirit world sounds electric and angry, like a live wire burning through the veil to uncover its secrets. 
The subtle vintage style of the film carries into Mark Khalife's beautiful, restrained cinematography. It's carefully framed shots of the Regan's dusty, cluttered, late 60s era home and the land surrounding it evoke the films of the 1970s, and the gorgeous score, by Carolyn Pennypacker Riggs, uses restrained horror cues and lush, 60s-reminiscent original songs to evoke the beautiful, sad atmosphere of a faded past. 
"Much of Sanzaru feels more like a drama than a horror film, yet its contents are terrifying enough to make up for a lack of jump scares."
Much of Sanzaru feels more like a drama than a horror film, yet its contents are terrifying enough to make up for a lack of jump scares. It dwells on themes of guilt, mortality, family scars, immigration, racism, culture, grief, and the possibility that our own lives and those around us might hold secret unspeakable evil. It manages to pack all of this into a tight hour and twenty minutes but never feels rushed. In fact, all of these themes are given time to develop and satisfyingly wrap up by the devastating conclusion. Yet there is a glimmer of hope at the end, as one family's descent into their own curse helps another break free. Sanzaru is a quiet film, and if you're looking for a real scare-fest, this one isn't for you. But if you want to be unexpectedly transfixed by a fable of families, culture, and ghosts, it's a must-see. This intimate little ghost story haunted my mind long after the credits rolled.
Sanzaru celebrated its international premiere at the 2020 Fantasia Film Festival. Read all of our coverage of the fest here, and join the conversation with the Nightmare on Film Street community over on Twitter, Reddit, and in the Horror Movie Fiend Club!