Satanic Hispanics is more than just a great title. And best of all, it's that rare kind of horror movie that has a little something for everyone: A Horror-Anthology.  Comprised of 5 heavy-hitting segments directed by Mike Mendez (Big Ass Spider!), Demian Rugna (Terrified), Eduardo Sánchez (The Blair Witch Project), Gigi Saul Guerrero (Bingo Hell), and Alejandro Brugues (Juan of The Dead), Satanic Hispanics is a block-rocking showcase of spooky subgenres from a roster of Latino filmmakers that all know how to scare up a good time.
In Mike Mendez's wraparound story a mysterious sole survivor of a brutal cartel attack, known only as The Traveller (played by Efren Ramirez, Crank: High Voltage), finds himself handcuffed in an interrogation room in El Paso. He stresses to the police that if he isn't released in the next 90 minutes, everyone will die. As it turns out, there is an unstoppable supernatural force hunting him down, It Follows style, and it has no problem laying waste to an entire police station along the way.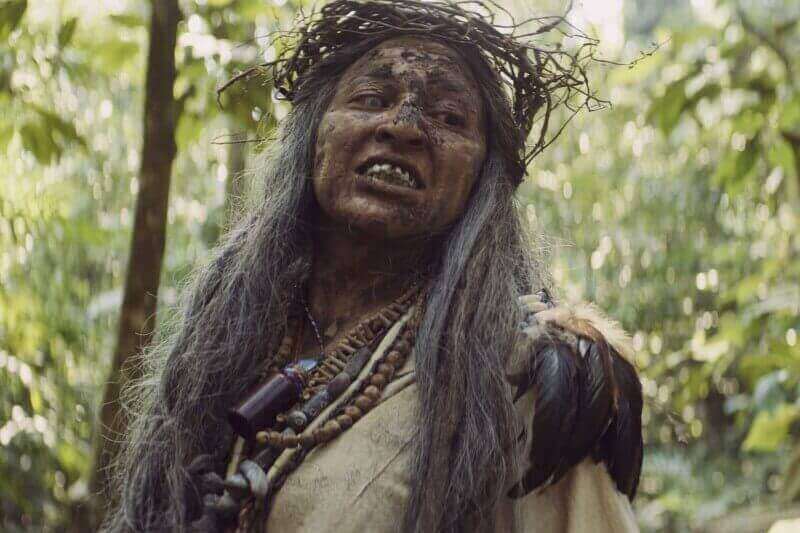 Naturally, the cops aren't buying his story so he keeps talking, hoping that he can either explain himself more clearly or barter information on unsolved cases in hopes of a speedy release. It's a great device for dropping in and out of each segment but also serves as one of Satanic Hispanics' coolest stories. Wraparound segments are rarely given the attention that Mike Mendez's has, and it all leads toward an explosive finale with one hell of a supernatural monster.
Confession Time: I always have a hard time reviewing horror anthologies. At about the paragraph 4 mark (oh hey, look where we are…) I start sweating. Anthology segments, as opposed to full-length features, are short bursts of story so anything more than quick descriptions starts to veer toward spoiler territory. And unlike some anthologies (even anthologies that we all consider bonafide classics), every segment in Satanic Hispanics is a homerun. And every segment is a fully-formed story, with a beginning, middle, and end. No ambiguous conclusions or jump scare endings here!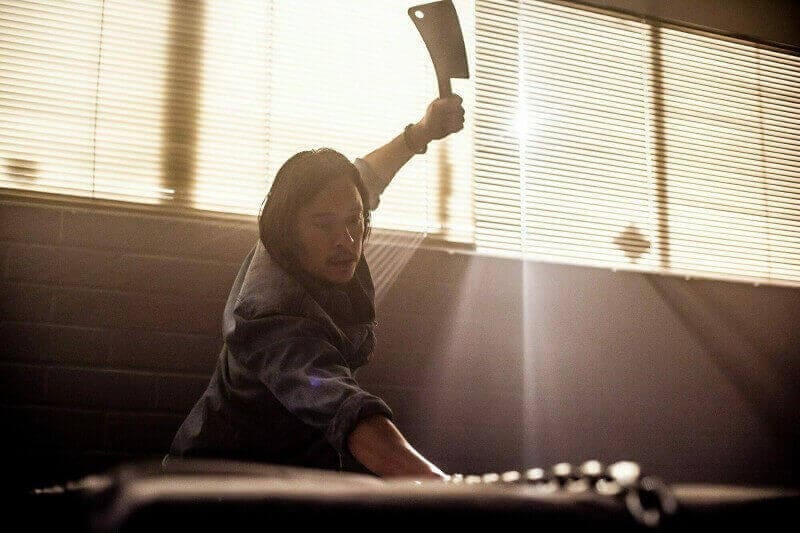 In Demian Rugna's chilling ghost story Tambien Lo Vi, a man training for the Rubik's Cube world championship accidentally stumbles upon a dark summoning ceremony. Edwardo Sanchez's El Vampiro brings the blood in a hilarious tale about a 500-year-old vampire that loses track of time on a murder spree, starring Hemky Madera (Ash vs. Evil Dead) and Patricia Velasquez as bickering, betrothed blood-suckers.
Gigi Saul Guerrero's Nahuales is easily one of the most surprising segments of the pack, bringing the wild, uncompromising power of shapeshifting witches known as The Nahuales. And, of course, Alejandro Brugues comes out swinging with The Hammer of Zanzibar- a story best experienced with zero context (but best described as Evil Dead II meets John Dies At The End with Jonah Ray).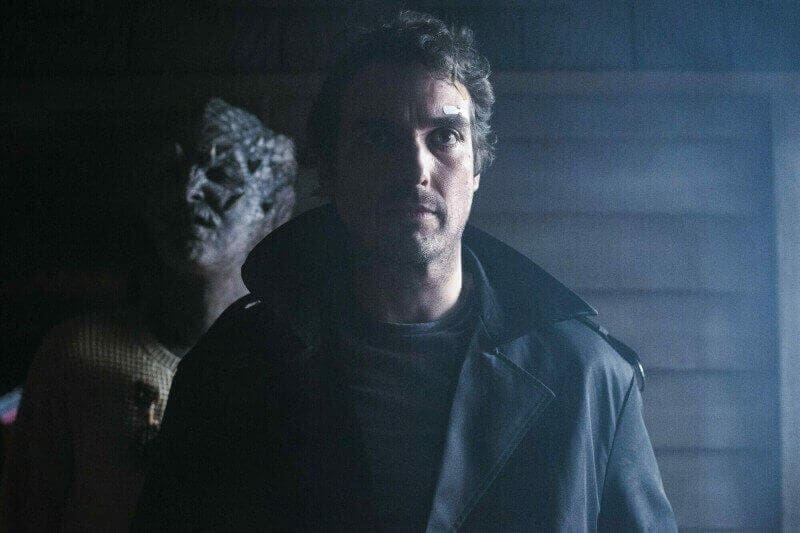 Satanic Hispanics is a celebration of culture viewed through the dark lens that all horror fans crave. It's genuinely scary when it needs to be and packed wall-to-wall with goofy gags. It's a horror anthology that's got a little something for everybody, especially those special someone's that get a kick out of seeing demonic entities on a path of destruction -or- vampires on the run from goofball cops -or- blood-drinking brujas -or- well, to be honest, if you aren't already sold, I don't know what else I can say to convince you. Satanic Hispanics is a gattdamn hoot and gold-star anthology. ¡Viva el terror!
"…genuinely scary […] and  packed wall-to-wall with goofy gags"
Satanic Hispanics celebrated it's World Premiere at Fantastic Fest 2022. Click HERE to follow our continued coverage of the festival and be sure to let us know if you're excited to see this new horror anthology over on Twitter, Reddit, Facebook, and in the official Nightmare on Film Street Discord. Not a social media fan? Get more horror delivered straight to your inbox by joining the Neighbourhood Watch Newsletter.
And don't forget to enter the #31DayHorrorChallenge giveaway HERE.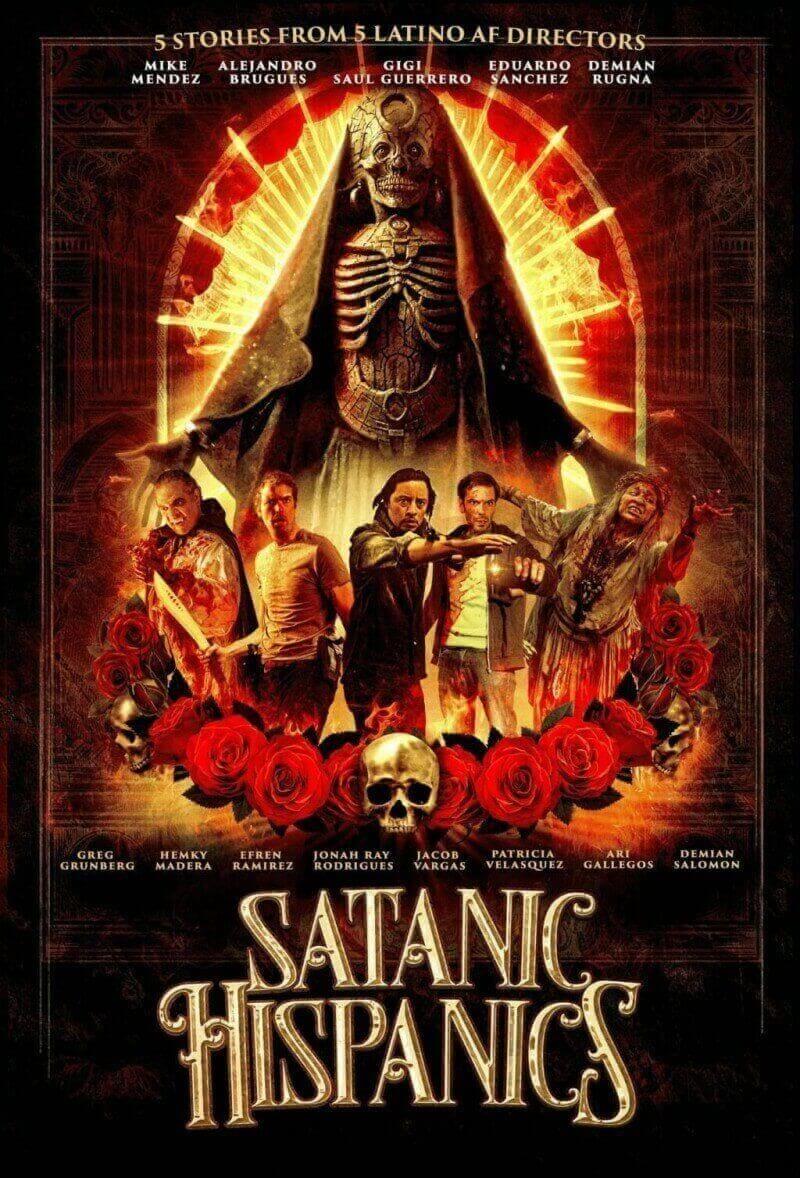 Review: SATANIC HISPANICS (2022)
TLDR
Satanic Hispanics is a celebration of culture viewed through the dark lens that all horror fans crave. It's genuinely scary when it needs to be and packed wall-to-wall with goofy gags. It's a gattdamn hoot and gold-star anthology.