Dario Argento returns, seated in the director chair for the first time in a decade and playing in the Giallo sandbox once more with Dark Glasses. The man who practically invented the bloodied black-gloved killer is back with a new murder mystery though it's unlikely his most recent effort will find its way high up on the average horror fan's ranking of his legendary filmography.
Starring Ilenia Pastorelli (Io e Angela) as a blinded sex worker named Diana, Dark Glasses is a return to the stripped-down detective stories Argento cut his teeth on back in the early 1970s. In an odd misdirect, Diana does not lose her sight while staring at a lunar eclipse, but rather, during a car accident that also claims the lives of two strangers. Some characters make mention of a lunar eclipse being viewed by ancient civilizations as "the end of the world" but don't linger on that for too long. It's not a theme the film is terribly interested in exploring further.
Driven mad by the one that got away, the sadistic killer targeting sex workers in the area sets his sights solely on Diana, stalking her from an unmarked white van. With the help of her care worker Rita (Asia Argento), Diana gets herself a service dog and introduces herself to Chin, the young boy she orphaned in the car accident. Chin (Andrea Zhang) decides he'd rather live with this stranger than at the local orphanage and escapes to her apartment. Diana allows him to stay with her in secret but his presence makes it impossible for her to call the police. And police are pretty useful when we have a ruthless murderer hunting you down.
ENJOYING THIS POST?
Nightmare on Film Street is an independent outlet. All of our articles are FREE to read and enjoy, without limits. If you're enjoying this article, consider joining our fiend club on Patreon for only a couple-a bucks a month!

Dario Argento is an undisputed master of the macabre. There is no name that comes to mind faster when discussing black-gloved killers and the grim murder mysteries of 1970s Italian cinema. His early work, including The Bird With The Crystal Plumage and The Cat o' The Nine Tails, helped shape what would later be referred to as "Giallo" and just as soon as he helped establish a new genre, he reworked and remixed those same tropes in a post-punk dissection with Tenebre and Opera. And that's not even mentioning any of the mind-scrambling supernatural films that generally overshadow his more straightforward thrillers. Argento has always been a startling talent, but his latest work is a far cry from the filmmaker he once was.
"…a by-the-books game of cat-and-mouse between a blind woman and a vicious killer…"
Dark Glasses is a by-the-books game of cat-and-mouse between a blind woman and a vicious killer and as murder mysteries go it's not a terribly interesting story, unfortunately. The film doesn't explore the psychology of the killer or their motivation. The murder set pieces are presented with no fanfare or flourish. The cinematography is drab. With the exception of a brutal opening kill that practical effects fans will drool over and a single silhouette shot of our killer that I would happily plaster on my office wall, Dark Glasses lacks the flourish that once defined the unique brilliance of a Dario Argento film.
It gives me no pleasure to report that a new Argento Giallo isn't the jolt of vicious fun we all hoped it would be. I'm happy to see that Argento is making movies again and I have my fingers crossed that this is simply a soft pitch toward another grand slam. Perhaps expectation is the biggest enemy of Dark Glasses. Without such a celebrated name above the title, Dark Glasses might be received as a worthy throwback. If your mom can stomach a gaping neck wound in the first 10 minutes she might love that Lifetime quality of the remaining 80. For the dyed-in-the-wool Argento fan, however, Dark Glasses isn't quite the suspenseful showcase you've come to associate with the name.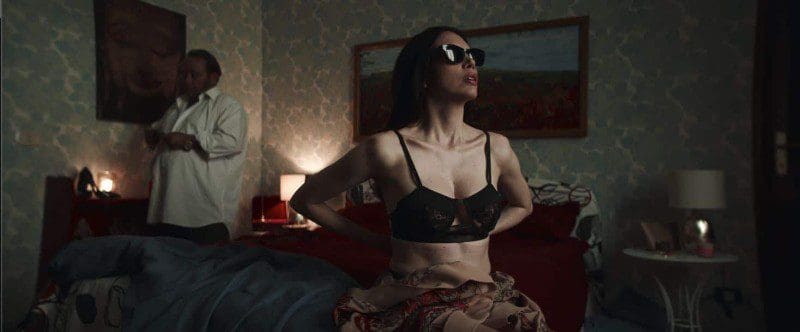 Dario Argento's Dark Glasses celebrated its Canadian Premiere at the 2022 Fantasia Film Festival and is available to stream on Shudder now! Let us know if you're excited to see a new Giallo film, and share your favourite Argento flick with us over on Twitter, Reddit, Facebook, and in the official Nightmare on Film Street Discord. Heck, while you're at it, follow up on TikTok for bit-sized horror content!
Not a social media fan? Get more horror delivered straight to your inbox by joining the Neighbourhood Watch Newsletter.